When to Bring a Stroller on Vacation and When Not To. Deciding on whether to bring a stroller or not really depends on what your plans are. Regardless of preference, you and your children will have your limits. Knowing those limits can help you decide what is best for you. Having a plan will also help you decide if you should bring a stroller on vacation or not.
What age should we stop bringing a stroller on vacation?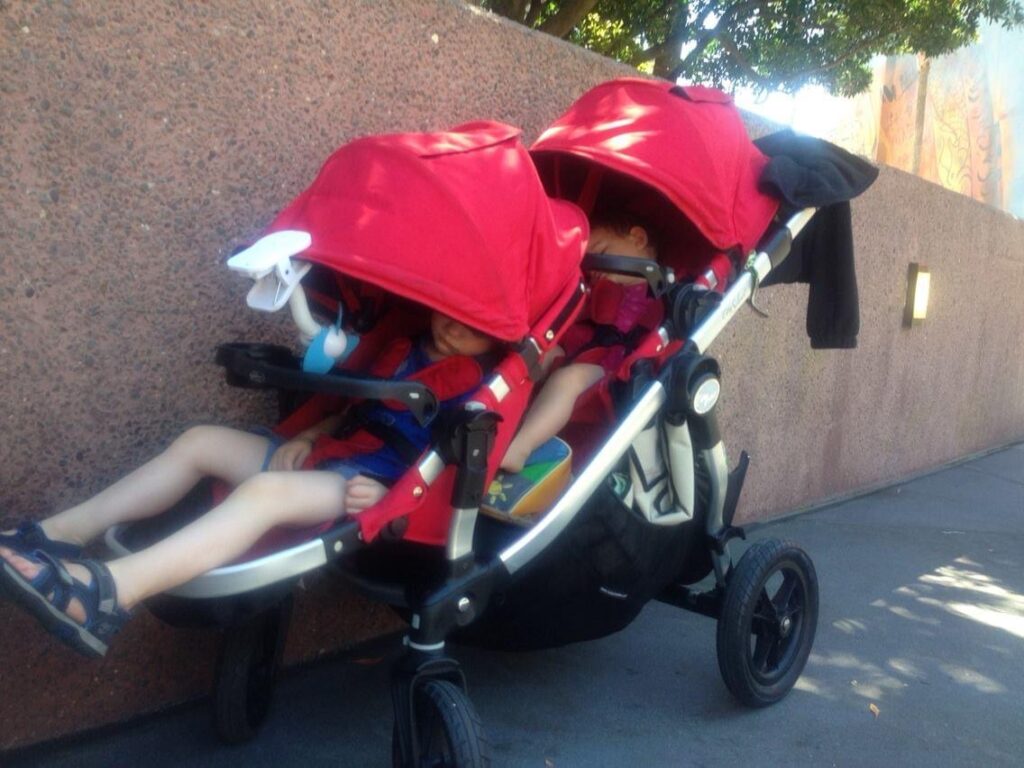 Should you bring a stroller on vacation for a 3 year old? What about a 4 year old? What age should you stop brining a stroller to Walt Disney World? If I have a stroller for my toddler, what do I do about my other child who may want a break or want to ride?
These questions really come down to personal preference. Sometimes, if your baby or toddler is small enough you could wear them or only wear them when your other child wants a break in the stroller. Other times, such as in our case our kids were so close in age that it was hard to allow one and not the other. It was just easier to have our double stroller so our oldest used a stroller longer. There are Pros and Cons to bringing a stroller and those even change as your kids needs and abilities change.
Pros of Bringing a Stroller on Vacation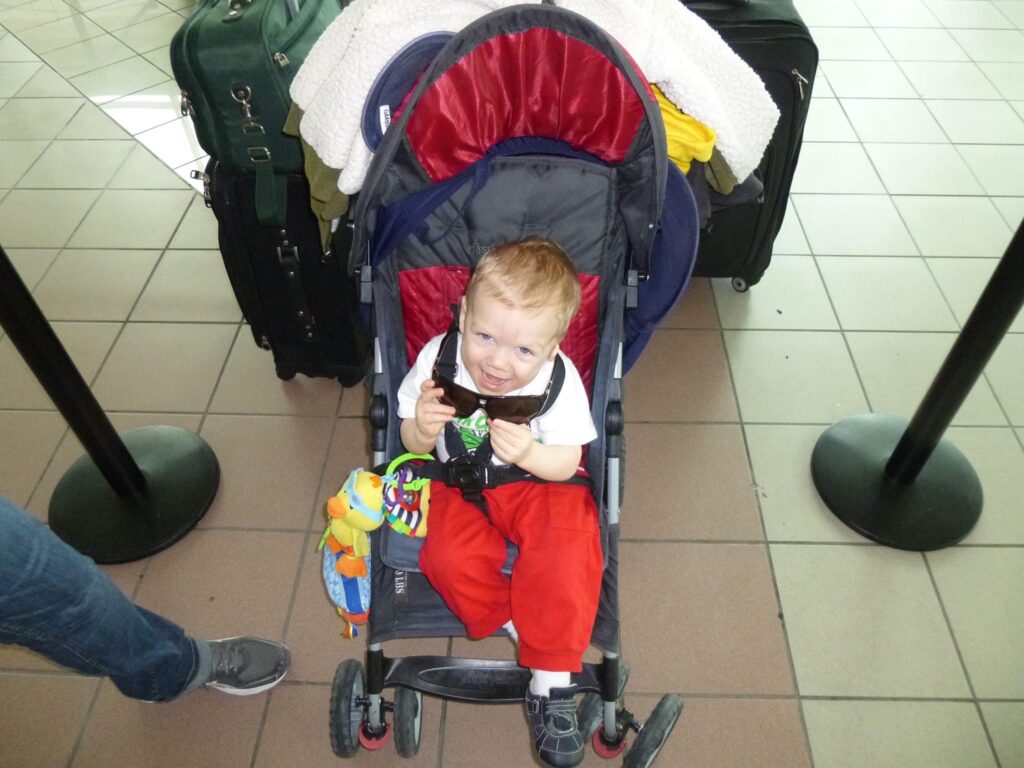 We personally were avid stroller used. We have New York legs. we walk fast and our kids could never keep up. In times we were fine walking at their pace. However, when we were simply trying to get to a destination it pained me to walk at a toddlers pace and easily took 2-3x as long. A stroller is the perfect solution for going a distance at an adult pace to save time. It also saves energy vs carrying.
We also liked having a stroller for when our children would nap. This saved us a lot of time and allowed us to continue to do what we wanted. We have enjoyed many nice lunches at an outdoor restaurant while our kids napped. Even had a drink in a pub in Ireland or Happy Hour in Baltimore. We have strolled the promenade along the beach, shopped or just relaxed. it was nice to have options vs being trapped in our hotel room while they napped.
Cons of Bringing a Stroller on Vacation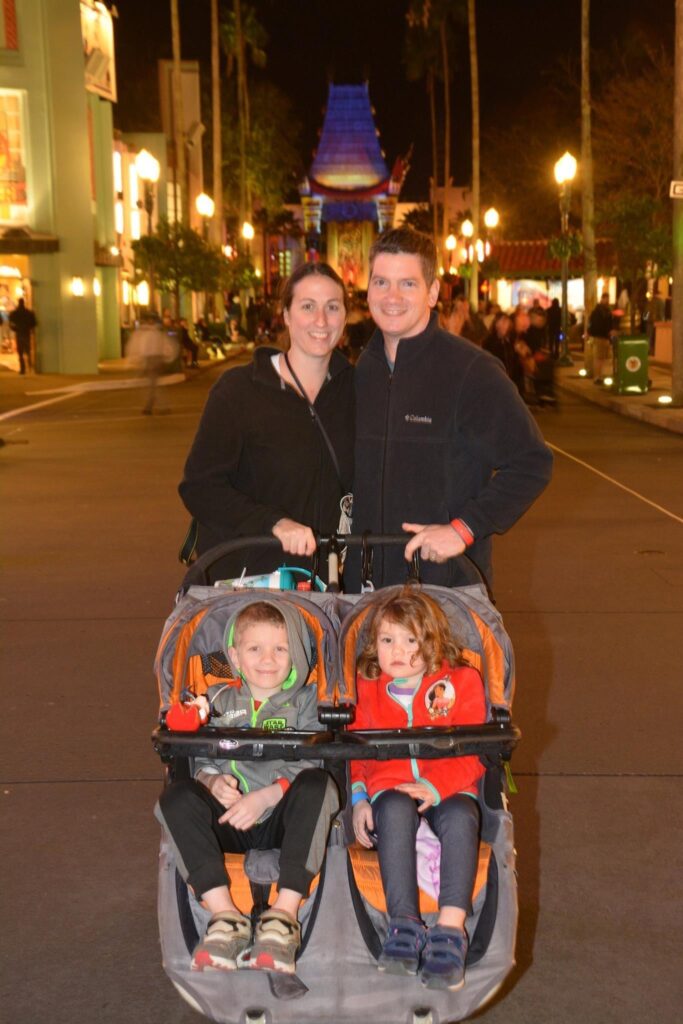 Strollers can be heavy and bulky. Cheap strollers can have cheap wheels making it hard to push and navigate especially with heavier children. Having a quality compact light weight stroller can be expensive. It's always a trade off. We purchased used strollers for our travel to Europe. It was before modern lightweight compact strollers were around really. We had McClaren strollers because they were easy to fold fairly light weight. They also reclined so our kids could nap in them. In the US, we used our Baby Jogger Citi Double because it fit through one door but was large. It is comfortable for the kids and had a tray table which was great for snacks or to double as a high chair.
Strollers are not ideal for stairs. If taking public transportations such as a subway there isn't always elevators. You may have to take your infant, toddler or child out of the stroller; Then carry or walk them down the steps while some one else carries the stroller down. Buses may require you to collapse your stroller to board.
Alternatives to Bringing a Stroller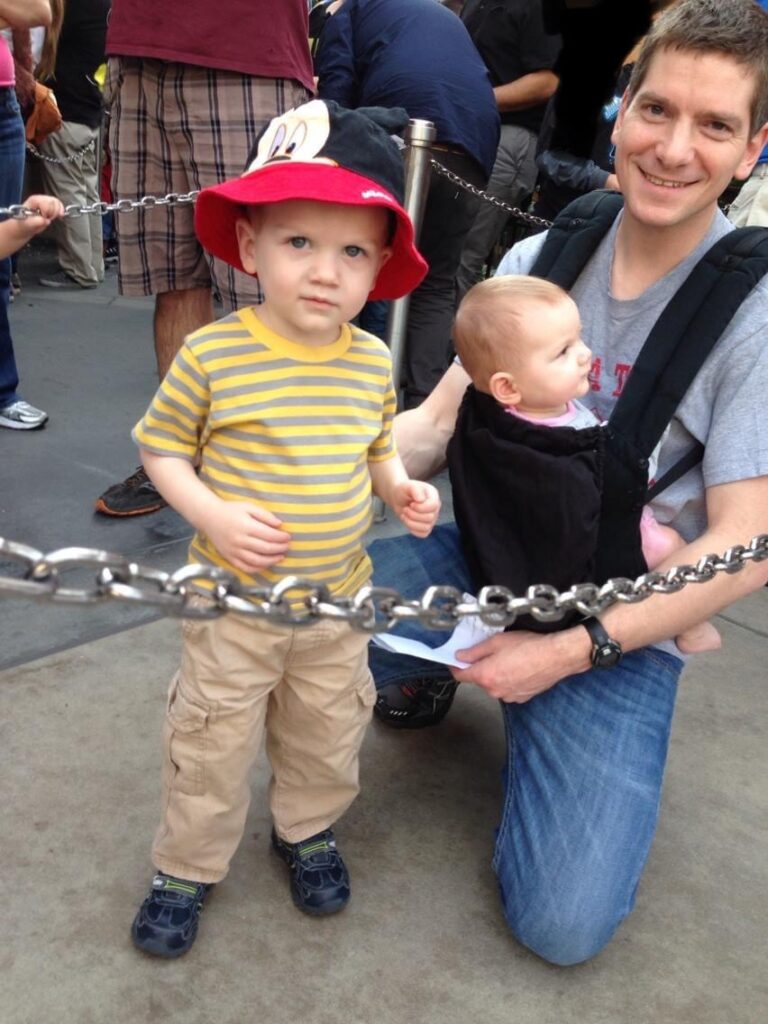 Wearing/Carrier
Wearing/carrying your child/infant is another great option. There's carriers that go up to a significant weight often used for hiking. Wearing was always comfortable when my kids were infants.
As they got bigger it became harder on us to carry them due to the additional weight. Wearing them also makes you and them warmer. This isn't a big deal if you are dressed appropriately. However, in the hot summer sun, the extra body heat can make it much hotter. Maybe not an issue for some but definitely was for me. I found we both enjoyed a break in the stroller on hot days.
If you have a child that you can wear and a child whos you a little older, you may decide to bring a single stroller and a carrier. This way, if your older child wants a break you can simply wear your other child while the other takes a break in the stroller.
Walking
Walking is great for those who do not want to lug a stroller. For us this wasn't a great option for toddlers. For us its not very comfortable bending over to hold their hand while walking the streets when they are very young. In addition a toddlers pace is much slower than adults. So if you plan to not have a stroller or carrier make sure you adjust your times to accommodate the extra time needed.
Also make sure you take notice of the amount of walking a toddler or any child can handle in a day. Hiking distances by age can give you an idea of what is appropriate. Keep in mind these distances are for a full day so if you plan to walk the distance all at once plan time for breaks. If you plan to do more walking than this you may getaway with more with out issue. Especially if it's only for a day or 2 but it will catch up to them.
We experienced this on our first stroller free trip, to Italy. Our first day we walked about 8 miles and the second day 6 miles. There was one time for about 10 minutes, my husband had our daughter (4yrs old) on his shoulders but that was it. We were so proud how well she was doing. However, on day 3 while on a tour with a minimal amount of walking, she had a melt down and fell asleep mid day. My husband spent the next 45 minutes carrying her through the tour while she slept.
Be prepared to carry , slow down or take breaks if you plan on walking.
The Transition to Stroller Free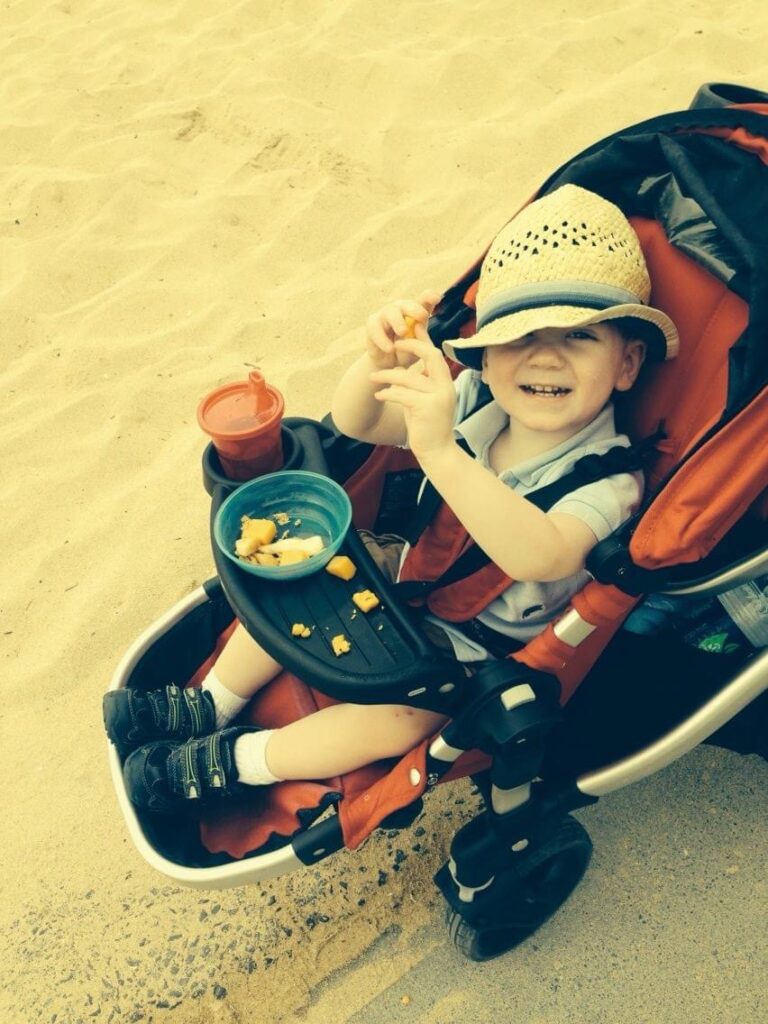 We started going stroller free locally on day trips with our kids first. Then we tried Six Flags as we were season pass members so we knew if we were tired we could just leave and come back another day.
First Big Trip Stroller FREE
I wasn't always thinking when to bring a stroller on vacation and when not to. We were pretty happy to bring a stroller with us. Deciding on whether to bring a stroller or not really depends on what your plans are.
The Amalfi Coast with out a Stroller
Italy was our first big stroller free vacation. Our kids were 4 and 6 years old. We chose not to bring our stroller because we were visiting the Amalfi coast. With all the steps in the villages, we felt it would be difficult having a stroller with us. We also knew we would be exploring the small towns via ferry. We thought we wouldn't do a ton of walking in a day as the villages are fairly small.
What we learned was that we walked 6-8 miles a day on the Amalfi Coast. If we had stayed any longer, we would have had to slow down or plan more beach time. There where my husband had to carry her and he honestly could only handle about 10-15 minutes of it.
The Next big trip a year later to Tokyo and Hong Kong when the kids were 5 and 7. Which we did great stroller free. There didn't seem to be the exhaustion or break downs. There was however, one evening when the kids passed out. We stayed up to see the Main Street Electrical Parade and the kids fell asleep. Due to the time change they were out cold. We struggled to wake them up. When we finally did we grabbed there hand and hurried to the monorail. There was no way at that point we could physically carry them the distance. It was a moment where we were like how are we going to make it home but thankfully we did.
Looking back at our experience I would say that for us age 4 was a good age to stop the stroller unless there was plans to walk 5 miles or more each day and then we would need to plan for breaks, a carrier or stroller.
Last Trip with Stroller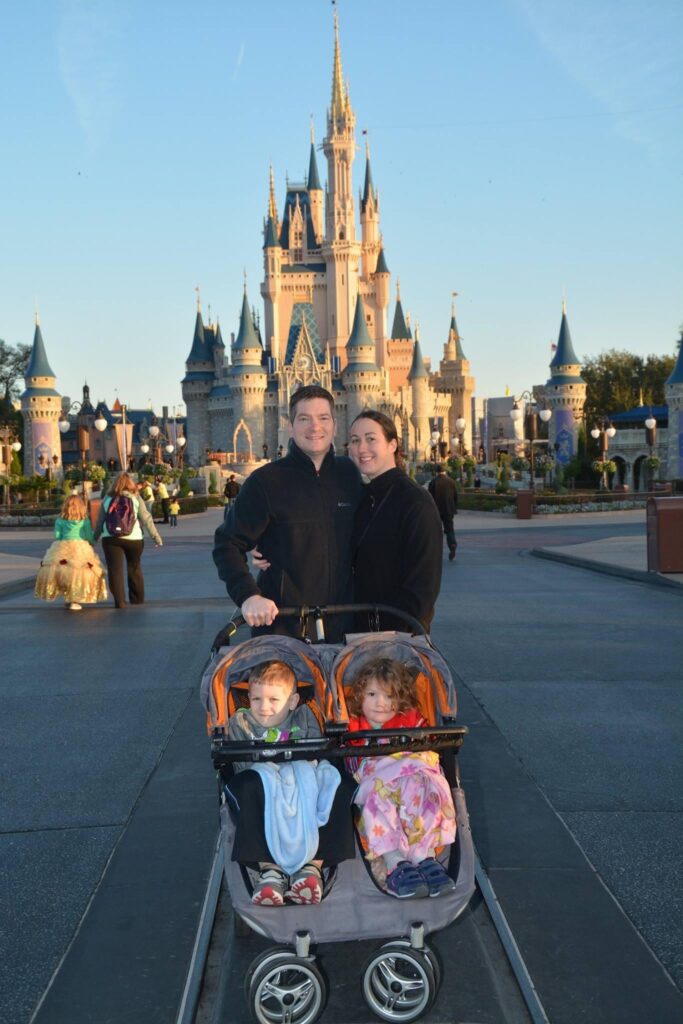 We brought strollers to Walt Disney World later than any other destination. We had even visited Tokyo Disneyland and Hong Kong Disneyland stroller free prior to our last stroller visit to WDW. On our last visit we used the stroller to wait for rope drop. This kept the kids sort of safe from being trampled. They could sit in the stroller and eat their breakfast while we waited for the park to open.
We would then park the stroller in a main corridor grab our bag head to several rides in the area. It allowed us to keep stocks of drinks and snacks with out carrying it all with us through out the park. Extra costumers and accessories too. In the evening, when the kids were exhausted we easily wheeled them. This again, kept them away from the masses leaving the park at the same time. It worked well and we didn't regret having it with us, though we knew after the trip we were done.
When to bring a stroller on Vacation and when Not To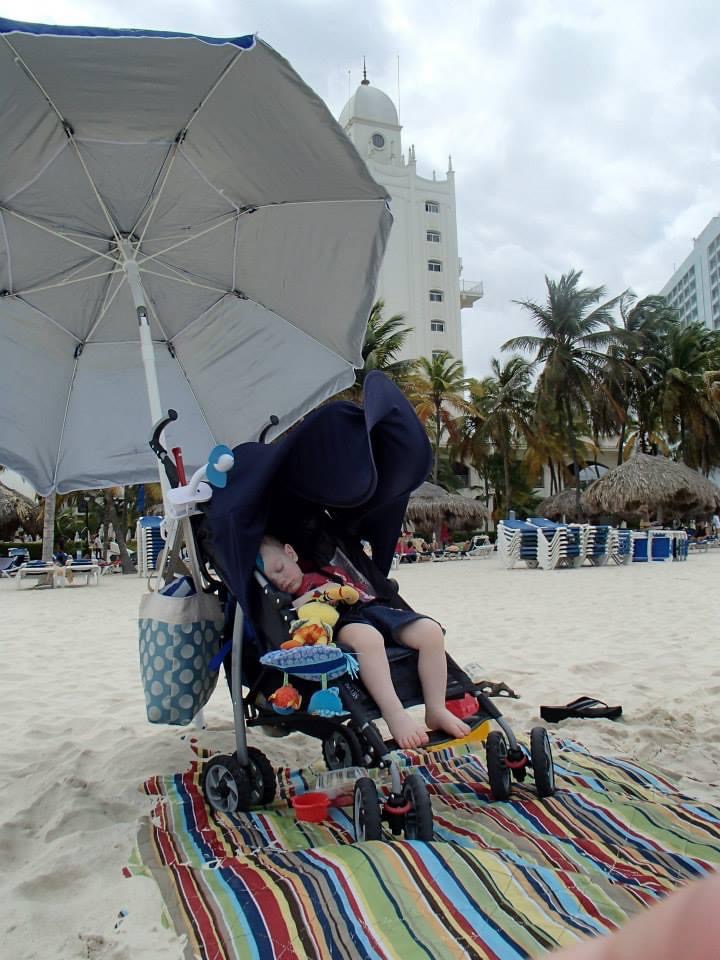 It's really a personal preference of when you want to bring a stroller or not. You need to factor in a variety of factors discussed above and decide what's right for you.
Follow Affordable_Family_Travel on Instagram
Make sure to like AffordableFamilyTravel.com on Facebook to get all the latest updates. It's also where I post my Dash Deals that are time-sensitive.