What to Pack in Your Carryon Bag/ Personal Item when flying is important. You will not always have access to your carry on stored over head while flying and sometimes if overhead is full you may be asked to gate check it.
Best Bags for Carry on Bag- Personal Item When Traveling
We have a nice carry on that slides on to our roller carry on suitcase which we use for airline travel. However, when we are traveling using trains at times we prefer to have backpacks because it's simply easier to have a bag on our back and lift our roller carry on onto the train. The backpack also double as our day or hiking bag.
We love Osprey. Our kids started out with the smaller version and my son who's a tall 5th grader has just upgraded to the Osprey Daylight which my husband and I also use.
The Osprey Daylight back has a loop on the back that actually is just wide enough to slide over our roller carry on suitcase so the bag can sit on the roller when we want or we can wear it on our backs when needed. They are not as big as our normal boarding bag that also can sit on the roller, but it's the perfect size to hold everything we need with out being to heavy to carry on our backs. I also like that even when stored under the seat there's still room for one foot to fit under the seat too so I can stretch my bad knee when needed.
My daughter whos about 6″shorter still fits the smaller version and the Daylight is too long on her back so she will have to wait at least a year to upgrade.
Regardless they both fit everything they need for air travel or a day of hiking. the side pockets snuggly hold a water bottle. Ipad, Noise canceling headphones and snacks all fit inside with a blanket on the outside. There's even room for a zip up if they aren't wearing it.
Electronics to Pack In Your Carry on Bag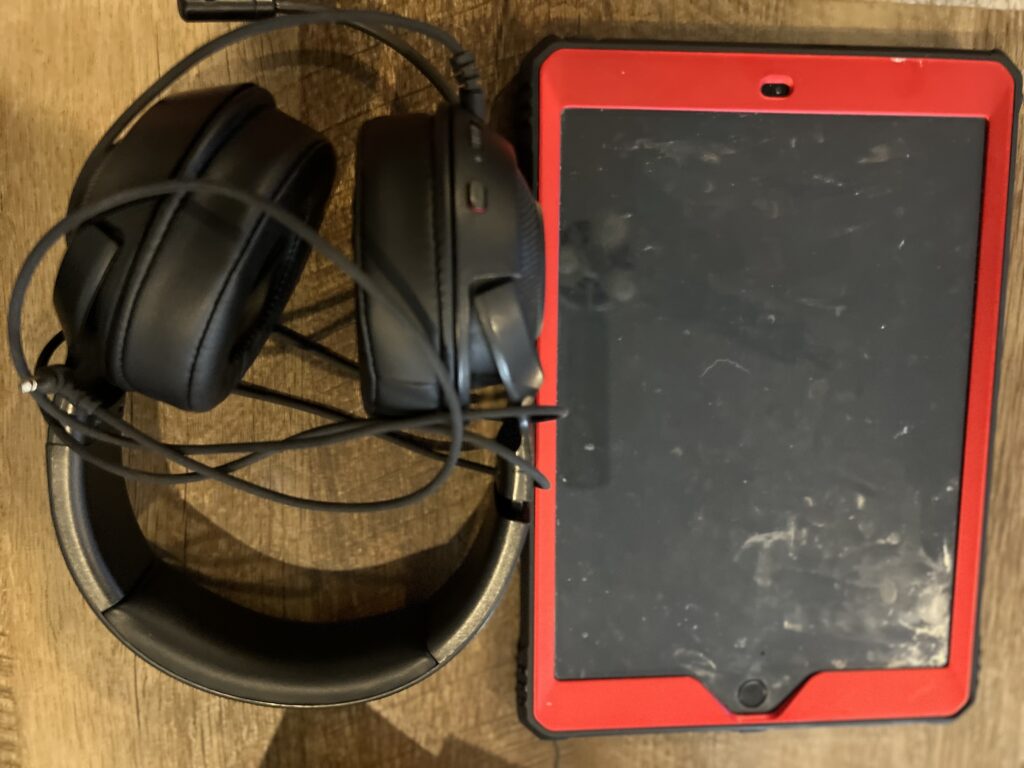 Ipads and a nice set of noise canceling headphones is top on our kids list of Travel items. It keeps them entertained in the airport and on the airplane. Their current Ipads have a large memory but when they used to run out of space we had an I-expand for extra storage to store movies.
Besides their ipads and noise canceling headphones, we of course have I cellphones along with earbuds. There's also some key electronics we want with us to assure they don't get lost and also use at the airport and on the airplane.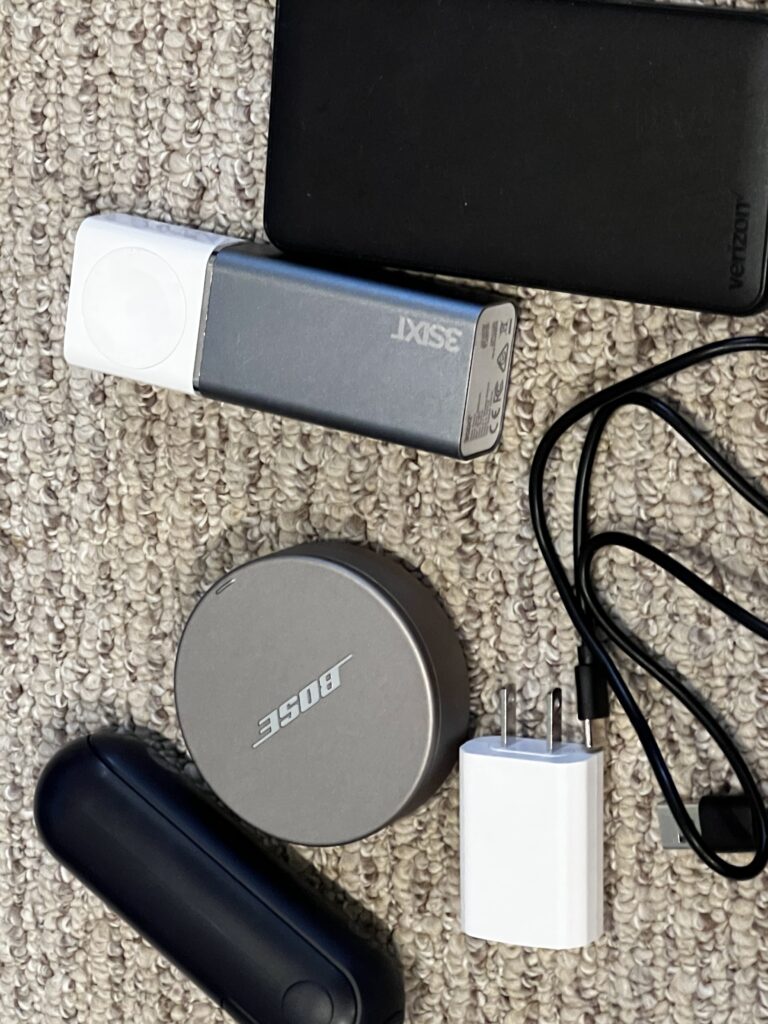 USB plug and charging cable
Charged Battery Brick
Bose Earplugs- which I need for sleeping hotels but work for the plane too
a portable fan – something my daughter requested.
Headphones with a plug for the plane TV but also something that works with your phone or iPad.
Medical/Health Supplies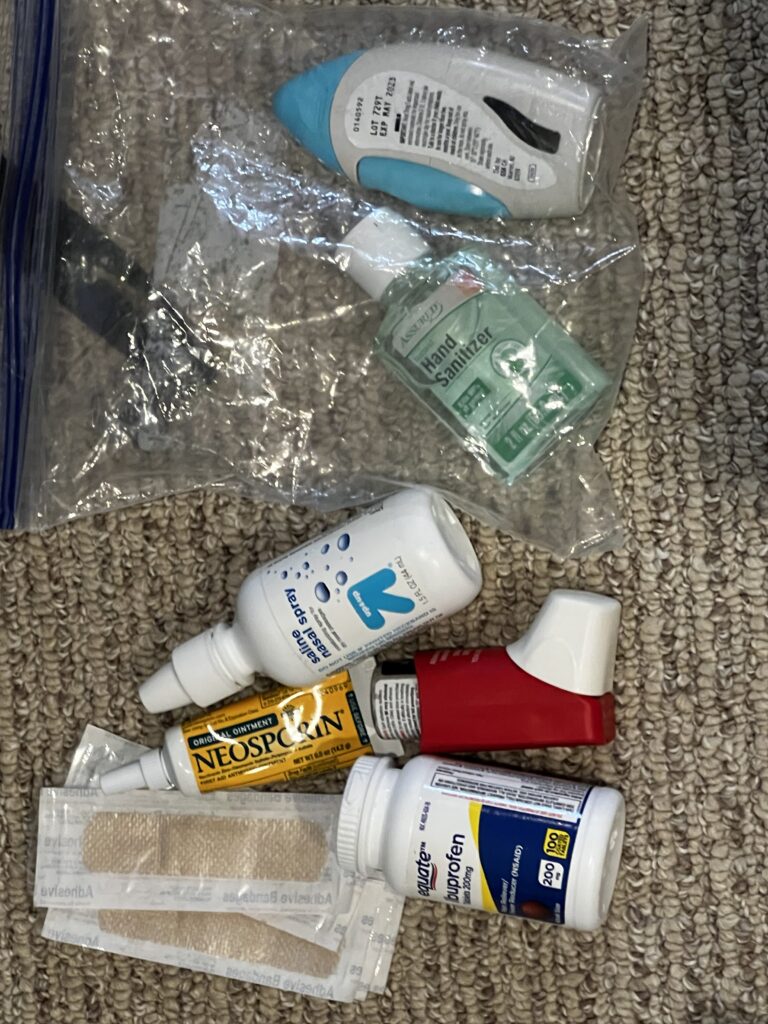 I haven't found it necessary to have a full first aid kit with us but we do often need Band-Aids. In addition, the air in airplanes are dry so I find a saline nasal spray is helpful. Hand sanitizer, wipes and any important/prescription medication should also be in your carry on bag. I usually have Ibuprofen and on international flights Melatonin.
Snacks- What to Pack in Your Carryon Bag/ Personal Item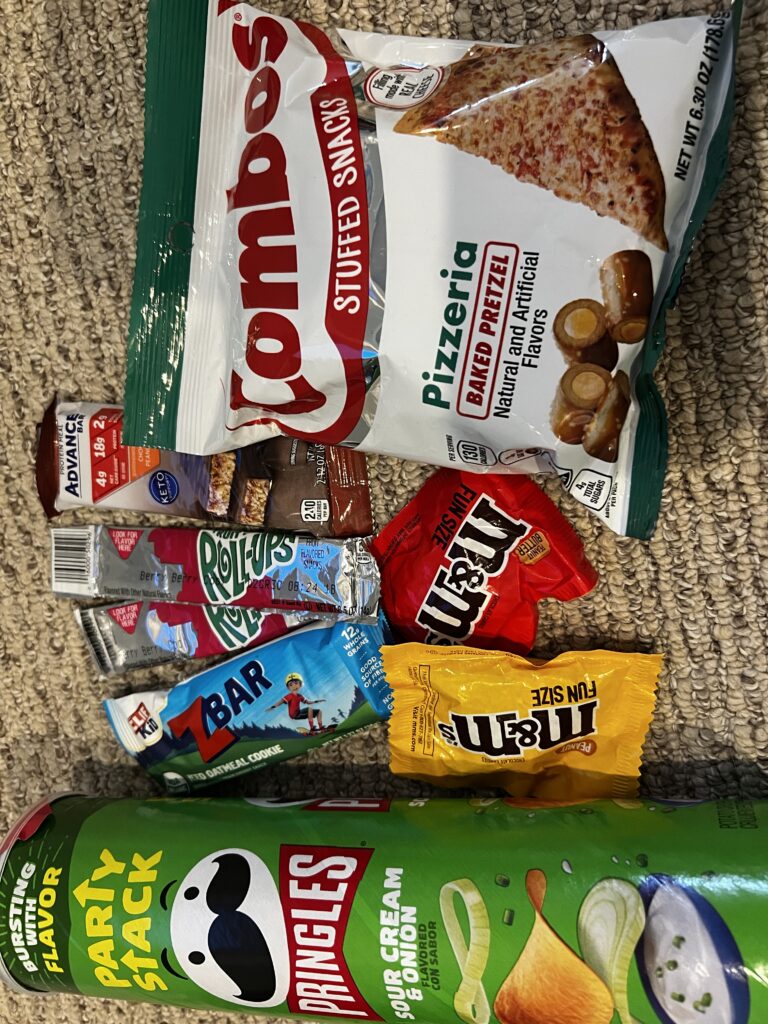 I would like to pretend that we pack enough snacks incase we had a huge delay and were stuck on the airplane for a long time or stuck in the airport after eateries closed. This is a good idea. However, It's more likely my kids will eat every snack we pack during the flight regardless of it's length of the flight.
Either way snacks are a must. If traveling domestically we usually have beef jerky but internationally we avoid as meat is often restricted even if it came processed the bag would be open and I am just not sure how they would deal with it. In the US they absolutely confiscate the meat even if it's factory sealed. Proteins bars and Combos are always on hand as filling options for us.
For long or overnight flights we always pack inflatable footrests for the kids. This allows them a place to put their feet that they can reach. This stops them from using the seat in front of them to push off of when they start to slide off the seat. It also creates a bed for them when it's time to sleep on an overnight flight. They are inexpensive and do not take up much space. Well worth the comfort they provide.
We recently realized the inflatable footrest also works well as a giant body pillow you can lean forward on. its much more comfortable than the tray table if you are an adult but the tray table works well for a child.
More and More airlines are charging for blankets. Blankets are also useful when traveling in general especially for the kids. We aren't always sure how cold we will be and having the blanket rolled on the outside of our backpack is simply and easy. We have used it on boat rides that were colder windier and even through a some sprinkles. Also if the bedding isn't warm enough in the hotel for some of us while others are comfortable we can easily add the blanket at a layer.
We don't bring neck pillows as they are just bulky for us. We tried inflatable one sand they weren't great. Many bring neck pillows and they are very comfortable. We instead use our zip up or the blanket as a pillow. Our daughter even used her back pack as a pillow on her tray table.
Refillable water bottles
While water isn't allowed through security, we always bring refillable water bottles. For one it's easier for all of us to drink from we don't have to worry about losing the cap because it's attached and they do much better with pressurization on a plane then the plastic bottles.
If we visit a lounge before our flight we
Important Documentations
We have a Travel Wallet we were given when we took a motor coach tour years ago. It's held up and stores our passports, drivers license, boarding passes and any other important documents.
We also make sure to have our priority pass cards for lounge access as well as our Capital One Venture X credit cards incase we need to show them for lounge access. Airport Lounge access often provides meals snacks and drinks for us when traveling so its definitely an amazing perk.
What to Pack in Your Carryon Bag/ Personal Item
What to Pack in Your Carryon Bag/ Personal Item when flying is important. You will not have access to your carry on stored over head while flying and sometimes if overhead is full you may be asked to gate check it. Make sure to make everything you need to be comfortable on your flight.
Follow Affordable_Family_Travel on Instagram
Make sure to like AffordableFamilyTravel.com on Facebook to get all the latest updates. It's also where I post my Dash Deals that are time-sensitive.