15 Things to do in Harpers Ferry National Historic Park with Kids shows many of the wonderful activities in the park. Harpers Ferry National Historical Park is rich in history and displays it in a fun educational way for children.
1. Check out the Visitor Center
The Visitor Center is a great resource. It usually has maps and a Ranger available to answer questions. There are usually maps and information on the various activities and hiking trails available in the park.
2. Participate in the Junior Rangers Program
The Junior Rangers Program is an Educational Program for all ages. Complete select activities in a booklet and earn a Junior Rangers Badge
3. Enjoy the Museum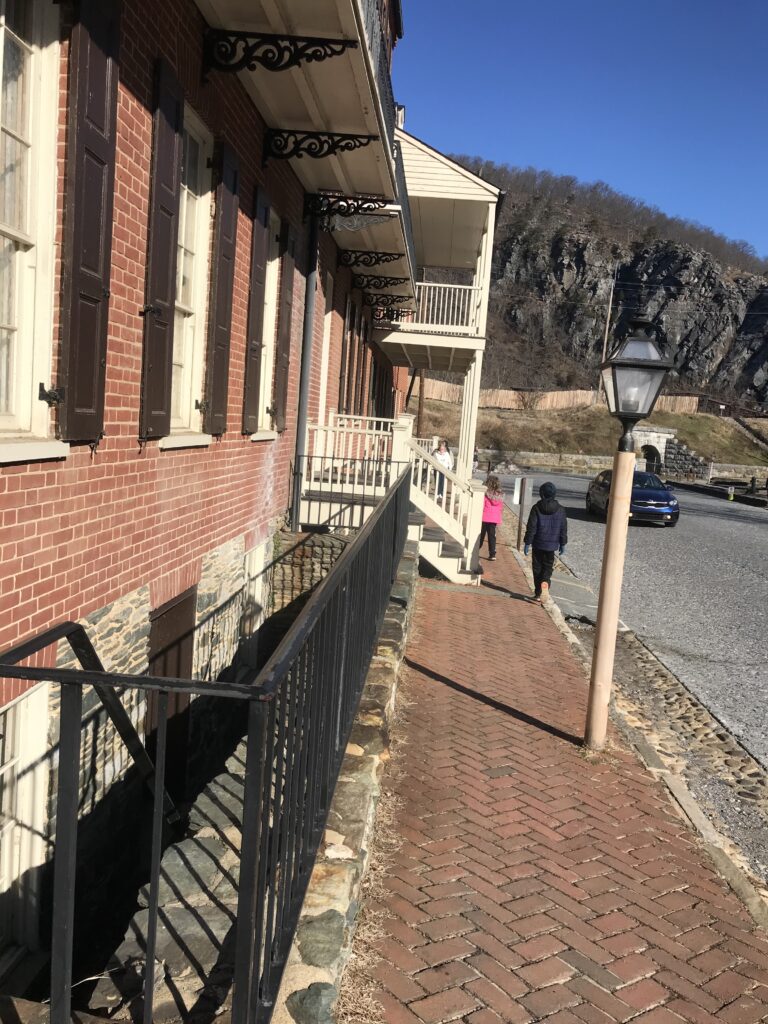 Many National Park Sites have a small museum that houses artifacts and information about the Area. The small museums are usually within the visitors center. Some Parks have outside informational displays. the Museums at Harpers Ferry are unique because Harpers Ferry has many old houses you can step into that display information.
4. Go for a Hike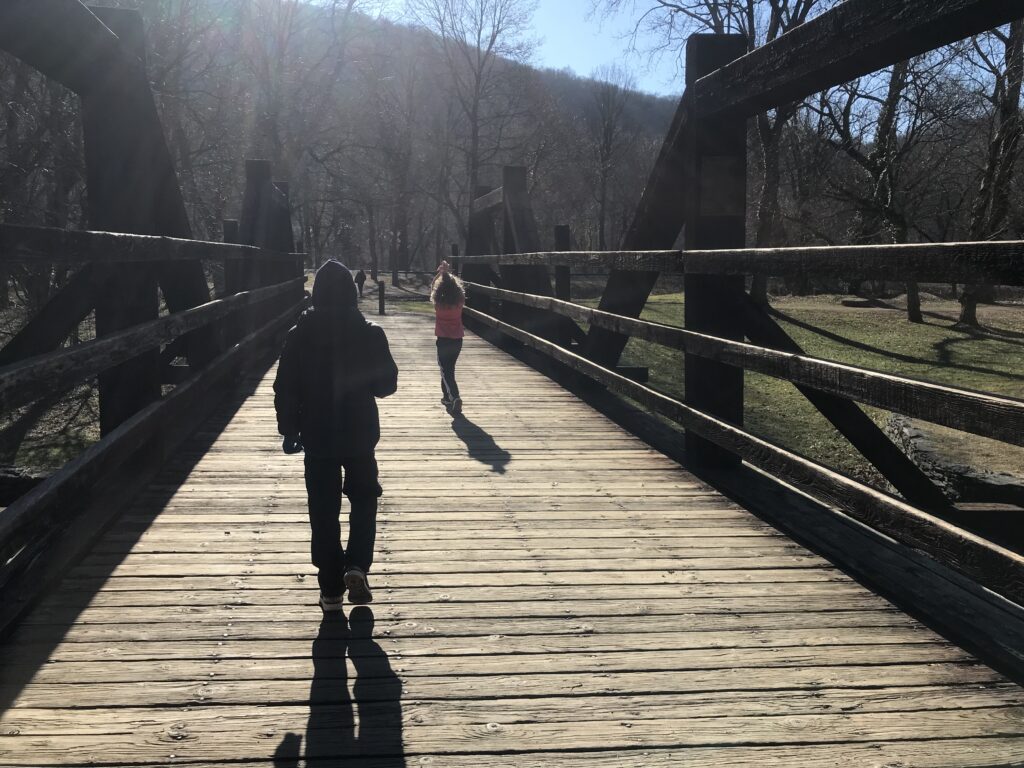 If you park at the visitors center it's a fairly easy hike down to the village of Harpers Ferry. You can choose to hike back or take the shuttle back.
5. Take in the Views
Some of the most amazing views in the country are in our National Parks. Make sure to snap a few selfies too. You can also have fun taking some perspective shots that make fantasy look like reality. Harper Ferry has some beautiful views of the village as well as of the river.
6. Get on the water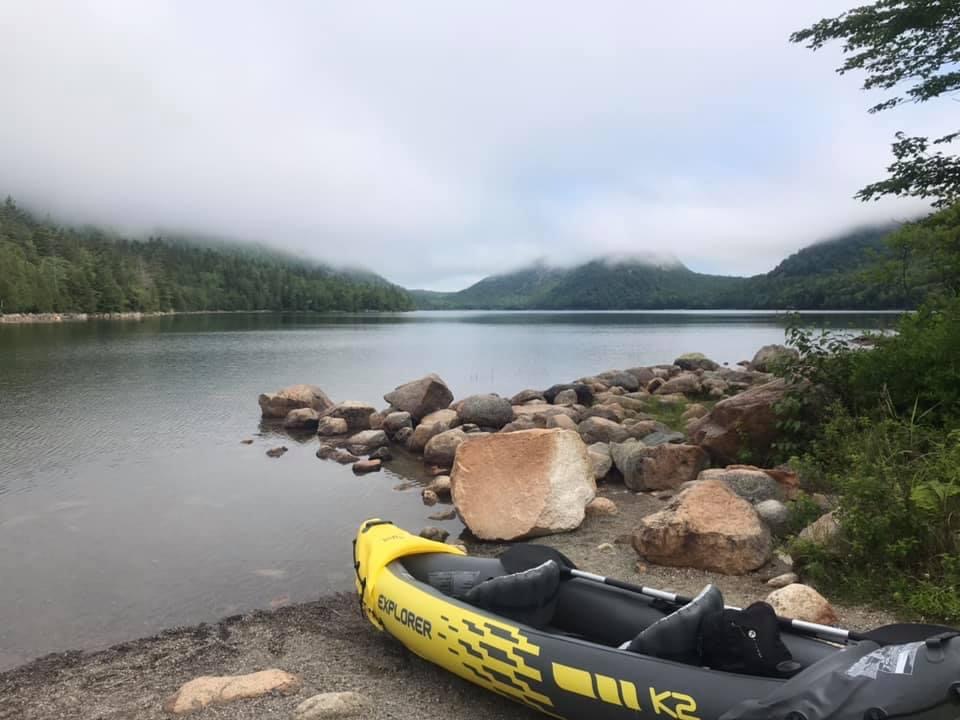 Bring your kayaks, and paddleboards, or rent a boat. If it's too cold to get in the water you can always get on the water for some fun. We love bringing our inflatable kayaks and paddleboard when we travel. While we won't take them in the ocean there are often calmer places to kayak near the ocean. While Harpers Ferry is situated along the river, the tour leaves from outside the park. Given the size and conditions I recommend, families book a tour that can take you to an area that is appropriate for the ages and experience of your group.
7. Go Fishing, Clamming, Scalloping, or Crabbing
My kids love fishing. If you bring your own equipment it can be more affordable but make sure you follow local laws and get any permits you may need for fishing in West Virginia. Fishing is allowed in Harpers Ferry National Park. It's ideal to park in the lower lot which fills up quickly so arrive early.
8. Learn About History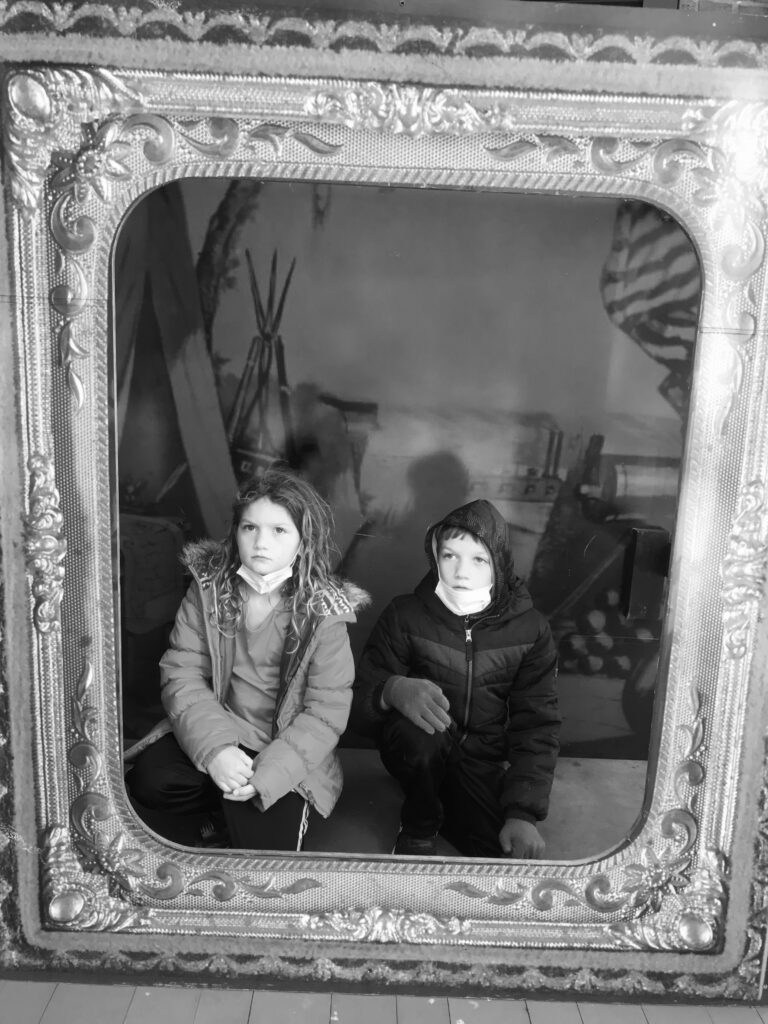 National Historic Sites are part of the National Park System, through a variety of presentation material you can learn about the history of our nation. Harpers Ferry National Historical Park is full of history. The park shares this history in an interesting way that is fun for families with children of all ages.
9. Look for Wildlife
Wildlife is all around us and the National Park system is a great way to preserve their homes. You can often spot wildlife in many of the national parks. Our Favorite parks to see animals are Yellowstone National Park and Theodore Roosevelt National Park. However, you can enjoy wildlife at Harpers Ferry too. On the Appalachian Trail up Loudoun Heights, you may see gray and fox squirrels. You can also see Eastern chipmunks and the southern flying squirrel was found in the park.
There are so many sports options you can play at the beach. Football, soccer, dodgeball, kickball, volleyball, or pitch and catch are just a few.
10. Have a Picnic
Having a picnic can be a lot of fun. It can also save you from having to wait in long lines at the limited dining options within a Large National Park. You can also add some games to your picnic or spend time talking about what you have done or the wonderful view you have. Bring a blanket and enjoy a picnic with a view of the river.
11. Climb Rocks
Rock Climbing is allowed at Harpers Ferry. The cliff faces within Harpers Ferry National Historical Park are considered the best climbing in the area. Check the park's website to make sure rock climbing is allowed at the time of your trip.
12. Go for a Bike Ride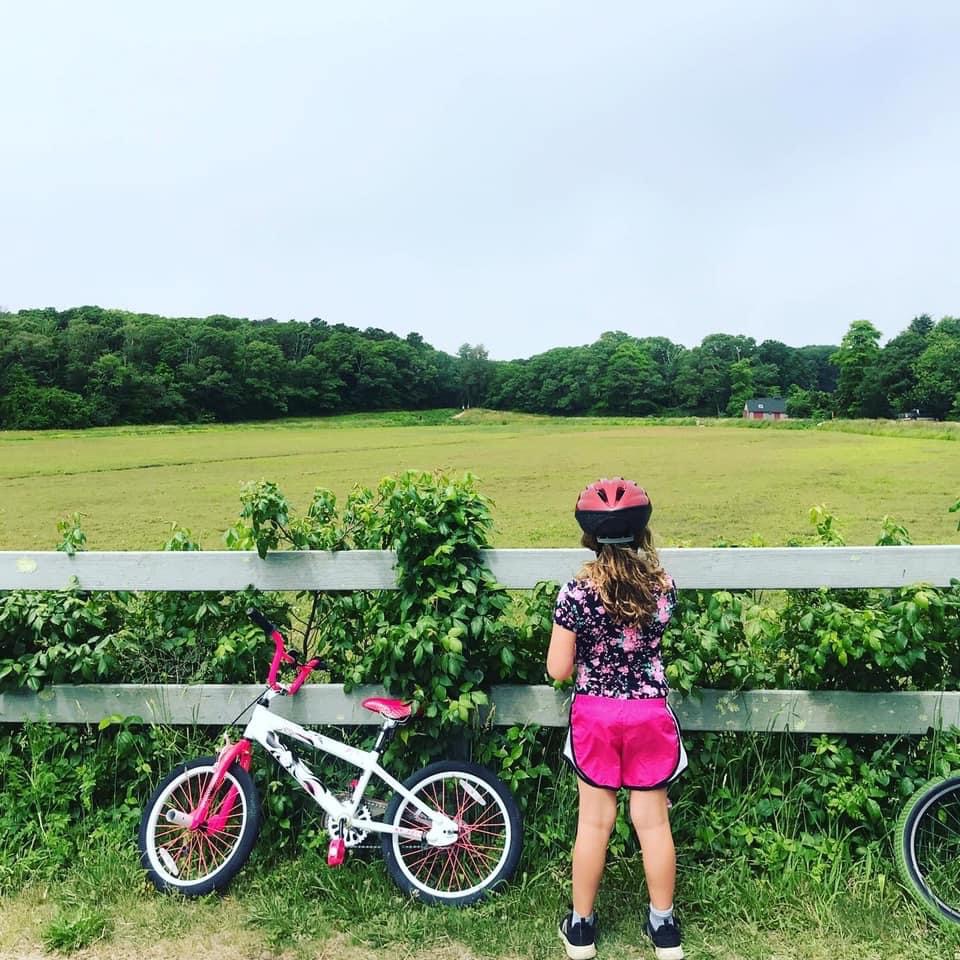 Bring your bikes and explore some of the bike trails that are within many National Park sites. Bikes are allowed on the streets of Harpers Ferry but are not permitted on sidewalks or park trails. The Park shuttle buses are equipped with bike racks for transporting your bike. The city is small so biking isn't necessary but it could add an additional activity to your trip.
13. Attend a Ranger Lead Program
Some National Park Sites offer Ranger lead Programs. This is a great chance to get in-depth information and also ask questions.
14. Stamp your Passport
Get a Passport Stamp. No, I do not mean your International Passport, although we have seen people do this and you should absolutely NOT do that. You can purchase a National Parks Passport in most gift shops. Then as you travel throughout the country to various National Parks you can stamp you
15. Let the Kids be the Navigator
Hand the park map to the kids and let them be the navigators. There are many buildings to explore so let the kids be the lead.
15 Things to do at Harpers Ferry National Historic Park with Kids Summary
These 15 Things to do in Harpers Ferry Historic Park with Kids are a fun way to enjoy history and nature. Harpers Ferry Historic Park is one of the best National Park Sites you can visit from the Northeast.
Follow Affordable_Family_Travel on Instagram
Make sure to like AffordableFamilyTravel.com on Facebook to get all the latest updates. It's also where I post my Dash Deals that are time-sensitive.