17 Things to do in Assateague Island National Seashore with Kids can help you have a fun cheap National Parks trip with Kids. There are many fun things to do while enjoying nature, the beach, and of course the wild horses. National Parks have a wonderful Junior Rangers Program that provides educational activities within the Park. National Parks also offer Kid-Friendly Hikes and many more activities. America the Beautiful National Parks Pass can provide entrance to many National Parks sites across the country for 1 low price. Fourth Graders can get a pass for free through every kid's outdoors program.
1. Check out the Visitor Center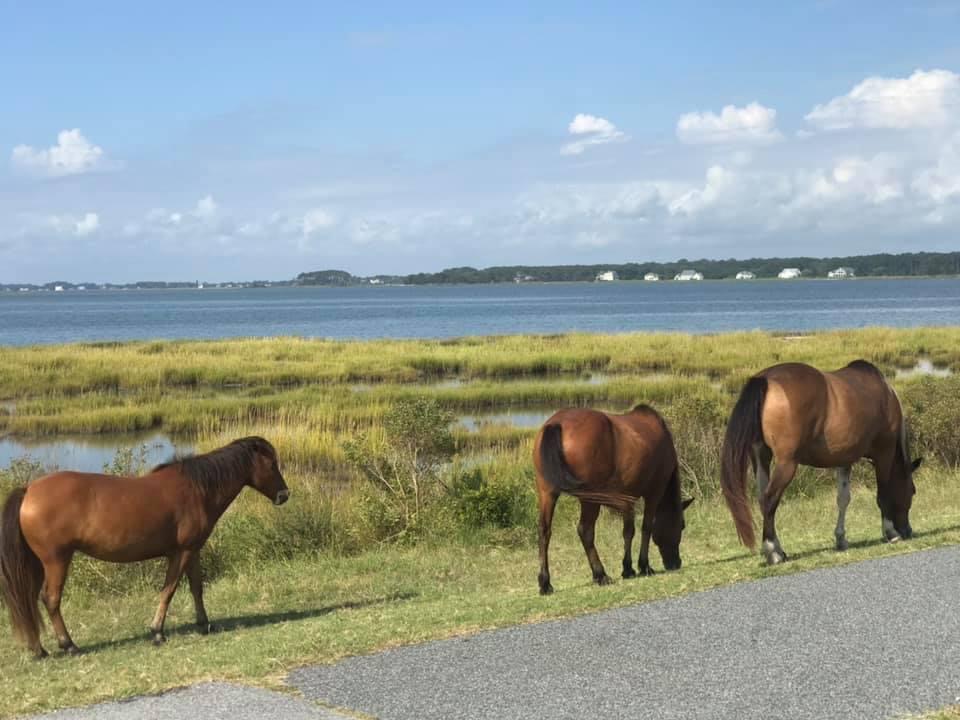 The Visitor Center is a great resource. It usually has maps and a Ranger available to answer questions. The Assateague Island National Seashore Visitors Center is prior to entry into the park. It's also the place you will want to park if you plan to walk or ride your bike over the bridge.
2. Participate in the Junior Rangers Program
While your at the Visitors Center ask them about their Junior Rangers Progra,. The Junior Rangers Program is an educational Program for all ages. Complete select activities in a booklet and earn a Junior Rangers Badge.
3. Go for a Hike
Of course there's many places to hike in our nationoal parks. Assateague Island National Seashore has wonderful boardwalk marsh walks you can hike through.
4. Play in the Sand
Some National Park sites have beaches and what better to do than to play in the Sand. Assateague Island Island National Seashore has an expansive beach to enjoy.
5. Go for a Bike Ride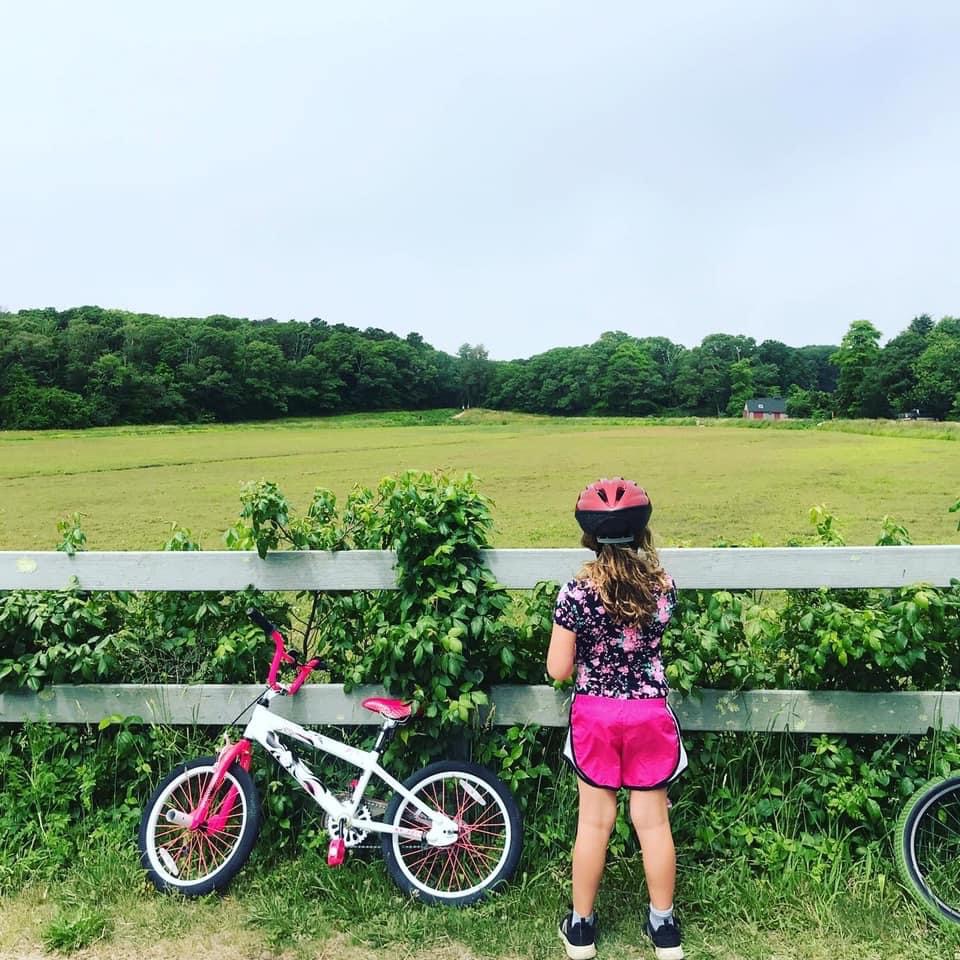 Bring your bikes and explore some of the bike trails that are within many National Park sites. We have seen many taking a bike ride over the bridge into the park. Bike riding allows you to skip the long line of cars entering the park but be prepared because the ride is mostly in direct sunlight. you can bike over 4 miles within the park.
6. Get on the water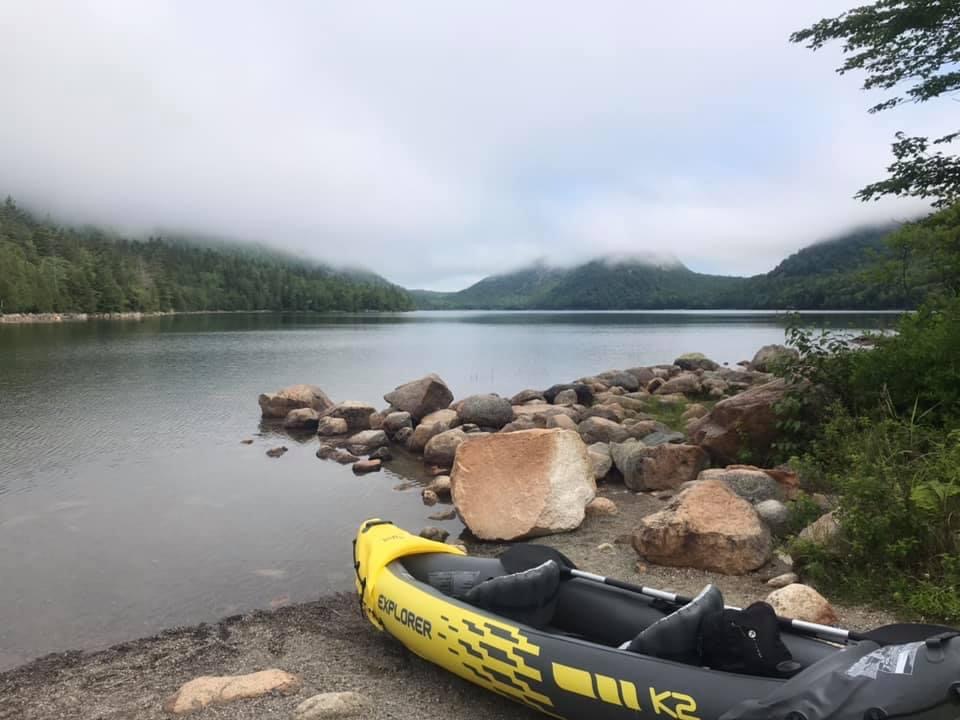 Bring your kayaks, paddleboards or rent a boat. If it's too cold to get in the water you can always get on the water for some fun. We love bringing our inflatable kayaks and paddle board when we travel. While we won't take them in the ocean there are often calmer places to kayak near the ocean.
Enjoy open waters, small coves, and salt marshes of Sinepuxtent and Chincoteague Bays. While nothing prevents you from paddling in the Atlantic Ocean, most people choose the bay where the waters are calm and the wildlife is more plentiful. I would not recommend inflatables in the Atlantic Ocean espeically in Assateague Island where the currents tend to be rough.
7. Go Fishing, Clamming, Scalloping or Crabbing
My kids love fishing. If you bring your own equipment it can be more affordable but make sure you follow local laws and get any permits you may need for fishing. You can also charter a fishing trip. Large group trips are more affordable but private tours may be easier to manage the time and go back sooner if the kids need to. You may also be able to rent equipment to fish from the beach or pier. Fishing is allowed in Assateague Island National Seashore but make sure you read the rules and have appropriate licenses.
8. Learn About History
Nationoal Historic Sites are part of the National Park System, through a varierty of presentation material you can learn about the history of our nation. Find out Why are there horse on Assateague Island National Seashore?
9. Look for Wildlife
Wild life is all around us and the National Park system is a great way to preserve their homes. You can often spot wild life in many of the national park. It's also fun to see the wild horses on Assateague Island National Seashore but what other wildlife can you find?
10. Play with balls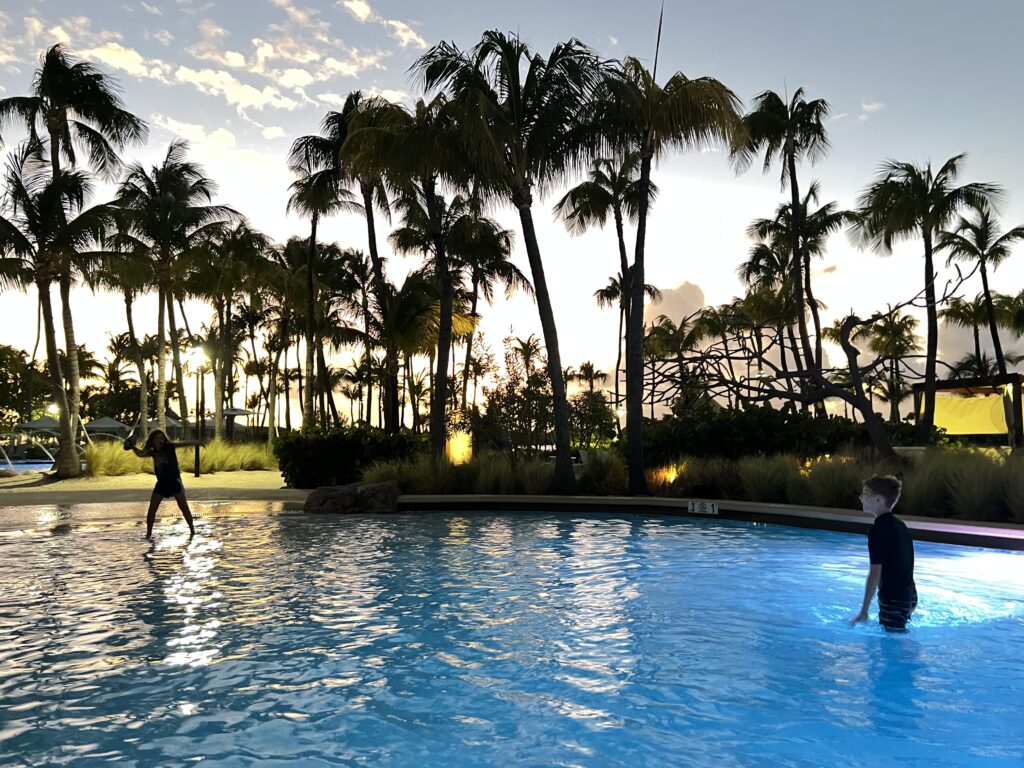 There are so many sports options you can play at the beach. Football, soccer, dodgeball, kickball, volleyball, or pitch and catch are just a few. Assateague Island Naitonal Seashore has plenty of space on the beach to play a game of catch.
11. Go Bird Watching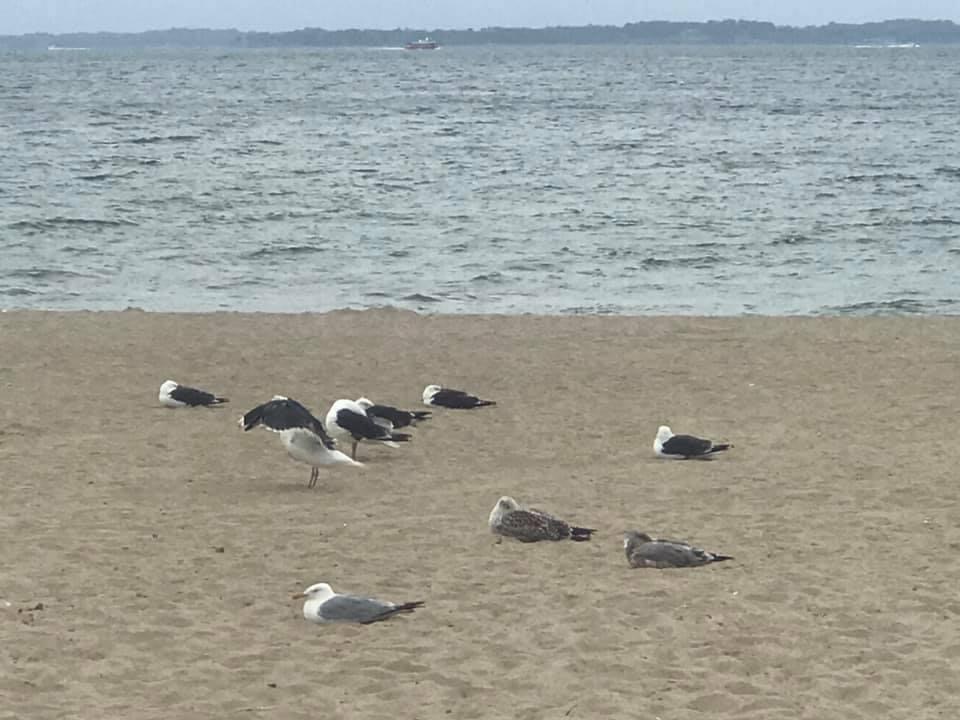 We enjoy watching seagulls and other birds. Sometimes they are stealing food as a beachgoer is trying to enjoy a meal. sometimes they are running from the waves. We have watched babies run around the sand and even had one bold enough to come right up to our beach blanket looking for food.
12. Learn About Natural Science
There are so much to learn at National Parks especially Natural history. Its so intersting to understand how the various landscapes in our country were formed and how it ultimately lead to what the land looks like today. You can learn about the history of the barrier reed that isAssateague Island National Seashore.
13. Have a Picnic
Having a picnic can be a lot of fun. It can aso save you from having to wait in long lines at the limited dining options within a Large National Park. You can also add some games to your picnic or spend time talking about what you have done or the wonderful view you have. The beach at Assateague IslandNational Seashore is great for a picnic. Just watch out for the seagulls.
14. Go For a Drive
One of the easiest ways to see what a National Park has to offer is to drive through it. Of course along the way you probably want to stop at some scenic points, or for a hike or even to look for animals. Assateague Island National Seashore main road will tak you down past the main beach and you may see some horses along the way. If you apply for a permit and have an approopriate vehicle you can keep going when the road ends and turns into a beach road. Off roading can tak you further down where less people are and better chance of seeing more horses.
15. Hop in the Water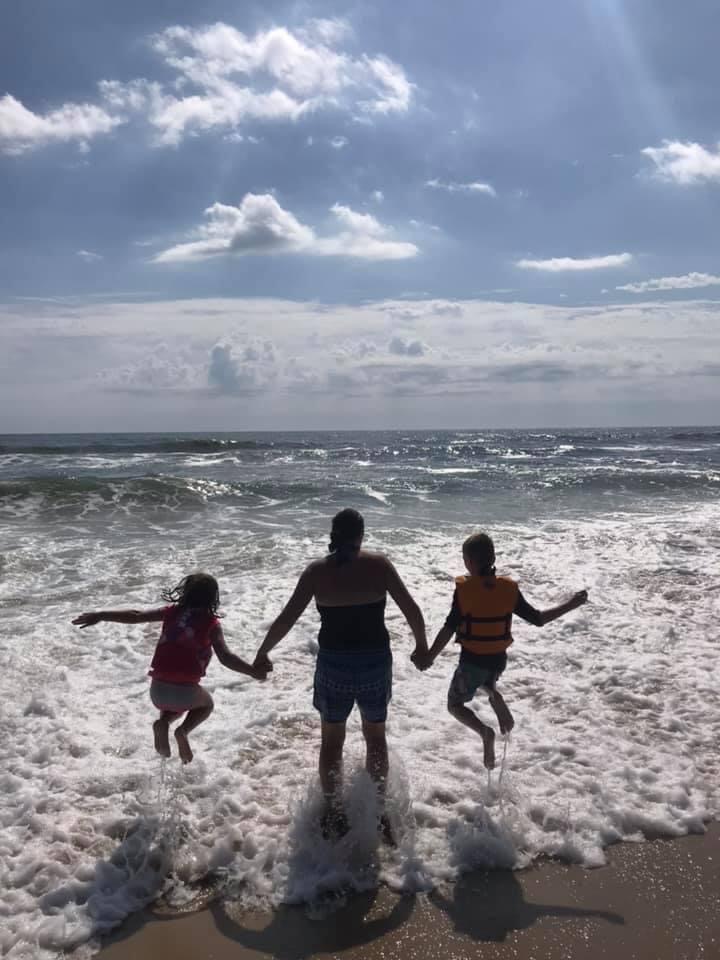 National Parks sites usually have water although you may not always be allowe in it. There are many national seashores t hat have beaches. Some are great for swimming. Some great for snorkeling and surfing. There's also lakes and streams you can enjoy. Whenever we have visited Assateague Island National Seashore the waves have been huge. So much so that we wouldn't go very far if at all into the water. We basically stood where the waves crashed in the sand and dried to jump over or run away from them. It's a lot of fun and a great way to cool off.
16. Take in the Views
Some of the most amazing views in the country are in our National Parks. Make sure to snap a few selfies too. You can also have fun taking some perspective shots that make fantasy look like reality. My Favorite view is of the Horses and if you arrive early enough you may be able to get a shot of them on the beach.
17. Stamp your Passport
Get a Passport Stamp. No I do not mean your International Passport, although we have scene people do this and you should absolutely NOT do that. You can purchase a National Parks Passport in most gift shops. Then as you travel through out the country to various National Parks you can stamp you. The Nationoal Park Stamps are usually available in the Visitors Center.
17 Things to do in Assateague Island National Seashore with Kids Summary
These 17 Things to do in Assateague Island National Seashore with Kids are ways to have a fun-filled adventure at Assateague Island with Kids. Assataguea is one of the Best Nationoal Parks you can visit from the Northeast.