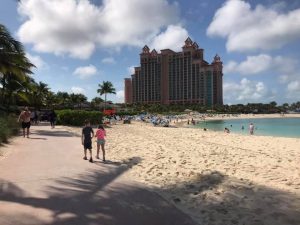 Everything You Need to Know About The Bahamas Summary. Bahamas Family Vacation can be fun filled with lots to do. There's also some great Bahamas Family Resorts which help balance fun with some relaxation.
We first visited the Bahamas as a family when our son was only 6 months old. Looking for a break and had won a travel voucher. We did no research and had the travel agent book us what she thought was best. Looking back, we could have probably stretched that voucher a lot further but staying at the RUI Paradise Island was exactly what we needed, and we had a great time.
The RUI Paradise Island is now an Adult only All-Inclusive, and walking distance to Atlantis if you want some evening entertainment.   The Bahamas can be very expensive especially when you add VAT and mandatory gratuity onto just about everything.  But there are ways to make it affordable and it's a very beautiful place and often a short flight away.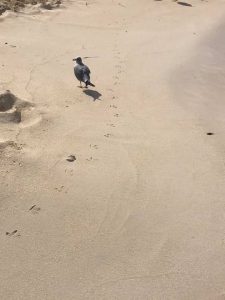 Nassau Airport Bahamas
Nassau Airport is probably the nicest most comfortable Caribbean airport we have been in. While waiting in a somewhat long line for customs, there is air-conditioning and a band playing music. For departure, there is a priority pass lounge Greycliff Devans but we were not happy with the lounge at all. Children enter free and they refused to scan children as adults, so you only get food credit of $20 per adult. Entrees are $15-$20 and the $15 sandwiches come with 2 slices of meat.
The chicken tenders for $15 comes with 3 very small chicken tenders. There are also very few outlets in the lounge. I really wish they counted this as a restaurant and not a lounge as that is what it basically is or at least swipe kids, so they can get the dining credit too. There's plenty of food options in the airport so if you do not have a priority pass do not go here.   Food The main Bahamian food we tried was Conch: Cracked Conch, Conch fritters, Conch chowders, and Conch Salad. Favorite being Conch Salad.  
The Bahamas Resorts
Atlantis is an amazing resort on Paradise Island. With more pools and beaches than you could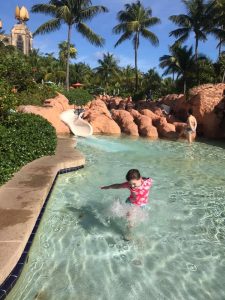 possibly visit in one trip, the resort never seems crowded- unless you go to the beach that the cruise ship passengers go to. The water park is great for all ages we loved the beaches and the aquarium is very impressive.  
The resort is pricey, but we found ways to make it affordable.  With the Caesars Status Match its possible to stay free for up to 4 nights paying only fees of $260 total. Check out our trip report, how we ate out of our suitcase and how we earned our free stay to make this an affordable family travel opportunity. We combined our free stay with southwest airline companion pass and miles.  You can also use marriot rewards points to stay at Atlantis Family Resort on points.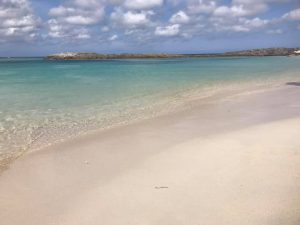 Baha Mar
There are a few resorts on Baha Mar. You can stay at the Grand Hyatt Baha Mar for 20,000pts per night.  For 7,000 more points, you can get a club room. This is a great value as you will get breakfast in the morning and evening appetizer and drink reception and bottled water and soft drinks available throughout the day. The appetizers are hearty enough for sure for a meal. Starting at 8 pm you can watch an evening fountain show from the club balcony. Lunch will still be pricey unless you opt to eat out of your suitcase for this meal. Resort fees are waived for point stays.   The Hotel has a beautiful pool (no slide) but rock formations and an aquarium tank with sharks and stingrays.  They also offer kayaks and paddleboards included for free.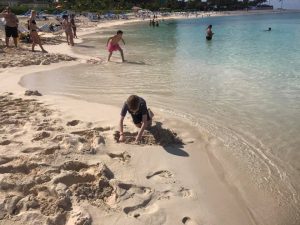 Comfort Inn/ Cruise Stops
The comfort inn is attached to Atlantis and comes with Atlantis water park access. The cost is often around $199 a night and includes breakfast.  Since this cost covers all guests staying in the room it's also a good value for families who make a cruise stop in Nassau. Many make a reservation at Comfort Inn for a one-night check-in the day they are in port and get their access to the water park.

Check out more Southwest Airline Destinations HERE.
You can earn southwest companion pass and miles and fly for free (fees additional).
Things you May want to Purchase Before Your Trip
Everything You Need to Know About The Bahamas Summary
Everything you need to know about the Bahamas can help you plan the best family trip to the Bahamas.
Follow Affordable_Family_Travel on Instagram
Make sure to like AffordableFamilyTravel.com on Facebook to get all the latest updates. It's also where I post my Dash Deals that are time-sensitive.