Disney Cheap Eats: Disney Snacks Big Enough to be a Meal can help you stick to your budget on a cheap family vacation to Disney. If you are looking for affordable meal options at Disney, Snacks as a Meal is a great option.
If you are booked a package that includes Disney Dining, you may be aware that many people end up with a lot of snack credits left over at the end of the trip.  This usually results in purchasing bags of candy and package snacks to bring home.
Join The AffordableFamilyTravel.com Crew on Facebook and become part of a community of families sharing tips and ideas for Affordable Family Travel.
We have done this every trip and that was even after eating snacks as a meal or two. I highly recommend planning at least 1 meal that is just snacks. Disney World Snacks are fantastic and there's a wide variety of options. A budget Disney World trip is possible and these snacks can help.
These are also great ways to use snack credits for some Cheap Eats at Walt Disney World
Festival Booths at Epcot Wine and Food fest are full of Cheap Eats at Walt Disney World
Epcot International Wine and Food Festival is my favorite event at Disney World and enjoying tapas from the food festival booths using snack credits (or even a quick service credit for 3 tapas at the same booth) is my favorite use of snack credits. There's also the international festival of the holidays and the festival of arts which have improved their food options since it started a few years ago. We have tried and only been able to get at most13 tapas for 4 of us for 2 meals basically 2-3 tapas for an adult and 1-2 tapas per child.
Eat Around the World at Epcot and enjoy some Cheap Eats at Walt Disney World
Truth be told we have only been to Epcot during the Wine and Food fest and Arts festival and have yet to simply snack around the world. But there are so many options that could be a meal. There are a lot of options for desserts as well.
Truth be told we have only been to Epcot during the Wine and Food fest and Arts festival and have yet to simply snack around the world. But there are so many options that could be a meal. There are a lot of options for desserts as well. ·      
Joy of Tea (China): Curry Chicken pocket, Pork and vegetable eggroll
Boulangerie Patisserie Les Halls (France) Bique de Homard (lobster bisque) . Soupe de Potiron (pumpkin soup in a bread bowl) , Roule Lard & Fromage (bacon and cheese roll) , Baguette (maybe to share with some bisque) , Pissaladier (tomatoes olives and gruyere cheese) , Croissant Jambon Fromage (ham, cheese and bechamel in a croissant) , Crepes de
Chefs de France (France)-Several Sweet Crepe options ·      
Kabuki Café (Japan)   Edamame,  California Roll,  Temari Sushi combo,  Futomaki big roll,
Sommerfest (Germany) Cold macaroni salad, Nudel Gratin (baked macaroni with cheese custard)       
Rose and Crown Beer Garten Seasoned House-made Crisps
Sunshine Seasons (not in World showcase)Carrots and celery with hummus, fruit and cheese plate, Tomato cucumber salad, Caprese salad,   Chicken corn chowder, Roasted tomato soup, Maryland Style Crab Soup, Side Salad, Tuna side salad,  Black bean soup, Beef chili,  Pumpkin soup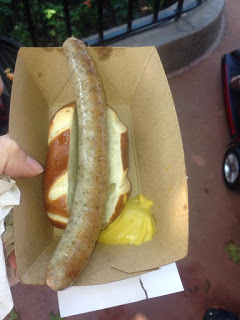 Disney Snacks at Animal Kingdom     
Mr Kamals(Asia) Seasoned fries topped with tzatziki salad and siracha ketchup, Hummus with vegetables and mini pita
Thirsty River Bar and Trek Snacks (Asia) Hummus with vegetables and pita , Mickey Pretzel with cheese dip (not all pretzel locations include dip)
Warung Outpost (Asia) Mickey Pretzel with cheese dip (not all pretzel locations include dip)
Yak and Yeti (Asia Pork Eggroll, Chicken Fried Rice, Basket of Fries
Restaurantosaurus Potato soup, Chili cheese fries, Fried Jalapeno poppers (3pc)
Flaming Tree BBQ  French fries with pulled pork and cheese, French fries,  Onion ring basket
Pizzafari Tomato Basil soup , Garlic knots topped with cheese and served with marinara sauce ·
Eight Spoon Café Baked macaroni and cheese- plain, with pulled pork or with shrimp and sweet chili sauce , Mickey pretzel with cheese sauce ·      
Pongu Pongu Pungu Lumpia -pineapple crema cheese spring roll,   Nigh blossom – not alcoholic drink
Starbucks (All parks have one) Carrot and celery dipper pack,  Apple slices with caramel dipper pack, Hard boiled eggs, Smoothies (if still available I used to as for a shot of espresso and they never charged extra) it's my favorite breakfast
Disney Snacks at Magic Kingdom
Magic Kingdom is my least favorite place to eat in general. We often plan our dinners off-site at one of the monorail resorts or head over to Epcot if we have hopper passes. But we do have to eat and there are some options to eat a meal with snack credits (though the chicken fajitas at Peco bills is my favorite value meal because it's enough for 2 or even 3. ·
Be Our Guest- LUNCH only French onion soup potato leek soup ·
Gastons Apple slices with caramel sauce, Hummus, and chips
Golden Oak Outpost (seasonal) Chili Queso Fries , Jalapeno Poppers, Cauliflower fried spicy battered with creamy garlic ranch, Waffle fries
Columbia Harbor House New England Clam Chowder, Vegetarian Chili, puppies, Steamed fresh vegetables, Couscous, French fries ·Caseys oChilli Cheese fries
Pecos Bill Tortilla Chips and Queso (and the toppings bar which is so good)  
Pinocchio Haus Antipasto side salad , French fries , Breadsticks with marinara sauce, Tomato Basil Soup
Disney Snacks at Hollywood Studios
Hollywood Studios would be the other park I could care less to eat in. Nothing there excites me though the kids enjoy the Hollywood n Vine Character dining.
Catalina Eddie's Breadsticks with Caesar dressing
Pixar Place the Market Mickey Pretzel with cheese sauce  
Disney Springs
While there are restaurants that accept dining credit I did not find any menu items that accept snack credits worthy of a meal
At the Resorts
You would be surprised at what you can find for a snack credit at the resorts. We have even found uncrushable pbj sandwiches. Boiled eggs fruit and cheese. My daughter could eat a Chobani as a meal (and has). Here is a list from just a few of the resorts
  All Star Movies: World Premier food court

Side salad
Soup of the day
Asian noodle side salad
Chili cheese fries ·

All Start Sports:
Art of Animation:

Landscaped of Flavors
Seasonal soup
chicken noodle and vegetable soups
Bread-sticks with marinara or Alfredo sauce
Side of coslaw
Side salad
Hummus and veggies or pretzels
House mad chips or fries ·Beach club market
Launchable
Soup of the day
PBJ (sandwich only)    
For more ways to stretch your quick service dining meals or save money on food at Disney check out 7 shareable meals at Walt Disney World.
Check out all the at AllEars.net Menus Check out these other Disney posts:
Aulani, a Disney Resort and Spa
Mickey's Not So Scary Halloween Party
7 Shareable Meals at Disneyland
DCL Mediteranean Cruise
DCL Royal Princess Tea Party
Follow Affordable_Family_Travel on Instagram
Make sure to like AffordableFamilyTravel.com on Facebook to get all the latest updates. It's also where I post my Dash Deals that are time-sensitive.