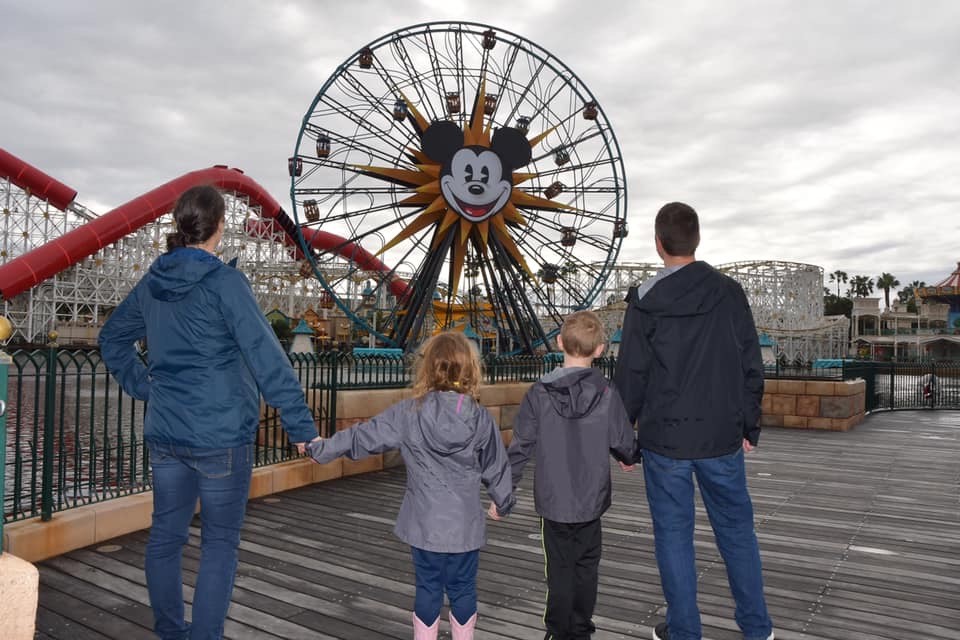 Disneyland California vs Walt Disney World. Living on the East Coast of the USA, it's logical to head to Walt Disney World in Florida, less than 3 hour flight away, vs flying to Disneyland California, 7-8hr flight away. Flight prices are usually cheaper to Orlando too. However, our family has been to Disneyland Ca almost as much as Disney World and here's why.
It's more affordable
Cheaper hotel options in Walking Distance
There's many affordable hotels near Disneyland California that are walking distance. While at Disney World , it is so big even most onsite hotels are a distance away from the parks (or some if the parks). We can book an offsite hotel walking distance to Disneyland for $600 for 4 nights. We usually stay onsite at Disney World not only for the magical experience but convenience of not having to rent a car and pay for parking.
Less Money Spent on Tickets
Tickets are cheaper because you don't have to stay as long. we were able to get a 4 day hopper passes for $1050 for a family of 4. This is enough time to enjoy the 2 parks. When we head to Disney World we stay 7-8 nights to enjoy most of what it has to offer and while our last trip 3 years ago cost $3600 for a package including dining, the same package now would cost nearly $5,000. That's with out flights.
You can enjoy at least double the number of rides and attractions at Disneyland as you can at Disney World in the same amount of time, so you experience more in less time.
We spend about $2,000 in 4nts 4 Days Disneyland ($500/day) vs $5,000 for 7nts 8 days Disney World ($625/day). the cost per day isn't significant but, considering you can experience the same number of rides and attractions in 4 Days at Disneyland as you can 8 Days at Disney World it really is a big savings. So much of a savings that we can take that extra money and time and add on Hawaii including Disney's Aulani Resort. You can check out why we think Disneyland California combined with a stay at Aulani's resort is the perfect family vacation.
Less Money Spent on Food
Limited Character meals saves us money. While limited character meals can be seen as a negative, it actually saves us a ton of money compared to buying the dining plan at Disney World so that we can have a character meal a day. Since characters are easily available in the park there's no need to pay for expensive character meals. Our kids barely eat at them anyway. If you do decide to splurge on a character meal at Disneyland, Minnie's Plaza Inn Breakfast offers more characters than any character meal at Walt Disney World. Many of Disneyland's quick service entrees are shareable so we save a ton on food at Disneyland compared to Disney World .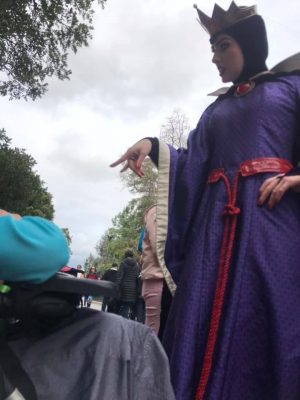 Disneyland California is More Enjoyable than Disney World in Some Aspects
Bigger isn't Always Better
While Magic Kingdom is bigger than Disneyland, There's actually more rides and attractions at Disneyland than Magic Kingdom.
It's a lot easier to meet characters at Disneyland than Magic Kingdom. When I say easier I mean in 2 ways. 1 there seem to be more unique characters available at Disneyland, for example Peter Pan and Captain Hook, the evil queen, Moana and Flynn Rider just to name a few. And the wait times are minimal. Most lines open for 15 min. as long as you get in line in that period you will meet the character and usually the wait is no more than 15-20 min long.
Different Rides including Classics
There's still some classics you can't find at Disney World.

Toontown is wonderful for little ones.
Snow White's scary adventure
Pinocchio's daring journey
Mr Toads Wild Ride
Finding Nemos submarine (previously 10,000 leagues under the sea)

There's some rides that Disneyland's version is better than Walt Disney World's

Pirates
Small World (look out for Disney characters)
Snow Whites castle- while smaller, it has a walk through

There's some rides Disney World Doesn't have

Incredicoaster is wonderful
The Mickey Ferris Wheel
Matterhorn
Alice in Wonderland
Story Book Canal Cruise
Casey Jr Train
Gadget's Go Coaster
Goofy's Sky School
And More
Shorter Wait Times and Less Walking
You can actually avoid long lines and crowds

week days when kids are still in school is very manageable time to visit. In-fact you can cover 10-13 rides in Fantasyland in the first 2 hours . We have done it each trip.

Character meets tend to have much shorter lines usually waiting 15-20 minutes at most including meeting unique character's like Repunzel with Flynn Rider which you can only meet at a party or character meal at Disney World.

Less distance to walk makes it easier for younger kids and adults too. even walking .5 miles to our hotel each way, we usually walk under 8 miles a day. While at Disney World we often average 10 miles a day. Not a significant difference but over the course of several days we definitely have more energy at Disneyland California.
Check out why I think Disneyland California and Aulani Resort in Oahu is the best combo vacation.
Here's my review and tops for visiting Disney's Aulani Resort.
Make sure to like AffordableFamilyTravel.com on Facebook to get all the latest updates. It's also where I post my Dash Deals that are time sensitive.