The Perfect Harry Potter Day at Universal Studios Orlando Touring Plans and Tips is the perfect Touring plan for Harry Potter Fans. With a park-to-park or Annual Pass you will be able to enjoy The Wizarding World of Harry Potter in both parks.
Harry Potter Day at Universal Studios Orlando Touring Plans Tips
Consider Booking a Universal Resort that includes Express Passes such as Royal Pacific that will help you skip the line at select rides. It will not cover every Harry Potter Ride/Attraction, but it will cover several.
Staying onsite will give you early morning access which gives you the best chance to ride Hagrid's motorbike with the shortest wait.
Consider a Universal Annual Pass. This allows you to park hop so you can access Harry Potter Attractions in both parks as well at the Hogwarts Express that takes you between the parks.
A 1-day 2- park to park pass during the week costs an about $140 per person 2 day interestingly enough is $306. If traveling outside of blackout dates a season pass costs about $425 which you could use to visit the park on multiple trips for as many days as you wish.
Consider planning 2 trips 11 months apart with a season pass (watch blackout dates), which make the average cost only $213 per person for 2 parks and includes park to park access.
You will need to use lockers on several rides. We had our Osprey daylite backpacks that fit in the smaller free lockers with the wands and robes inside. We then had to use a second locker to fit a gallon Ziplock bag of snacks and water bottles. Many uses small purses or fanny packs, but they won't fit wands. drawstring bags tend to be uncomfortable for us. since we shared 2 bags, we could use 4 bags between us 2 for backpacks 2 others if necessary for our snack bag and water.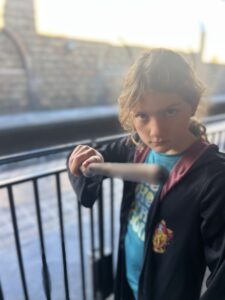 Harry Potter Day at Universal Studios Orlando Touring Plans
Ready for a Harry Potter Day at Universal Studios? Hopefully you either have Park to Park Passes or Annual/Season passes to allow you to visit both parks on the same day and is the only way to access the Hogwarts Express. Staying onsite will give you access to early entry with the shortest wait for Hagrid's and is recommended. So, this plan will have you start at the Wizarding World of Harry Potter-Hogwarts.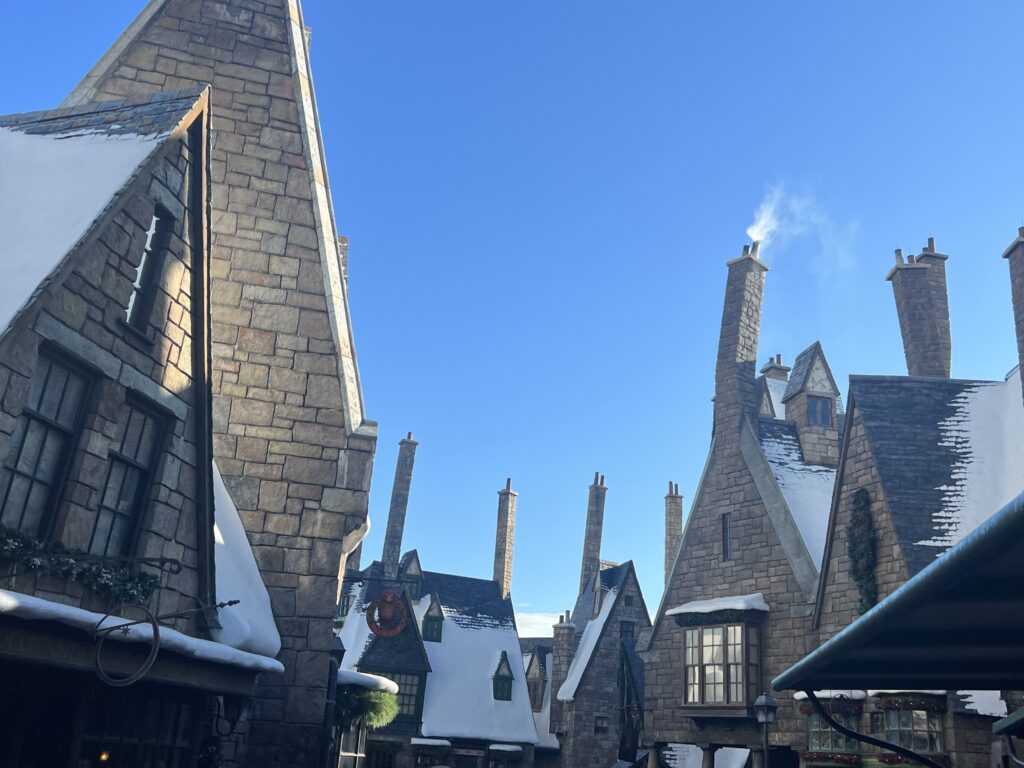 The Wizarding World of Harry Potter-Hogwarts
Hogwarts, situated at the foot of Hogwarts castle, is a snowcapped wizarding village bustling with shops, a tavern and of course 3 wonderful rides. Explore the corridors and classrooms as you practice your wand skills.
Head out to the Parks 1 hour before the early entry. This will put you in front of the line and you can race to Hagrid's Motor Bike as soon as you enter
Tips for Early Hour Entry for a Harry Potter Day at Universal Studios Orlando
Show up 1 hour early will get you in the font which can reduce the wait time for Hagrid's to around 15 minutes and save you about 20 minutes from those further back in the line.
Pack a breakfast to go so you can eat it while waiting for the park to open.
Make sure you have your passes ready when entering the gates
Make sure you have your hotel room key to show staff as you head through the right side of the park, they will only ask to show them once, but you will need them for each person.
Head to Hagrid's first even if you aren't doing a full Harry Potter Day, the line for VelociCoaster is not as long. When we made it to Velocicoaster after 9am wait time fluctuated between 30-45 minutes at least in the early hours.
You will race through Seuss Landing and Lost Continent and continue through the Que to Hagrid's. You won't enter through the typical entrance to The Wizarding World of Harry Potter-Hogwarts because they loop you up and around but there's staff to show you the way to Hagrid's. If you have bags to put in the lockers, give them to 1 person in your party. If you are using your room card to reserve the lockers make sure they have a room key for each locker they will need or just take all. Everyone else in the party should continue forward in line. This is what universal staff have recommended because the lockers become chaotic. The person using the lockers will ask to people in line to step aside to meet the rest of their party.
Hagrid's Magical Creatures Motorbike Adventure
The most popular ride at Universal Studios Orlando Resort, will take you on a flying adventure with Hagrid deep into the wilds of the Forbidden Forest, beyond the grounds of Hogwarts castle. This thrilling roller coaster ride it the best ride I have ever been on, because while thrilling you can't help but keep your eyes open throughout the experience.
After riding Hagrid's consider a second ride if it's still early as the lines during normal hours can be almost 2 hours wait. Next head to
Harry Potter and the Forbidden Journey
Soar above the castle grounds with Harry Potter and his friends on an unforgettably thrilling adventure. This ride always makes me a little nauseous by the end of it so if you haven't eaten yet make sure you have something in your belly. It's a 4D experience ride that bops you up and down as if you were flying. Once you have completed the ride head to Hippogriff. Check the time before you do, if its past regular park opening and you have fast pass make sure you enter the fast pass lane.
Flight of the Hippogriff
The Flight of the Hippogriff is a family-friendly roller coaster that spirals and dives around. It's fairly smooth and short which makes leaves you ready for a second ride. And there's time if you want to.
At this point you can make the choice to stay at the park and finish some of the other things or head on the Hogwart's express over to Diagon Alley. If you decide to stay your next stop will be
Ollivanders
Ollivanders isn't just a store it's an experience where a wand is waiting to choose its wizard. One Wizard will be chosen out of the group and a wand will then choose him/her. The wizard then chooses to purchase the wand or not. If not selected you can purchase your own unique Ollivanders wand or select one of many Harry Potter character wand replicas, sets, and Interactive Wands. You can also skip the experience and head into the shop entrance to purchase a wand. There's also an Ollivander's at Diagon Alley which offers more rooms.
Once you have your wand it's time to make some magic. But before you do check out the Following show times so you can stop your magic briefly to enjoy the shows. These shows usually alternate once an hour, from about 10am to close. Check the app for more details. Don't forget to take your time stroll through the area, stop in some shops and take in the atmosphere.

Frog Choir is small choir of Hogwarts students accompanied bass rumbles of their giant croaking frogs as they perform familiar wizarding songs with an a cappella flourish.
Triwizard Spirit Rally give you the chance to cheer on students from Hogwarts, Beauxbatons, and Durmstrang as they lead the excitement for the Triwizard Tournament.
At some point you are going to be hungry so head to Three Broomsticks for Lunch. Make sure you compare the menu to The Leaky Cauldron if you plan to have dinner there because there are a few overlapping dishes such as Fish and Chips and Sheppard Pie.
Three Broomsticks
This rustic tavern is the place to go in Hogsmeade for good food, friendly conversation, and a Butterbeer. Menu includes:
Cornish Pasties with Garden Salad (3 small handheld size)
Shepherd's Pie with Garden Salad
Fish and Chips
Rotisserie Smoked Chicken Platter (chicken, roast potatoes, corn on the cob)
Spareribs Platter (ribs, roast potatoes, corn on the cob)
Chicken and Ribs Platter (chicken, ribs, roast potatoes, corn on the cob)
Smoked Turkey Leg with Wedge Fries
Soup and Combo (split pea and ham or leek and potato soup and side salad)
Rotisserie Smoked Chicken Salad
Kds' Fish& Chips
Kids Chicken Fingers
Kids' Chicken Legs
Kids' Macaroni and Cheese
The Great Feast is one of the most popular menu options at Three Broomsticks, at a cost of around $60 it serves four people with spareribs, rotisserie smoked chicken, roasted potatoes, corn on the cob, and a fresh garden salad with a signature vinaigrette dressing.
If you need a refreshment and are looking for some Butterbeer you can also stop by Hog's Head.
Hog's Head is located in the back of Three Broomsticks in Hogsmeade and serves Butterbeer and Pumpkin Juice, along with domestic and imported beers, specialty drinks, wine, spirits, and mixed drinks.
Once you finish up the stop it's time to head to Hogsmeade Station to board the Hogwarts Express to Diagon Alley.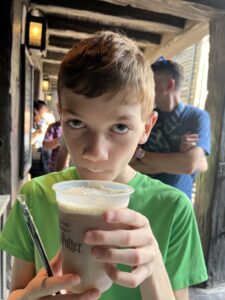 Hogwarts Express: Hogsmeade Station
Head to Hogsmeade Station, to ride the Hogwarts Express from Hogsmeade to London. You'll need a Park-to-Park admission ticket to board and ride the train so have your park ticket available to scan. After arriving in London, head around the corner to find the secret entryway into Diagon Alley.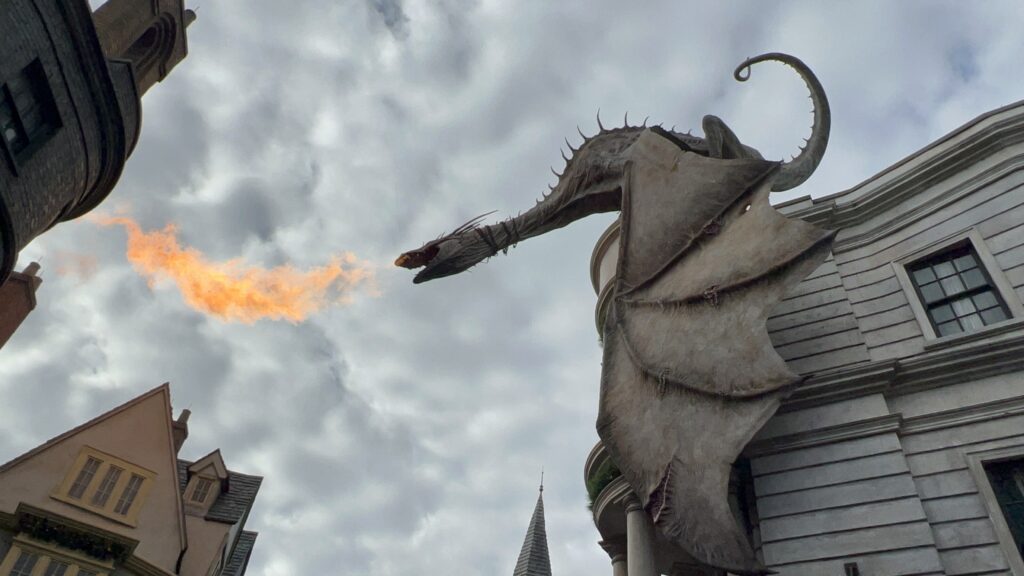 The Wizarding World of Harry Potter -Diagon Alley
From the Universal side you can follow Harry Potter's footsteps as you walk through the streets of London and enter Diagon Alley. First Head to Gringott's and hopefully use your express pass to for a shorter wait in line.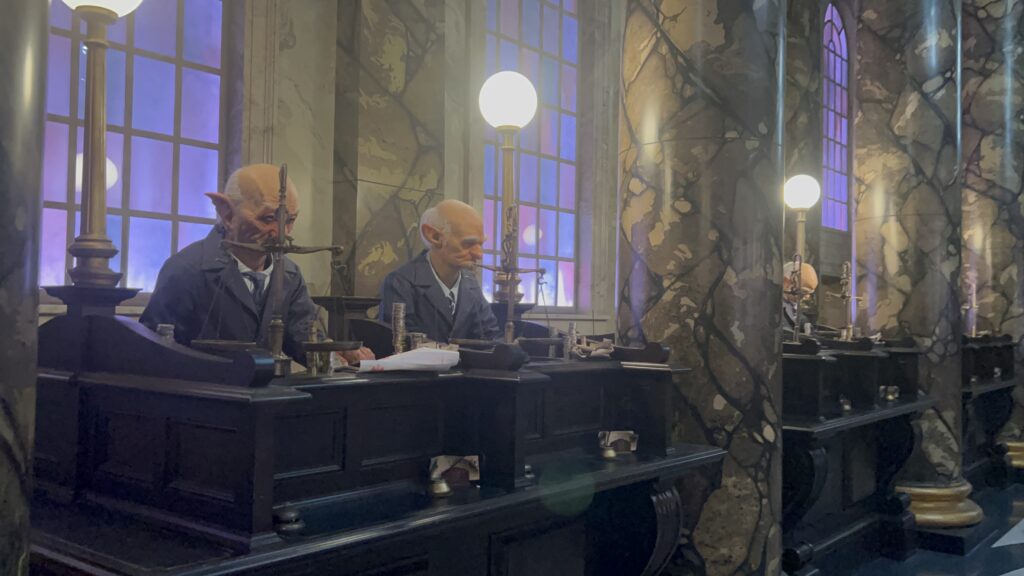 Harry Potter and the Escape from Gringotts
Harry Potter and the Escape from Gringotts will take you on a journey deep underground aboard this multi-dimensional thrill ride. You'll encounter Harry, Ron, and Hermione, but you'll also have to evade Voldemort, Bellatrix, trolls, and other creatures to make it back to Diagon Alley.
Next, make a stop at Gringotts Money Exchange. While the shops accept normal forms of payment it's a fun experience.
Gringotts Money Exchange
Ask a Gringotts goblin any questions you have and trade your U.S. currency for Gringotts bank notes in $10 or $20 denominations. The bank notes can be used for purchases within Diagon Alley and Hogsmeade, and at select locations throughout Universal Orlando Resort.
Now it's time to explore Diagon Alley Shops, eateries and magic wand stops.
Florean Fortescue's Ice-Cream Parlour
With fantastic flavors like Butterbeer, Granny Smith, Earl Grey and Lavender, Chocolate Chili, Sticky Toffee Pudding, Salted Caramel Blondie, Chocolate and Raspberry, and more, along with Pumpkin Juice, ciders, teas, Wizards and Muggles of every age will find something perfect for an afternoon treat.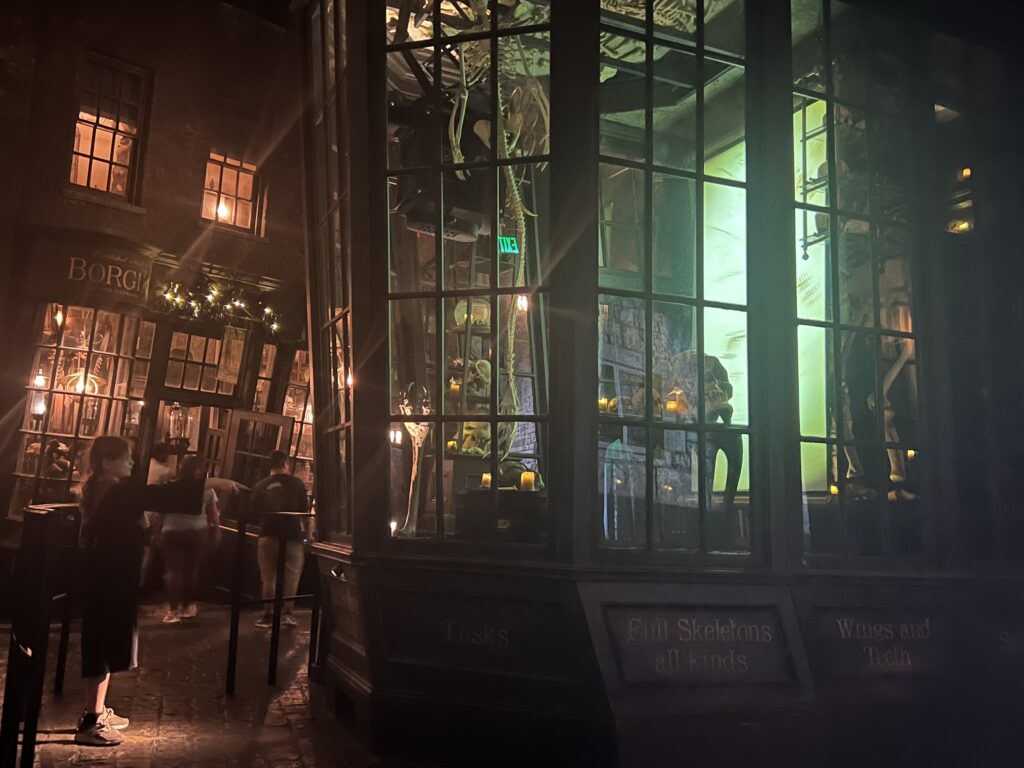 Then grab your wands and map and head to the wand spots to do a little magic. Make sure to check out the following show times to plan to take a break from magic to enjoy the shows.
Hint: Hold your map under the black light in Nocturn Alley for some extra magic wand spots.
Celestina Warbeck and the Banshees will have you sway to the dulcet tones of this singing sensation of the wizarding world. Featuring never-before-heard songs including 'A Cauldron Full of Hot, Strong Love', and 'You Charmed the Heart Right Out of Me'.
Gather 'round for a stage show presented by the Wizarding Academy of Dramatic Arts of The Tales of Beedle the Bard. Enjoy a trunk show using stylized scenic pieces, props, and puppetry to retell two famous tales of Beedle the Bard, a 15th-century author of wizarding fairytales.
Knight Bus is parked on the London embankment. Peak inside the windows of this purple Triple-decker bus, see curtains, beds, an ornate chandelier, and a talkative shrunken head.
When you're ready for dinner head to the Leaky Cauldron.
Leaky Cauldron
The Leaky Cauldron is the perfect place to enjoy dinner after a long day. Inside, you'll find delicious traditional British fare. Menu includes:
Toad in the Hole
Banger Pub Style Sandwich (with wedge fries)
Specialty Chicken Sandwich (with wedge fries)
Fish & Chips (3 pieces)
Bangers & Mash
Beef, Lamb & Guinness Stew
Cottage Pie
Fisherman's Pie (pie was not very big would be a lunch or small dinner for one)
Mini Pie Combination
Ploughman's Platter (scotch egg, cheese, bread, cornichon pickles, apple beet salad)
Kids Macaroni Cheese
Kids Fish & Chips (1 filet)
Kids Mini Pie
Make sure to leave time to head back to Hogsmeade on the Hogwart's Express as each way has a different experience. In addition, you will want to make it back after dark to watch the Nighttime Lights at Hogwarts Castle show.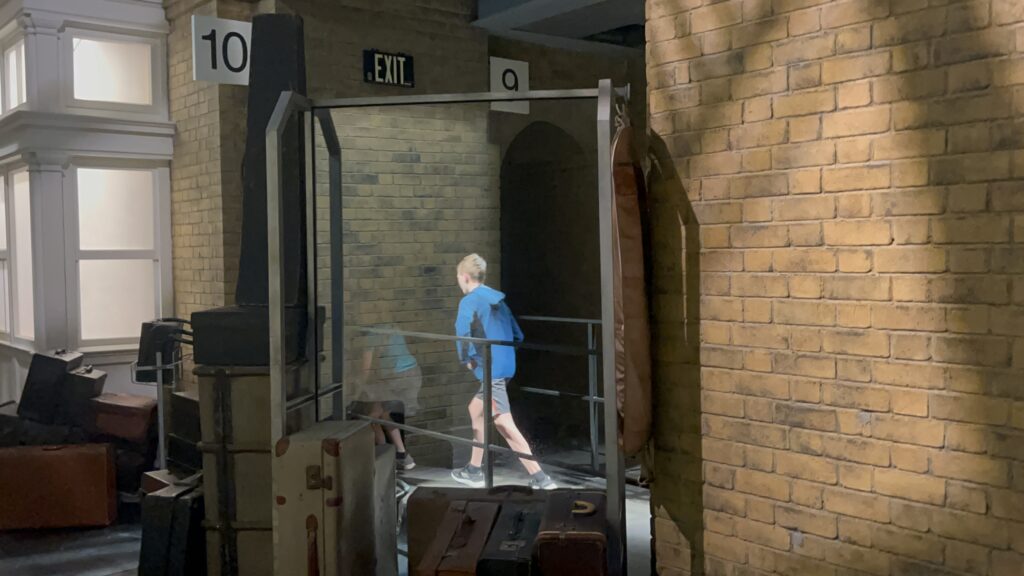 Hogwarts Express: King's Cross Station
To ride the Hogwarts Express to Hogsmeade, head to London in Universal Studios and board the train at King's Cross Station. As you walk through the line que inside the station, stop when you see the luggage cart and ask your family to go ahead of you so you can take video of them disappearing through the wall.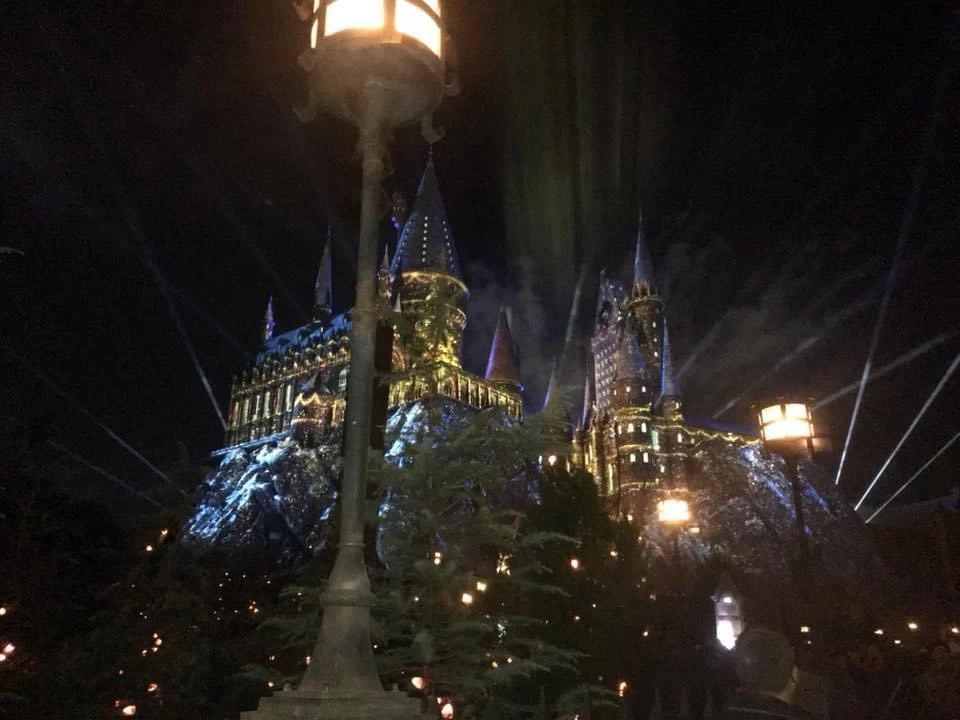 The Nighttime Lights at Hogwarts Castle
The Nighttime Lights at Hogwarts Castle in a celebration in The Wizarding World of Harry Potter on select nights. You can watch in as a dazzling light spectacle unfolds against the majestic backdrop of the castle. There's also a season Christmas show, one of the reasons Universal Studios is the best theme park for the Holidays with includes Holiday Activities.
The Perfect Harry Potter Day at Universal Studios Orlando Touring Plans and Tips Summary
The Perfect Harry Potter Day at Universal Studios Itinerary and Tips is the perfect Touring plan for Harry Potter Fans. With a park-to-park or Annual Pass you will be able to enjoy The Wizarding World of Harry Potter in both parks.