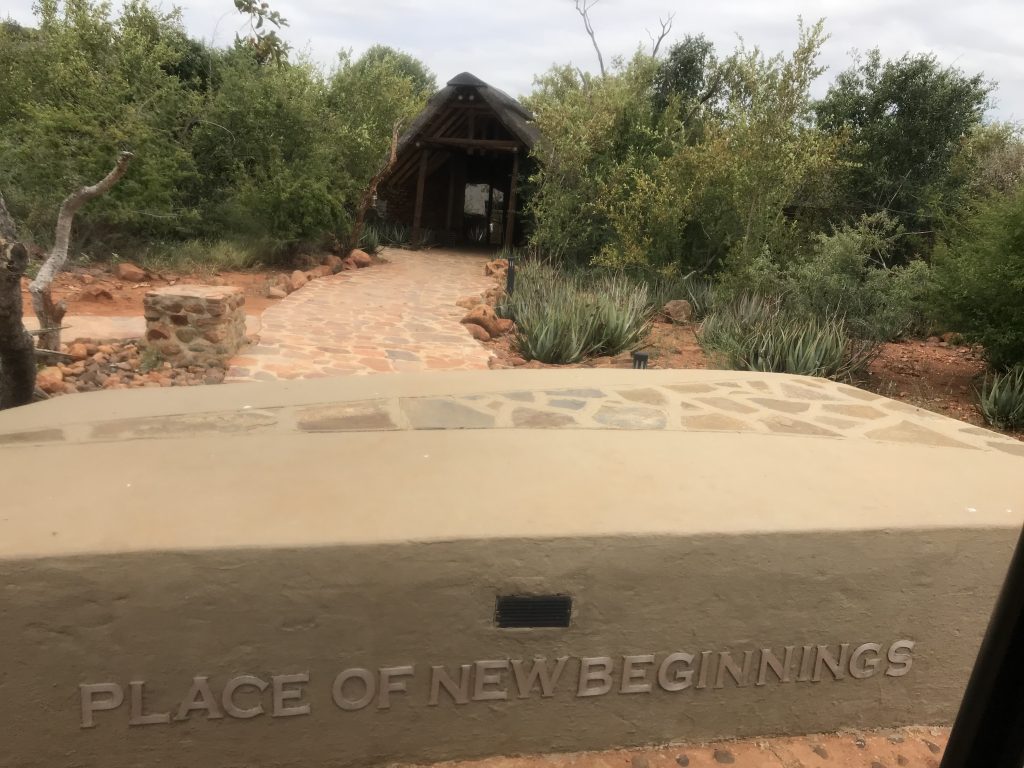 Etali Safari Lodge in Madikwe Game Reserve is the ultimate luxury safari experience.
While I love Affordable Family Travel, there is a rare occasion that we splurge on a luxury resort. If you are spending most of your time out of your room why spend so much on accommodations that you only sleep in? With that thought, there's also the right time to spurge. Etali Safari Lodge is an experience of a lifetime that will remind you why it's worth it to save when you can and splurge when it's right.
We absolutely loved our experience at Etali. It not only was the highlight of our trip to South Africa but the experiences here are likely to be some of the best we will ever have. I have been struggling to write this review because I am not sure I can truly describe how amazing the experience was. There's several reason Etali Safari Lodge is worth the splurge.
Daily Schedule at Etali Safari Lodge in Madikwe Game Reserve
The value of Etali comes from the full experience. Here's a schedule of what a typical day was like. Depending on the time you arrive your schedule will likely start with lunch
5am Wake up call, when you head out there is coffee, hot cocoa and biscuits available in the dining room.
5:30am Game Drive including a stop for a break , coffee, hot cocoa and usually muffins
8:30am arrive back for breakfast.
From breakfast till 4pm was basically Free. One day we swam, another day , I went to the spa and the kids made "pizza". We sat and watched the animals in the waterhole and one day I actually was able to take a short nap. We also took the time to shower and our daughter took daily baths while watching animals from the large glass walls/doors. The spa prices were rather reasonable and I really enjoyed my massage. I would definitely recommend one if you have time.
Lunch was served from 1-3pm.
4pm was tea time with 3 appetizers- one sweet and 2 savory. We had pinwheels one day (cut wraps), quiches another.
4:30-7:30 pm we headed off for our evening game drive with a break where drinks were offered including alcoholic- we usually had a glass of wine along with some snacks. snacks were usually popcorn or pretzels along with samosas or spring rolls.
Dinner (around 8:30pm)
After dinner we headed back to our room and got ready for bed as we were all exhausted from the day.

The Rooms at Etali Safari Lodge in Madikwe Game Reserve
The rooms are amazing at Etali. there's a king sized bed and for us 2 twin sized cots were brought in and placed in front of the fireplace. The Deck in front of each separate bungalow type room is almost as big as the room it's self and comes with a plunge pool. The main room and bathroom both have double sliding doors that also have screens so you can leave the doors open and enjoy the sounds of nature. Our room #6 had views of the watering hole from the the main room, the bathroom and the shower. Our daughters favorite place was taking a bath in the oversize tub while watching the watering hole.
My husband decided if we ever had a second home at the beach or a lake we would need these sliding glass and screen doors. The only downside was the plunge pool was a bit too cold for us. Even on the hottest days we couldn't bring ourselves to get fully submerged. we saw solar covers on the side that had been sitting there and I am sure they would have cleaned them off and covered it for us it we had asked. I re commend if you want a warmer plunge pool request the cover be placed on before arrival.
Game Drives
A stay at Etali Safari Lodge in Madikwe Game Reserve includes 2 Game drives daily for ages 6 and up. A bumble drive is offered for younger kids. Our game drives were from 5:30 am-8:30 am and 4:30-7:30 pm each day. We had an amazing time on the drives. Our team was able to show us more than we possibly could on an independent drive or even with a different Game drive team.
One way to keep kids involved is that they hand out a safari book that kids can check off what they saw with details about the sighting. If your kids have their own cameras they will love taking photos. If your in the market here are some options for kid friendly cameras.
We Saw Lots of Elephants
Our Driver Doctor and Spotter Alfred were a great team. While they were the only team we had I would say they were likely the best. They cared about providing us with the best experience. They were extremely good at their jobs. We were lucky in that we didn't have to share the drives with anyone else from the resort. This gave us a bit more flexibility off roading as we could squeeze into the middle when driving through thick brush. As well as when deciding what animals we would try to see that day.
We saw Lions on 2 different days and 2 different groups.

The first day, we mentioned we hadn't seen cats and we were able to see Lions and a Cheetah in the distances. The next it was Rhinos and we found a couple White Rhinos. We saw the Big 5, the little 5 and the Ugly 5. We saw everything on our list and even more: We saw Wild Dogs, a leopard, giraffes and more.
On our last morning, we were going to look for Hyena's but ended up going to try to get a closer look at the Cheetah who hadn't moved in a couple days. Our guide explained she had likely made a kill and was still eating off of it. It took some time to navigate, and I had given up hope. Our guide said we have come this far we will find her. And Sure enough They did. They also found the reason she hadn't moved in 2 days. She had 3 babies with her who had been born within the last day or so. The first baby cheetahs born in the park in at-least the last 15 years if not ever. The area would be closed off to all humans and we were only lucky enough to experience it because our Driver had been the one to make the discovery.
We saw wild dogs which is a very rare sighting.
I don't think we could have had a better experience any where else. Our guides were truly amazing. Having a jeep to ourselves was wonderful, though not guaranteed. Having 2 drives daily for our 3 night trip meant we went on 6 3-hour game drives during our stay at Etali. We saw so much in that period of time. I feel it was the perfect amount. If I left a day earlier it wouldn't have been enough. If we had stayed at a lodge that didn't offer game drives included we likely wouldn't have gotten up each day at 5am to head out for a morning game drive. We would have missed out for sure.
The Sunsets were the best I've seen.
The Sunsets in Madikwe were better than we have ever seen including the ones at the ocean because there was so many different scrubs trees and other scenery. They were also better than the sunrises. I am not a photographer so I didn't quite capture them as beautifully as they were but I think these shots give you an idea of what they were like.
Etali Safari Lodge in Madikwe Game Reserve
Often resort activities determine if a splurge is worth it to us. The included amenities and if our entertainment is included will increase the over all value. In addition to game drives, Etali Safari Lodge offers a watering hole. It provided a relaxing environment whether we wanted to sit inside our air conditioned room, soak in the tub or enjoy wine on the main deck all while watching various animals stop for a drink. You could also see the watering hole from the main pool. My only complaint was that it was the pool water was extremely cold.
I have to say the beds are very firm. However, we found this in every hotel, BnB and Chalet that we stayed at in South Africa and chalk this up to a cultural thing similar to Asia.
The Food at at Etali Safari Lodge in Madikwe Game Reserve
The food was always really good. The wine was free flowing (house wine, beer and alcohol included).
Breakfast
Often a cold buffet spread and optional hot eggs, English breakfast or the special of the day which was eggs Florentine, breakfast wrap and smoked salmon scrambled eggs while I was there.

Lunch
The menu included 3-4 items that were available every day such as beef burger and 3 items that changed daily- one being a salad. Items like pesto pasta, rare beef open faced sandwich (it was fantastic). While the menu was limited everything tasted great. Children could have chicken tenders, spaghetti bolognese or hamburger.

Dinner
After arriving back from the game drive you could go back to your room and freshen up for dinner but we usually headed to dinner because it was getting late for us. 2 nights were enjoyed Braii, South African BBQ experience.
Several curry type dishes, roasted vegetables and root vegetables cooked in pots over coal and well seasoned grilled meats that varied each time. they also had a handful of cold salads.
Our second night we had al la cart dining. The menu had 1 appetizer, 1 soup and 3 entree choices. We chose the Kudu Steak which was a large steak and was very tasty. Do not miss out on this. During dinner we would watch animals as they visited the watering hole.
On our last evening at the Braii, our kids didn't want to try anything- my daughter even refused chicken skewers that were fantastic. So we asked if they could bring them some plain spaghetti and they did so with out issue. I can't stress enough how a simple accommodation like this is essential for an enjoyable trip when traveling with kids. The more tired my daughter gets the more picky she is with food and with out food she gets very irritable. I was extremely grateful for the accomodation.


Why Etali Safari Lodge is Worth the Splurge
Cost
We paid $6,029.79 for 3 Nights at Etali Safari Lodge. This was for 4 of us and included everything above. It did not include Gratuities, Park entrance fees and spa services. we spent an additional $800 total to cover these expenses.
Worth the Splurge
Etali Game Lodge is worth the splurge because you will likely have once in a life time experiences. The more game drives you go on the more opportunity to view various animals. I don't think we would have gotten up at 5 am daily for 3 days straight if the game drives weren't included. They hire the best drivers and spotters and that makes the experience the best.
The food and service is good. We received top not service and enjoyed everything that was served to us. We enjoyed the Braii experience and the grilled meat was awsome. All while enjoying views of animals at the watering whole.
With early morning and late afternoon game drives you spend a good amount of time at the resort. Having a relaxing environment to spend your downtime is important. Service was top notch especially since there are only 8 rooms at the resort.
Getting to Etali and Madikwe Game Reserve
Madikwe Game Reserve is located in South Africa's North West. It borders Botswana. the option to arrive in Madikwe is to Fly in Via Federal Airlines once or twice daily flight. The other option is to drive or hire a car/shuttle to take you there. Regardless of the mode of transportation, most depart from Johannesburg to Madikwe Game Reserve.
If you are looking for an alternative option for a Safari Lodge, Ngala Safari Lodge, in the Dinokeng Game Reserve is only a little over an hour's drive from OR Tambo International Airport.
Flying
Federal airlines is the only airline that flies to Madikwe game reserve. The Flight is 1-1.5hrs in a small 12 passenger plane. The flight lands in Madikwe East and West. The flight times listed are a general time and will change based on all customers schedules.
Take Note
They recommend at least 3 hrs for your next domestic flight and 4hrs for international. this is something we weren't aware of when booking and only booked our domestic flight 2hrs after.  We ended up arriving at JNB main terminal 1.5hr before the flight (the shuttle drivers were ready for us) and would have made our flight if it had not been canceled. However, I would not recommend booking less than 3 hours as it was tight. Any delay and we probably wouldn't have made it.
Another thing to note. Federal airlines booth at the bus station at JNB does not open until 8:30am. There's no reason to arrive sooner.  The shuttle will take you to the Federal Airline hanger/lounge. you actually leave airport grounds and take a highway to get there its about 10-12minutes drive. Federal airlines lounge is very nice and the food was very good. The service was amazing and they spoiled our kids with treats and treats to take on the plane.
Luxury at a price
It was an extremely luxurious experience at a premium price. We paid around $2100 for 4 of us for round trip flights to Madikwe Game Reserve landing strip.  The lodge then provides transportation via safari vehicle to the lodge. Its your first Safari experience and we did see many common animals including antelope, elephants and zebras.  
Driving
Madikwe is less than 2 hour drive from Gaborone Airport in Batswana. However, you will have to cross the boarding in order to get to Madikwe. This is something we just didn't want to coordinate but is an option and flights from Capetown to Gaborone were affordable.
It's also between 4.5 and 5 hours Drive from Johannesburg. At the time we were planning the trip my husband wasn't sure what it would be like either driving or riding in a shuttle for that long. After visiting south Africa I think this would be a good affordable option. It's a 10.5 hour drive from Durban. Port Elizabeth and Capetown are even further.
There's various shuttle options that cost around $500-$600 round trip for a family of 4 or 5. slightly less for smaller families. 
If you are looking for an amazing luxury Safari experience I highly recommend Etali and our game drive team Doctor and Alfred. I can't thank them enough for making this truly a once in a life time experience for us.
Stay tuned for more articles about our Trip to South Africa with itinerary suggestions and tips. For a more affordable Safari experience in South Africa Check out Addo Elephant National Park.
If you are looking for affordable safari experiences in the USA check out Six Flags Great Adventure Camping Safari or Parc Safari in Canada.
Follow Affordable_Family_Travel on Instagram
Make sure to like AffordableFamilyTravel.com on Facebook to get all the latest updates. It's also where I post my Dash Deals that are time-sensitive.