Discovery Cove Itinerary with Kids and Dolphin Experience. Discovery Cover is one of the cheapest dolphin experiences in Orlando or even Florida. This is because it includes so much more. Discovery Cove can be a relaxing fun day but having a plan can help give you an idea of how you can spend your day. A Budget Discovery Cove trip is possible when you know the perfect time to buy Discovery Cove Tickets and other important info.
Discovery Cove is all-inclusive and while hours may vary they typically are 9 am-5 pm but you can arrive as early as 7 am to check in. Scheduling for dolphin experiences or other specialty activities occurs at check-in and they will give you a time. The sooner you check in the sooner your time slot will be. Having the dolphin encounter or specialty experiences early is nice because it gives you the flexibility for the rest of the day. Discovery Cove provides some guidance on when specialty activities will be scheduled. Regardless you will have plenty of time for breakfast and to get your wetsuits.
Discovery Cove Activities
Understanding what Discovery Cove activities are will give you an idea of where your priorities will be. While there is plenty of time to do everything there are definitely areas you will spend more time at or may prefer to visit more than once.
The Grand Reef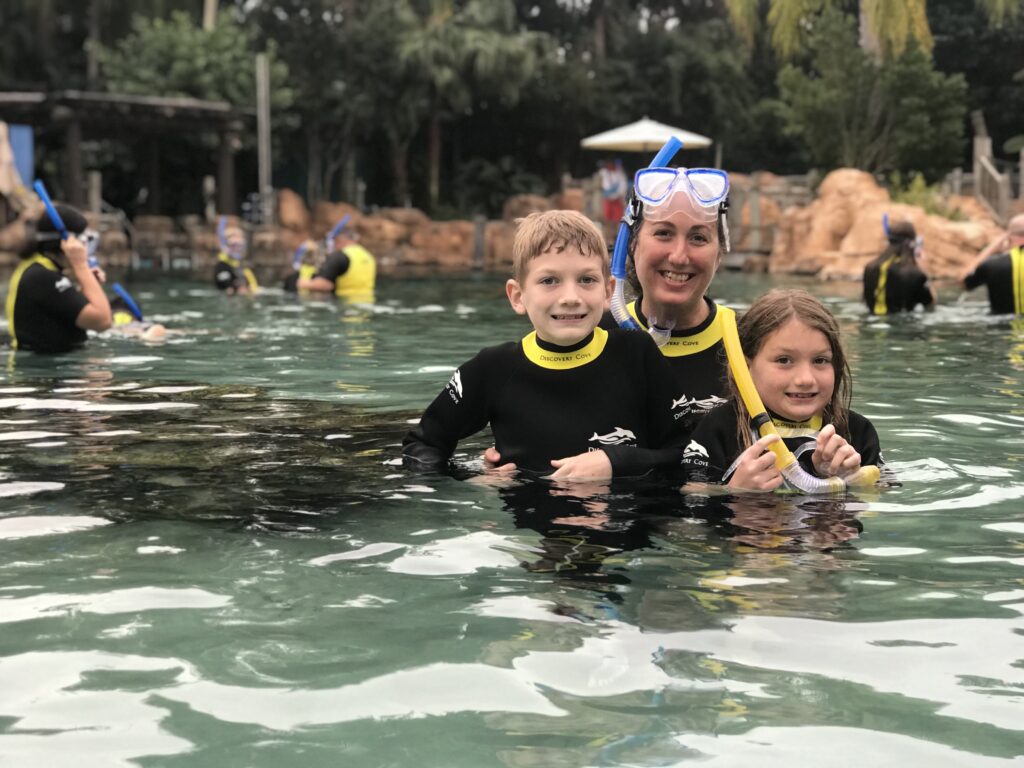 The Grand Reef is an amazing snorkeling reef where you can snorkel with all sorts of fish and stingrays. The stingrays will come so close that if you put your hand out flat you can easily tough them. There is no better place to snorkel with so many wonderful fish than the Grand Reef at Discovery Cove. There's also an area in the back where you can snorkel with sharks who are being a glass wall.
Freshwater Oasis with Otters
Past the Aviary near the Wind Away River is a cave that you can snorkel into with a giant glass wall into the otter's sanctuary. You can watch the otters play and swim even under the water through the glass wall. They are a lot of fun to watch.
Explorer's Aviary
I recommend going early when the Aviary opens. We were lucky to be the first ones in and the birds were incredibly friendly and would land right on our hands to eat the food we were given. however, a short 15-20 minutes later the birds seemed to have their fill and weren't quite as interested. Possibly later in the day may be that changes.
However, if you wait up by the beaches you may be able to watch the flamingos being released as they parade down the beach.
Serenity Bay and Wind away River
This is the warmest part of the park heated to above 80 degrees it's warm relaxing and fun. It can get very deep at parts so make sure little ones have a floatation device even with the wetsuits. There are pool noodles just before the closest snack bar you can grab.
There's a shallow water area that has chair backs so you can sit and enjoy a drink while you lounge in the heated water.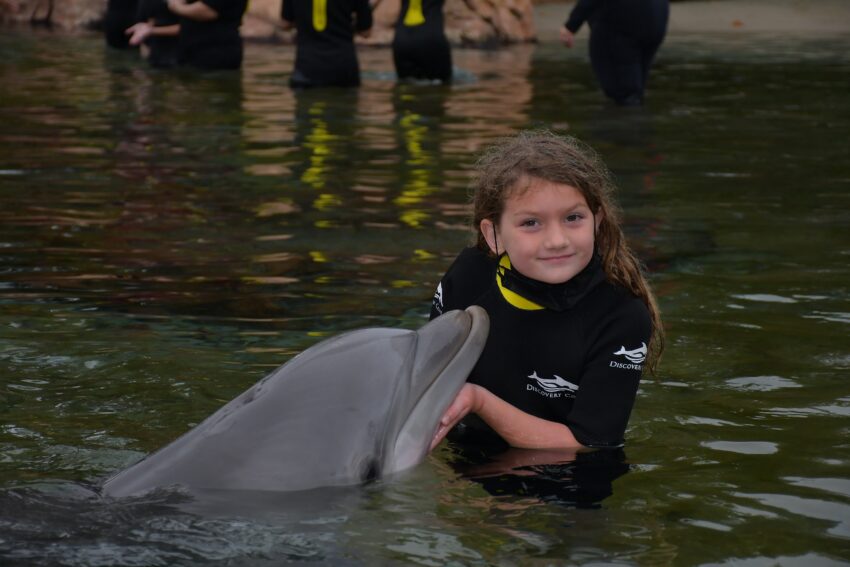 Discovery Cove Itinerary with Kids and Dolphin Experience
7:30 am Arrival at Discovery Cove
Plan to arrive early to give yourself the most time at Discovery Cove. If you arrive a little later it isn't a big deal because there's plenty of time to do everything.
7:45 am Breakfast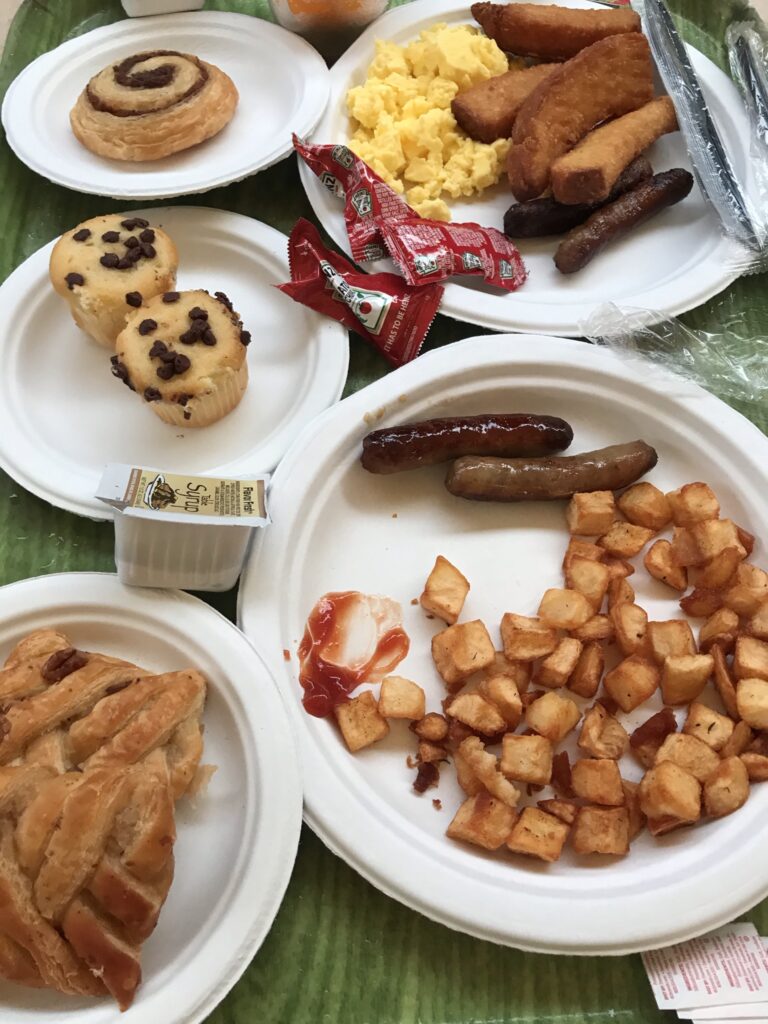 Enjoy a variety of breakfast options and of course some coffee as you prepare for a fun day at Discovery Cove.
Discovery Cove Breakfast Hours: 7:30 A.M. – 10:30 A.M. Breakfast includes items such as Scrambled Eggs, Sausage Links, Hash Brown Potatoes, French Toast Sticks, Buttermilk Biscuits, Seasonal Fresh Fruits Breakfast Pastries, Assorted Yogurts, Assorted Dry Cereals, Traditional Warm Oatmeal, Brown Sugar and Raisins. Breakfast Beverages include Freshly Squeezed Florida Orange Juice, Whole and Chocolate Milk, Brewed Regular and Decaffeinated Coffee, Tea, and Hot Chocolate
After Breakfast
Take your time with breakfast as you will not be able to begin until you are fitted for your wetsuit. Staff will let you know when you can head over and get fitted. There are lockers to put your important items in. Once you are fitted you are free to check out the park.
What to Visit First at Discovery Cove
There's a time when the flamingos are released and it's fun to see them parade out. At the same time, the Aviary is opening and it's ideal to be first in the Aviary because the birds are more excited about the food and will come to you a lot easier. If you arrive and the birds in the first room aren't coming to eat you can move on and it's possible you will find hungry birds further down the line.
Before the Aviary opened we went to watch the otters. They were sleeping in their basket and then woke up and played together. It was a fun experience because it was the only time we saw them in their basket and playing on land they were in the water the rest of the day until the end of the day when they went right back into their basket to sleep.
There are really 2 options of areas to choose from you can choose to go to the Grand Reef which has cooler water but has amazing snorkeling. If it's warm in the morning I would head here first. If it's a bit cool I would head to the lazy river and otter area until it's time for your dolphin. Swim. The lazy river is very deep and long and wide without edges to stand. Make sure children have a flotation. There are noodles I believe in a box across from the bar near that area.
Snacks at Discovery Cove
The snack shack opened around 9 am. They had soft pretzels, cookies, and chips. We grabbed a snack before our dolphin encounter to give us some energy before a fun experience.
11 am Lunch at Discovery Cove
Lunch at Laguna Grill is available from 11:00 a.m. to 3:30 p.m. If you started your day with breakfast at 7:30 am you may be ready for lunch early. Eating lunch at 11 am is ideal because it gives you a gap of time before the restaurant closes in case you would like to go back for an early dinner.
Lunch options include Laguna Beach Burger served with French Fries, Caribbean Spiced Salmon with Island Style Rice, Fire Roasted Vegetables, Pico de Gallo, Grilled Churrasco Steak  with Roasted Potatoes, Fire Roasted Vegetables, Chimichurri Sauce, Grilled Jerk Chicken  with Island Style Rice, Fire Roasted Vegetables, Mango Salsa, BBQ Pulled Pork Sandwich
served with French Fries, and Pasta Marinara served with Meatballs.
There are also cold wraps and salads such as the Seaside Wrap with Ham, Turkey, Cheese, Lettuce, Tomato, Red Onion, and Spinach Tortilla. And Vegetable Wraps with Assorted Vegetables, Red Pepper Hummus, Spinach Tortilla. There are several salads including Grilled Chicken Caesar Salad, Laguna House Salad   with Baby Spinach, Tomato, Red Onion, Black Olives, Feta Cheese, Vinaigrette, a Seafood Pasta Salad with Shrimp and Crab, Spicy Remoulade, Quinoa Salad  with Quinoa, Black Beans, Corn, Shaved Red Onion, Tomato, Cilantro, Fresh Squeezed Lime and Kale and Wild Rice 
With Fat-Free Raspberry Vinaigrette. There's also Berry Coleslaw and Pickle Spears.
Afternoon at Discovery Cove
In the afternoon head to the Grand Reef for your first or even second round of snorkeling. If you go when they feed the fish even if it's not a paid experience. the fish will swarm and the manta rays come close enough to touch. Afterward, head to the area by the otters or the lounge around across the bar in that area. In the afternoon they also had a bird talk near the bridge.
3 pm Early Dinner
The menu is the same throughout lunch so we headed back at 3 pm to enjoy our favorite entree as an early dinner. This means the day was fully inclusive of all our meals for the day and included drinks and entertainment too.
4-5 pm Discovery Cove Final Hour
At 5 pm they will start to ask you to pack up. So the final Hour is a chance to enjoy your favorite activity or maybe relax in the lounge area with a drink or two and some snacks. Our kids also wanted to say goodbye to the otters.
Discovery Cove Itinerary with Kids and Dolphin Experience Summary
Discovery Cove Itinerary with Kids and Dolphin Experience is a wonderful all-inclusive day. It is one of the cheapest dolphin experiences in Florida when you factor in everything that's included. Plus you can snag half-price tickets when you book around black Friday in November.
Follow Affordable_Family_Travel on Instagram
Make sure to like AffordableFamilyTravel.com on Facebook to get all the latest updates. It's also where I post my Dash Deals that are time-sensitive.