Cheap Things to Do When it Rains on Vacation can help the fun continue without breaking your cheap family vacation budget. a Family Vacation on a budget doesn't have to be boring even when the weather isn't nice. The most important part of a vacation is time together as a family and these cheap things to do when it rains will help create some really fun memories.
Join The AffordableFamilyTravel.com Crew on Facebook and become part of a community of families sharing tips and ideas for Affordable Family Travel.
1. Play in the Rain
If there's no thunder or lighting, no severe storm warnings, head outside and play in the rain. If it's extremely hot out it may actually feel good. If it's cold make sure you add an extra layer, grab your raincoat and boots and head outside. If you had activities scheduled and they are safe to do in the rain don't let the rain stop you. I find that ponchos are great for amusement parks. Your waterproof hiking boots will be fine just make sure you are hiking in an area that is safe from mudslides and flash floods. Often hiking in the woods like in the Adirondack Mountains the tree coverage can mitigate a lot of the rain.
2. Watch the Storm
Sit on the porch or in front of the window inside your accommodations. Heat up some hot coco or even some microwave/baked smores and enjoy the free show.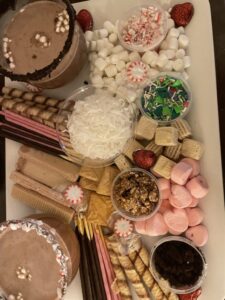 3. Movie Marathon
Movie marathons are something our kids love to do as a family but we rarely have a chance to do. Take the kids to a store like Dollar Tree and let them pick out some treats and grab some microwave popcorn. Our kids love Harry Potter and after reading the books a Harry Potter movie Marathon was a lot of fun. Beethoven movies is another good series. for families. Disney Plus and Netflix also have a wide range of movie options.
Make sure you bring an HDMI cable that connects to you portable device but many hotels now have tv with the ability to stream from your device so you can use all your tv and movie viewing apps on a larger screen.
4. Enjoy a Museum
We love the ASTC Museum Reciprocity program because a one-year membership from a participating museum provides unlimited entry to hundreds of museums worldwide. So if you find yourself on vacation with some unpleasant weather, check out the ASTC Museum Reciprocity list and see where the closest one is. Just make sure you always bring your passes with you when you travel for backup. We purchased our passes from the MISCI Schenectady for $100 for a family membership which paid for itself after 1 visit to the Boston Science Museum.
If you find yourself with bad weather on vacation and you don't have Museum Passes you can always check out some affordable museums. You can often visit children's museums for $50-$60 total for a family of 4. These museums can be hours of fun for kids and help get their energy out. They are usually well worth the money.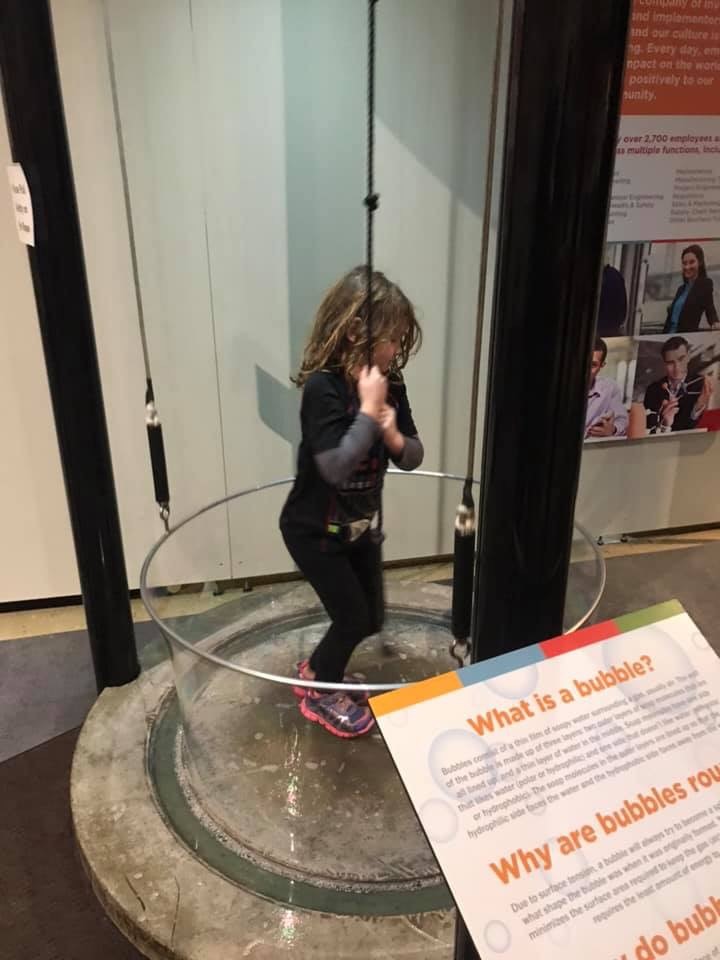 5. Visit a National Park Site
The National Parks Service has some really fun educational sites across the country. While the major sites are often outside, many of the sites have Visitor Center that includes small museums that can keep the kids entertained for an hour or so. You can also request a Junior Ranger's Program book and complete the program inside to earn the badge. America the Beautiful National Park Pass is an affordable way to visit National Park sites for around $80 for a full year. Even better 4th Grader get a free pass starting in September of their 4th Grade year.
6. Have a Taste Test
Having a taste test is a fun Cheap Things to Do When it Rains on your Affordable Family Vacation. Pick a local food or maybe a family favorite food and have a food tasting. Either find a local place that has an assortment or pick a few places to go (or order from) and have a taste test. Have everyone in your family try one kind first and discuss what they think as you all try every kind. Then vote for the best. Things like Tacos, Chicken Wings, or sliders are good options.
An even Cheaper Family Vacation taste test idea is to have a pizza making contest if you have an oven. Or a microwave ramen taste test. You can also head to the Dollar Tree and pick out snacks you have never had before and do a snack taste test.
7. Create Local Art
Utilizing items you may have collected during your trip creates some art. If you are Hiking create some pinecone art or paint rocks. If you are at the beach painting some shells. We found painting shells to be very relaxing and a lot of fun to do as a family. Of Course Sand dollars, sea glass, and other beach treasures can be used as well. If all you have is paper and paint, encourage the kids to paint something from the trip.
You can also make an Christmas ornament which is one of our favorite souvenirs. The best part about creating art while on vacation is that they are some of the best souvenirs and cost next to nothing.
8. Swim in the Hotel's Indoor Pool or Jacuzzi Tub
Not all accommodations have an indoor pool but some do. Some hotels also have a covered pool that may not be completely indoor but is covered enough to keep the rain from ruining your time. If we are traveling off season when the weather may not be in our favor we try to book a hotel with a heated or indoor pool as a back up plan. For example the Hampton Inn Orange Beach has a heated pool. Their pool is outdoors but part of it is partially indoors with only one wall open when the weather isn't great. The hot tub is also covered which is great.
If you don't have a indoor or covered pool where you are staying, the kids can always enjoy a bubble bath especially if there's a nice big jacuzzi tub available. The Tubs at Caesar's Palace in Las Vegas were a big hit with out kids. They jumped in together with their swim suits as if it was a hot tub and had a great time.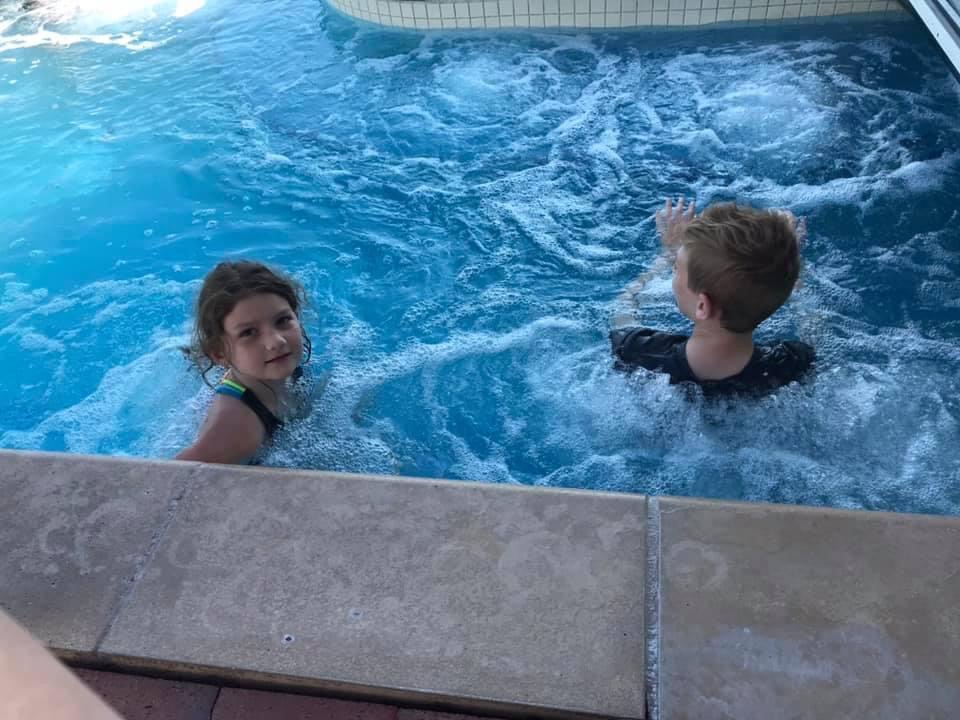 9. Play Games
A deck of cards is a great item to keep in your travel bag. Whether your on a plane, in a car, or stuck indoors due to bad weather there are so many different card games you can play. If you are renting an AirBnB there are often games provided in the house. If we are on a road trip we usually pack a few of the kid's favorites. Monopoly is a childhood favorite for rainy days and my children currently really enjoy it. It's perfect for rainy days because you may actually have enough time to finish the game. If you do not own Monopoly it may be fun to pick up a local version or a themed one. The National Parks often sell a National Parks Monopoly game in their gift shop.
Bingo is another fun game for families. We like to play candy bingo where we use skittles or m&m or really any small candy as the tokens to cover the card. When the game is over we can eat the candy so everyone wins.
10. Have A Chopped Contest
Whether you have a full kitchen or your stuck in a hotel room it's not too difficult to have a Chopped challenge. It could be make the best trail mix out of all the snacks you have available. It could be the best ice cream sundae or a mocktail. Making it a contest means the kids were be very excited. If you want to make it just like the show make sure you go through an appetizer entrée and dessert. Or maybe a Snack Entrée and dessert.
11. Indoor Scavenger Hunt
Have one adult create a list of items for kids to find. The other options is to create clues that lead to one item where another clue is hidden that will bring them to another item and so on. You can also have the kids take turns creating a scavenger hunt.
12. Bake or Decorate Cookies
Baking cookies is so much fun but even with out an oven you can enjoy decorating cookies. Stores often sell cookie kits with prebaked cookies (even walmart). You can also pick up cupcakes to decorate. If you have supplies at home you could bring them along to cut costs. Otherwise you can find inexpensive toppings at walmart or dollar tree if you can't find a kit that includes them.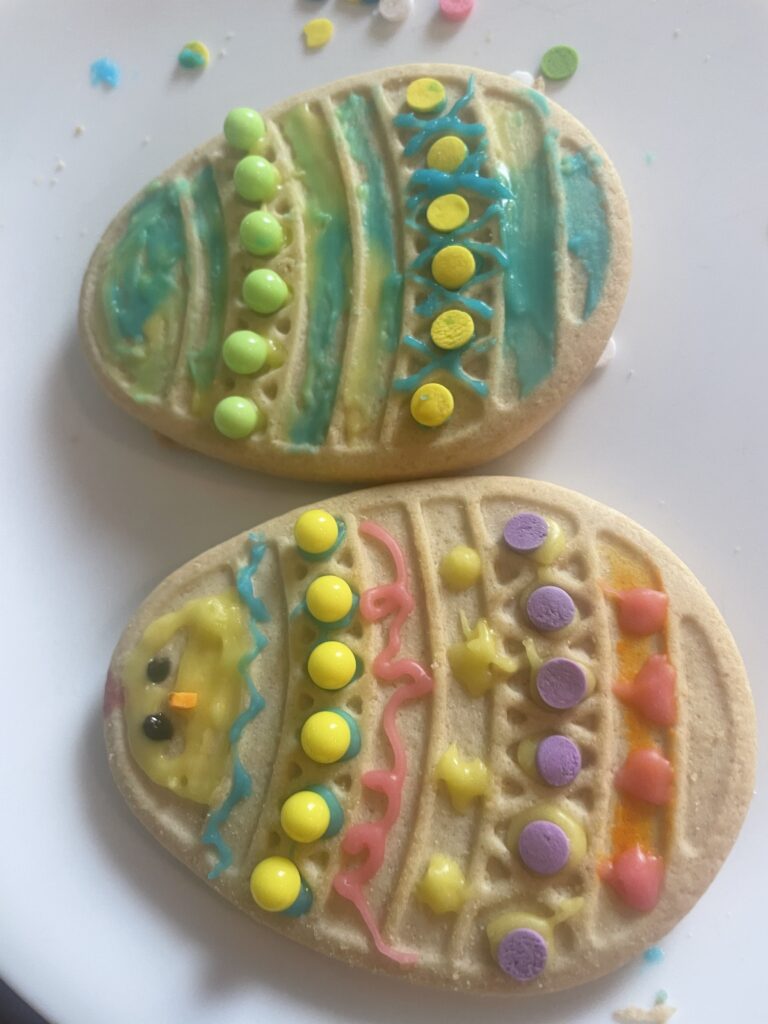 12. Play Guess the Song
Play a song and see who can guess the name of the song first. We like to do this with Disney Songs and sometimes just guess the move it's from. We have a pop version of Disney songs that is a little harder that we now use.
13. Learn About Where you are Staying
Learn about the history of the area you are staying in. Interesting Facts. What the Flag looks like. On-line there are many resources. If you visited a local National Park you can use the Junior Rangers book to find out more about the area as well.
14. Play the Floor is Lava
You can use just about anything for this game but be careful that there's nothing breakable around. throw some pillows on the ground or event jackets or clothes use chairs the bed anything. Just don't touch the floor because… The Floor is Lava.
15. Take Turns Reading a Chapter Book
If your kids are old enough to read, take turns reading. As mentioned above our kids are currently loving Harry Potter. It's something my husband reads to them each evening. afterward our kids head to bed and often read by themselves. It's not often that they read allowed to us and it's good for them to do so. By rotating, everyone gets a turn. you can swap by page or by chapter. This can be done with smaller picture books as well.
16. 3 Senses Guessing Game
You can play guessing games using your other senses. Stick things in containers for kids to touch and guess what they are. Have them taste food and guess what they could be. Smell different scents and guess what it smells like. Have them listen to a sound and guess what is happening to make the sound.
17. Build a Fort
You can use couch cushions, pillows, and blankets whatever you have. Let the kids have fun thinking of the best design and trying new things that may or may not work.
18. Write about your Trip so Far
Building a fort is the perfect Cheap Thing to Do When it Rains on your Affordable Family Vacation. When my kids were in kindergarten they would write a weekend review at school each week. It included a picture on the top half and then a story about something the kids did that weekend. We have used this idea when traveling to create wonderful memory books. We don't always have time to do this when we travel but a rainy day is a perfect time to catch up.
Writing doesn't have to be about the trip either. It doesn't have to have pictures or it could be only pictures. You could also create your own mad libs for kids or find some mad libs for kids online to use.
Cheap Things to Do When it Rains on Vacation
Cheap family vacation budgets can easily be blown when bad weather causes families to opt for expensive indoor activities. Don't let the rain ruin your vacation. Cheap things to do when it rains on your affordable family vacation can be fun ways to enjoy your vacation even when the weather is bad. Make a list of some items you may want to keep on hand just in case but you can always stop at a store to pick up any supplies. Many of these activities are free and do not require any additional items.
Follow Affordable_Family_Travel on Instagram
Make sure to like AffordableFamilyTravel.com on Facebook to get all the latest updates. It's also where I post my Dash Deals that are time-sensitive.