Budget Bar Harbor Family Vacation can be an cheap family vacation. Check out these tips and ideas for a budget family vacation to Bar Harbor.
Budget Bar Harbor Family Vacation Overview
Budget Bar Harbor with Kids is easy because there's plenty of places to enjoy the great outdoors for free or cheap. It can be a wonderful affordable family vacation. Splurge on Lobster and/or Lobster rolls as well as the very affordable Timber Tina's Lumberjack experience.
Budget Maine Tips
Get the America the Beautiful National Parks Pass. If you have a 4th grader they have a program that provides one free National Parks Pass.
Don't miss Timber Tina's Lumberjack Experience and plan to get wet while you enjoy log rolling
Stop at Red's Eats on your way up the coast of Maine for the Best Lobster Rolls.
Stay at the Acadia Sunrise motel or consider camping for affordable accommodations where you can also save by making your own meals. It also comes with some free entertainment such as roasting smores over a fire pit, some of pools and/or play grounds.
Consider a Stop in Portland on your way up to Bar Harbor and Acadia National Park.
Budget Bar Harbor Hotels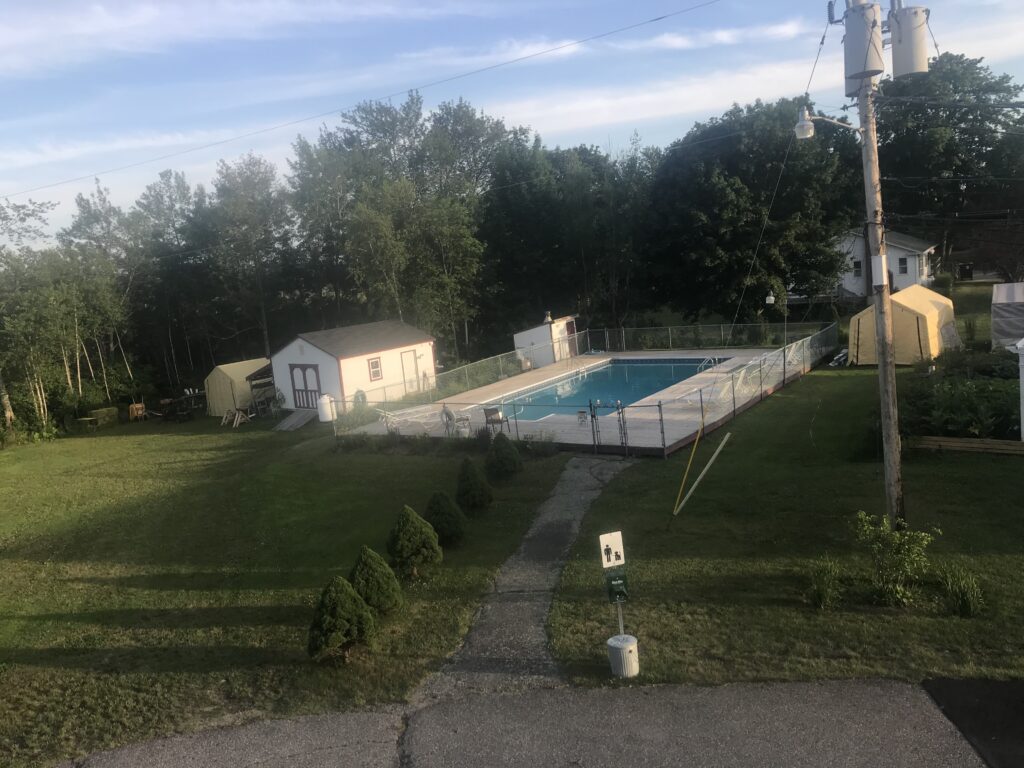 Acadia Sunrise Motel outside Acadia National Park Accommodations
The Acadia Sunrise Motel , in Trenton, is located about 25 minutes from Bar Harbor and Acadia National Park. Rooms start at $130/nt including a kitchenette which is great for families looking for a Budget Maine with kids vacation. The Hotel offers a heated pool, perfect for late afternoon swims, ship play ground, basketball hoop and fire pit. By Packing breakfast and items for a picnic lunch you can save a lot on food. Don't forget the smores kits for a fun evening of story telling by the fire. It also is next to a private airport so if you kids love airplanes they will love watching them take off and land.
Acadia National Park Camping
Camping is another great affordable option when visiting Acadia National Park. Acadia National Park has two campgrounds on Mount Desert Island, one campground on the Schoodic Peninsula, and five lean-to shelters on Isle au Haut. There is no backcountry camping allowed. You can make reservations at www.recreation.gov. If the sites fill up there are also several off site private camp grounds to choose from.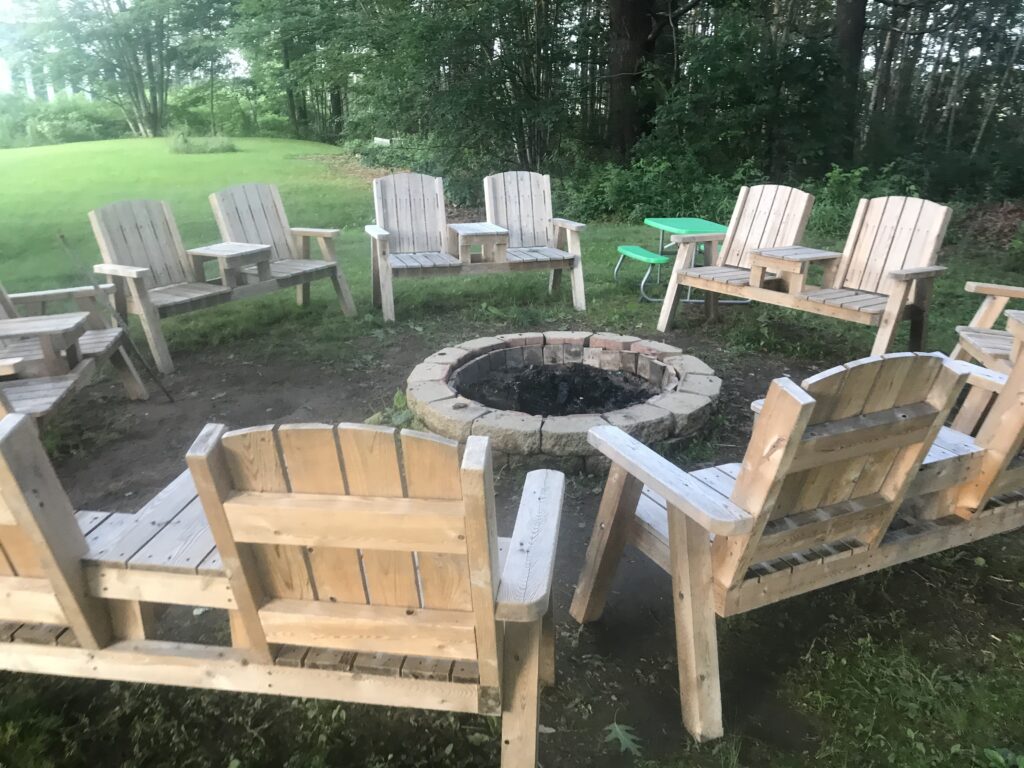 Bar Harbor Hotels on Points
Hampton Inn Bar Harbor Free Nights with Points
Hampton Inn Bar harbor free nights start at 35,000 points per night. However you will be pressed to find points availability during peak times such as June- August. Shoulder seasons such as May and September are you best best for a stay on points.
Holiday Inn Resort Free Nights with Points
Holiday Inn Resort : Bar Harbor – Acadia Natl Park located at 123 Eden Street in Bar Harbor is a good option for points and has more availability in the peak season. We found nights starting at 25,000 points per night in June.
Budget Bar Harbor Food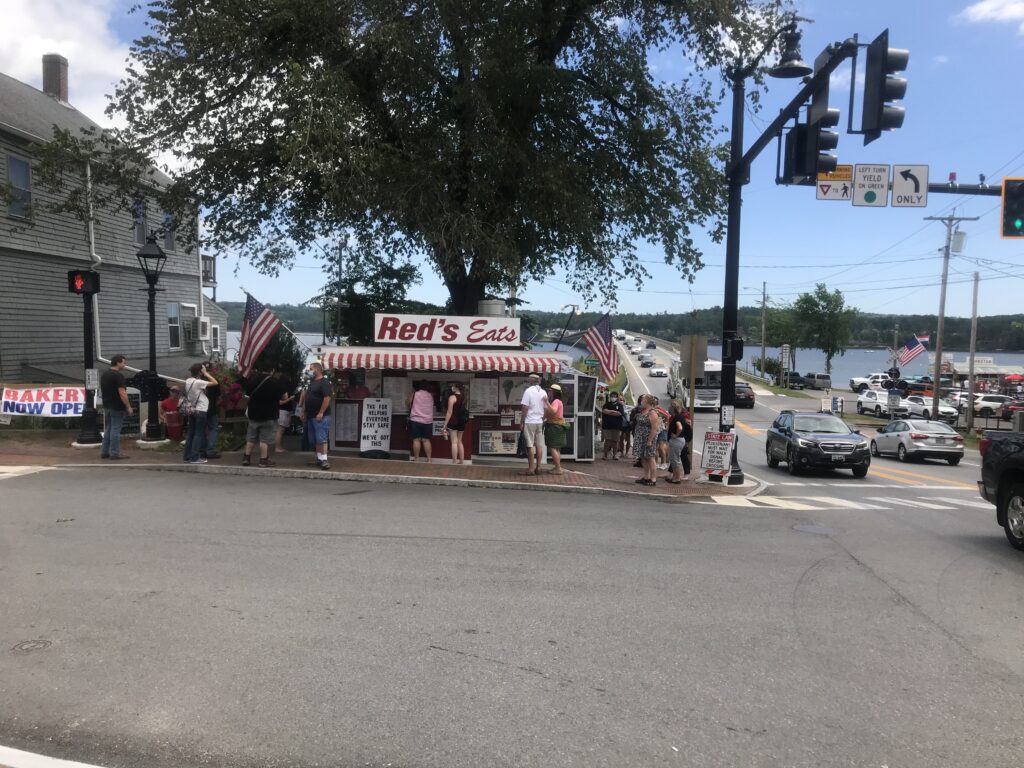 We found food near and in Bar Harbor to be pricey and small portions, except when it comes to Maine lobster rolls. Though the best Maine lobster roll you will find is Reds Eat. This is a stop you will not want to miss on your drive up to the Bar Harbor / Acadia National Park area.
Reel Pizza Cinema
Reel Pizza Cinema, located at 33 Kennebec Place in Bar Harbor, is a quirky place where you sit on couches with TV trays and watch a movie while you enjoy pizza. 10″ pizza's start at $10 each and 14″ for $12. For dinner and a movie this place is a great value.
Maine Steamed Lobster
As you drive up the main road to Trenton and from Trenton to Bar Harbor there are several places offering steamed lobster specials. While some may offer better sides options if you are looking for the best value for your steam lobster stop at the cheapest one. Fresh Maine lobster is phenomenal pretty much anywhere you can get it. In fact, we enjoy $5.99/lb lobster steamed free at Price Chopper grocery stores all summer long so we usually stick to lobster rolls when visiting Maine.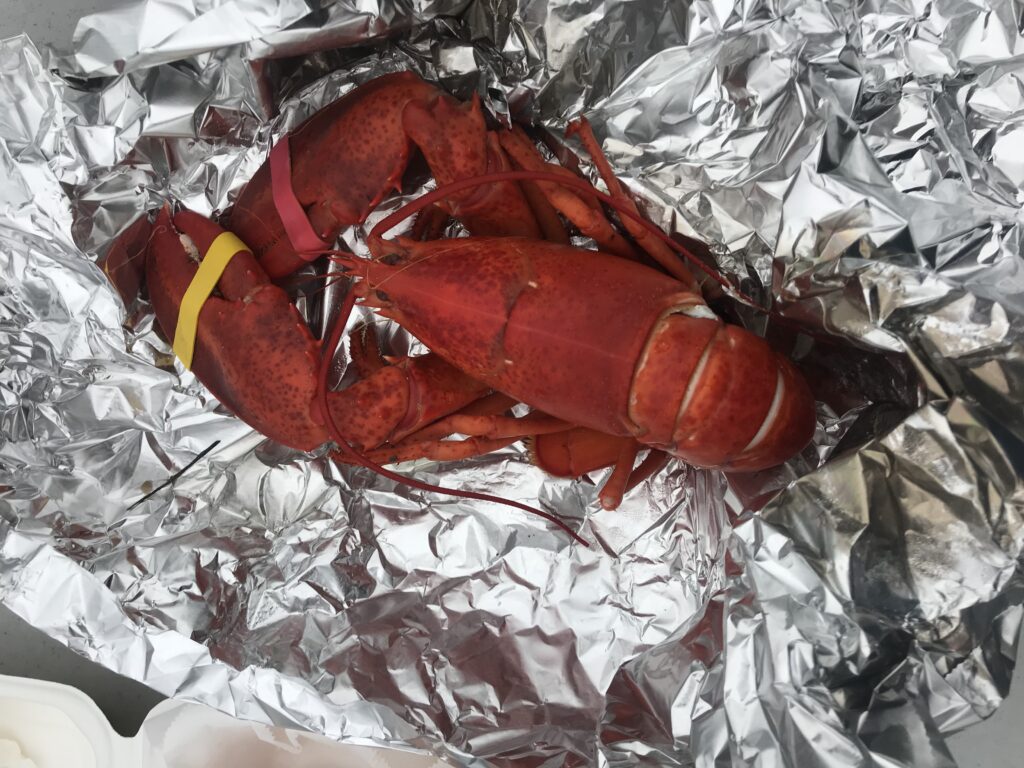 Budget Bar Harbor with Kids Activities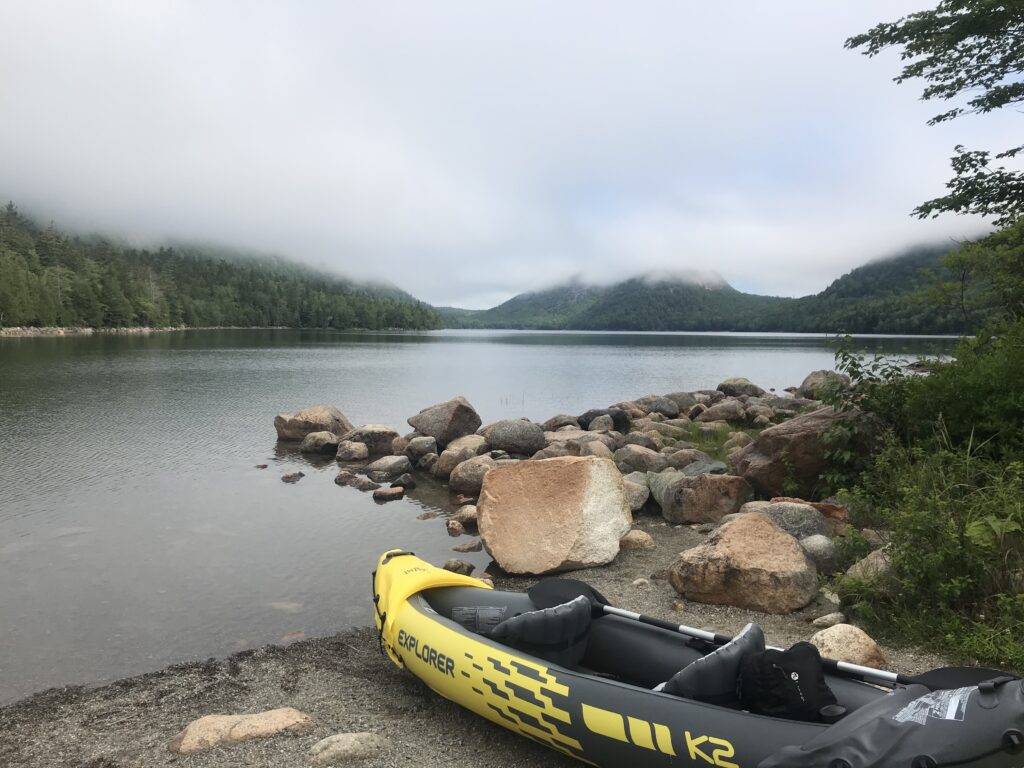 Acadia national Park is the best National Park on the East Coast. You can easily spend several days to a week in this National Park. Acadia National Park 3-Day Itinerary is a good option for seeing some of the major points of interest with time in Bar Harbor as well.
The National Parks offers an American the Beautiful Park pass. For $80 you get unlimited visits to all National Parks monuments and forests for one year. This is a great value because if you follow the itinerary above you would get 3 days use out of the pass which means 1 more day and the pass pays for itself. If you have a 4th grader in your family they can get the 4th Grade Free Parks Pass.
Timber Tina's Great Maine Show and Lumberjack Experience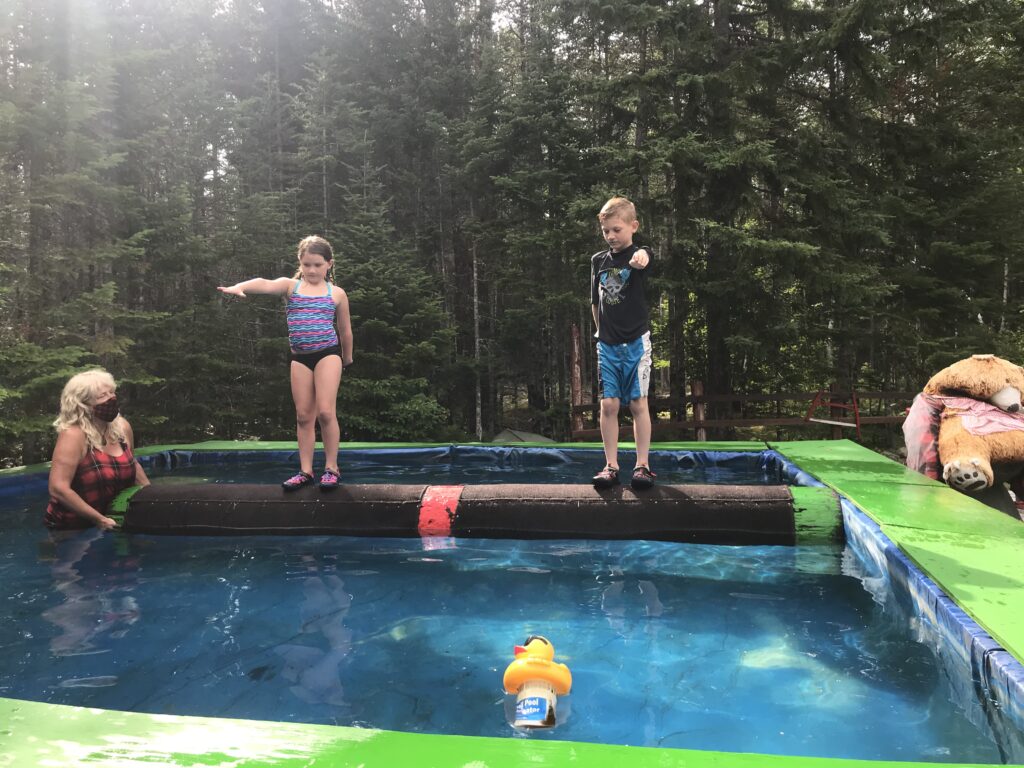 Timber Tina's Lumberjack Experience is one of the best value activities we have ever done. for $75 for 1 hour for your entire party you get to experience hand sawing, axe throwing and log rolling. Log rolling was our kids favorite. This will likely be the highlight of your Maine trip. Timber Tina's Great Maine Lumber Jack Show is also extremely entreating.
Stroll Bar Harbor
Bar Harbor is a cute town to stroll through; Shop, enjoy a drink or meal outside and grab some ice scream.
Budget Bar Harbor Family Vacation Summary
Bar Harbor is a great place to visit on a budget family vacation and enjoy the great outdoors. It's a great well-rounded trip full of fun. Enjoying Acadia National Park the best National Park on the east coast, Timber Tina's, strolling Bar Harbor, and enjoying some downtime at your accommodations.
Follow Affordable_Family_Travel on Instagram
Make sure to like AffordableFamilyTravel.com on Facebook to get all the latest updates. It's also where I post my Dash Deals that are time-sensitive.