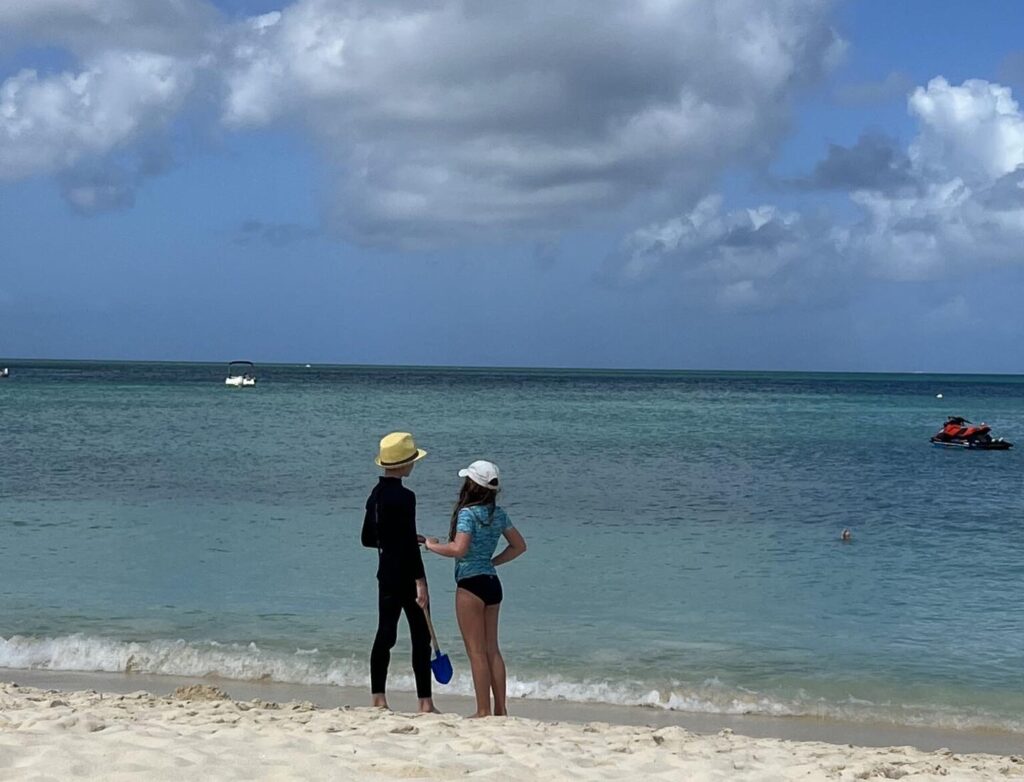 Are you looking for a detailed Aruba Hotel Comparison: Hyatt Regency vs Hilton Aruba? After completing a split stay in Aruba at the Hyatt Regency Aruba and The Hilton Aruba, one came out on top for us but since everyone values different things here's a comparison of the 2 for you to decide for yourself. Both give you the option to stay for free at these Family Resorts on points. During the stay, we had the highest loyalty status for both brands so this comparison includes loyalty benefits as well. Whichever you do you can have a Cheap Aruba Vacation with kids.
Aruba Hotel Comparison: Hyatt Regency vs Hilton Aruba which is better?
The Hyatt Regency Aruba was our favorite but we also went in expecting it to be. We were pleasantly surprised by how much the kids enjoyed the Hilton especially after staying at the Hyatt. I rated everything on a 1-5 scale with 5 being the best. In most cases these hotels received fairly high rankings but keep in mind 5 does not mean perfect.
Pools: Hyatt Regency Aruba VS Hilton Aruba
Hyatt 5 Hilton 4
Hyatt Pool had multiple levels and even waterfall steps. They also had a waterslide which was pretty fast so it was a lot of fun. There was a deeper section that emptied into the lower main part of the pools over steps you could play on. There was the swim-up the bar area and the volleyball area. Then there was a long shallow area where they enjoyed playing football. However, there was no zero entry area. Hyatt has 2 hot tubs.
The Hilton has a very long pool that is cut off by a walkway that is surrounded by sand. We occasionally saw toddlers playing in the sand area but our kids preferred not to get sandy while at the pool. There was also a volleyball net and the zero entry on both sides of the walkway was good for playing ball although one side has sprinklers spraying over it. on one side there was a small submerged seating platform that the kids enjoyed jumping off of. The Hilton Pool also had 2 bridges you could swim under although one is very low. In the afternoons there was live music at the pool bar that you could listen to while you swim. Hilton does not have a hot tub.
Overall the kids felt the Hyatt Pool offered more variety and was better especially with the waterslide. Hyatt has a beautiful adult-only pool section on the opposite side of the resort
Rooms: Hyatt Regency Aruba VS Hilton Aruba
Hyatt 4 Hilton 4
It's hard to compare rooms because it really depends on what you end up with. We received a partial ocean view room at the Hyatt Aruba. there are very limited ocean view rooms that offer full balconies. The partial view room only had a french balcony so we would sit with our sliding room open and the front legs of the cheap outside and it kinda felt like you were sitting on a balcony but without the ability to close the door and not hear the kids watching tv. The rooms were a comfortable size as was the bathroom.
We were given a partial ocean view room at the Hilton in their middle building. The rooms were extremely small but we had a full balcony that overlooked most of the tops of trees. It was still nice being able to sit outside and enjoy a glass of wine in the evening without hearing the tv. The bathroom was also very small. The room felt like a cruise ship. However, it's very possible the rooms in other buildings are much larger.
Overall it was pretty even. In most cases, I would pick a balcony with a small room any day. However, the Hyatt had a nicer view from our room and we didn't spend the evenings in the room as we were in the lounge having a complimentary reception. If you are not a globalist you may feel differently.
Breakfast: Hyatt Regency Aruba VS Hilton Aruba
Hyatt 5 Hilton 4
Also, You can only reserve either a Palapas or pool umbrella for free not both. I recommend reserving the one you think you will use the most regardless of where you start. We found that we spent the beach time in the water or near the water. A chair by the water was enough for us at the beach and we reserved a pool umbrella most days.
Hyatt Regency Aruba Breakfast Buffet
We were offered a complimentary breakfast buffet at the Ruins Restaurant since the club was not open during breakfast hours. Thanks to our Globalist Status this was are at no cost to us.
The Breakfast buffet had the standard, eggs, bacon, sausage, potatoes most days, and an omelet station. Fruit, cheese, deli beat, smoked salmon bar, pastries, and other fun breakfast carbs. They also had a waffle area and pizza. There was an Aruba section that had this such as empanadas, pastiches, pulled beef, plantains, and more. We all loved breakfast, especially my son and me who aren't huge fans of breakfast foods. The bill for 4 was $55 which was comped.
Hilton Aruba Breakfast
The Hilton offered complimentary continental breakfast for 2 as a Diamond member. You could upgrade for $8 to the unlimited mimosa breakfast which also included an entree and the hot food on the buffet. The cost of continental breakfast was $16 for adults and the unlimited $24. Kids were half price so for a family of 4 it would have been $48 or $72. This puts the Hyatt in between the 2. The Hyatt was definitely a better value than the continental, however, if you take advantage of the mimosas, the Hilton breakfast would be a good value given the cost of drinks.
We prefer not to drink in the morning as we need our energy to play with the kids. Therefore we liked the Hyatt breakfast better and felt it was a better value. It also helped that it was completely free whereas the Hilton loyalty benefits only covered 2 people.
Service: Hyatt Regency Aruba VS Hilton Aruba
Hyatt 4 Hilton 4
Hyatt Reservations allows you to book your Palapas and pool through their intranet. You can use the following leak when you are at the Hyatt Resort to check out Hyatt Activities. Hyatt cabana reservations – you need your hotel confirmation number and room number to reserve. There are Some Palapas and Pool Umbrellas you can reserve for FREE as well as some for a fee. For the free ones, We found we could reserve for the next day starting at 3 pm the day prior. To get towels you had to walk down to the beachside hut and they mostly insisted that they bring the towels to your chairs and set them up. This often took additional unnecessary time.
Hilton allowed you to reserve only beach Palapas but not the poolside open cabanas or umbrellas. The poolside was usually completely reserved even at 7 am. It almost seemed as if people put them down at night. There also seemed to be fewer pool chairs at the Hilton probably because Hyatt has a large adult-only pool area as well. Hilton had a towel hut as you came down before the pool and it was also on the way to the beach. You still waited in line but the process was quicker. The only slowdown was if someone wanted to make a reservation for a palapa or cabana there was only one person managing both.
We enjoyed being able to just grab towels at Hilton but we liked the Hyatts reservation system better. We often spent more time at the pool so having covered was more valuable to us at the pool. When we were at the ocean it was usually the morning and it was only me laying in the sun or we were all in the water.
Loyalty Benefits: Hyatt Regency vs Hilton Aruba
Hyatt 5 Hilton 3
Hyatt wins in this category among every major hotel brand. They know how to show appreciation for their customers. Mainly the complimentary breakfast buffet for everyone in the room and the club lounge access which saved us a lot of money during the trip. Hilton Aruba did not have a lounge.
Hyatt Regency Aruba Club Lounge
During the Day the lounge was open with access to cold drinks and the hot drink machine. There were cookies and whole fruit available as well. We usually stopped in at some point for a little caffeine boost.
From 5-7 was an evening reception. We made sure to enjoy lunch off-site and then enjoyed the evening reception as our dinner. This easily saved us $100 a day.
The Evening reception at the Hyatt Regency Aruba Lounge
2 hot entrees per night

Meatballs and shrimp quesadillas 
Chicken fajitas and tuna wraps 
Beef stroganoff and
Coconut Shrimp and chicken wraps

Daily:

Hummus, Babagunush, Olive tapenade, Pesto 
Roasted cauliflower, broccoli, yellow squash, and zucchini 
Carrots, cucumbers, tomatoes 
Dressings: Ranch, Italian, mayonnaise 
Croissants, pastries, cookies
Cooler: chocolate and white milk, coca-cola, sprite, iced tea, seltzer, tonic 
Evening cooler: white wine, Balashi beer, Chill beer
Evening drinks red wine merlot and Cabernet Sauvignon'
Entertainment: Hyatt Regency Aruba VS Hilton Aruba
Hyatt 3 Hilton 4
Hyatt Regency Aruba offered a daily entertainment schedule. It was displayed by the coffee shop but there was also a barcode you could scan to see what was going on that day. Bingo by the pool was daily and most other activities rotated throughout the week. In addition, they had shuffleboard, cornhole, bocce ball and a large connect four. They also had a few birds on site. Chi Chi was hilarious and cracked us up every day. While there were plenty of activities to do, there were no special activities that the kids felt were so good they wanted to leave the pool.
Hilton Aruba also had a list of activities that they posted near the towel hut. It rotated through the day. They held a volleyball game one day which is something you can do any day. However, the coordinated activity brought a bigger group of people. My daughter was so excited to play a real game of water volleyball and all the adults there were very kind to her. Hilton also had birds on site. They had at least 6 or 7 cases of birds. If you go make sure to say high to Laura. She will walk over and get nice and close to you and welcome you. Make sure you have your video rolling. The Hilton brought the birds out during the day while the cages were cleaned. They also gave the opportunity for people to hold the birds which was a really nice experience.
Overall we didn't participate in a ton of onsite entertainment and activity but we did more at Hilton including the water volleyball game and holding a couple of birds.
Aruba Hotel Comparison: Hyatt Regency vs Hilton Aruba Summary
Overall We enjoyed the Hyatt Regency Aruba better. While we love having a balcony it wasn't missed because we were down at the nice breakfast buffet and spent our evening at the club lounge watching the sunset. The Hilton was also nice and had its perks. The 2 hotels are only 1 hotel apart from each other so the location is about the same. When it comes to loyalty Hyatt always wins.
Follow Affordable_Family_Travel on Instagram
Make sure to like AffordableFamilyTravel.com on Facebook to get all the latest updates. It's also where I post my Dash Deals that are time-sensitive.