Budget Travel to Aruba with Kids is possible Thanks to Travel Hacking. See how you can stay at many great Arub family resorts on points. This Budget Aruba with Kids Planning Guide can help you have a wonderful Affordamily Family Vacation in Aruba. Budget Family Vacations means you can have a fun stay at a luxury resort without paying the hefty fees. Utilizing Family Travel Hacking can make a trip to Aruba a Cheap Family Trip.
We were able to stay at 2 luxury resorts for free using points and enjoyed free food and drink thanks to hotel loyalty status. Our total cost for 10 days for our family of 4 including Accommodation, Transportation, Food & Drink, and Activities was around $2,000.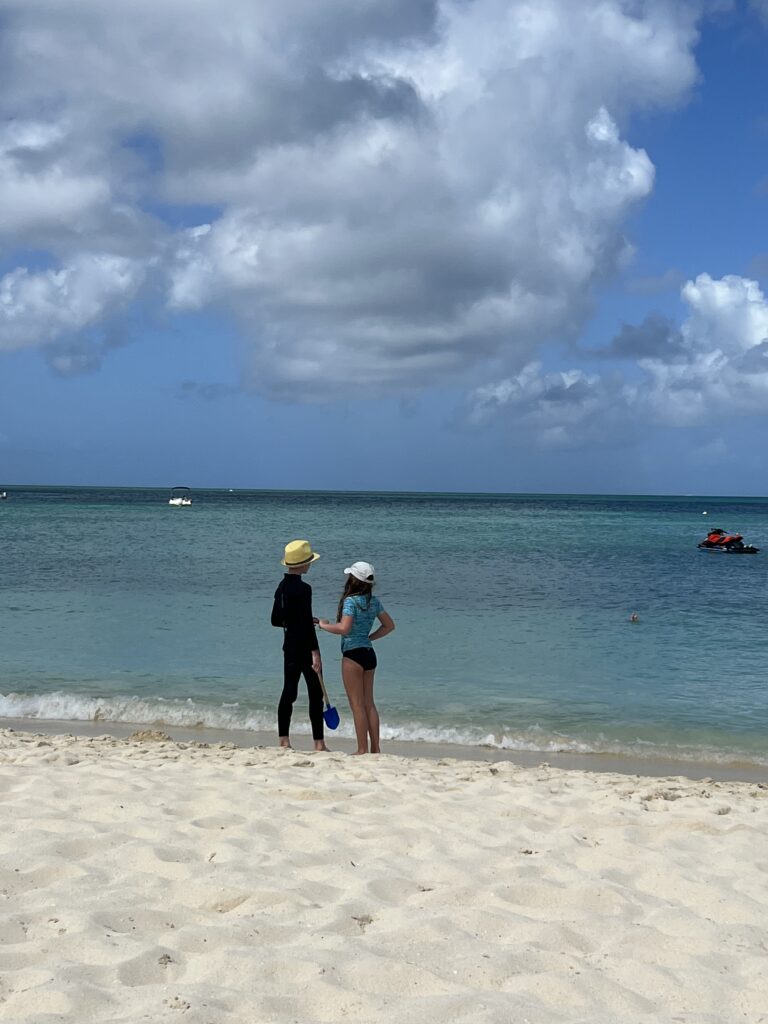 Aruba Hotels on a Budget with Kids
There are plenty of options for Aruba Hotels on points. There's Hyatt, Hilton Marriott, and Holiday Inn Hotels all in Palm Bay, Aruba the main resort area. There are several great All-inclusive Resorts you can book through credit card portals. We were able to find Divi and Rui in the Chase Saphire Portal to book with points. However, the prices required far more points than we had on hand.
If you are looking for a good deal on an all-inclusive checkout Divi's Black Friday Sale in November. The deal often allows you to make a reservation for half price.
Hilton Aruba
The Hilton Aruba offers free nights starting at around 80,000 per night. Thanks to the 5th night free with points option it was 320,000 points for 5 nights. American express often has an enhanced transfer bonus of 2.6x. This means you could transfer about 123,000 American express points to cover a 5-night stay. Hilton Aruba rooms have balconies but not many have real ocean vies. Our partial ocean view was mostly trees. Hilton has a reservation system that allows you to reserve Palapas. Hilton has a very long pool divided by a walkway. there are also a couple of bridges you can swim under and a volleyball net.
Hyatt Aruba
The Hyatt Regency Aruba is 25,000 points per night. This hotel is a category 6 hotel so cat 1-7 free night certificates are accepted too. Hyatt Regency Aruba has mostly french balconies. I do not love this but ultimately we were not in our room much so it didn't really matter. Our partial ocean view room did have ocean and pool views. You can only reserve either a Palapas or pool umbrella for free not both but it's nice there is a choice to reserve a pool umbrella. There's a volleyball net, a water slide, and a shallow area great for tossing a ball around. The pool has different levels and areas to it so it feels like multiple pools. there's also a very large adult-only pool.
Aruba Food on a Budget with Kids
Hyatt Regency Aruba
The Hyatt Regency Aruba currently has its club lounge open from 12-7 pm daily. This was a huge saving for us during the first half of our Aruba trip. I would estimate we saved around $100 a day just from the Club lounge evening reception Which covered our dinner for the day and alcoholic drinks. During the Day the lounge was open with access to cold drinks and the hot drink machine. There were cookies and whole fruit available as well. We usually stopped in at some point for a little caffeine boost.
Hyatt Regency Aruba Breakfast Buffet
We were offered a complimentary breakfast buffet at the Ruins Restaurant since the club was not open during breakfast hours. Thanks to our Globalist Status this was are at no cost to us. The total cost for 2 adults and 2 kids on the bill was around $50 which was comped. The Breakfast buffet had the standard items as well as an Aruba section that had this such as empanadas, pastiches, pulled beef, plantains, and more. We all loved breakfast, especially my son and me who aren't huge fans of breakfast foods.
The Coffee Shop at the Hyatt
There's a small coffee shop that also offers a quick breakfast. We stopped here and enjoyed the pastiches for only $2.50 a piece. Order 2 for the perfect-sized lunch. I absolutely loved these. We also picked up their wine in aluminum bottles as they were the best-priced wine around.
Hilton Aruba Breakfast
Breakfast for 2 at the hotel was included for a diamond member but only continental was included. The cost of the breakfast was about $16 per adult and half price for kids so $8 for kids. The upgraded breakfast with an egg station and hot foods as well as an ala carte entree and unlimited mimosa was $25. Continental breakfast for the 4 of us without comp would have been $48 so approximately the same price as the Hyatt and you got far fewer options. My husband and daughter enjoyed the continental breakfast. While my son enjoyed quiet iPad time with some cereal in the room as we didn't feel it was worth the extra cost for us to go. They do allow the continental breakfast to be taken to go which can be a decent value.
Lunch in Palm Beach Aruba
We hate a huge breakfast and had a light dinner with drinks in the lounge. We took the opportunity to eat out lunch but wanted something quick easy, and inexpensive. Well, as cheap as Aruba gets.
Greek food: prices are $12-$14 per entree. they also have some greek meze options as well.
Smoothie and Poke Bowl Shack was $12-$16
Pizza and wing delivery was about $40
Sausage shack has entrees fro about $10-$12 including $5 grilled cheese and $10 tacos
Pastechies at the Hyatt Coffee Shop are $2.50 each (2 is enough for lunch)
Lunch was fairly inexpensive. We actually spent more on 1 round of drinks at the swim-up bar than we did on lunch for any of the days.
Lunch/Dinner in Palm Beach
Behind the Row of Hotels in Palm Beach, there are tons of restaurants. Of course, they are marked up for tourist pricing but you can find some decent value and good food.
Iguana Joes and Smokey Joes Causal Island Food
Iguana Joe's and Smokey Joe's are located a couple of blocks apart and have the same owner. Smokey Joe's is BBQ and we were pleased with their Ribs. We had planned to share a full rack of ribs and the 1/2 jerk chicken. Unfortunately, they were out of chicken and it would be 2 weeks before they were in stock. I decided on the grouper with the Aruba-style sauce. The Fish was fantastic but the Aruba-style sauce which thankfully came on the side wasn't great.
It didn't matter because the fish alone was great. The full rack of ribs probably would have been enough for the 4 of us. Especially since the kids had eaten some instant mashed potatoes in the room while they waited for my husband to bring back dinner. I didn't mind the leftovers as I enjoyed pork tacos the next day for lunch
We decided to eat at Iguana Joe's as we liked the casual setting. They had corn hold which we love. We enjoyed Sangria (which did end up being too acidic for me) and some corn hole as we waited for dinner. I enjoyed the Keshi Yena and my husband got the Jumbalaya (ask for no bbq on top).
f they had lightened it up or better yet left it off it would have been fantastic. It was a giant portion and we had tons of leftovers. I made Chicken tacos for Mike and Shrimp and rice tacos for me for lunch the next day. We tried the french onion soup and it was very good. Kids' meals were decent sizes and came with huge sodas. Service was great and they even offered to-go cups for the sangria we hadn't finished.
Lolas and Craft
Lola Taqueria and Craft share the same space so it's easy to get a mix. We actually ate at each place on separate nights. We had the lobster rolls at Craft. Our son enjoyed the burger and our daughter had a Poke Bowl we picked up earlier for her to have. The lobster rolls were really good but very very light on the meat. The burger was a very large burger. In fact, my son said the burger was bigger than the bun so he didn't finish about 1/3 of it. The tacos were very good. I enjoyed tasting the variety of flavors. the price was a bit steep for 2 small tacos without any sides but it's the tourist area of Aruba so it was definitely expected. I did not love the Ceviche.
Overall we would recommend every place that we ate at in Aruba. We enjoyed all the food and felt we were able to enjoy good food at a decent value.
Tips for Saving on Food in Aruba
One of my favorite ways to save on vacation is by reducing how much we eat out. I love eating "leftover tacos" which is basically taking leftovers and throwing them in a soft flour tortilla. I bring a backpack with me which doesn't take up much space. This way it won't get crushed like bread, and seriously who doesn't love tacos. The second half of the trip we ate dinner out and I had some really great leftover tacos including bbq chicken and slaw tacos and shrimp and rice tacos.
Breakfast included can save money as it's 1 less meal to spend money on. However, when it's not included it tends to be the meal I skip and the rest of the family just eat some pastries cereal or oatmeal that we bring along. So if breakfast isn't included you could consider packing some items to save. There are also pastiches served in coffee shops for breakfast along with other pastries for a cheap breakfast.
Not all restaurants are open at lunch but the ones who often have lower prices for similar items. If you can hit a nicer place for lunch you could save by eating there at lunch and a lighter cheaper meal somewhere else. We have also been known to eat out of our suitcases for lunch. Since we flew southwest I was able to bring as much as we wanted to. I packed a loaf of bread, PBJ, and Nutella. Since our kids are so picky and honestly a bit lazy they are happy with Nutella sandwiches and were not interested in the leftover tacos. Although my son did enjoy Nutella wraps.
Our Budget Aruba Trip with Points
There are a lot of great hotel options in Aruba including all-inclusive. We stayed at the Riu All-inclusive on our first trip. Divi all has several locations and is a popular option as well as Barcelo. All-Inclusive definitely provides convenience mainly no prices on their menus. We often enjoy this style as our kids prefer to grab food and go but we know we spend less when we do not stay at an all-inclusive.
Total Cost of our Aruba Trip
The Total Cost of our Trip to Aruba thanks to points was around $2,000 for 10 days for the 4 of us. Here's the breakdown and details.
Transportation Costs $910

Flights: $560 including early-bird check-in
Parking and Taxi $230
Testing $30

Hotel Accommodations for 9 Nights- FREE with points
Food costs $750
Entertainment Costs $300
Hyatt Aruba on Points
For this trip using points we wanted to stay at the Hyatt Regency, but it was only available for about half our stay. So we booked the Hilton only 1resort away for the second half. The Hyatt was 25,000 points per night but we had a cat 1-7 free night certificate we were able to use for one night. We did look at Divi All-Inclusive through the portal, 38,703 points per night so it would have been 154,812 for 4 nights or 5nts for 193,515 chase Ultimate reward points. There weren't enough points to cover this and the balance would have been about $2000-$2500.
Hilton Aruba on Points
Hilton Aruba was 80,000 points per night with 5th night free it was 320,000 Hilton points. Transferred from American Express member rewards for 2:1 or if you catch it right 2.6 for a great deal it could be as low as 123,000 American Express points. We had some Hilton Points already and transfer about 73,000 American express points to cover the difference
Flying Southwest Airline
We were able to book flights for 12,000 points each way per person for a total of 96,000 points. Taxes and fees came to $360 in total for the 4 of us. We also paid $25 per person per way for early bird check-in, so the total cost of flights for us was $560.
Southwest Free Bags
Since we were flying southwest we can pack up to 2 bags per person free. We tend to pack light with clothes but decided to pack 2 large suitcases.
Bring Beach items on a Budget Travel to Aruba with Kids
We packed snorkel gear, pool floats, and sand toys. We also brought wet suits for the kids, which seems silly but my son wore his most of the trip to avoid putting sunblock on. The sun is so strong we went through 4-5 bottles of sunblock that we had also packed in our suitcase.  I wish we had packed some wine because prices were a little higher than I expected and well-checked bags are free.
Bring Food on a Budget Travel to Aruba with Kids
We usually bring some food when we travel primarily to save money but many times it's also very convenient. We don't always want to head out somewhere to eat and resort food can be a boring and limited selection. Sometimes we are so busy we don't stop to eat till we are starving and just don't want to wait. Our kids are fairly particular in what they eat and sometimes would rather have a Nutella sandwich.
They also eat so many snacks.  So eating out of our suitcase is fairly common when we travel at least for some meals. We brought Snacks, some breakfast food- bagels and cereal were eating (sometimes as a snack). I used tortilla wraps for leftover tacos and we went through half a loaf of bread and Nutella. Kids had freeze-dried fruit but also got a lot of fruit and veggies while we were staying at the Hyatt and plenty of fruit at breakfast at the Hilton.
Total Cost of Flights
The total cost of flights for the 4 of us was $560 including an early bird. It was $150 for airport parking and $30 for travel insurance required through the Aruba ED process. The taxi is approximately $25 each way but with baggage fee and tip the total was about a total of $80 round trip. So Total Transportation and Parking Costs was $820. We did not have to test because we traveled with proof of recovery.
Cost of Entertainment on a Budget Travel to Aruba with Kids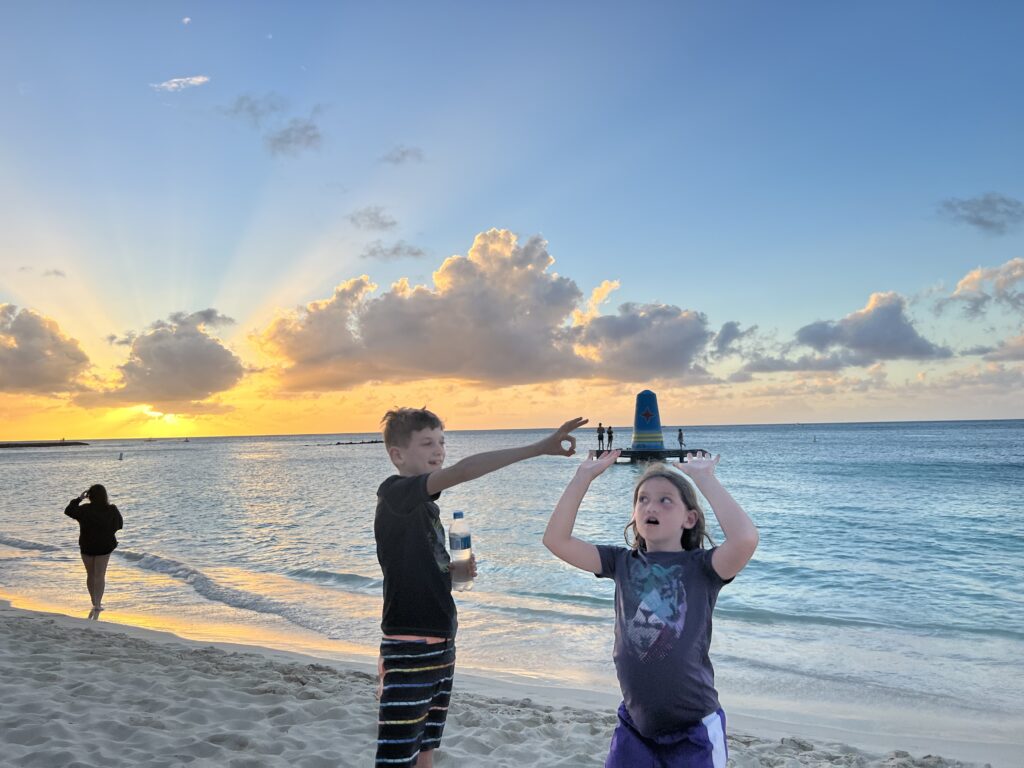 There is a lot of fun expensive activities in Aruba. Some are very worth it but it can add up very quickly. We all loved the Hyatt and went with the expectation that we would save activities for our Hilton stay at the end.
We checked in with the kids during the Hyatt portion of our stay and they did not want to leave the resort. When we got to the Hilton the kids were so excited about being at a new resort they just wanted to check it out. We ended up enjoying 2 activities right at the end of our trip because they were our top 2 and we just didn't want to miss them.
Snorkeling
Jolley Pirate snorkel excursion had been recommended to us and we found out why. It was so much fun, especially swinging off the rope swing. While lunch was a little plain (bring your own hot sauce) it was a large portion. Since we didn't eat lunch until we arrived back in port, I brought my lunch back to the room because I really wanted it with hot sauce and ended up with leftover bbq chicken and slaw tacos for lunch the next day. Check-in and embarkation happen just passed the Holiday Inn so it's a decent 20 min walk but all on the paved beachfront walkway although the end portion is bumpier. There were 3 stops on the excursion that really made the 4-hour excursion fly by but still provided plenty of time at each site. They feed the fish
The cost of the excursion which includes lunch was approximately $250 for 4 of us. Costs are approximately $72 for adults and $43.50 for children up to 10 years old. There are also discounts offered on their website for up to 25% off.
Water Sports
We also decided to do tubing which is offered right outside the main resorts. it's $100 for 15 minutes which to me sounds like ALOT. it's actually $25 but it's per person no discount for multiple people. It was so much fun we all couldn't stop laughing and screaming. My daughter wouldn't put her thumb down except when she needed to hold on with 2 hands. Thumbs up mean faster so boy did he give us a ride.
We didn't have time but The Palm Island is definitely on our list for the next trip. While the price is high it offers a variety of activities.
When we travel we try to be as frugal as possible so we can travel even more. It's easy to splurge on some extra fun when you know you spending on what's most important to you. Total entertainment costs for 4 of us was only $350 including lunch one day. This is thanks to booking resorts that offer plenty of entertainment to keep us entertained during our stay.
Cost of Food on a Budget Travel to Aruba with Kids
Hyatt Stay on a Budget Travel to Aruba with Kids
When we booked our trip to Aruba we had no idea the Hyatt club lounge had finally reopened. We were very excited as it saved us a lot. For the first half of our stay, we enjoyed a full breakfast buffet for 4 and the evening reception in the lounge which was plenty for us for an evening meal and drinks. Thanks to the lounge we only spend approximately $40 a day on lunch and one day spent $50 on a round of drinks at the swim-up bar, something our kids love but never seem to finish the drink because what child can sit still for that long in a pool. so Total for 4 nights 5 days was only $250. We loved the Hyatt Regency Aruba and their club lounge. You could easily stay here and not pay anything extra except for lunch and have a great time.
Hilton Stay on a Budget Travel to Aruba with Kids
During the second half of the trip we were at the Hilton we definitely spent a lot more but we also cut costs by preparing ahead of time. Since we flew Southwest and had free checked bags, I bought some food staples so we could eat out of our suitcase if we wanted to save some money. I brought some individual-sized peanut butter and jelly and a jar of Nutella. As well as tortilla wraps and lots of snacks. I also brought bagels and a box of cereal. We have Diamond status at Hilton that only included continental breakfast for 2.
Since my son only eats cereal for breakfast anyway, and I usually skip breakfast unless it's free, my husband and daughter went to breakfast each morning except our last day where we got 2 two go breakfasts which were plenty for all of us to share. I recommend considering this option especially if you bring your own carby items so you can grab some deli meats, fresh fruits yogurts, etc.
We had lunch included 1 day with our excursion and 1 day we had lunch in the airport lounge with our complimentary priority passes before our flight home. The other 3 days we ate leftovers in tortillas as tacos. BBQ chicken and slaw tacos, Shrimp/chicken and rice tacos, pork rib tacos. For those who didn't want the leftovers or if there wasn't enough, they had pbj or Nutella sandwiches. This option also meant we could hang out at the beach in the morning and not leave to eat which was very convenient.
Dinner was at the restaurants listed above. The Cost of Dinner was about $60-$80 including tips per night and drinks were another $40-$50 a night. While there are several BOGO drinks offers we found the best wine value was aluminum half bottles at the Hyatts market to be the best value. half bottle for $9 and we liked the taste the best as well and drank those several nights on our balcony.
We also grabbed dinner in the Aruba airport before we boarded our flight because we knew we would be landing late in Baltimore and would be starving- the airport food was very expensive- Panda Express was about $40 for 2 meals and the kids Sabaros spaghetti and 1 pizza was $36. We averaged around $120 a day for dinner and drinks each night for a total of about $600 for the second half of our trip.
Total Cost
The total cost of food for 10 days for 4 of us was only about $850 Total. We didn't eat out at any of the nicer restaurants. I actively found places that were affordable and still had things we could enjoy. When we booked the trip we had decided against a 5-night all-inclusive stay for $2500 and chose to stay on points for 10 days instead.
Our goal was to keep our food, drink, and entertainment costs below the cost of the all-inclusive while staying twice as long. We were able to keep our food and entertainment costs down to less than half the cost of the all-inclusive stay AND stay twice as long. For us, this was a huge win. We still love the ease of all-inclusive and had we eaten onsite for lunch and dinner and drinks every day the costs would definitely be closer. We also ate and drank more conservatively since everything wasn't included or at hand reach all the time.
Budget Travel to Aruba with Kids Summary
Budget Travel to Aruba with Kids. Aruba can be an expensive getaway especially compared to other Caribbean islands such as Jamaica or the Dominican Republic. However, it doesn't mean it can't be an affordable family vacation. Utilizing the Divi Resort's half-price sale is a great way to save on an Aruba All-Inclusive. If staying on Points, I highly recommend the Hyatt especially if you are a Globalist as it covers a lot of your food and drinks each day.
Southwest Airlines can save you a lot. Not just in airline costs but the free checked bags can be used to bring food, drinks, and beach toys. As well as sunblock and you will need a lot of it as the sun is very strong in Aruba.
I was really excited to be able to enjoy a fun and relaxing 10 day Trip to Aruba for just around $2,000 Total. Based on the average cost, this could easily be one of our under $1500 Trips.
Follow Affordable_Family_Travel on Instagram
Make sure to like AffordableFamilyTravel.com on Facebook to get all the latest updates. It's also where I post my Dash Deals that are time-sensitive.