Budget Travel for a South Africa Safari with can be done when staying at Addo Elephant Park. You could spend 11 Days in Cape town including 5 Nights at Addo Elephant Park enjoying hours of self-drive/ independent game drives for as little as $6,000 Total for a family of 4 including international flights.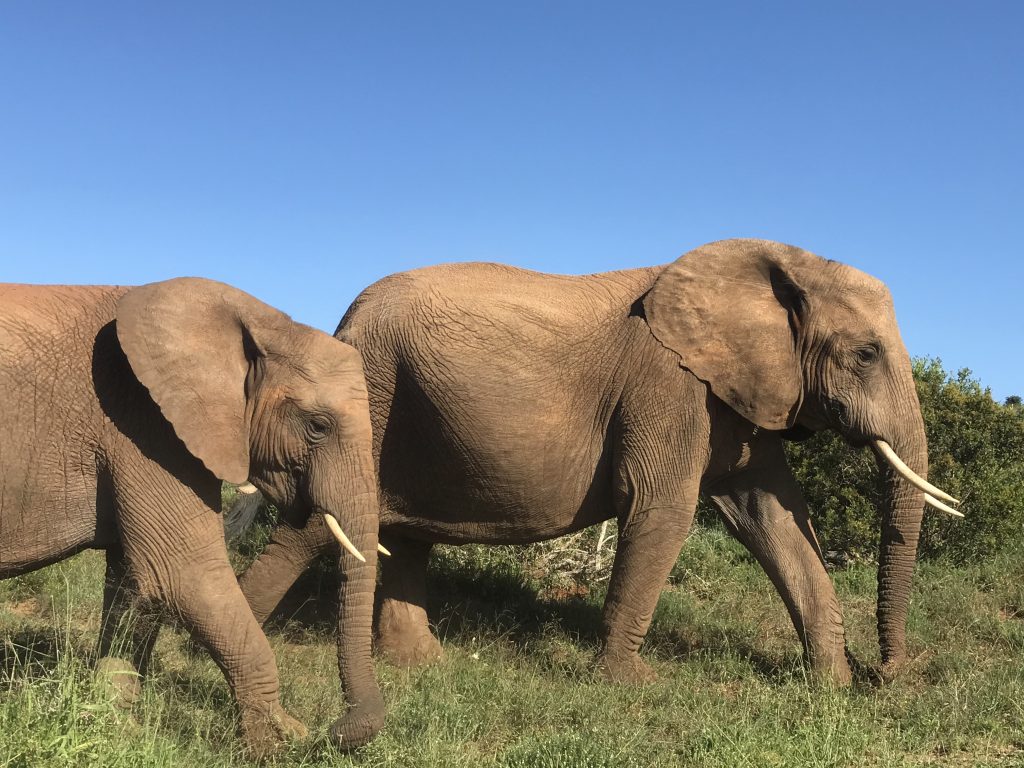 Addo Elephant Park is a wonderful affordable Safari Experience. We did a self-drive and saw so many animals in less than 24 hours at the park including elephants, antelopes, zebras, and warthogs. We saw dung beetles, leopard turtles, water buffalo, baboons, and ostrich.
Here's a full list of animals you can find in Addo.
We visited Addo for only one night but it's a wonderful park and we wish we had a couple more days to explore. You have the option of self-drive or can book escorted game drives in safari jeeps. They have cabins and chalets inside the park and I recommend staying in a chalet for a wonderful budget-friendly Safari experience. 
Accommodations/Lodging in Addo Elephant Park
We booked a cabin at the main camp because the chalet description was a bit confusing as an American. The description said shared kitchen and I was worried we were going to end up with a room of a shared kitchen and bedroom area that was Loud from others. I was wrong about the chalet setup. 
They were flexible to accommodate our needs.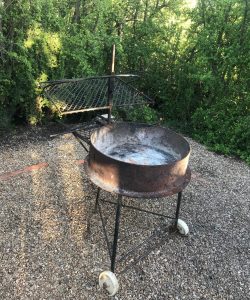 When we arrived at our cabin it smelled strongly of cigarette smoke and we were given the option for them to spray with air freshener or move to a chalet. My daughter is incredibly sensitive to smells so we opted for the chalet. The cabin we booked had 4 single beds and it's own bathroom. The fridge was located outside on the front deck and it was separate and private from other accommodations. Bedding is included.
The Chalets at Addo Elephant Park are perfect for Families
The chalet was not what we expected it was better. The "shared" kitchen meant you had a king bed (2 full pushed together), a sleeper sofa, and a kitchen all in the same room-basically a studio with a private bathroom. It was a full kitchen with a stove, microwave and toaster, and a long counter. The deck looked out to the Savannah. It was a duplex so there was another  "room" attached with their entrance on the opposite side and a wall separating the decks.
The noise wasn't Bad
We did hear the other guests when we came in for the evening. The park had quiet hours and we didn't have any issues with noise from our neighbors when it was time for bed. The only thing that felt like roughing it a bit was the bathroom. Keeping in mind this is a National Park chalet and not a 5-star hotel I was ok with it. the issue was some mold around the grout areas.
The park lodging also offered a pool which we didn't have a chance to visit and a stay included admission to the park. There's one restaurant onsite that offers a primarily a meat menu with a couple of pasta dishes (they were out of pasta the night we visited). My kids would say they had the best chicken tenders (it was chicken schnitzel cut into strips). Although there's only one restaurant I was rather surprised by how good the meat was. And my kids really enjoyed the crumbed chicken tenders. Definitely worth a visit for one night.
There's also a camp store where you can buy groceries for your cabin or grab groceries in town before you arrive at Addo. This would make this an incredibly affordable option since groceries will likely cost much less than you would spend on your regular groceries in the states. 
Here's the SANS (State park) site for Addo Accommodations.
Game Drives in Addo Elephant Park
Addo Elephant Park is easy to navigate within the park with the map you can purchase for 10 Rand. There are tons of elephants, zebras and antelope, and warthogs. We spent 2 hrs on a self-game drive our first night and 6hrs the next day starting at 6 am. The lions were tough to find and to be honest, we didn't even really have an idea of how to look for animals, but we had a great time. We kept saying we could have stayed longer. We want to come back and do at least 4nts, so we can break up the time between game drives and swimming pool and just taking it easy. 
Tips (from our experiences at Addo and Madikwe):
Lions can either be in tall thick grass in the plains or snoozing under some brush. You will likely see them move dawn and dusk as they finish up or start to move around for hunting.
If you take some time and just sit in one spot you are more likely to see small animals scurry by. Even the noise from your engine is enough of a warning to animals to stay away.
Waterholes are a great spot to see animals.  If you head right over to the loops where there are several watering holes in the morning you may get lucky.
The loops at the bottom of the park from the main camp, seem to have larger herds than we saw closer to the main camp.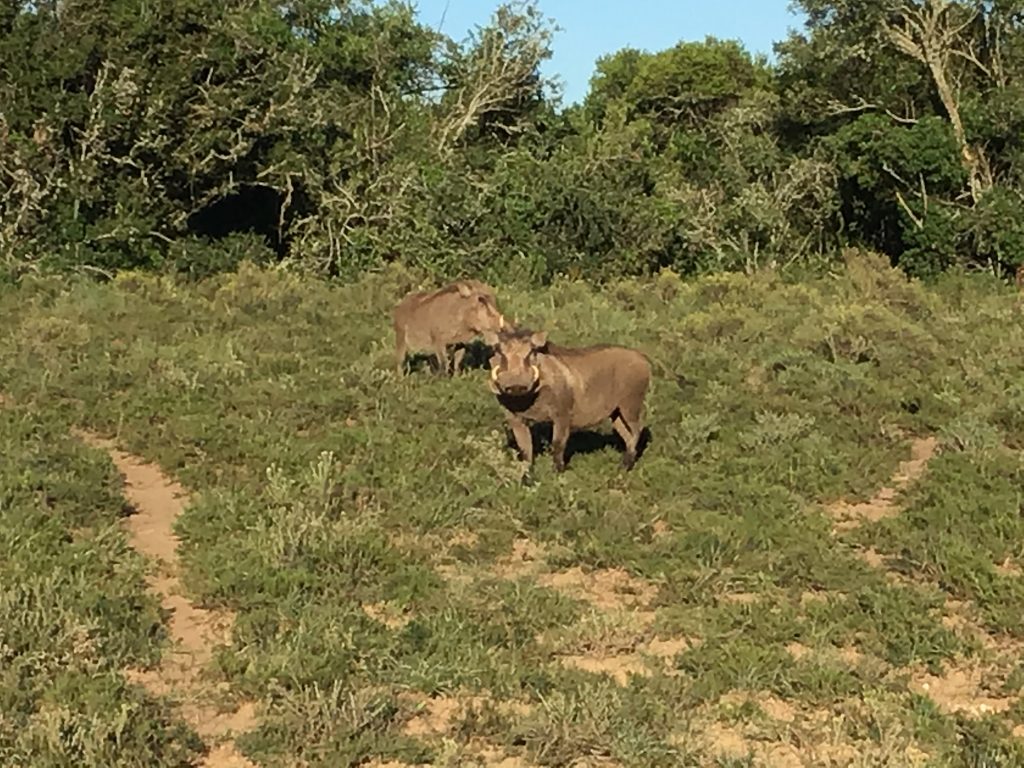 The guided Game drives in a Safar Jeep are extremely affordable starting at about $27 USD per person. You can find out more here. It's definitely worth the price to do a drive or 2 with them. For one they know how to spot the animals and second, they may have access to roads private vehicles can't go on. Also if you watch and listen to the Guide you can understand a little better how and where to find animals.
Inside the Park, there are several areas where you can get out at your own risk and stretch your legs. there's also an enclosed rest stop with bathrooms. It's a good idea to plan your routes so that you can make some pit stops there as needed.
Affordable Safari Experience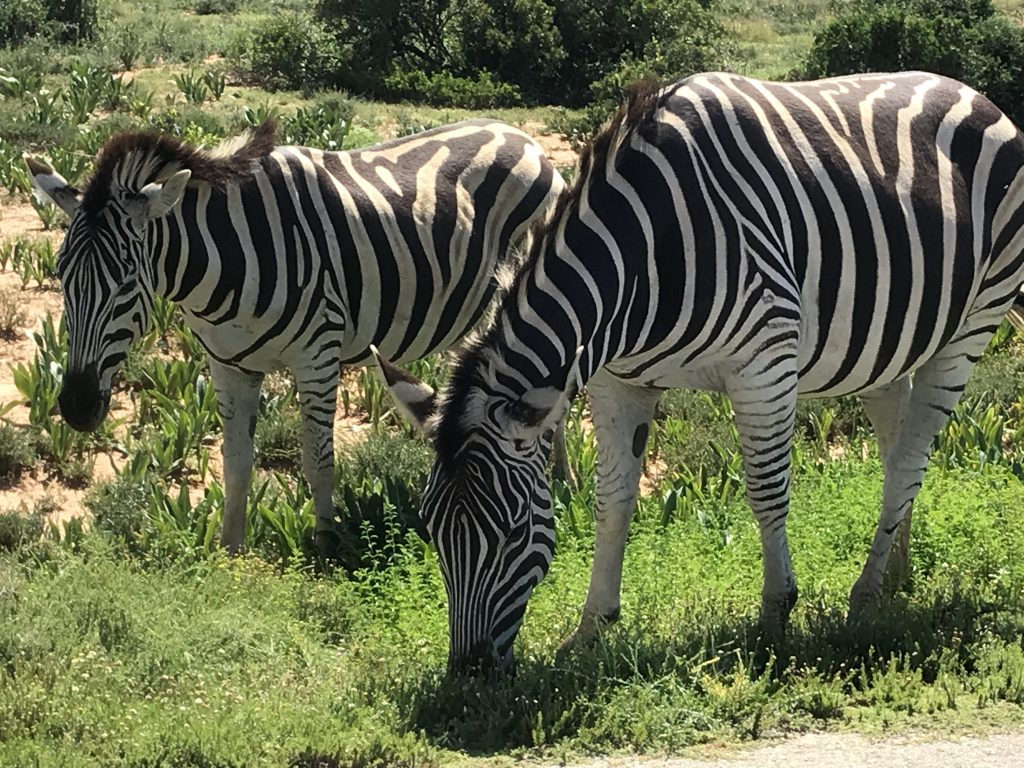 If you want a budget-friendly Safari experience I highly recommend a chalet at Addo Elephant Park. Stop at the grocery store to get wood or coal for the grill and some nice meat. We saw a braii meat set at the Woolworth in Capetown which would be perfect. Get some cold salads and other sides maybe some lunch meats-my kids prefer PBJ.
At around $80 USD/night plus tax for the chalet, we paid  $175.22 total for 1 night but I think we paid an extra fee for the kids which may not have been required during our online booking.  We spent about $100/day on the rental car. For 5 days it would be $500 for the rental car and $875 (max) for the chalet. Since groceries are cheaper in South Africa than would spend in the Us, I would say food is free except for one night at the Cattle Barron restaurant, which would cost less than $100 closer to $50 USD for a family or 4. Add in Gasoline for about $50. So 5 day 4 nts Addo would cost you under $1575. 
Getting to Addo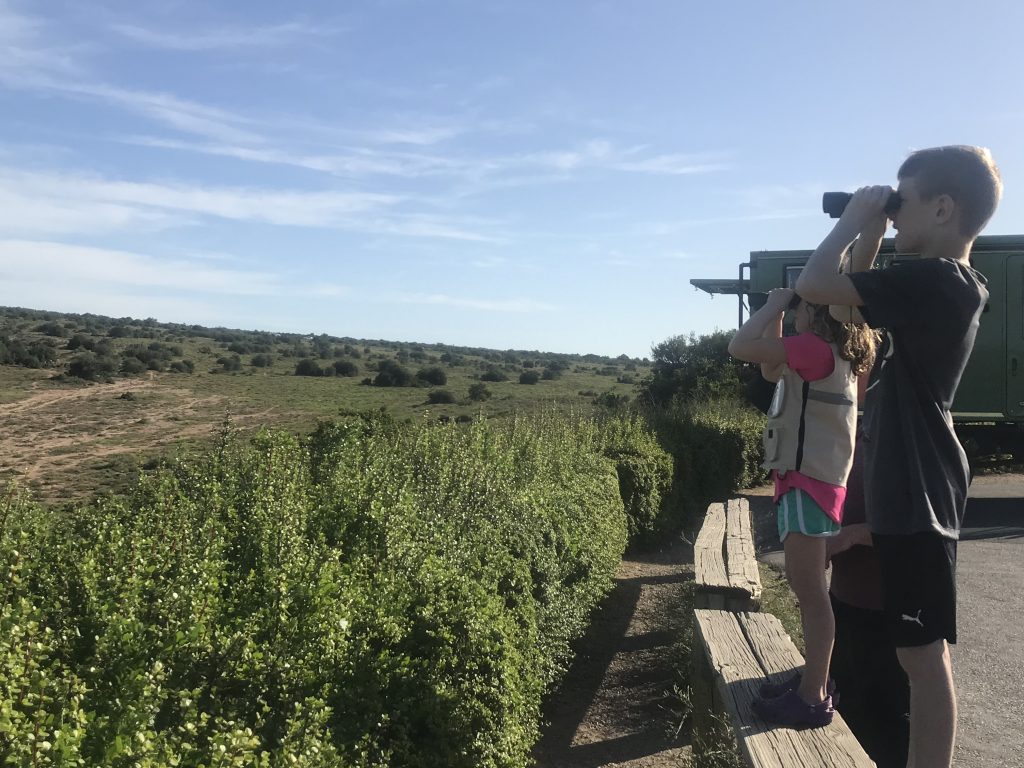 That's not including flights. I'm not just talking international but you would need to fly or drive into port Elizabeth. We drove Cape town to Addo stopping in Oudstoorn for 2 nights. If you drive direct it would take 9-10 hours each way. Because of flight times from Capetown, you likely would need 1 night in Capetown before driving or possibly flying.  Rental cars can cost around $100 a day so the extra time needed to drive will also cost you.
Flights to Port Elizabeth can be very affordable for around $150 round trip. For 4 people that is $600.  We decided to pick up our rental car at Capetown airport, as we felt it was easier to pick up the car at the airport when we arrived at 6 pm at night and drive to our hotel and not try to figure out how to pick up the car 2 days later.

An Example Itinerary with Addo as the highlight.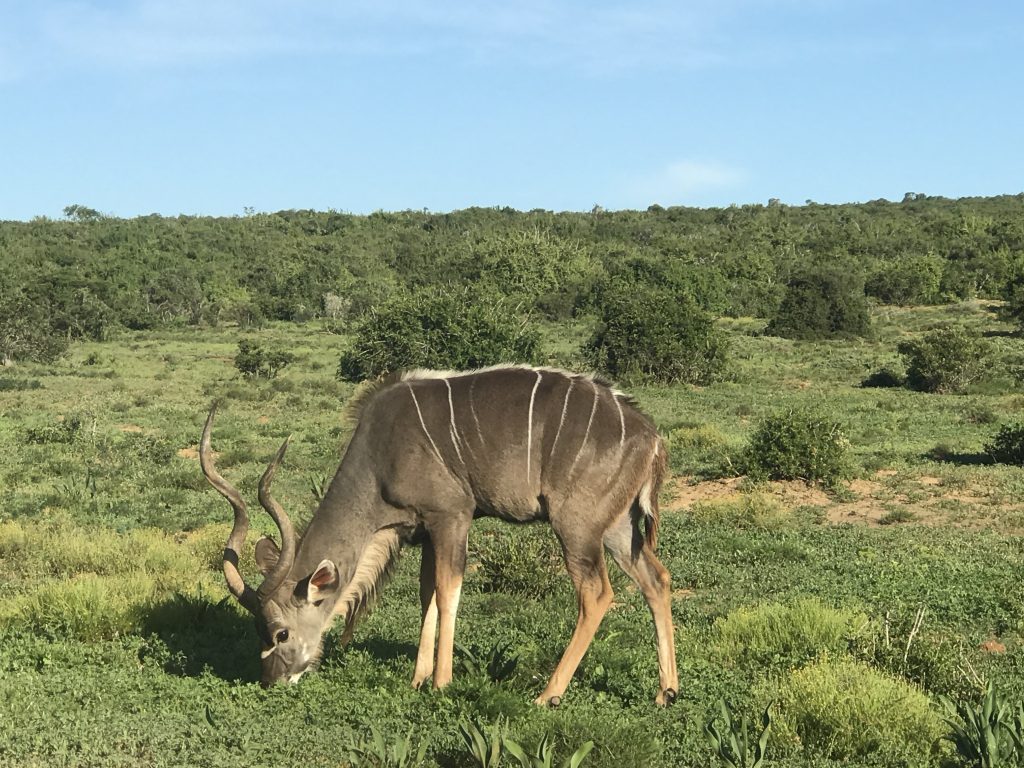 If I was to go back to South Africa for a budget Safari Experience I would stay 5 nights at Addo Elephant National Park. I would spend 2 Nights in Cape town prior.  I would add 2 nights Oudsthoon because we loved the Congo Wildlife Park.
Sample Itinerary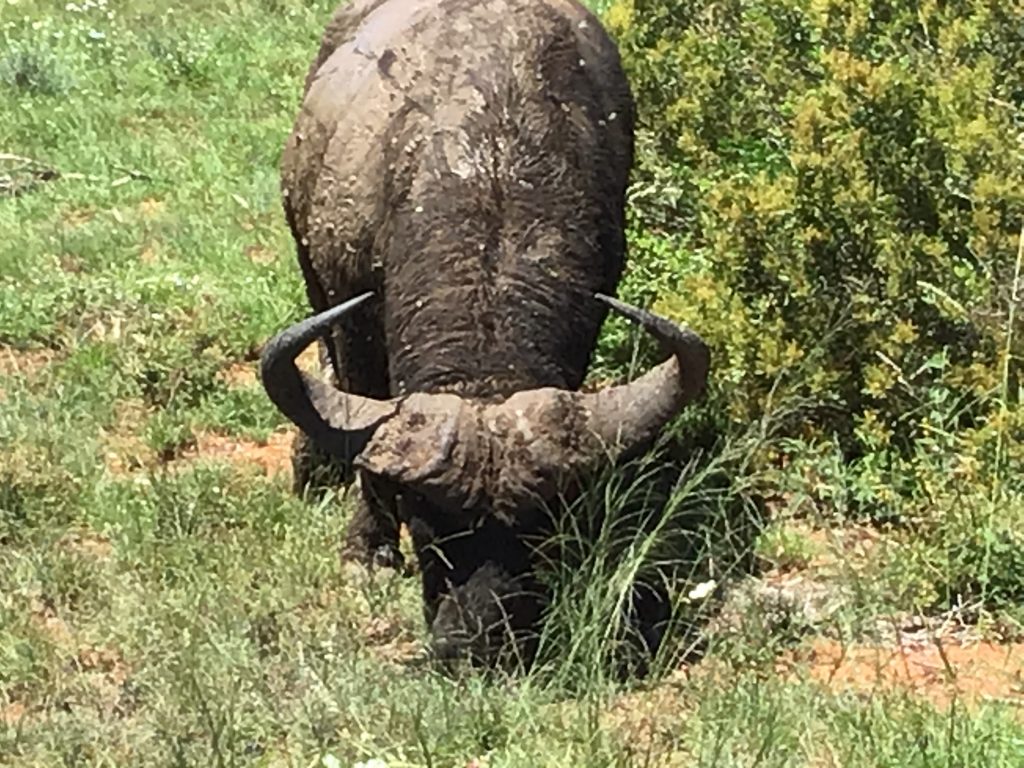 Day 1: Depart for Capetown (Newark to Capetown Direct on United)
Day 2: Arrive in Capetown. Pick up a rental car. Check into hotel
Day 3: Boulder Beach, Cape point Winery lunch. Scenic Drive back to Cape Town. If Time stops at Table Mountain Gondola  Hoping there are fewer people at the end of the day.
Day 4: Table Mtn Gondola (if you didn't visit the day before), Drive to some Wineries arrive in Oodshoorn for 2nts
Day 5:  Cango Wildlife Park VIP Full House Tour. Cango Osterich Farm if time.
Day 6: Cango Caves for their first tour at 9am (don't be late), then head to Addo. Stop at a grocery market to pick up food for 5 nights.  If time aftercheck in head into Addo for the remaining hours.
Day 7: Addo: early morning driving game drive followed by nap and pool time, afternoon game drive.
Day 8: Addo: early morning driving game drive followed by nap and pool time, afternoon game drive. This would be a good day to book a daytime game drive with a guide to get a feel for what and how they do things.
Day 9: Addo: early morning driving game drive followed by nap and pool time, afternoon game drive. Good night to book an evening game drive.
Day 10: Addo: early morning driving game drive followed by nap and pool time, afternoon game drive.
Day 11:  Addo: if time early morning game drive, check out by 9 or 10 am, head to Port Elizabeth to drop off the rental car and fly to Cape Town, then fly home.   
Budget South Africa Safari with Kids (based on 2 adults 2 kids)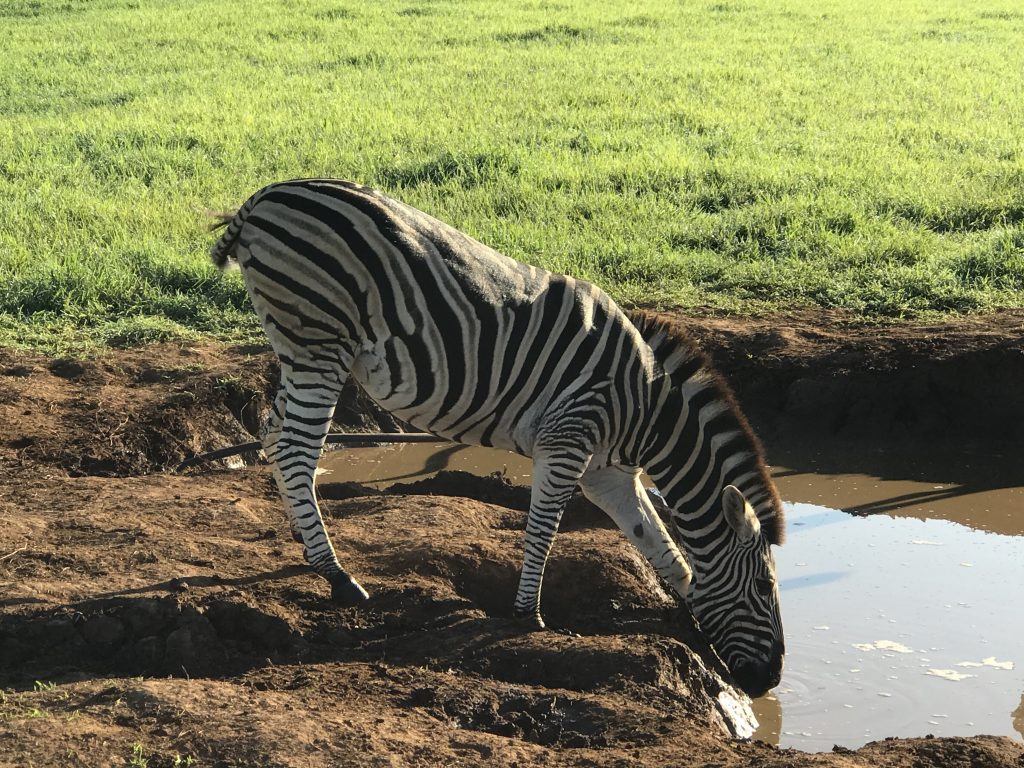 $3,000 for flights for 4 Direct to Capetown from Newark * using points to cover flights would cut the cost of the trip in half. Also, if you are flexible with your dates January and early February were as low as $400 rt but with a layover.
The rental car we ended up paying around $500 for 5 days using this estimate you would need $900 for a rental car for the entire trip.
$1275 Total Lodging: $875 for Addo Chalet. Oudtshoorn and Capetown on average $100/night for about $400.
$150 for Gas this estimate is based on what we spent plus another $50 as there are more days of independent game drives than we did.
Food and entertainment for 10 days depending on how you eat and where. During our trip, we spent about $400 on food and admission, not including the CIP experience at Cango Wildlife Park. I would guess you could easily cover the admission costs above plus food $650 not inclusive of the VIP wildlife experience.
The total Cost would be $5975 for an 11 Day Safari Experience for a family of 4.
Adding the Cango Wild Life Park VIPS Full House tour it was about $800 USD for the 4 of us and we spent almost the full day there. It was well worth the cost.
Stay tuned for more articles about South Africa.
Etali in Madikwe Game Reserve South Africa is a luxury safari experience that is amazin. While it was very expensive it provided a once-in-a-lifetime experience. If you are looking for alternative options for a Safari, Tanzania Safari is another great option.
Affordable Safari Experiences in North America
Follow Affordable_Family_Travel on Instagram
Make sure to like AffordableFamilyTravel.com on Facebook to get all the latest updates. It's also where I post my Dash Deals that are time-sensitive.