50 Ways to Keep Younger kids and Toddlers Entertained on a Plane or in the Airport. When we first started flying with infants and then toddlers I read about what to expect. The best advice that I was given was to break the trip into 15min increments. plan out enough activities to late the trip changing it up every 15 minutes. Let your kids play as little or as long as they want then move on to the next but averaging 15min per activity you should have enough to cover the trip.
50 Ways to Keep Young Kids and Toddlers Entertained on a Plane or in the Airport
Make Marshmallow Olafs
Play I-spy with Collage photos
Bring an exciting new snack. Allow them to enjoy a snack every 2 hours or so.
Eat lunch. If lunch isn't provided bring one with you. Gerber Raviolis that are shelf-stable was always a lifesaver for us.
Play Going Vacation: start with We are going on vacation and I am bringing, and then say something that starts with the letter A. The next person repeats including the letter A item you said and adds a letter B item. you continue through the alphabet.
make buzz light or star wars shooting beams from Starbucks coffee sleeves
Make Fruit loop necklaces. All you need is a small bag of fruit loops (or cheerios) and some dental floss.
Bring a blanket and let your toddler play on the floor to provide a flatter space for them to play with whatever toy they have. the change of scenery may help.
Head Shoulders Knees and Toes exercise
Put together a dollar store puzzle
wave to passengers as they board
Play with the caterpillar stacking cup toy. Stack the cups on top of each other. then in each other. then use one cup to store some snacks like puffs and allow them to move the snacks to another cup. This makes a great sand or bath toy while on vacation too so it has a double use.
Paint with Water. Bring a small paintbrush and use the cup and water they serve (drink it down first).
play with a small canister of playdoh
Color with markers or crayons
read a book either downloaded to an iPad or phone or bring small picture books. If you bring a couple you could read one book every hour or 2.
Play dots and boxes
If there are multiple adults rotate who is sitting next to the kids. This will break up the time for adults too but then you can ask them what have you been playing with mom or what have you been playing with grandpa.
Roll a match bar car around
Play with a dollar store activity book
Make sure they take their naps. We usually tried to get them to nap on the plane, not the airport because the airport has far more space to move.
Put together stick art crafts (available at Michaels and other craft stores)
Play a card game such as go fish, old maid, etc.
Wrap gifts and let them open something every 15-30 minutes This could be their special snacks or the next toy or activity to play with. wrapping it adds to the excitement and takes up a little extra time.
Watch Netflix on wifi provided in an airport lounge while mom and dad enjoy a complimentary cocktail or 2
Shoestring and cardboard cutouts with holes- have them threaten the string. Or use giant bread and have them thread them.
Sing Skip to my Lou in the airport while you skip
M&M bingo. Make copies of any Photo Bingo Cards you have. We had Disney Bingo cards. Then just call out random photos and use the m&m to cover the spaces. once someone wins they get to eat the m&M
Enjoy dessert at an airport restaurant
Play with a small container of Kinetic Sand
Have your toddler or child clean their try and armrests with johnson and johnson face wipes or baby wipes.
Use tape to create a mosaic pattern on a piece of construction paper. then let them color in the open spaces and remove the tape.
In the airport, the play sees how far you can hop, and have them hop in a line down the aisle. then when they stop have them skip back.
Play a Travel board game (some can be found at the dollar tree)
Shop around
Make grape cultures with grapes and toothpicks. if it is winter you can use mini and large marshmallows to make snowflakes
Play with a Disney Popup Playset or similar travel playset
Have them count their snack as they put it into a container before eating it. If you give them something such as fruit loops or M&m skittles have them divide them out by colors and count each color. If they are a little older have them subtract one color for the total.
Make your own Gummy Kabobs. Buy a variety of gummy candy such as gumdrops, fruit snacks, and larger gummy pieces. using either a toothpick or a wooden shish kabob stick makes gummy candy kabobs.
Ride around on a scooter suitcase
Enjoy a meal at an airport restaurant
Scribble Art- make a scribble on a paper and then have them make it into an object
draw things they can color in. Such as fruit, vehicles etc. Draw a page of the same theme. they will watch you draw the items so it takes up a little more time than just coloring printed pages.
Airport scavenger hunt
Play with a busy book
color by number art
Make rice crispy sushis w/ individually wrapped rice crispy treats, fruit roll-ups, and gummy candy
Make a bun of squiggle loops all over a piece of paper. Then have them color in each opening/circle with a different color. it will create a work of art similar to mosaic but with curbed lines.
Play tic tac toe
Have a puppet show with finger puppets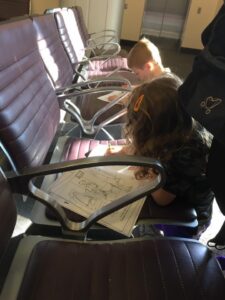 Ways to Keep Young Kids and Toddlers Entertained on a Plane or in the Airport
These activities are sure to be a hit with toddlers and younger kids. I recommend balancing some of the candy activities with fruit or healthier food snacks. The food activities are great because the food is both an activity and a snack. Plus once it's eaten you have more space in your carry-on for souvenirs.
Follow Affordable_Family_Travel on Instagram
Make sure to like AffordableFamilyTravel.com on Facebook to get all the latest updates. It's also where I post my Dash Deals that are time-sensitive.