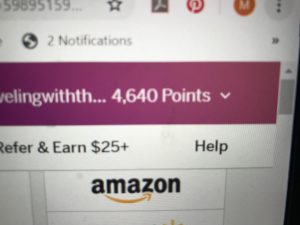 You can use Rakuten Ebates to Earn MR points. Ebates gives you cash back every time you shop the stores you love, on-line. Now with ebates you can earn Member rewards points instead of cash. I love ebates. It's so easy to use. Just remember to go to ebates before any of your on-line shopping. Don't forget you can even shop travel sites through ebates. For example, on-line travel agencies such as Priceline and Expedia, Hotel chains such as Marriott and Holiday Inn, and tour brokers such as Viator are all available.
You need to Have an MR earning American Express Credit Card
If you have an american express card, I highly recommend signing up for ebates/rakuten account that earns Member Rewards (MR) Points. The earning multiplier is the same for points as it is for cash but member rewards will cover more. It's also a great way to earn the points you need if you are short your target.
For example, I need 65,000 MR to get RT flights to South Africa. Having 55,000 through the Amex Business gold Offer and meeting min spending. I need 10,000 more points. I was able to earn almost 5,000 MR through Rakuten so far in just a few months.
Here's How to sign up and start earning Member Rewards Points for Shopping
1) First go to the regular ebates link here (this helps me earn a referal bonus). DO NOT sign up if you want MR just go to this link then follow step 2. If you dont have amex and want a regular cash back ebates account. You can use this link to sign up.
2) sign up for amex ebates offer: copy this link and paste it into the web browser that you just opened to overwrite the previous address and click enter. https://www.rakuten.com/american-express
3) Fill out the information. You will need an e-mail address that hasn't been used with ebates or Rakuten before and your amex account user id and password. Its that simple. You will earn 1500 MR just for signing up!
It's easy to use Rakuten Ebates to Earn MR points. Amex MR points can be used toward free travel.
Follow Affordable_Family_Travel on Instagram
Make sure to like AffordableFamilyTravel.com on Facebook to get all the latest updates. It's also where I post my Dash Deals that are time-sensitive.