Odaiba, Tokyo, Japan 2019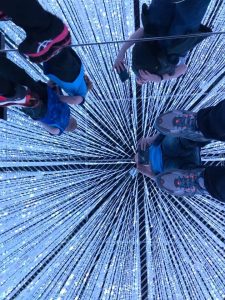 Odiaba was built on artificial land in Tokyo Bay, Tokyo, Japan. It was built as an entertainment space and there's so much to offer it's easy to spend full day here. There's restaurants and a food court so you don't have to leave the area till it's time to head back to your hotel.
Transportation in Tokyo, Japan:
Transportation in Tokyo, Japan is fairly easy to navigate thanks to some English signage. However, everything seems to take longer than expected so plan extra time for travel.
We took: JR Maihama Station >Shin-Kiba(1st Stop Transfer to Private Rinkai Line towards Osaki)>Teleport Station(3rd stop which is the exit, you will pass shinonome and Kokusai-tenjijo stations). I recommend Google Map for determining the route before you leave for your trip as cell service can occasionally be spotty.

Aqua City Bus There's a bus shuttle that circles the entire area and it is free.
There's water taxis that will also take you too and from Asakusa and Ryogoku. This can also be an experience as you cruise up the river from Tokyo Bay.

One Day Itinerary
Morning
Head out early if you are able to arrive by 9am at the latest to get  in line for TeamLab Borderless. Make sure you have your tickets purchased in advance so you can head right in when doors open. If you arrive before 9am you can check out MegaWeb-Toyota Exhibit. While it's not open that early you have to walk through the building to get to TeamLab.

TeamLab Borderless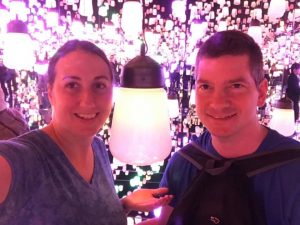 Hours: 10:00 – 21:00  
Located in MegaWeb Building with Toyota Exhibition
This art exhibit is a fun way to show your kids that art comes in many forms. The creativity that comes into this mostly digital art display is amazing. A unique experience that's a must when visiting Japan.
They opened doors 30 minutes early.
There's a Wendy's right across the entrance with a bathroom but doesn't open till 9:30am. The other restrooms are much further away so go before your head to Borderless.
Food isn't allowed inside, even though they have a cafe, but we had snacks in our bag.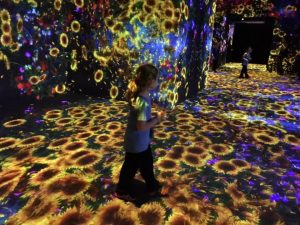 There is no floor map guide.  Go with a list of what you want to see so you don't miss it. Highlights were the lightbulb room and the lilypad room.
There are lockers to check bags but it's not required.
If you finish TeamLab Borderless and are able to postpone lunch a little I would  head to the Ride Studio. You can also end your day here if the kids have any energy left.

MegaWeb – Toyota Exhibition
Hours 11:00-21:00
This is a free interactive exhibit displaying Toyota cars and technology.
Ride Studio – Where kids can drive electric cars
If you arrive early you can walk through this even though it doesn't open till 11am. 
If you can hold off on lunch head here after TeamLab Borderless.
Lunch in Tokyo, Japan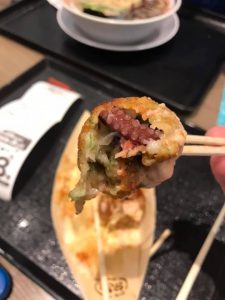 There's a food Court in DiverCity Mall most items are less than 1,000 yet. 
Tonkatsu
Okonoiyaki
Ramen
Much more options
If you are looking for a more formal sit down option head to Gonpachi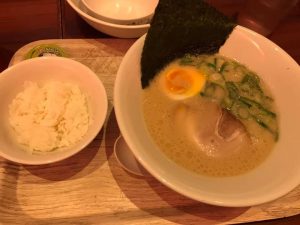 there course menu looks good the $50 one gives us 3 skewers (chicken thigh veggies and karoge beef (japanese beef) miso glaze salmon,
Tempura
Yakatori (gizzard and thigh),
Soba
 Miso
Afternoon
Life Size Dunham Statue
This life size statue comes to life for a few minutes. Watch it transform. 
This is right outside the exit of the food court so it's something you can stop by after lunch.
11, 1, 3 and 5 are the times he is active.
Trick Art Museum Aquacity
Hours: 11:00- 21:00
Located in Decks Seaside Mall
These creative scenes allow you to become part of the picture. Have fun. Another form of  non-traditional art.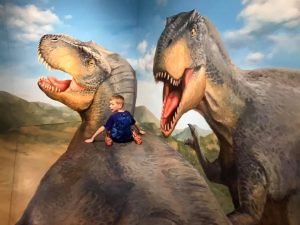 This is an area in 
Take your time getting the photos that you want
Have fun with it. Show the kids the photo after you take one so they can see and visual what is going on.
Take some photos of the adults too. A few of the displays work better with adults like the mirror one.
 Also includes some illusion art at the end.
Dinner in Tokyo, Japan
If you didn't make it to Gonpachi at lunch time head their for dinner or you could head to the food court for a quick casual dinner. Another option is to head to one of the cities many sushi train restaurants. Maybe one closer to your hotel so you have a short distance to travel afterward. 
Conclusion
We loved Team Lab's Borderless exhibit and highley recommend a visit during your stay in Tokyo.Overall the day was filled with family fun activities that engage children.
There's so many more options you could actually spend several days here. There's a Legoland Discovery Center, a Ferris Wheel, several parks and a beach just to name a few. This day for us was filled with art and technology perfect for our STEAM loving children.
Find out more about Japan with kids check out my full trip to Japan: Tokyo, Kyoto and Tokyo Disneyland.
Make sure to like AffordableFamilyTravel.com on Facebook to get all the latest updates. It's also where I post my Dash Deals that are time sensitive.