20 Things to do In Yellowstone National Park with Kids can help you have a fun cheap National Parks trip with Kids. There are many fun things to do while enjoying nature, the beach, and of course the wild horses. National Parks have a wonderful Junior Rangers Program that provides educational activities within the Park. National Parks also offer Kid-Friendly Hikes and many more activities. America the Beautiful National Park Pass provides entrance to National Parks around the country for a full year at one low price. Fourth Graders can get a free pass through every kid in a park program.
1. Check out the Visitor Center
The Visitor Center is a great resource. It usually has maps and a Ranger available to answer questions. Yellowstone National Park has several visitors center each of which offers specific information regarding the area of the park they are located in.
2. Participate in the Junior Rangers Program
While you are at the Visitors Center ask them about their Junior Rangers Program,. The Junior Rangers Program is an educational program for all ages. Complete select activities in a booklet and earn a Junior Rangers Badge. Yellowstone is the one National Park where we earned a patch, not a Badge. There was a small fee for it along with the Junior Rangers Program.
3. Go for a Hike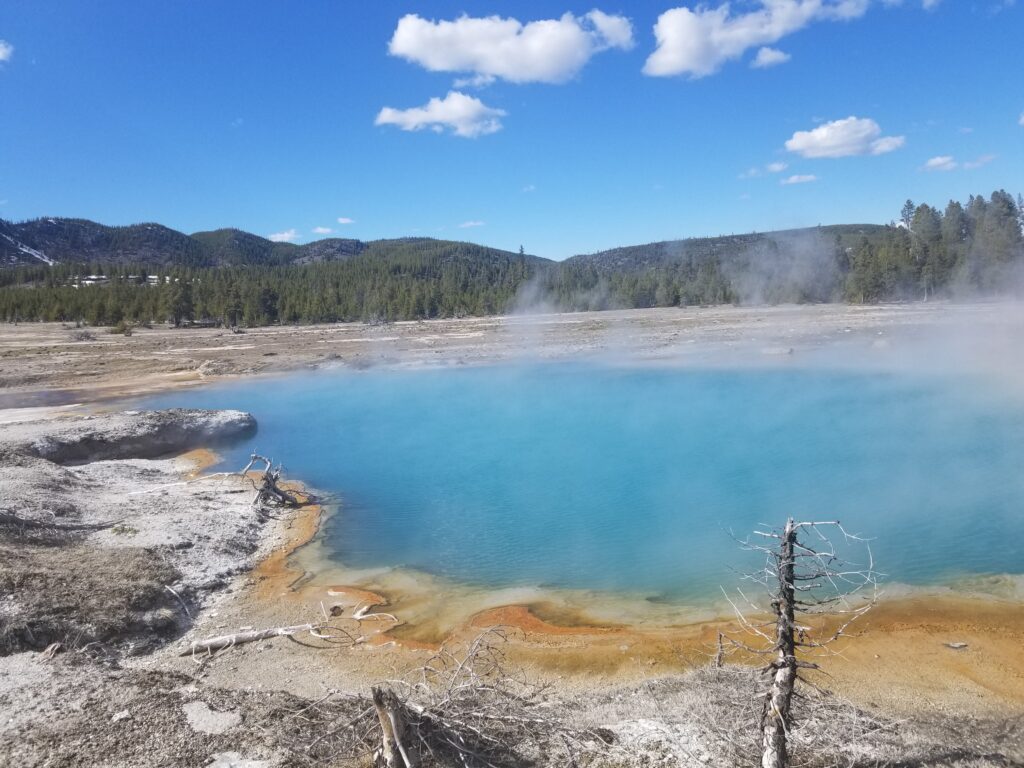 Of course, there are many places to hike in our national parks. If you are visiting many of the thermal springs and Gisers you will be doing a lot of hiking. However, there are also some nature trails to enjoy as well. Yellowstone really provides such a range of scenery that it's fun to change up your hikes.
4. Go for a Bike Ride
Bring your bikes and explore some of the bike trails that are within many National Park sites. You are probably thinking I have never seen a bike inside Yellowstone National Park and you are probably right. Every spring and fall, bicycling (including e-bikes) may be permitted on park roads while they're closed to motorized, public travel. Electric or pedal-assist bikes are included and can ride anywhere bikes are allowed. Keep in mind that roads will not be free of cars during these times as employees, contractors, plows, and other administrative vehicles will be on the roads.
5. Get on the water
Bring your kayaks, and paddleboards, or rent a boat. If it's too cold to get in the water you can always get on the water for some fun. We love bringing our inflatable kayaks and paddleboard when we travel. While we won't take them in the ocean there are often calmer places to kayak near the ocean.
You can Kayak on Yellowstone Lake however we found it to be pretty wavy and not the best for inflatables. Instead, take a 1 hour guided tour on Yellowstone Lake.
6. Go Fishing, Clamming, Scalloping, or Crabbing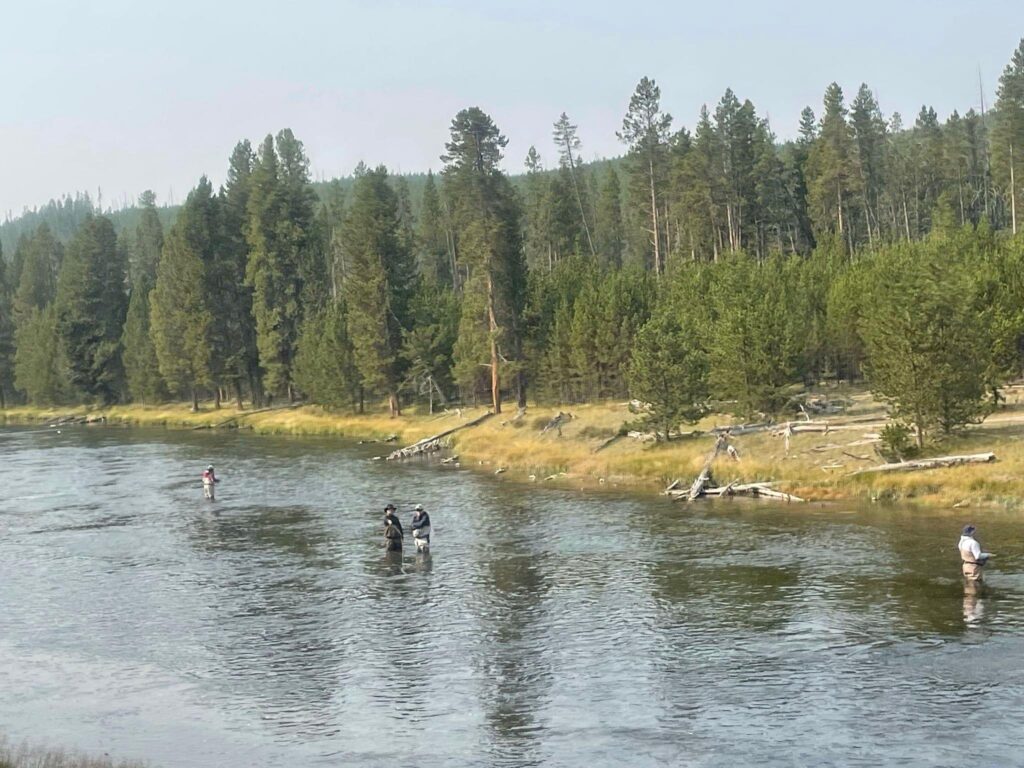 My kids love fishing. If you bring your own equipment it can be more affordable but make sure you follow local laws and get any permits you may need for fishing in Yellowstone National Park.
7. Learn About History
Through a variety of presentation materials, you can learn about the history of our nation at Yellowstone National Park. Find out How Yellowstone National Park was formed and how it's changed over time. Learn about the earliest inhabitants.
8. Look for Wildlife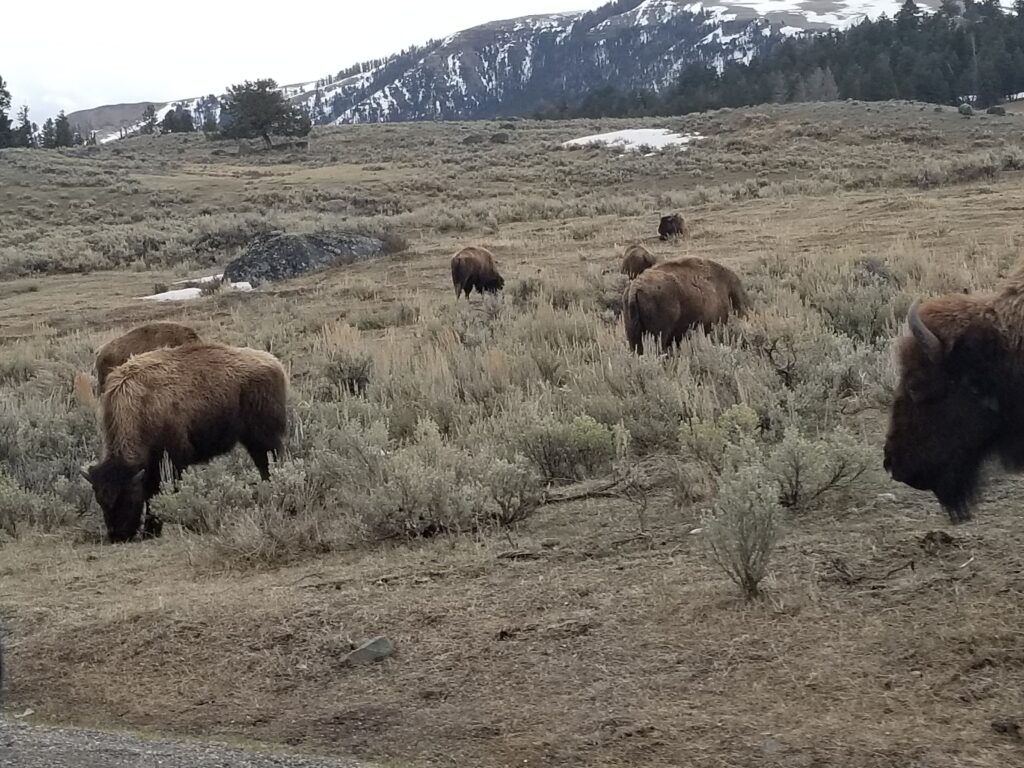 Wildlife is all around us and the National Park system is a great way to preserve their homes. You can often spot wildlife in many of the national parks. Yellowstone National Park is one of the best places in the nation to view wildlife in its habitat. See the Famous Grizzlies, black bears, bison and so much more. While there is a large variety it's not always as easy as you think to see them all. It takes time, patience, and some luck.
9. Go Bird Watching
There are over 150 species of birds that nest inside Yellowstone National Park. See how many you can see.
10. Learn About Natural History and Science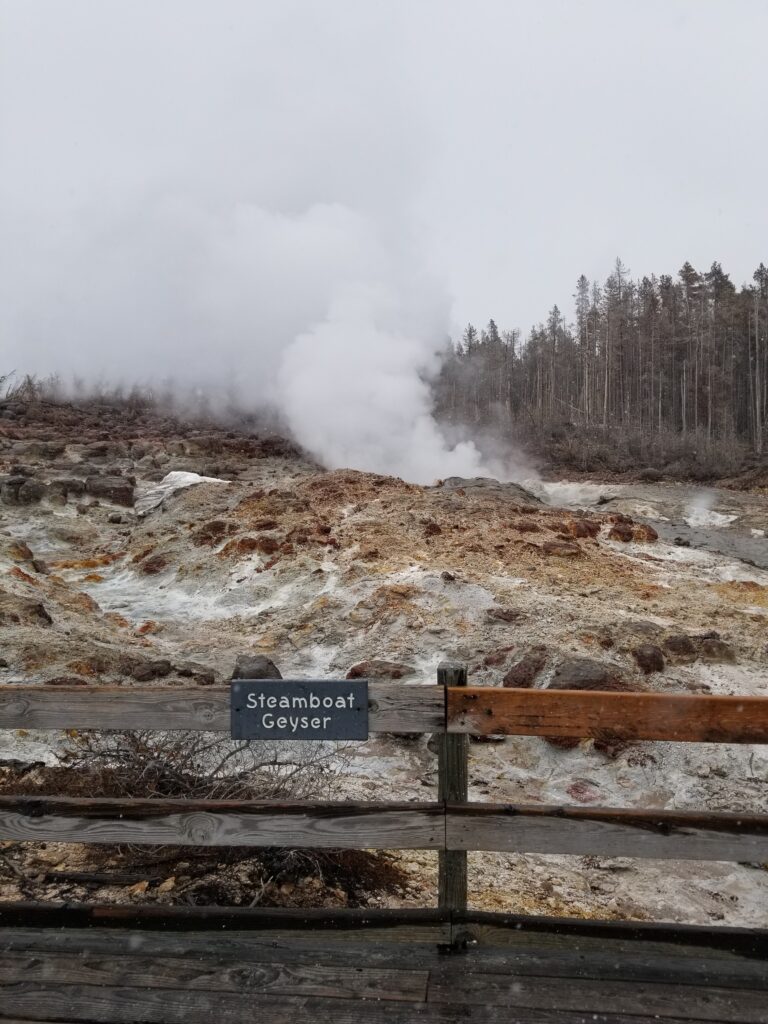 There is so much to learn at National Parks especially Natural history. It's so interesting to understand how the various landscapes in our country were formed and how they ultimately lead to what the land looks like today. Yellowstone is a great place to learn about Natural Science. After all, it's one of the largest active volcano systems in the world.
11. Have a Picnic
Having a picnic can be a lot of fun. It can also save you from having to wait in long lines at the limited dining options within a Large National Park. You can also add some games to your picnic or spend time talking about what you have done or the wonderful view you have. Please make sure to only picnic in designated picnic areas in Yellowstone. This is for your safety and to assure bears are not encouraged to go near people.
12. Go For a Drive
One of the easiest ways to see what a National Park has to offer is to drive through it. Of course along the way you probably want to stop at some scenic points, for a hike, or even to look for animals. Yellowstone National Park has over 250 miles of road. Driving is needed to get to many of the highlights. It's also the best way we have seen wildlife, especially at night. While we have sat in areas waiting for animals to come out in the early morning, we have seen a wolf, grizzly bears, and much other wildlife by driving and of course, pulling over once we have spotted something. We have also seen others pulled over and stopped to see what they had spotted.
13. Take in the Views
Some of the most amazing views in the country are in our National Parks. Make sure to snap a few selfies too. You can also have fun taking some perspective shots that make fantasy look like reality. Yellowstone has some amazing views. The variety of landscape and wildlife in Yellowstone means every day and many times each day you will be in awe over its beauty.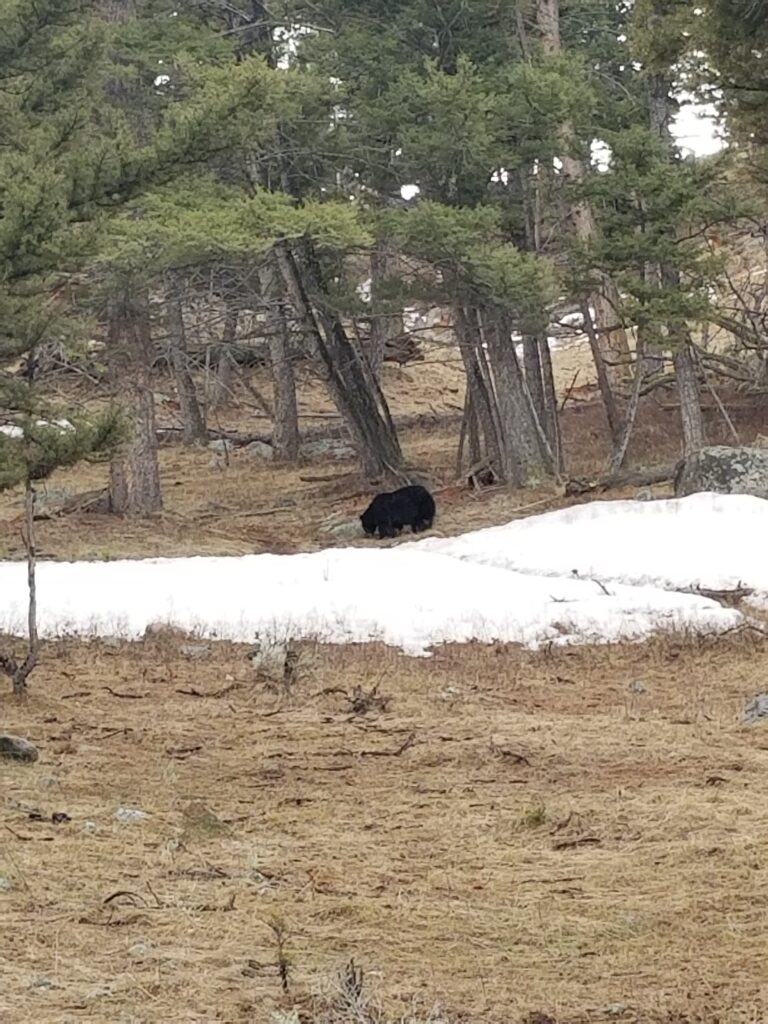 14. Stamp your Passport
Get a Passport Stamp. No, I do not mean your International Passport, although we have seen people do this and you should absolutely NOT do that. You can purchase a National Parks Passport in most gift shops. Then as you travel throughout the country to various National Parks you can stamp yourself. The National Park Stamps are usually available in the Visitors Center. Since Yellowstone has multiple Visitor Centers you can stop at each one to get a different stamp.
15. Enjoy the Museum
Many National Park Sites have small museum that houses artifacts and information about the Area. The small museums are usually within the visitors center. Some Parks have outside informational displays. Yellowstone National Park has a variety of both.
16. Go Camping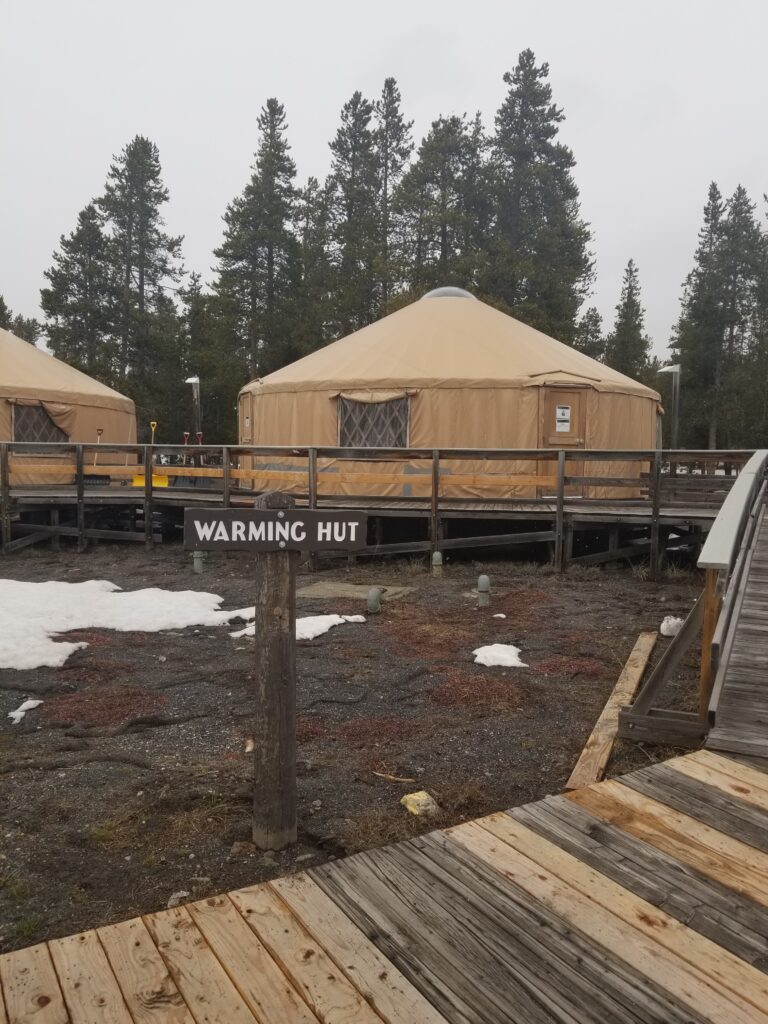 There are many campsite options in Yellowstone National Park including Backcountry Camping. There are restrictions on campfires and open flames in the campgrounds during certain times so make sure you read all the rules. You also need to make sure your food is secure. Keep in mind that even in the peak of summer temperatures can get very low at night so make sure you have the appropriate camping gear for overnight temperatures. Camping is definitely a very special experience in Yellowstone. I have heard you can hear the footsteps of Bison and possibly more.
17. Attend a Ranger Lead Program
Some National Park Sites offer Ranger lead Programs. This is a great chance to get in-depth information and also ask questions. We enjoyed a short Ranger Program in Yellowstone that showed a variety of antlers. The Ranger also gave my kids a special book with even more information about the park which the kids enjoyed reading while we drove through the park.
18. Let the Kids be the Navigator
Hand the park map to the kids and let them be the navigators. There's a variety of Hiking trails and most are well marked. Yellowstone National Park is a great place to allow the kids to lead a hike.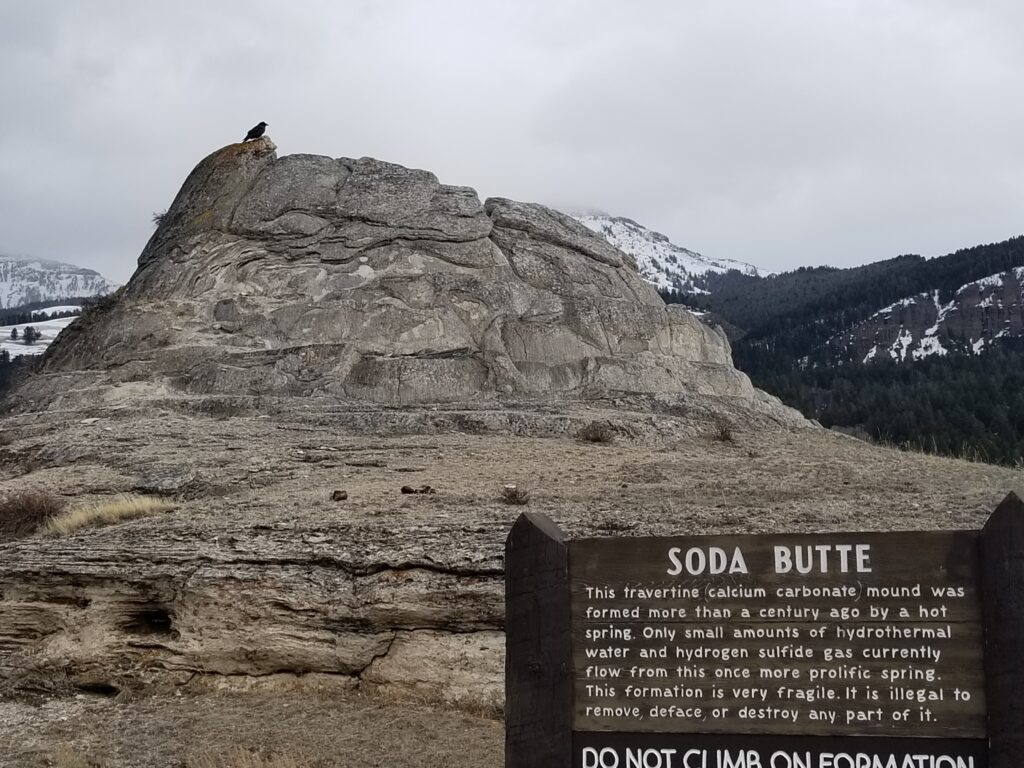 19. Play National Park Bingo
You can make your own or buy National Park Bing Cards. As you travel through the park you can check off the things you see and whoever gets Bingo first wins.
20. Have A Cook Out
Go Back in time and ride out on a covered wagon to the bbq site. You will likely see a huge herd of bison that roam past the cookout site. Listen to stories by the campfire that are truly engaging and funny. The Old West Cookout is a lot of fun.
20 Things to do In Yellowstone National Park with Kids
These 20 Things to do In Yellowstone National Park with Kids are ways to have a fun-filled adventure at Yellowstone National Park with Kids. Yellowstone and all the National Parks have wonderful activities for families.