I am living the American Dream. This week my Grandmother passed away after a long battle with Alzheimer's Disease. She was affectionate and caring. My Grandmother loved children and her face would light up when ever she was around her grand children or great grandchildren. She was a wonderful cook and made amazing Egyptian and Lebanese food. I will always remember her warm embracing hugs, and her double cheek kisses (and maybe a few extra kisses or 10).
I am here because of her sacrifices. Something I will always remember and share with my children , so that we never take for granted what her sacrifice has provided for us.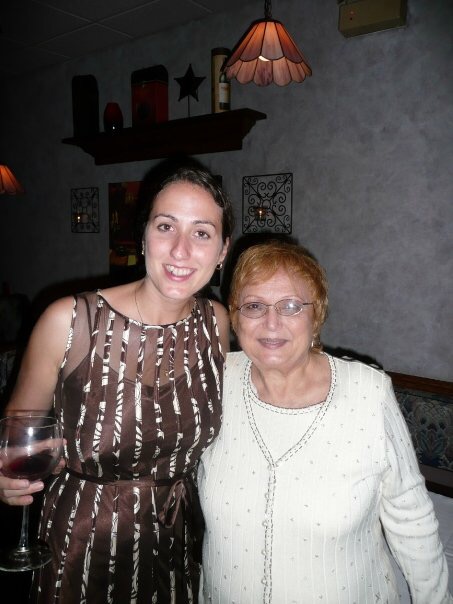 "Blessed is a mother that would give up part of her soul for her children's happiness." ~ Shannon L. Alder
My Grandparents moved to the United States when my mother was a teenager along with my mother's 4 siblings. They moved in with my Great Aunt's family living in one bedroom in their house (all 7 of them). They left a comfortable life to live in poverty.
But probably the biggest sacrifice was that of my Grandmother. She left her home country, her family and a comfortable living, to come to the United States where she didn't speak the language, to live in poverty, while raising 7 children, away from her family.
As an American who is living the American Dream while raising my 2 children, I can only imagine the feelings she must have had: loneliness, sadness, vulnerability. Knowing who my Grandma was, I'm sure she didn't show it. Her affection and love would be displayed despite her sacrifices.
I am Living the American Dream Thanks to the Sacrifices of my Grandparents.
"The American Dream is… the set of ideals (democracy, rights, liberty, opportunity and equality) in which freedom includes the opportunity for prosperity and success, as well as an upward social mobility for the family and children, achieved through hard work in a society with few barriers. In the definition of the American Dream by James Truslow Adams in 1931, "life should be better and richer and fuller for everyone, with opportunity for each according to ability or achievement" regardless of social class or circumstances of birth. "~Wikipedia.com
Because of her sacrifices, I live a very comfortable life that affords me everything I have dreamed of and honestly even more. With out her and my grandfather's sacrifice, I would not have had the opportunity to earna Bachelors and Masters degrees, or worked my way up the ladder in my day job. I live in a nice house in a culturally diverse neighborhood and school where I see many families living the American Dream. Those who moved here for better opportunities for their families.
While my Grandmother's story may not be unique, it doesn't diminish the sacrifice. Thanks to her sacrifice her 7 Children, 11 Grandchildren, 7 great grandchildren (and likely more to come), will live better lives. The American Dream.
I will never forget the love my grandmother had for me and my children, and of course her entire family. Her sacrifice and legacy lives on in all of our successes.
In Honor of my Grandma Please Try a New Recipe
While I can't share my grandmothers wonderful recipes (because they have not been written down) here are some of the wonderful meals she used to make. I have not tried these recipes but please do and let me know how they are. You can share a picture of your creation at the AffordableFamilyTravel.com Crew on facebook
Hawashi or as we joke: How Was She?
Molokhai Most likely available at a middle eastern store
Stuffed Grape leaves Jarred grapes leaves often found in a middle eastern store but best picked off the vine.
Follow Affordable_Family_Travel on Instagram
Make sure to like AffordableFamilyTravel.com on Facebook to get all the latest updates. It's also where I post my Dash Deals that are time-sensitive.