Things to do with Kids in Jamaica is not just about coordinated activities. Jamaica is an experience and where you stay and what you eat are also important things to do in Jamaica.
Find out the best of Jamaica: Food, All Inclusives, Activities, and more.
Find out the best of Jamaica. From Food All-Inclusive and more Jamaica is perfect for families. Jamaica is one of the most affordable Caribbean islands to visit and still enjoy some nice luxury or all-inclusive resorts. Jamaica is one of our family's cheapest Caribean vacations. It's also one of 11 Best Tropical Islands for Solo Female Travelers.
We first visited Jamaica unexpectedly. We were on a cruise that was detoured due to a hurricane. It was recommended we go to the taxi stand and when we did there was a line of cruise ship passengers doing the same thing which made us feel more comfortable. The taxi driver told us Doctor's Cave Beach would be great which it was.  The beach was calm and beautiful and we all had a good time. There was a small fee to enter the beach, but it kept all the hagglers trying to sell you stuff away.
After our first visit, we were convinced we would return to  Jamaica again for a full stay. Jamaica is exactly what you picture the Caribbean to be like beautiful white sand beaches and calm turquoise water. It has a chill vibe and of course the wonderful music and food.
Food: The Best in Jamaica

I love Jamaican food. Oxtail stew, Jamaican Jerk chicken (even the kids tried the mild version), Beef, and Jerk chicken patties. I tried Callaloo (greens) for the first time and ended up eating it every morning with a poached egg. Ackee and saltfish was another item I tried which was mild in flavor and just ok tasting. Rice and peas, plantains and as my husband says "Yamin Dumplings" which is really yams and dumplings. Jamaican dumplings were very dense, and I didn't like them very much which was the same with bammy but it could have been how they were cooked at the resort.
We also tried curry goat, served in an eggroll. The brown stew chicken we had at the resort was very mild so a bit disappointing- I'm not sure if it's supposed to be spicy but I hoped it would be. Don't forget to enjoy some Red Stripe beef. The water in Jamaica is very safe to drink and taste good which isn't true in many Caribbean islands.
Best Jamaica Airport to Fly Into
With Southwest Companion Pass and miles you could travel to Jamaica for as little as $1300 for a family of 4 including all expenses. Montego Bay Airport  
Arriving in Montego Bay airport can have a long line. There's an option to purchase Club Mobay pass which gets you through quicker but for the price, we opted out (not included with priority pass) and waited about 45mins to get through customs and immigration.
We had prearranged a shuttle using viator.com. On our return, we used our priority pass to check into Club Mobay before security and was able to use their fast track line to get through security and on to the club.  The club was in a different terminal but not too far of a walk and they had Jamaican patties which was the one item on my list I didn't have a chance to eat while visiting Jamaica, so I was very pleased. They also had a kid playroom which the kids loved. The Fees for flying to Montego Bay is $102 per person and will b e charged even if using RR points and/or companion pass.
The Best Jamaica Activities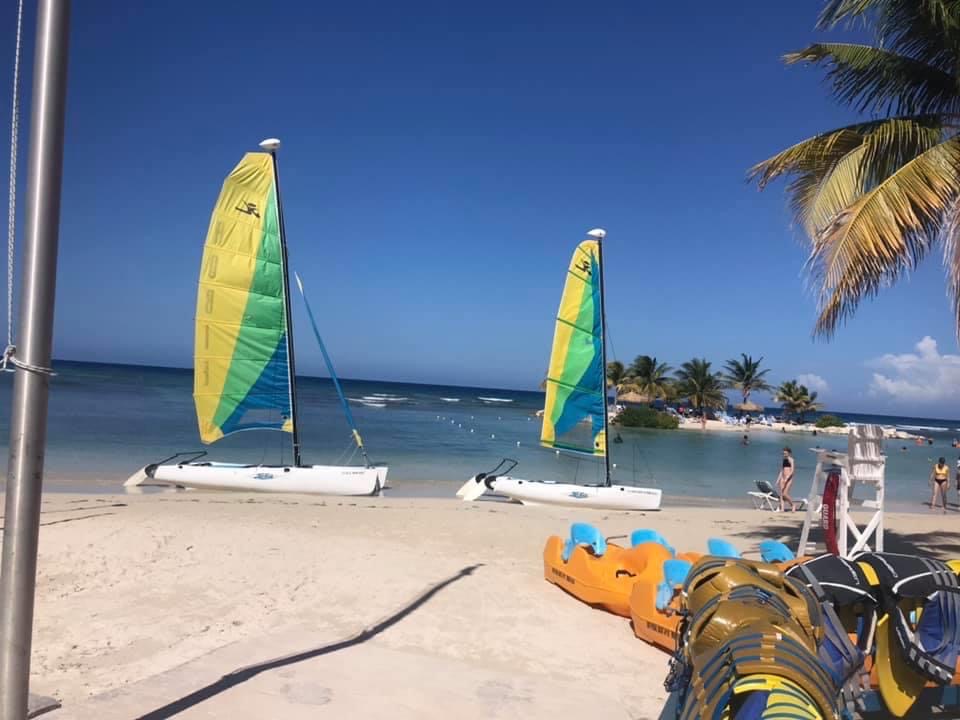 Besides the beautiful beach and ocean, many resorts offer activities included in your stay. Pools, kayaks, and other boats, tennis, even mini-golf.
Dunn's river falls is one of the most popular tourist sites in Jamaica, though you should be very cautious in climbing the falls with children. Mystic Mountain is an adventure center that includes zip lines and bobsleds as well as a chairlift for the less adventurous.
The blue hole is a sinkhole that filled with water and now displays a deep azure hue. It features waterfalls flowing into it and surrounded by rainforest, many enjoy jumping 15 feet into the hole.  Check out this tour from Viator that includes a stop at Blue Hole/Secret Falls and Dunn River Falls recommended for families with older children.
Best Jamaica Resorts
Best Jamaica Resorts are easy to find as there's many. I highlighted a few here but check out tripadvisor.com to read reviews of the variety of hotels in Jamaica. Where you stay is important as many resorts provide you with a lot of things to do in Jamaica right on site.
             We absolutely loved HI Montego Bay. It was a perfect balance of simple fun and relaxation. The resort is a very short 15min drive away. And while pricing fluctuates we snagged a rate of $150/nt with an AAA                   discount for 4 of us (kids under 12 free) and used ebates to get cashback. You can use 50,000 IHG pts per night to book this hotel but for the cash price, I would save your points. Read my full trip report for more details on this wonderful budget-friendly resort.
Beaches Resorts Jamaica
There are 2 beaches resorts in Jamaica. Beaches Negril is about 1.5 hours away from Montego Bay airport and Beaches Ochos Rio is about 2 hours away. Beaches are one of the top family resorts. These sesame street themed resorts have all the amenities you would want for a luxuriously relaxing and kid-friendly stay. The resort includes Kids camp, waterpark, Hobie Cats, paddle boards, kayaks, Caribbean Adventure with Sesame Street, unlimited gourmet dining at 21 restaurants and unlimited premium spirits.   All for about $1,000/nt for a family of 4 if you book far enough in advance. If you book with  beaches shuttle is included, for the trip to Negril  depending on the age of the kids the driving may stop for a bathroom break for the kids and a beer for adults.  
Hyatt Ziva           
I find Hyatt's to be a great point value especially when you can transfer Chase UR points. However,  I could not find any points available even when only searching for 2 people. The resort would cost 25,000 points for double occupancy and 12,500 for each additional child so if you have 2 it would make more sense to book 2 adjoining rooms in this case for 50,000 pts per night. For cash price, kids stay free and save 55% wild winter sale promotion rates were as low as $406 for a king or $424 for 2 doubles. The resort has a kids club and the resort offer swim-up rooms. The beach is the beautiful white sand you expect to see in Jamaica. It's a short 12min ride from the airport.
Check out more Southwest Airlines Destinations HERE.
Follow Affordable_Family_Travel on Instagram
Make sure to like AffordableFamilyTravel.com on Facebook to get all the latest updates. It's also where I post my Dash Deals that are time-sensitive.