You can visit Disneyland Paris for the same cost as Disney World. What If I told you that you could go to Disneyland Paris for the same price as a Walt Disney World Package?  You can so, why not change up your Annual Disney Vacation this year, just a little?   With Family Travel Hacking you can cover the cost of flights to Paris Making it even cheaper. It's easy to take the train into the city of Paris from Disneyland Paris and you can even combine your trip with a visit to another city in Europe such as London.
How much is a Disneyland Paris Package?
You can visit Disneyland Paris for the same cost as Disney World. We booked a Disneyland Paris package for under $2500 or about $5500 Total for a Trip. Our international flights cost us $2,146.36 for 4 of us. The 6-night Disneyland Paris package including half board, at the Newport Bay, was $2,286.79 for a total of just under $4500.  We did spend about $500 more on food. Another $400 for a day in Paris bringing the total expenses to about $5400 for a trip to Disneyland Paris. In comparison the same year we paid $3800 for 7nts 8 days at Caribbean beach resort with Disney Dining at Walt Disney World. Spent $1050 on flights for a total cost of $4850 for a trip to WDW. Go to Disneyland Paris's Site to book your package.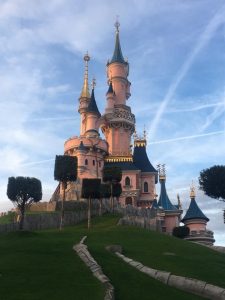 There's a lot of things that are different in these 2 packages. You can adjust either package a little lower or higher. For example, you could add a 7th night to the Disneyland package and stay at the Sequoia Lodge. The package price would still be comparable to the package at the Caribbean Beach Resort (a moderate resort).
Why visit Disneyland Paris for the same cost as Disney World
Highlights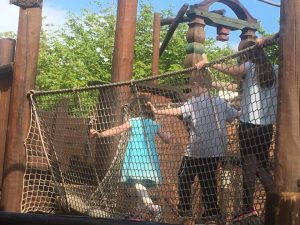 Disneyland Paris has 2 parks: Disneyland and Walt's Studios. I honestly don't love the look of the castle but what lives underneath that is exciting. Maleficent, in Dragon form, is chained beneath and you can walk down to see her. Disneyland Paris has the best version of our favorite ride, Big Thunder Mountain Railroad, in which you travel underwater before returning above ground to ride the rails on its own island.
Adventure Island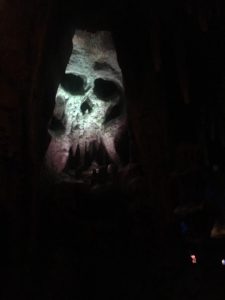 There's also Adventure Isle which our kids loved exploring. There's many caves to explore mountains to climb and paths to discover.
There's the Tree house like every other Disneyland and Magic Kingdom Park offers but with a bit of uniqueness. I would recommend a visit as I find most versions to be better than the one at Disney World.
Walt Studios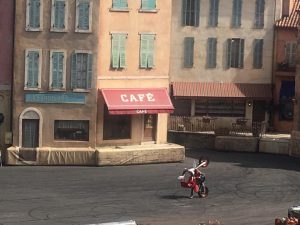 At Walt's Studio, Mickey and the Magician is a not to miss show. We watched it twice because we really enjoyed it and It's mostly in French which none of us understand. Mickey does speak in English and the show is extremely engaging even for the kids.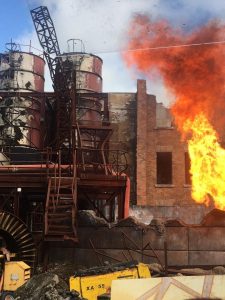 We also loved the Ratatouille ride and the toy story parachute drop. The kids, especially my son loved the animation academy area where they got to draw cartoon strips.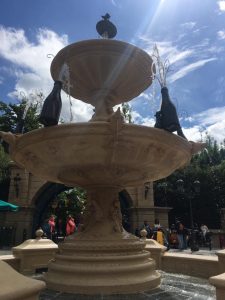 What we also LOVED about Disneyland Paris is that they still have the Studio Tram Tour and Lights Camera Action show. The kids loved the car show and I am so glad they had a chance to see 2 great attractions that are no longer available at either US parks. There're so many great attractions at Disneyland Paris we spent 4 Days in the park mostly open till close. One evening we left before closing and watched the fireworks from our balcony (after the kids went to sleep)
A Day in Paris ~$400
With a full week stay there's enough time to head to Paris to see some of the famous attractions and enjoy so wonderful Parisian Food. My husband and I had been to Paris prior so we really just wanted a chance to show the kids. We booked a hop on and off bus which took us around Paris.
The kids enjoyed the head phones and sitting up top. We got off for lunch, stopping at a grocery store to grab items for a picnic in a park overlooking the Eiffel tower. We enjoyed a playground and also a manually operated carousel where the kids were given sticks to tray and scoop rings that were hung on the outside of the carousel.
And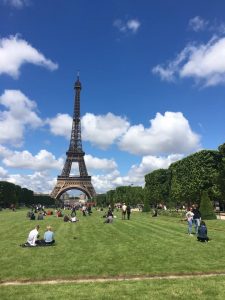 We booked a skip the line Eiffel tower tour to the 3rd level. I would not recommend this because while it didn't take very long t o get up getting down took a very long time as we had to wait in 3 lines to go down 3 elevators (one for each level).
The entire activity took 3 hours and if you ask our kids about Paris they will still say do no go up it. The cost of the tour was $164 for the 4 of us the hop on and off was $63 total and lunch was nominal though I did buy a $40 bottle of Moet and we did buy other wine we had planned to bring back to our hotel but it was confiscated at the Eiffel tower (no glass allowed in through security) so probably $100 spent at the grocery store  and about $400 total including train tickets and misc. expenses for a day in Paris.
Other Costs at Disney ~$500 for food
Looking back, I may have considered the Sequoia Lodge, which would have lowered the cost a bit and provided more options for breakfast (Ill explain that in a little bit). Some additional Costs to consider with Disneyland Paris it was $163 round trip for 4 of us for the magic shuttle from the airport to the resort. Also our package did not include character meals and only breakfast and 1 other meal per day.
Breakfast
Breakfast was limited to 2 options: 1) breakfast sandwich, bottle of water & orange juice, hot chocolate or coffee 2) croissant, chocolate pastry, bottle of water & orange juice, hot chocolate or coffee.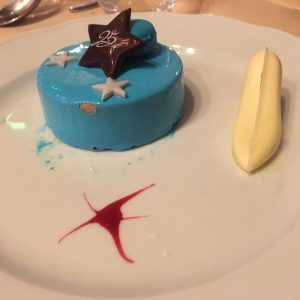 There was an option to upgrade and pay $8 per person more for the breakfast buffet but we hadn't planned to spend $32 extra for breakfast knowing our kids didn't eat a lot. It was a bit disappointing we couldn't simply get a yogurt or a piece of fruit. Before we left I head read people who stayed at other hotels were offered a take away bag and the options varied it could be a pastry and yogurt or fruit and a yogurt, so I was disappointed we weren't given those options, but we survived on the limited options for breakfast.
Meal Vouchers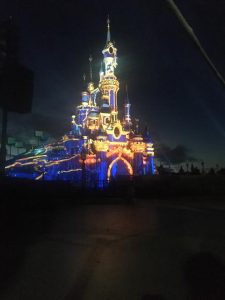 We were there for 6 nights. The package included 6 vouchers for table service. The vouchers could be used for quick service if we wanted to at the dollar value listed on the voucher.  Our first night we accidentally brought 4 adult vouchers and no kids vouchers. The server was nice enough to help us find a reasonable solution which was to order a kid's entrée only for $10 (vs $25 for a 3-course meal). She let the kids share the large bowl of pasta that the 2 could not finish together. We spent around $500 extra on food. Which did not include the princess meals which still puts the cost of the trip within the same range as Walt Disney World. Check out Dining around Disneyland Paris to read my dining reviews and how I stretched our vouchers.
Disneyland Paris for the same cost as Disney World Summary
We really enjoyed Disneyland Paris and experiencing Paris with our kids. Many people dream about an international trip with their family but continue their fun-filled family trip to Walt Disney World. When you compare the cost of a trip like this is comparable to a Walt Disney World Package trip you think.. Why Not?
Check out these other Disney posts: Mickey's Not So Scary Halloween Party
DCL Mediterranean Cruise
DCL Royal Princess Tea Party
7 shareable meals at Walt Disney World.
How to Turn your Disney World Snack Credits into a Meal
Disney Aulani Resort on Oahu
Learn how you and your family could fly for free to Disney World or Disneyland California here.
Make sure to like AffordableFamilyTravel.com on Facebook to get all the latest updates. It's also where I post my Dash Deals that are time sensitive.