Rocking Horse Ranch
Address:  600 US-44, Highland, NY 12528
Visited January 2018
$500 for 2 Days 1 Night. (prices vary and can be as low as $349 for a night. Make sure you like AffordableFamilytravel.com on Facebook as I often share their offers, including last miniute discounts.
Why it's a Great Value
With a 1 Night stay at Rocking Horse Ranch you get 2 full days of activities and meals included. When we called to make the reservation they asked when we were arriving. When we told them we lived near by and would be arriving early she said she would put us down for breakfast too, so we had 2 breakfasts, 2 lunches, 1 dinner plus 2 afternoon horderves included with our stay. We had to check out of our room but could continue on with activities for the rest of our second day.
Whats included
Food
Breakfast Buffet
There was a breakfast buffet with everything you would expect but they also have cook to order eggs menu which included eggs Benedict which were very good.
Lunch Buffet
The lunch buffet was a little basic think bbq cook out style, hot dogs and chicken one day hamburgers another. it was definitely enough to eat but leave space for the evening horderves (my favorite)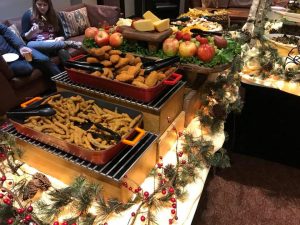 Any time
Off the lobby was a lounge where they had cookies and cake slices as well as lemonade and coffee available pretty much all day. the lemon cake was my favorite.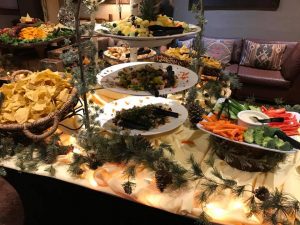 Afternoon Horderves
they change this up a bit but generally you get a display that includes cheese antipasto and fruit along with 2 hot horderves and a special station one day chilli another day pasta. There's also a free drink option one day it was rum punch.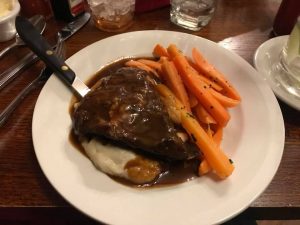 Dinner
Dinner is ala cart dinner, choose from several different appetizers and an entree each. Even the kids get the appetizers so you are able to order several to share.
Entertainment
There' is so much to do here. I recommend trying to arrive as early as possible and plan to leave late afternoon on your second day or stay a few days or even a week.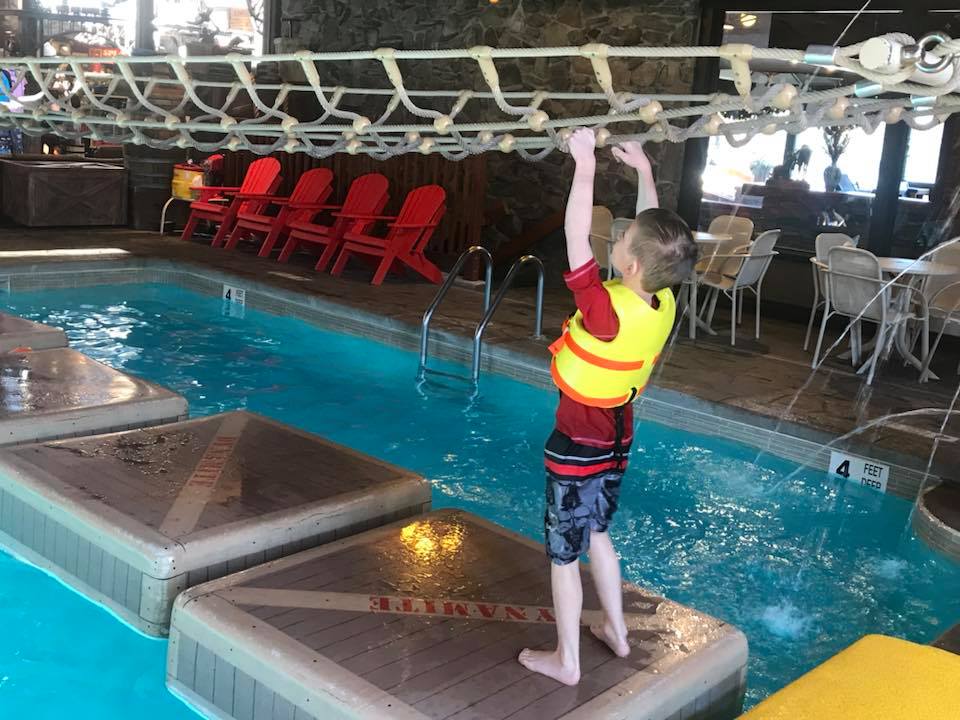 Small waterpark:
Mostly ideal for kids 5 and under but it was fine for my kids who were 4.5 and 6 year sold at the time and my kids even now a year later would still enjoy it especially the pool. The water slide was a little cold for them. There's also a large outdoor pool with water slide for summer months.
Skiing including Rentals and Lessons
The lessons are group lessons but we were lucky enough to show up at a slow time and each kid got their own coach to show them the ropes under 5 they do not do lessons but take them up the tow rope and down. there's also a small hill for those who know how to skii.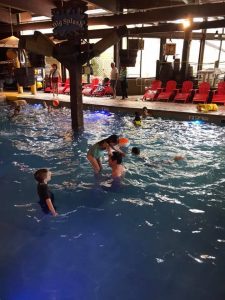 Snow tubing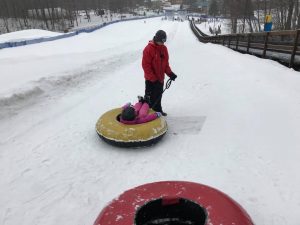 S There's single and double tubes available and a conveyor to take you and your tube up to the top of the hill. There's stadium lights so you can even do it at night and there's a fire pit at the base where you can roast marshmallows in the evening. In the summer spring and fall they condinue to offer non snow tubing down the hill.
Lake for Summer Visits
There's a pond/small lake that offers boat rides including banana boat rides during the summer.
Horse trail rides
You must be 7 or older to do the trail rides as they are around 45 minutes long. You get 1 reservation per night per person but you can also do stand by if there's space you can go as many times as you want. Since they have so many horses I hear its rare they are full. They have pony rides for younger kids.
Activities Barn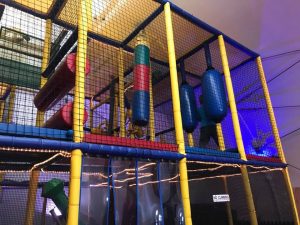 The bard has a small ballocity fort that kids can shoot balls out of a small rock wall and bounce house. its a nice area that kept our kids busy for an hour or 2.
Archery and BB guns
They have a shooting building where you can shoot a bow or a bb gun at targets. there's a staff on hand to show you how to do it.
Games and Shows
There's a full entertainment schedule available as well. We saw a reptile show with live reptiles, did a scavenger hunt and watched families play minute to win it and other game shows. There's also a game room with free minibowling.
Rooms: Lodge vs Oklahoma Building
Rocking Horse Ranch is set up with hotel rooms as well as rooms in a separate building called the Oklahoma Building. This building I call the annex. The rooms in this building are set up motel style with the room exit directly to the outside, no enclosed hallway. The Oklahoma building isn't far from the main hotel but if your room isn't the closest on you will have to walk around the annex building to get inside. Our room was about 4 rooms away and we were not able to go from the Lodge to our room without changing out of our swimsuits. This made it a bit of a pain as we would also wear out coats into the building and have to carry them around.
But if it saves money or it's all that is available it isn't so bad. just be prepared. Keep in mind there are no changing rooms inside. there is a bathroom and shower room. you can change in the showers but there are no benches in the showers. There's cubbies inside too to store your items.
What we thought over all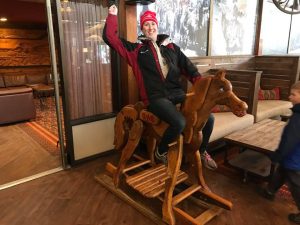 We hadn't planned to ski and it turned out to be our kids favorite thing. In-fact they wanted to continue lessons but it was too late in the season so we signed them up the following year and they still love it.
Snow tubing at night was a lot of fun and sitting by the fire and roasting marshmallows. The horderve reception was my favorite and the kids loved the reptile show.
I think Rocking Horse Ranch is the perfect weekend getaway if you live in New York out a near by state. or if you are traveling further why not make it a week long vacation.
if you are looking for other winter get away check out 5 winter weekend getaways.
If you looking for other summer getaways check out:
Affordable Camping Safari in the USA
Follow Affordable_Family_Travel on Instagram
Make sure to like AffordableFamilyTravel.com on Facebook to get all the latest updates. It's also where I post my Dash Deals that are time-sensitive.