Newe York State Parks in the Finger Lakes is the perefect activity on a Budget Trip to the Finger Lakes . There are so many State Parks to choose from so make sure you purchase an Empire Pass or if you have a fourth grader in 2022, the state park are accepting the Every Kid in a Park Free National Park Pass for 4th Graders for complementary car admission to most New York State Parks.
If you need help deciding which to visit first, I recomment picking one of the top State Parks in the FingerLakes such as Watkins Glen and then planning several other parks there are near by. Budget Trip to the Finger Lakes provides a nice balanced itinerary were you can visit 5 State Parks in as little as 3 days as well as several nice water fall hikes in Ithaca.
Allan H. Treman State Marine Park is located at 805 Taughannock Blvd in Ithaca, NY. It's one of the largest inland marinas in New York state with over 400 boat slips as well as picnic areas and playing field.
Black Diamond Trail is located at 1740 Taughannock Blvd. in Trumansburg, NY. he Black Diamond Trail is an 8.4 mile stretch of stone dust trail, which has been converted from an old railroad bed. The trail passes through a mix of woodland and pastoral lands along the western slope of Cayuga Lake. Trailheads at Cass Park/Allan H. Treman State Park in the City of Ithaca and Taughannock Falls State Park in Trumansburg provide parking and access to the trail. Recreational opportunities include hiking, jogging, biking, snowshoeing and cross-country skiing.
Bonavista State Park is located at 7194 County Road 132
Ovid, NY. Bonavista State Park has a 9-hole course offers spectacular views over Seneca Lake as well as a full service clubhouse and restaurant and shaded picnic area.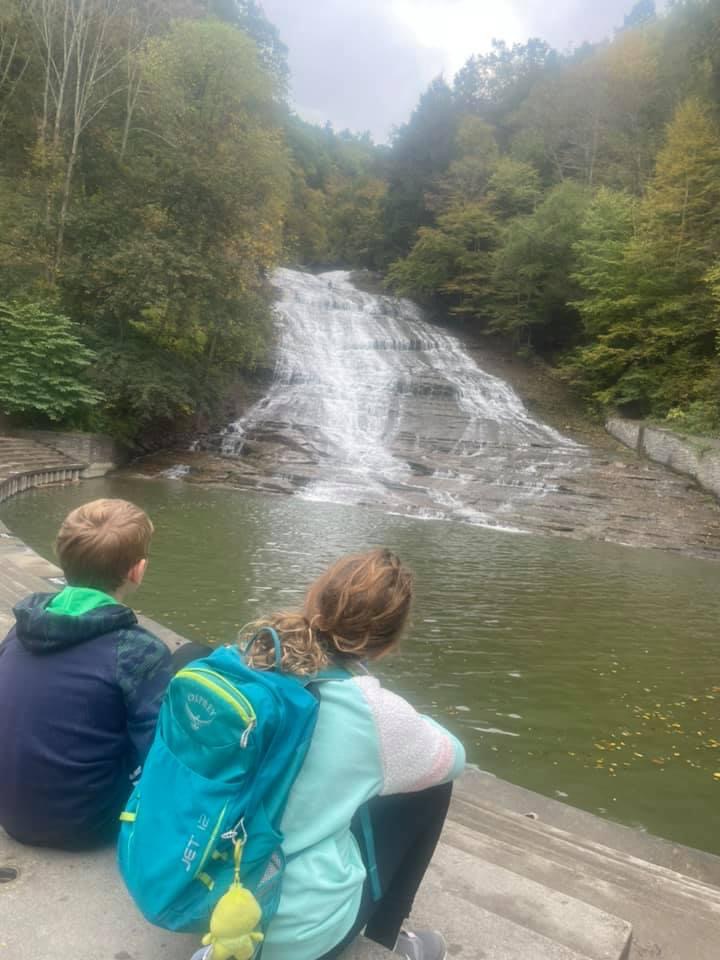 Buttermilk Falls State Park is located at 112 E Buttermilk Falls Rd. in Ithaca, NY . The parking lot is fairly small so come early or head out on a weekday. It offers hiking, swimming and camping. The parking lot a short distance from the base of the falls so they are very easy to view.
The hike up is not an easy hike as it containers many steps Infact it's basically all steos to the top of the falls then the trail continues on. This is absolutely worth a stop but the most rewarding part I think is the view from the base of the falls. This is a great stop on a Budget Trip to the Finger Lakes.
Canandaigua Lake State Marine Park, located at 620 South Main Street
Canadaigua, NY is a boat launch facility and provides fishing access to Canandaigua Lake.
Catharine Valley Trail is a year round recreation trail extending from the Village of Watkins Glen to Horseheads. Currently 6 miles is available but will be 12 miles total once construction is completed. The trail follows abandoned railroad and canal towpath corridors, through a variety of wildlife habitats. The trail is great for walking, bicycling, cross-country skiing and snowshoeing.
Cayuga Lake State Park is located at 2678 Lower Lake Road in Seneca Falls on Cayuga Lake. The park offers swimming and fishing as well as its many campsites and cabins. 
Chimney Bluffs State Park located at 7700 Garner Road in Wolcott, NY. The highlight of the park are massive earthen spires that resemble chimneys on the Lake Ontario shore. The trail to s ee the Chimney Bluffs is long but it is a fairly short hike to where the Bluffs begin so you can walk as far as your comfortable and still have some nice views.
Deans Cove Boat Launch is located at 5761 State Route 89 in Romulus, NY on Cayuga Lake.
Fair Haven Beach State Park is located at 14985 State Park Road in Fair Haven, NY on Lake Ontario. The park offers one of the finest public lakefronts in upstate New York. This scenic park offers towering shoreline bluffs, sandy beaches and hilly woodlands.
Fillmore Glen State Park is located at 1686 St. Rte. 38 in Moravia, NY. Offering dense woods crowding into a long, narrow gorge that you can explore with five waterfalls, and a botanically rich glen.
Harriet Hollister Spencer State Recreation Area is located at 6775 Canadice Hill Road in Springwater, NY. PRoviding picnic tables, hiking, cross-country skiing and biking trails. Also Deer hunting is permitted in seasonalthough Small game hunting is not permitted at any time.
Honeoye Lake Boat Launch State Park, is located at 6150 East Lake Rd on Honeoye Lake in Honeoye, NY. In addition to a boat launch site it offers fishing access and ice fishing in the winter.
Keuka Lake State Park is located at 3560 Pepper Road in Bluff Point, NY. Located on Keuka Lake State Park, it offers camping areas that have 150 tent and trailer sites, with 53 of those having electric hookups. A picnic shelter, boat launch ramp, docking space and hiking trails open several recreational avenues to visitors. There is not a beach at this park.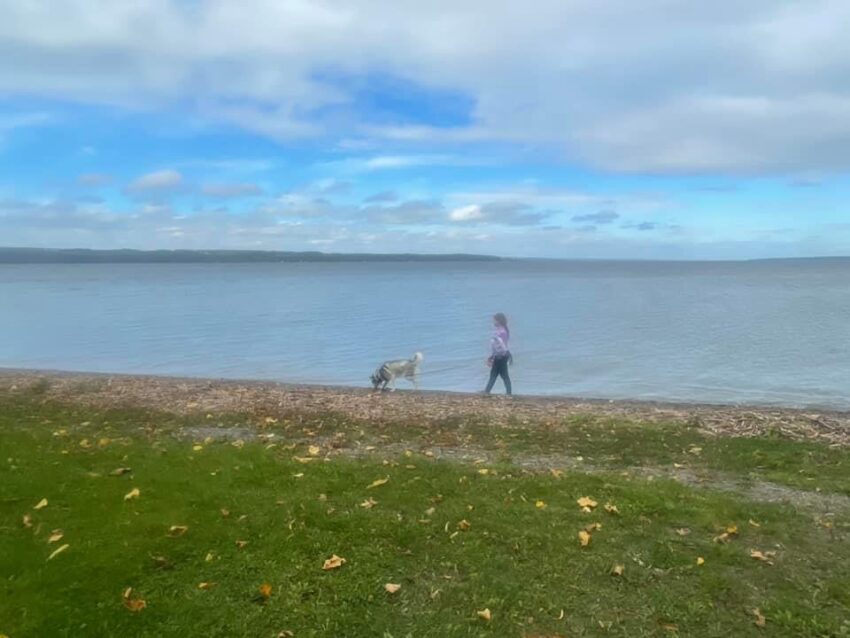 Lodi Point State Park is located at Lower Lake Road in Lodi, NY. on Senaca Lake. It offers Lodi Point Marine Park boat launch and picnic site. There is also a play ground lake side which offers shallow shores to explore and a great place to visit with dogs. This is a recommended stop on a 3 day Finger Lakes Itinerary with kids and dogs.
Long Point State Park is located at 2063 Lake Rd. in Aurora, NY on Cayuga Lake. It offers a beach with swimming area, picnic areas, fishing access and boat launch.
Mark Twain State Park and Soaring Eagles Golf Course is located at 201 Middle Road in Horseheads, NY. Home to an 18-hole course marked by glacial features such as "kettle ponds" is one of the most challenging and scenic courses in the region.
Newtown Battlefield State Park is located at 2346 Co. Rt. 60 in Elmira, NY. The park offers cacmpsites, pavillions and playgrouns. The mainsite is a granite monument marks the site of the 1779 hillside battle between The Continental Army and British regulars, Loyalist rangers and 1000 Iroquois Indian warriors.
Robert H. Treman State Parkis located at 105 Enfield Falls Rd. in Ithaca, NY. The park includes the beautiful Enfield Glen gorge including 12 waterfalls, including the 115-foot Lucifer Falls. This is a top park to visit in the summer as it has a natural swimming hole with a diving board and waterfall.
Sampson State Park is located at 6096 Route 96A on Seneca Lake in Romulus, NY. The park, which was once a military training base , encompasses just over 2000 acres on the eastern shore of Seneca Lake. It offers 243 electric campsites. As well as a newly remodeled marina with 96 boat slips, a large multiple launch site and gas pumps.
The park offers beautiful view of the lake and the best sunsets in the Finger Lakes Region. Visit the park and enjoy tennis, horseshoes, basketball and volleyball, and a sandy beach with guarded swimming. There's also playgrounds, and a scenic lake trail.
Seneca Lake State Park is located at 1 Lakefront Drive, on Seneca Lake, in the town of Geneva, NY . The park offers a sandy guarded beach as well as a spray ground and Playground facilities.
While this park looks beautiful unfortunately when we visited there was a large amount of vegetation washed up on the shores creating a smell. It also built up in the water along the edge which required you to wade through it if you wanted to swim. It was not an ideal place to relax at a beach. The Spray ground is of course popular and can be very busy on hot days. There's also a play ground right next to the splah pad that has some different features too it.
While the beach isn't ideal, inside a park many boaters anchored by the coast to hang out in the shallow water and also to go ashore and grill.
Stony Brook State Park is located at 10820 Route 36 South in Dansville, NY . This park showcases a deep gorge with rugged cliffs, three waterfalls and fascinating rock formations comprise the park offering camping, hiking and swimming in a stream-fed pool.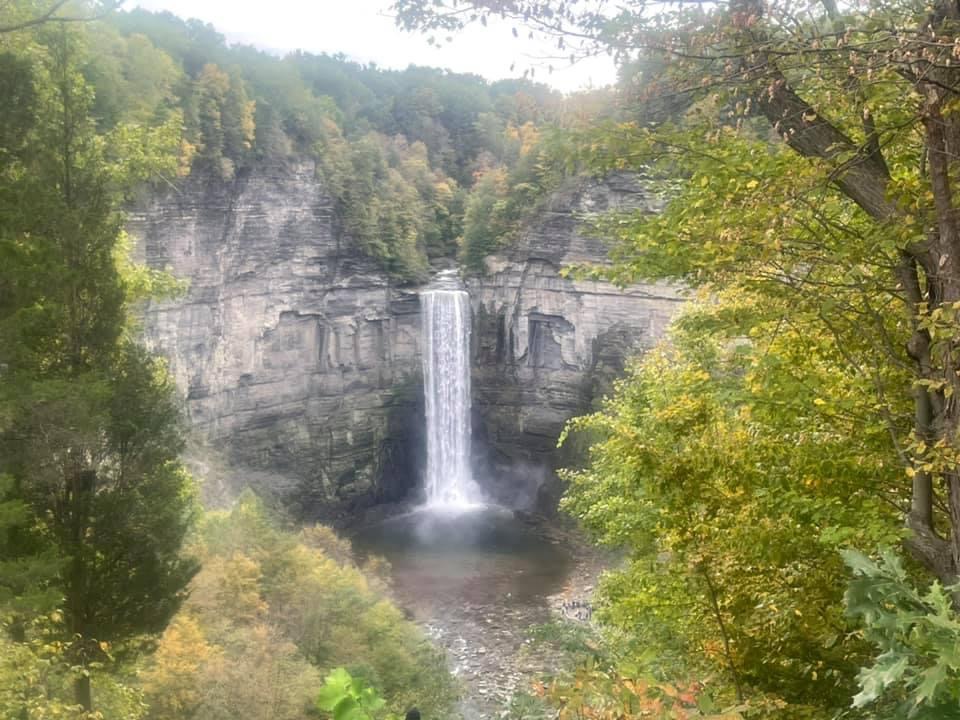 Taughannock Falls State Park is located at 1740 Taughannock Blvd in Trumansburg, NY. It's a short drive from Ithaca. The Taughannock Falls is a215 foot fall that is the largest freefall waterfall in the state. You can view the falls from the visitor center and also take a trail down to the base. This can be a quick stop on a Budget Trip to the Finger Lakes.
Two Rivers State Park Recreation Area is located on Banzhoff Road in Waverly, NY . The trail offers hiking biking skiing and snowshoing throuh steep forested slops and open hilltop meadows.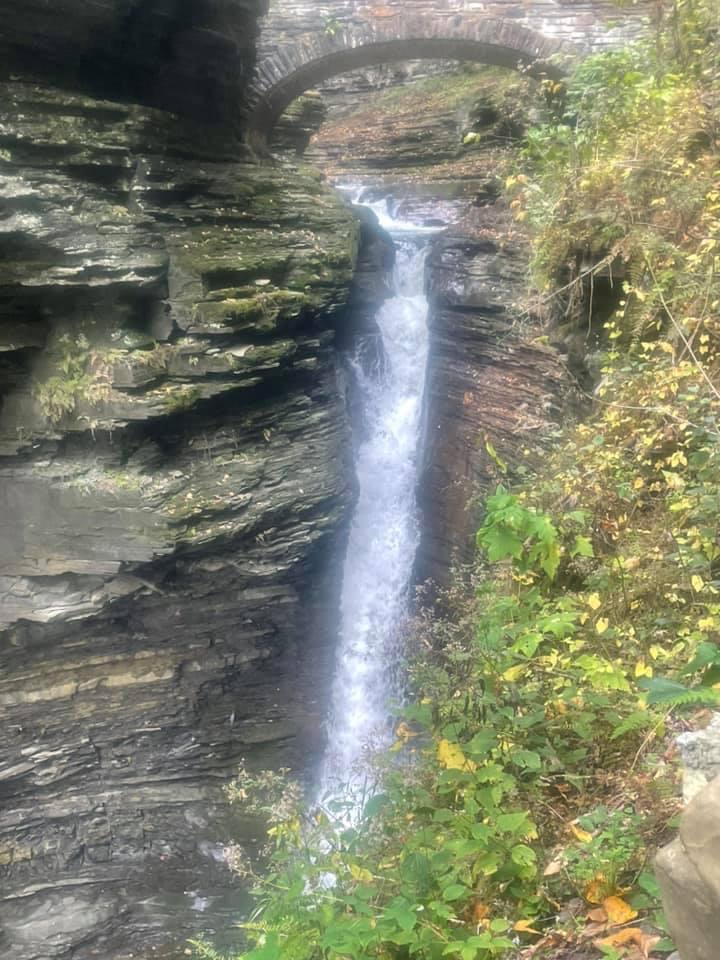 Watkins Glen State Park is located at 1009 N Franklin St in the town of Watkins Glen, NY. The park is famous for it's scenic gorge with 200 ft cliffs and 19 waterfalls. It's the most popular State Park in the Finger Lakes. There are 2 entrances to the park both of which provide access to the gorge. Pets are welcome in the park but not on the gorge trail. This is definitely a must visit on a Budget Trip to the Finger Lakes .
State Historic Sites
Ganondagan State Historic Site is located at 7000 County Rd 41 in Victor, NY.Discover the vibrant history and culture of the Seneca. Highlights include a full size replica of a long house, trails, guided tours and special events througout the year. 
Sonnenberg Gardens & Mansion State Historic Park is located at 151 Charlotte Street in Canandaigua, NY .
New York State Parks in the Finger Lakes Summary
There are many great New York State Parks in the Finger Lakes. That's why it's easy to visit the Finger Lakes Region on a budget wheter it's for a weekend or a week long vacation.
Follow Affordable_Family_Travel on Instagram
Make sure to like AffordableFamilyTravel.com on Facebook to get all the latest updates. It's also where I post my Dash Deals that are time-sensitive.