Kyoto With Kids Overview
Kyoto with kids in a day is definitely possible and a great stop on your tour of Japan. The easiest way to make the most of your day is to take taxis. Plan about $120 to cover your transportation for the day but you will see twice as much as you could if relying on the trains.
Tips for Exploring Kyoto with Kids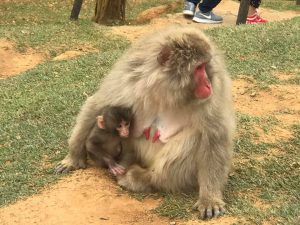 I recommend taking taxi cab. if you plan out your time you could spend less than $120 for the entire day and save a lot of time.
Head to the Bamboo Forest as early as possible. If you show up before 8am you may have a chance to feel alone in the forest. 
Prepare yourself for the hike up the monkey park. it's not easy as you wind up a mountain but it's worth it.
Taxis in Kyoto with kids
We had predetermined we would take Taxis. Then headed to the bamboo forest which cost about $40 for the taxi (40 min ride) then to the Royal Palace for around $30. and last We then headed over to the samurai museum ($10 taxi).
If you are taking a taxi from a train station and it has 2 lines. A Foreign and Local, it's ok to get in the Local line if you feel comfortable telling them where you are heading. We simply said Hyatt and they knew where to go. the Local line went much quicker than the Foreign line at the main train station and easily saved us a 15-30 minute longer wait.
1 Day Itinerary  Kyoto with Kids
We only had one full day in Kyoto with kids. We had a great time and really saw the highlights of this great city. If you are able to stay longer you can check out this Kyoto 2 Day Itinerary.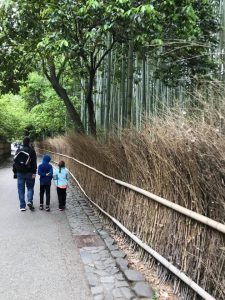 Arashiyama Bamboo Forest and Monkey Park
We took a cab as early as we could possibly be ready and arrived to the Bamboo Forest at 8am. Even arriving early there was a fair amount of people and you had to be creative to really get a good photo. It is beautiful but I honestly would skip this attraction since it's so far out, if it wasn't for the Monkey Park near by.
We walked around some of the other trails around the bamboo forest before heading over to the Monkey Park.  The money park is a huge hike up the mountain, but it was worth it. Even the kids said so by the end of the visit. Bring some cash if you would like to feed the monkey through a the fencing around the building. At one point workers throw out a bunch of food and you watch the monkeys go crazy as they grab it.
Lunch in Kyoto with Kids
After the monkey park we were hungry. There were some buildings one that had a window for take out where we ordered a couple hot dogs for the kids. This was great because honestly the kids needed something familiar. I myself headed to a couple booths that were along the river and to be honest they were awful. I wish I had been more patient because as we walked further down the path we found more booths include stickey buns, okinaminyaki and other asian options that were really good.
Afternoon in Kyoto Japan
Kyoto Imperial Palace
The Royal Palace was a great experience. Its a wide open space which gave the kids an opportunity to have a little space and freedom. It's amazing how expansive the grounds are and the gates at the entrances are so detailed.
The gardens are absolutely beautiful. In fact I recommend taking some time to take portrait photos of your kids and even your family as a whole (don't be shy just ask someone). At this point our daughter had a meltdown but as we worked to calm her. We gave her a snack near some picnic tables when we realized it was likely her blood sugar as she seemed much better after the snack.
Samurai Museum
The Samurai museum was a fun experience. I think for the price you pay there should be a little more time spent on throwing the stars and the blowing things. The kids loved this part but its not easy to catch on and with only 1-2 tries they don't get a chance to really improve. The history part of it was interesting and we all had fun dressing up for the photo shoot at the end.
Dinner in Kyoto with Kids
We found place nearby that had wagyu beef. We ordered 2 trays of the wagyu 6 ways. It was wonderful and perfect way to end our visit in japan. You cook the meat on a grill and since the slices were thin, it cooked up quickly. Even the kids enjoyed the meal and the experience
Evening in Kyoto Japan
Fushima Inari-taisha Shrine
The rain started, and we were all tired. Mike decided we were going to go see the Fushima Inari-taisha Shrine, which I had really wanted to see. We got there saw it in the pouring rain. Then, we had to take the train because we couldn't find a cab and our phones were dead. We missed out stop on the train ended up at Kyoto station and took a $10 cab back to our hotel. Tip: the line for foreign friendly taxis was extremely long and there was more taxis going to the regular line. After waiting a couple minutes Mike went and waited in the regular line. It moved substantially faster and easily saved us a 30-minute wait. We simply said Hyatt Kyoto and we were on our way.
Needless to say if you want to see Fushima Inari-taisha Shrine in it's full glory you will need more than 30 minutes in the poring rain. Also if you take a cab here try to make arrangements for a taxi to come pick you up at as set time.
Make sure to like AffordableFamilyTravel.com on Facebook to get all the latest updates. It's also where I post my Dash Deals that are time sensitive.