Tokyo and Kyoto with Kids is a fun-filled trip. Our Tokyo and Kyoto Trips were possible thanks to travel hacking. There's so much to do and see you can easily spend a week. However, if you are just in Tokyo for a day on a short layover you can still enjoy some of the major sites.
We were able to cover 10 nights of hotel and economy flights for 4 from NYC. Here's the cost break out of our trip.
Hotels:

7nts

Sheraton Tokyo Bay

5nts 200,000 Marriot Pts and 2nts 47,000 Chase UR portal ~$490 fees
3 nts Hyatt Kyoto 60,000 UR pts through the portal $210 additional fees for extra bed.

Tokyo Disneyland 4 Day Tickets $658
7 Day Shinkansen Rail Pass $1082.84 (this included reserved seating)
Airport Parking: $150 EWR Airport Area Hotel
Flights: 292,000 Chase Sapphire Reserve Points through the portal EWR-NRT, ITM-HKG, HKG-EWR
Check out how I earned enough points to cover this trip and several other trips, My First Year Travel Hacking.
For our Short stay in Japan we visited Tokyo and Kyoto with a day trip to Hiroshima. Japan has so much to offer and if you are looking for a trip out of the city I recommend Hakuba. Staying at this Hakuba AirBnB can give you a nice break from the city.
Tokyo Tips and Review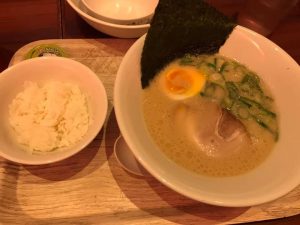 • Tokyo is Massive. I recommend staying in an area that you will enjoy the evening or dining options and to spend a day in as well. Then plan 1-2 areas a day to visit the other areas. It could take 30-40minutes between areas and 10-20 minutes traveling to things within the same area.     
• I think split stay between Tokyo Bay and the city is worth it if you plan to be in the city more than a couple days, I recommend 4 days in Tokyo minimum (we only had 2).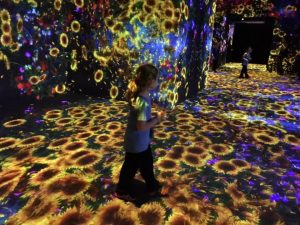 • 4 Days at Tokyo Disneyland was perfect. We didn't feel rushed saw everything we wanted to see and did our favorites twice (we did not do character meets except Mickey).   
• If you plan to get the JR pass, order at least 2 weeks prior to your departure so you have it in hand and can activate it when you land and make reservations if you plan to.   
Review of Tokyo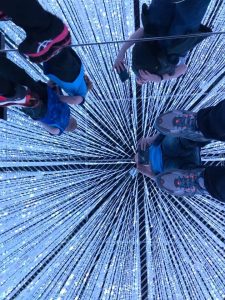 Truth be told I didn't love Tokyo. Its Massive and takes forever to travel from one thing to the next. The way to avoid that is to plan your day in one area. Spend at least 4 days in Tokyo and you can see and do a lot with out having to travel all over the place. Since we only had 2 days we picked highlights of what we really wanted to. We only went to 2 areas in 1 day and 1 area in another but that one day with 2 areas we had to travel by subway between several things and it just takes time.
Here's some Details of 2 Areas of Tokyo that we visited
Odaiba was a man made island built as an entertainment district. There is so much to see and do you can easily fill the day or even too. There's plenty of restaurant and meal options
Chou City is another fun Area of Tokyo. Filled with Animal Cafe and a Pokemon Cafe. The Highlight of the area is the fishmarket. The kids loved exploring the market and enjoying Sushi for the first time.
I definitely recommend staying in Tokyo longer than we did so you have time to explore the city more. If staying longer check out Ueno which is another fun area.
We Stayed at the Sheraton Grand Tokyo Bay for 7 nights while visiting Tokyo and Tokyo Disneyland. It's a great location for Disneyland with easy transportation on the monorail. The hotel is also an easy train ride to Odaiba. If spending more time in Tokyo, I recommend doing a split stay and staying somewhere more centrally located to other sites. Because we wanted to visit Tokyo Disneyland during the week we only had 1 day before and after our visit to Tokyo Disneyland to visit Tokyo, this meant changing hotels would have been to much of a hassle.
Kyoto Tips and Review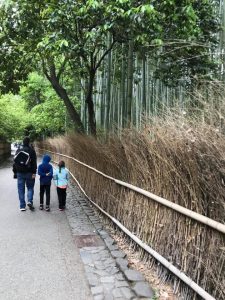 • If you are taking the Shinkansen compare the cost of a Jr Pass and purchasing ticket separately. If you purchase JR Pass you must order 2 weeks before departure so that they can be mailed to your house. This will allow you to active them in the airport use them to get to your hotel if you plan to and make reservations if you paid for the reserved cars.   
• Stop in Hakone/Lake Ashi on your way from Tokyo to Kyoto. If you plan it right and can catch the first train our and reserve a seat on the last direct train out, you can spend a full day there.
• Take Taxis. While taxis are expensive you save a ton of time. In our one full day in Kyoto we spent $110 on taxis. For us it was well worth the convenience as just getting to the bamboo forest could have taken 1.5 by train.  
Review of Kyoto
Kyoto is a wide spread city. It lacks skyscrapers and tall buildings, it was surprisingly sprawling. While taking a cab isn't cheap to some of the area's over all it was extremely convenient and would cost about the same as a one day car rental in many US resort destinations. We really enjoyed Kyoto and the Hyatt Kyoto Hotel.
Itinerary for Tokyo and Kyoto with Kids
Day 1: Arriving in Tokyo
We arrived i n Tokyo we opted for a the shuttle bus directly to the resort. You can buy tickets right there after you depart customs. The shuttle dropped off at several hotels in Tokyo Bay before dropping us off at the Sheraton Tokyo Bay.
Once we checked i n we headed to Ikspiari which is Tokyo Disneyland's Downtown Disney or Disney Springs. It's an easy commute on the monorail from the Sheraton Tokyo Bay or any monorail resort. We arrived at Ippudo Ramen and there was a wait. the line was split and we were about 5 parties back after the split. When we got closer to the front of the split, a worker handed us a menu and took our order.
We arrived at the front of the line we were seated, drinks were brought over and our meals arrived shortly there after. While we did wait 20-30 minutes it wasn't a terrible wait since we were able to preorder. The only downside to eating here was we compared our first amazing meal of ramen to ever subsequent meal. Its hard to start with the best.
Day 2: Odaiba with Kids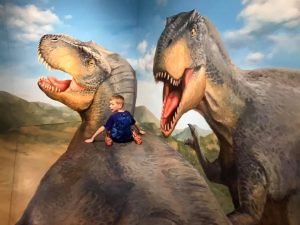 Our first day in the city of Tokyo we went to Odaiba for a day full of STEAM. We visited Team Lab's Borderless art exhibit. We also visited the Toyota Exibit, The Giant Robot and the trick art museum.
You can check out of day in Odaiba Itinerary here.
We loved the Borderless art exhibit. It is not a timed ticket, so I recommend arriving an hour before hand to wait in line. They only let so many people in at a time, so it did not feel crowded at all . When we left the line was all the way down the side of the building about 8-10x the length of when we arrived an hour before opening and they opened 20 minutes early. 'Take your time going through each area. I think it's a good idea to research everything because there is no flow to the place, so you can easily miss an area if you aren't aware of what there is to offer. We all loved it and It was great to show the kids that there are things out there other than classic art.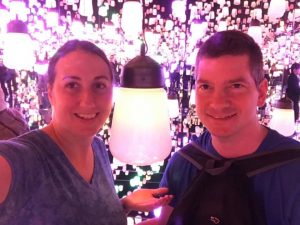 Our Favorite areas was the light bulb room and the lilly pad room.  Feel free to get back in line and re-enter the rooms (with out leaving the actual venue) for a second round if you feel you didn't have enough time or would like another chance at a better photo.
Day 3-5: Tokyo Disneyland with Kids
We spend 4 full Days at Tokyo Disneyland. 2 Days at each park and it was the perfect amount of time. With the time change the kids were not able to stay up late enough to watch the evening shows and parades. In-fact we stayed one evening to watch the main street electrical parade and the kids fell asleep while we were waiting and slept through the entire parade.
Full Details of our time at Tokyo Disneyland will be posted shortly.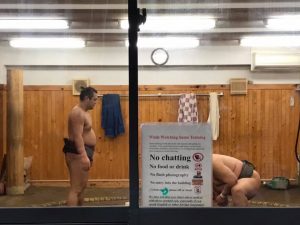 The second day in Tokyo we had a jammed packed itinerary and didn't get through it all.
Arashio-beya Sumo Stable
We started day at Arashio-beya Sumo Stable to watch a Practice. we arrived before 9am to make sure we didn't miss out and so we had time to head to the fish market before the restaurants closed.
Tsukiji market
We then headed to Tsukiji market for some fresh sushi. It was packed. I was warned some places close early so we wanted to get there far before noon, so we arrived around 9:30am. Judging by how busy it was I would think not but I also noticed many restaurants were empty. After a failed attempt to find a specific one we selected another and sat down. One of my favorite memories is enjoying a sushi sampler platter together as a family and the kids trying it for the first time.
Pokémon Café
Before we knew it, it was time to head over to Pokémon Café.  We rushed over only to realize we had printed tickets to the later reservation, so we spent some time shopping around until it was time to sit.
The menu did not look like anything my family would eat so we stuck with some fancy drinks which the kids enjoyed while we waited for a special character to come out. You don't get individual photos with the character, the worker says something ins in Japanese, and he followers her instructions then there is an opportunity to take photos but not walk up and take photos with the character. The kids really enjoyed the experience, but I would skip it unless your kids are big Pokémon fans. 
Sushi Train Restaurant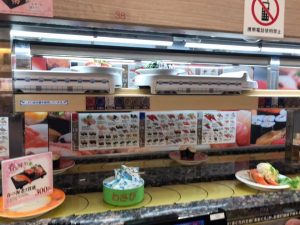 After the Pokémon café, we headed to the nearest sushi train restaurant as we were all hungry. We ordered miso soup with clams which our son loved- he ate 2 bowls full of clams. I was happy to have the opportunity to try some different sushi that we had yet to try and some of my favorites.  
Cat and Hedge Hog Cafes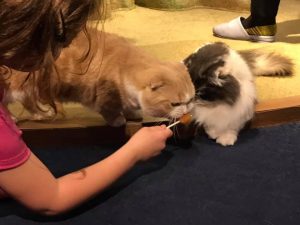 We then headed to another area to visit a Cat Café and Hedge Hog Café. The cat café was the kids favorite. By the time that had ended we had completely pushed our limits and needed to head back to the hotel, again skipping the dinner I had planned. We arrived at the hotel and I had remembered that one of the cafes had a late-night option with to go. So, I stopped in. They had a large variety of options at reasonable prices. Its only offered after 8pm which is disappointing but the timing this night worked for us. Kids go chicken nuggets and smiles for $3 each, a missive bowl of plain rice that we all ate for $3 and I got stir-fry noodles, chicken in an Asian sauce and my husband decided on a sandwich. I think we spent $30 total and had leftovers.  
Check out my 1 Day Chobu City with Kids Itinerary.
Overall, we had 2 fun filled days in Tokyo. I think 4 days would have allowed us to spread things out more, spending a full day in Asakusa would have been nice. there is a lot to see and do there including a park you can take it easy in. 
Day 7: Tokyo and Kyoto: a Trip on the Shinkensan
Shinkensan to Kyoto From Tokyo
We had planned to stop in Hakone/Lake Ashi on the way to Kyoto, but we were all exhausted and just needed to relax so we slept in a little and enjoyed the 2.5 hour train ride down to Kyoto.
Well it wasn't that simple. We only had reserved seat from Hakone at 5:30pm so we hopped an unreserved car and there were no seats. Tried to get off but it was too late. Next stop we grabbed 2 seats for the kids across each other, but one was a middle seat at the next stop grabbed a third and by the fourth stop we had 4 seats and some how in a row. And then we could relax for the remaining 1.5hrs left.  
Kyoto and Okonomiyaki
We got to Kyoto and took a cab for $10 to the hotel. After checking in we headed to get a bite to eat. Many restaurants close between 3-5:30 pm but we found a near by place that offered Okonomiyaki. It was a great experience although the kids weren't very into it. I was able to order them some soba to enjoy. We also enjoyed Japanese beer with our meal. 
Hyatt Kyoto
We headed back to our hotel to settle in, then grabbed a glass of wine while we waited to see the Maiko (Geisha in training)During the performance they offered complimentary champagne which we enjoyed but the kids were not entertained by the show and the Maiko even had a little chuckle at the kids attitude as she was leaving. 
Day 8: Hiroshima and Mayajima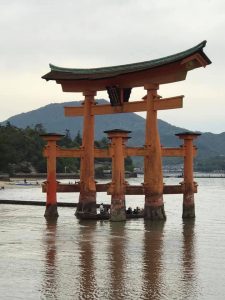 Shinkansen
The next day we hopped on the Shinkansen again and headed to Hiroshima. Its about 2 hours each way and it was what the kids needed, lots of iPad time. We only had reserved seats for the return, but we were able to get seats together just fine.
Mayajima
We decided to first head to Mayajima (Itsukushima) to try to avoid the crowds. It was golden week and there was no avoiding them. On Mayajima island, we enjoyed deer and the Famous Tori .We headed to find an oyster place which we did. We ordereda large oyster sampled and an extra order of steamed clams and a fried shrimp entrée for us all to share. Honestly, none of us enjoyed the oysters. I have had raw oysters before and those were probably the best of the assortment we had here an the fried were ok, but these were massive oysters and we just didn't enjoy the flavor.
Hiroshima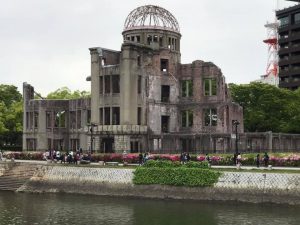 Afterward, I just didn't' feel like being on the island which such a huge crowd so we headed back to Hiroshima to visit the Dome.  It was something that my husband and I wanted to see but weren't sure how to approach it with the kids. In fact, we had decided to say nothing but as we were there the children started to ask questions, so we gave them a brief description of what happened, not mentioning anything about people dying. 
It worked out better than I expected with us being able to explain what we wanted and not traumatize them. We then headed to the Hiroshima Castle. It was destroyed by the atomic bomb and a replica stands in its place serving as a museum as you walk up 6 levels. We then took a cab back to the train station and enjoyed a very nice reserved seating car to Osaka where we switched trains from Kyoto.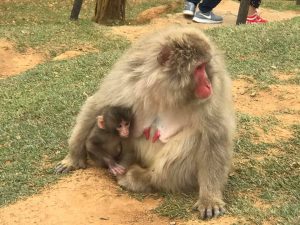 The next day, was our last day in Japan and our only full day in Kyoto. We had predetermined we would take Taxis. Check out our Full Day itinerary here. 
We really enjoyed Kyoto and felt a second day would have given us more time to full see the city. Our Family did visit the highlights i including the bamboo forest, the money park. , imperial palace, samurai museum, a little bit of shopping and the Fushima Inari-taisha Shrine. We even had time to enjoy Japanese beef.
Day 10: Shankensen to Osaka Airport
The next morning, we had reserved seats on the train from Kyoto to Osaka Airport. We grabbed a cab for $10 and headed over early. The KAL lounge in the airport was not worth our time and effort. Ramen noodles and some water/drinks. It's also outside security so we needed to leave some extra time to get through. We were sad to say good bye to Tokyo and Kyoto but excited for what was next: a relaxing stay at Hong Kong Disneyland's Explorer Lodge Resort.
Summary of Tokyo and Kyoto with Kids
We enjoyed our stay in Tokyo and Kyoto Japan. It was a lesson to us to plan so downtime when traveling with kids and also the realization that we really aren't city people.   Planning is key when visiting Japan. If you have the time a 2 week trip to Japan would provide ample time to explore the country.
You can check out my related articles to help you plan your visit to Tokyo and Kyoto:
Here's the Breakdown of points used for Tokyo and Kyoto
Marriot Credit Card 100,000 bonus * 2 of us= 200,000 pts Covered 4nts at 20k 5th night freeChase UR points 377,000 UR
Chase Sapphire Preferred 55,000 bonus and min spending Chase Sapphire Reserved (my husband) 55,000 bonus and min spending Chase Ink Preferred 85,000 bonus and min spending * 2 Chase Ink Cash 55,000 bonus and min spending   The remaining points were earned through spending on the credit card especially 3x points for travel.
However, you could earn the additional points by earning the sign on bonus from one more cc like the Chase Ink Unlimited. Keep in mind you need to have another chase UR card that earns pts to be able to transfer the cash-based bonus to points.   
Used: 292,000 for 4 economy 2 flights EWR-NRT, ITM-HKG, HKG-EWR 47,000 ur pts for 2 nights Sheraton Tokyo Bay though Portal 40,000 ur pts for 2nights Hyatt Kyoto transfer to Hyatt
Follow Affordable_Family_Travel on Instagram
Make sure to like AffordableFamilyTravel.com on Facebook to get all the latest updates. It's also where I post my Dash Deals that are time-sensitive.