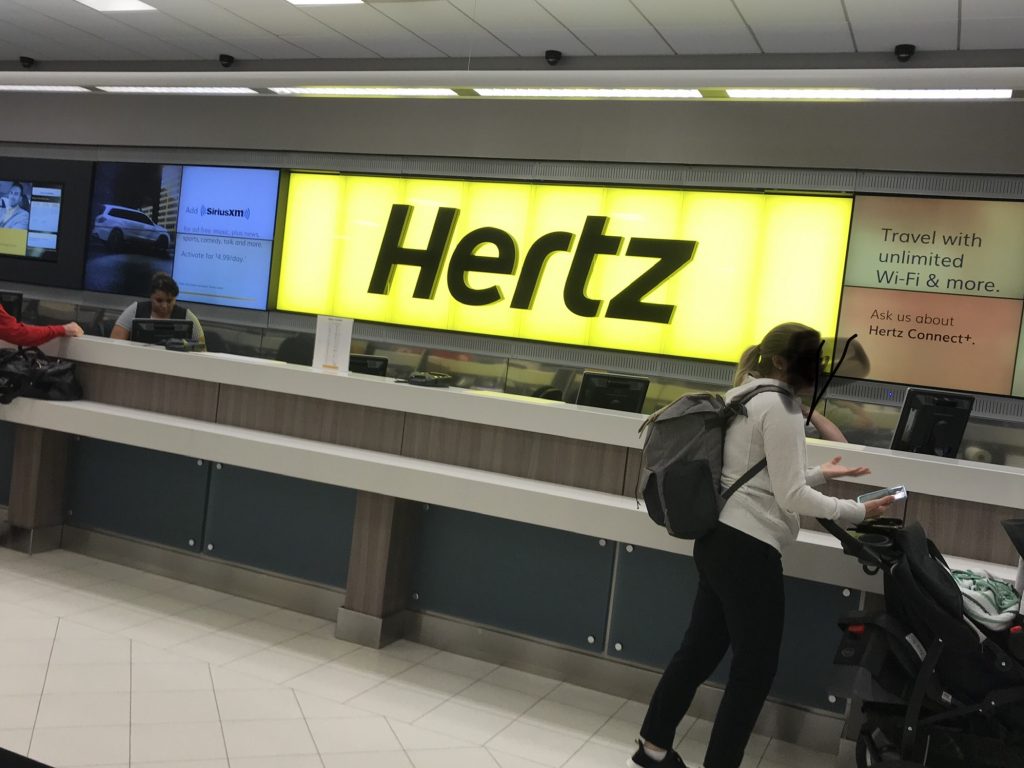 We were left stranded with out a rental car by Hertz. It could happen to you. Imagine arriving to your destination at 11:30pm, shuffling your tired kids over to the Rental Car building to grab your rental car, only to find out they don't have one for you. All rental agencies at the airport were out of cars and their offsite locations were closed.  It can happen to anyone and it happened to us on our recent trip to Ft Myers, Florida.
Why You Could be Left Stranded with Out a Rental Car
While it can happen with hotels who become over booked, it's rare because hotels have cancelation policies and require a credit card or payment to hold the room. If you cancel or don't show than you could be charged a rate. This allows hotels to hold rooms because they will be reimbursed at least some money if someone one doesn't show. We would never accept being told by a hotel, "sorry we gave away your room or someone needed to stay a day longer so your room isn't available".  Imagine having no place to sleep in an unfamiliar city? Its NOT acceptable for hotels to do this. Why should it be acceptable for rental cars?
The reason this happens is because rental car agencies often do not require a deposit. They often do not have a cancelation fee and usually don't even require a credit card to make a reservation. Their policy is to allow someone who already has a vehicle to extend it longer if they would like. But at what cost?
It's also possible that based on these policies, they can allow you to reserve a car and they give away your vehicle to the highest bidder. Similar to when I was told there would be plenty of available cars on Sunday for $300 but was told there were none available when asked to honor my $100 reservation.
Some have said if you pay in full they have to hold the car for you. But on Saturday, the family in front of us did pay and they ended up with only a "voucher" for the amount paid to show for it.
In places like Florida where there's a lot of snow birds or even simply a busy holiday and or event weekend, a person could rent a car for the 1 day it's a available and simply hold on to the car for as long as they really need it.
It's Unacceptable that Car Rental Agencies allow customers to keep a car longer than scheduled when there's someone else who reserved the car and is relying on it.
Our Experience being Left Stranded with Out a Rental Car.
I couldn't believe we were left stranded with out a rental car. We do not rent cars often as we tend to select centrally located hotels and take a cab or shuttle to our hotel from the airport. However, from our experience we have always been pleased with Hertz. In fact my husband insisted we use them after a terrible experience with a different agency. So we have previously paid more specifically to reserve though Hertz, our trusted Agency.
It was a Good Rate. Maybe too Good
I was very excited to book a rate of around $100 for 4 days. This was one of the best rates we have seen especially since we do not comparatively shop.  The rental reservation had the latest pick up of 11:30pm. Our flight landed at 11:20 so we called Hertz to make sure we would be ok since the closing time was listed as 1am. They assured us it would be fine and that since they had our flight information they would make sure to hold the reservations even if delayed. 
We arrived at the Rental Building at about 11:45pm. There was 2 families a head of us. We heard them talking to both but I could here them telling the people they didn't have a car for them. My husband looked at me and said I guess they didn't make a reservation. 
Hertz Did Nothing to Help us.
The Hertz employee said I am just going to say this to everyone "We are out of Cars. There are no cars for anyone".
Ok so what are you doing about it? The response was that they weren't sure they are figuring it out. When we finally got to the desk, I asked them why didn't they call the offsite location. Response was They were closed. Well why didn't you do it sooner since you knew people would be arriving needing cars. I asked what time they ran out of cars and he said 10pm However, the Police Officer there had said 8pm (I had a feeling he had been frequently called since the manager onsite was very quick to call based on my "Tone". My tone when asking if it's Hertz Policy to give away reserved cars.
Thankfully we had reserved a room near the airport at the Marriott Residence Inn and they had a Shuttle. I called and they immediately sent a shuttle for us. While we waited my husband spoke to the Manager.  He was told that we will need to come back tomorrow and wait for a car. As people returned cars they would be given to those who were waiting- and only those who were waiting at the airport. He asked what time should we arrive 8am?? No he was told to arrive 10am-12pm.
We were expected to Wait All Day At the Airport in Hopes of receiving a Car!
We were told if we weren't at the airport we would not get a car. My husband was given a phone number for the site manager who keeps the phone on him. The next morning we called at 7:30, no answer so we left a message. called again maybe 15min later, no answer , so we left another message. Called again maybe 15min later, no answer and they hung up on us so we couldn't leave a message! That was it.
We were done eating breakfast our bags were packed and I was not gonna spend a day of my 4 day vacation sitting in an airport waiting for a car that we may not even get. Can you imagine waiting in the Florida heat in a line in a garage with you kids for hours hoping to get a rental car? We decided to take a Lyft to the Hyatt Coconut Point which was our destination. 
Hertz Via The Phone didn't care that we were Left Stranded with Out a Rental Car
Rewind a little to the night we didn't receive our car. We took a shuttle to the hotel. I decided to call Hertz and speak to someone on the phone about the situation. I was told Customer Service was closed.  He then asked if he could help me with a reservation. I said yes I had a reservation for tonight at the Ft Myer airport location but they ran out of cars. I would like to pick up a car at any off the locations in Ft Myers tomorrow morning. 
Most sites were closed Sundays but there was one non airport site open Sundays and he said they would have plenty of cars Sunday morning at 7:30am. It would be $300 to reserve the car. I explained I would not pay $300 for a rental car for 3 days when I had reserved a car for 4 days for $100. Can they honor my reservations. He refused and said only guest services can do that and they are closed. I asked to speak to his manager and he hung up. I called back and asked to speak to a manager and the person said yes I will give you a manager and forwarded me to Guest services which was closed! We also tweeted and Facebook messaged Hertz which also did nothing.
The next morning I called the online reservation line since we were unable to get a hold of the onsite manager at the airport location. I explained that I would like a car from the offsite location  but would like them to honor my $100 reservation. They told me there are no cars available at all. In other words they would not honor my rate when they could get triple the price.
They only offered to call a Cab!
They offered to call a CAB (not pay for it)! Guests were told they could call a cab for them. They would not pay for the cab but they would deduct the cost off the cost of the rental car- that's if you even got a car. We never did!  I over heard one family with an infant, saying they had prepaid about $400 for their vehicle. Hertz gave them a voucher. They asked what are we supposed to do with a voucher we want our money back. So not even offered an immediate refund.
We Still Have NOT heard from HERTZ!!!
No one called us back! Their social media via Twitter and Facebook who we contacted, never followed up to see if we were ok. Its been 3 days since our return and almost a full week since we were left stranded at Ft Myers Airport. We left 2 messages for the onsite manager.
We Were Lucky It could have been Worse
While being stranded at an airport at Midnight isn't my idea of fun, it could have been way wore.  It's important to understand this, to understand how it could effect you and how to reduce the effect of being stranded with out a Rental car.
We booked a hotel with a shuttle and it came quick.  We could have had to wait for them to call a cab. It took about 10min for my husband to speak to the managers and I called him over as our shuttle was arriving but if we had waited for a cab it could have been another 10-20min. Taxi's are more expensive than uber/lyft but at midnight im not sure what would arrive quicker.
We had our kids booster seats with us. Thank  goodness for Bubble Bum inflatable boosters. Can you imagine arriving at a rental agency after reserving a car with car seats and you not only have no car but you have no car seats for your children.  While uber offers a version for families it only has 1 seat on hand usually. Taxis may have a seat too but it definitely would add to the wait.
We didn't prepay so we weren't out $$ waiting for a refund or having to fight them for an actual refund instead o a voucher.
Thankfully We didn't have to travel far. We stayed near the airport and the next day it was a $20 Lyft ride to our resort. Imagine if you had rented a car to drive to the Florida Keys? I can't imagine how much an uber would have been for a 5 hour drive away or if anyone would be willing to drive that far. What if you had a wedding the next day. Or if you planned a short road trip and need to be at a different airport 5 hours away in a few days- like for our up coming trip to S Africa.
Be Prepared incase you are ever Left Stranded with Out a Rental Car
I am not sure there's a way to avoid being stranded with out a rental car accept to avoid renting a car but there's thing you can do to reduce the impact.
Plan for the worst and Hope for the best.
Reserve a car at several agencies. If you don't have to prepay and there's no fee to cancel it doesn't hurt you. While I think this is bad business Its really the Car Rental Companies policy  that creates the issue in the first place.
Have a back up plan
Bring your own car seats
Chose alternative transportation: Private shuttle, public transportation, Lyft/Uber etc.
Find a Reliable Car Rental Agency who has good customer service. Based on our experience, we will not be using Hertz again!
Follow Affordable_Family_Travel on Instagram
Make sure to like AffordableFamilyTravel.com on Facebook to get all the latest updates. It's also where I post my Dash Deals that are time-sensitive.