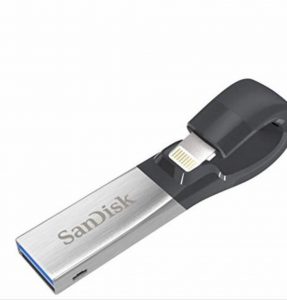 IXpand Memory Card for Apple Products is the best Travel Product Out there. If you own an iPhone or Ipad an iXpand is a travel necessity. It's a flash drive for apple products and it's awesome.  Our kids are 5.5 and 7 years old right now and our Ipads are about the same age. They were our Ipads and they became the kids. We invested in really good life proof cases and they work great.
IXpand Memory Card Expands the life of older Ipads
The only issue was as the kids got older and wanted various apps we ran out of room for movies. Especially with older iPad that didn't have the storage space the newer versions have. With the iXpand, we can load it with a bunch of movies and they can copy one movie at a time on to their Ipads.
It's also great for our phones, we can have movies that we won't want to take up space on our phone but can add them to our phone to watch when flying or in the airport.   You can transfer files to the iXpand too. This means if you are running out of space on your phone from taking to many photos or movies you can transfer some onto the iXpand to make space.
This actually happened to both Mike and me on separate trips. We forgot to download all our photos from a previous trip or 2 and we ran out of space. The iXpand worked great and we were able to continue to capture our memories without having to go one by one deleting various photos to make space.    Definitely consider adding an iXpand to your travel accessories if you own an iPhone and/or Ipads. You can purchase an iXpand on amazon here.
Check out all our favorite travel accessories.          
Follow Affordable_Family_Travel on Instagram
Make sure to like AffordableFamilyTravel.com on Facebook to get all the latest updates. It's also where I post my Dash Deals that are time-sensitive.