Where to eat at Disneyland Paris can help you pick the best Disneyland Paris restaurants to eat at during your visit. Disneyland Paris has wonderful dining options many with really fun themes. From quick service to sit down restaurants the theming is better than any other park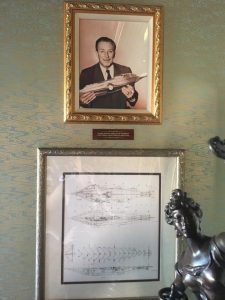 Visitingt Disneyland Paris, was a whole new planning experience. I had to research how to use the dining vouchers and what they were good for. Research the best restaurants at Disneyland Paris and accept the reality that we would not be able to visit all of them. Based on our schedule of 4 days in the park 2 at each park we decided on where and when we would eat. Here's our dining schedule and review of the restaurants we ate at.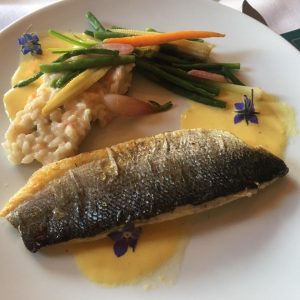 Walt's
Cost: 2 Adult Vouchers, $10 for 1 shared kid's meal, ~$7 per adult entree only over voucher amount) $29 Total
Walt's is filled with Walt Disney Memorabilia.  You can walk around and see some awesome things.  We booked an early reservation and asked for a seat by the window with views of main street.  The food was good but for the price they were charging I expected better quality. The skin on the fish wasn't very crispy and My husband's chicken dish was really basic.                                 
Hakuna Matata
Cost: 2 quick service meals shared $28
We ordered 1 adult Chicken tender meal for the kids to share  and I honestly can't remember the second meal. i do remember the fun experience. The restaurant is African themed and there were even performers walking around playing drums and letting the kids hit the drums as well.

Dinner: Silver Spur Steak House (2 Adult Vouchers 1 child voucher)
We both ordered the steak and the kids split the pasta. As you can see the portion is much smaller than what we got at Walts but with a multiple course meal there was plenty of food to go around.   

Restaurant de stars buffet
Cost: 2 Adult Vouchers 2 child   voucher
This buffet had a good variety of food for the kids and for us.     they had mussels which were goo and the kids were happy with   staples
Colonel Hathaway Quick Service
Cost: 2 Kids Vouchers
We ordered Mickey pizza with garlic bread, side salad and magnum ice-cream bar A family sitting near us offered us 2 additional salads that   their  kids wouldn't eat, but even with out them it would have been enough because we   were full from the large lunch buffet.
The kids made friends and enjoyed running around the vacant stage
for a little bit while the adults finished their meals.  The Restaurant is also well themed but no the birds do not sing like the Tiki Room.


Agaraba
Cost: Adult Vouchers, 2 child voucher
This is another fun themed buffet. My only complaint is the buffet area is very small and a long line forms so it can take a bit to get your food and honestly deters you from going back for seconds.
Auberge de Cendrillon
Price: A LOT
I honestly don't remember the cost of this meal, but it was more expensive with the exchange rate than any princess meal we had ever had. this is definitely a meal you can skip if it's not in your budget while it was a very enjoyable meal and experience you would get a better value at Walt Disney World even at Cinderella's Royal Table.
The meal was very good, and the kids enjoyed the characters, but I am going to chalk this up to vacation upgrade as it was added last minute, and I don't think we completely thought through the cost/value of this meal.
The Restaurant is described as: Whisk your young royalty to Cinderella's banquet hall for some fine French cuisine amongst enchanting stone archways and medieval stained-glass windows. Here, princes and princesses glide past and stop for a chat and photo opportunity in what is a fairytale dining experience. In addition to Princesses the we were able to meet Suzy and Pearla.

Chez Remy
Cost: 2 Adult Vouchers 1 child voucher
This is my favorite restaurant as the food was good but the theme was awesome. Imagine walking down a hallway and being shrunk to the size of a mouse. Even the floor tiles are bigger. We told the kids when we walked in that we were shrunk down to mouse size.  The theming made it extremely easy to get the kids to believe it.
We ordered the steaks and ratatouille which the kids were willing to try since Remy made it himself.   We also took some time to walk around the restaurant to really enjoy the theme because it's a really fun theme.   
Ludgwigs in Downtown Disney
Cost: $82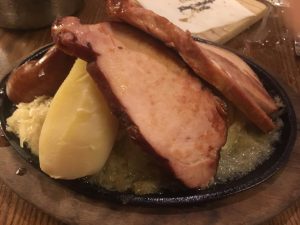 We headed out of the park to enjoy this castle themed restaurant.
The food was good and the fresh sourkraut was mild and delicious.  Another great theme restaurant to really make you feel like your in this magical world.
Inventions Character Meal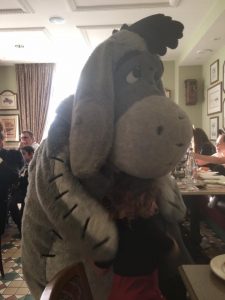 Cost:-~$250 Total for 4 of us after exchange rate (we applied one
remaining kids voucher).
This was a great way to end our trip with many characters to meat and the food was very enjoyable better than the average character buffet at Walt Disney World.
The Restaurant is described as: Take a seat and feast on fanciful recipes from all over the globe amid models and paintings of the Victorian era's most awe-inspiring inventions. And during lunch or dinner time, beloved Disney Characters pop in for some fun and photographs with your own little dreamers.
Where to eat at Disneyland Paris Summary
Where to eat at Disneyland Paris can be hard to decide. We were very happy with our selected restaurant though we weren't able to visit everyone on our list. Hopefully, there will be a next time to visit some of our favorites and the ones we missed.
Since visiting Disneyland Paris, The Disney Company bought back ownership of Disneyland Paris with promises for changed. While we enjoyed our meals at Disneyland Paris I personally feel the price of the sit down meals compared to the quality was not a great value. I also felt their meal plan and over all  meals were very inflexible.
For example if you ordered meal 1 you got a specific dessert and if you ordered meal 2 you got a different dessert but you couldn't substitute some one meal came with a magnum ice-cream the other a yogurt.  This is especially difficult with children who want meal 1 but dessert from meal 2. I also found their breakfast to be incredibly inflexible and feel that they should offer more selections.  Hopefully some positive changed will be occurring over time as Disney works its magic.
Follow Affordable_Family_Travel on Instagram
Make sure to like AffordableFamilyTravel.com on Facebook to get all the latest updates. It's also where I post my Dash Deals that are time-sensitive.