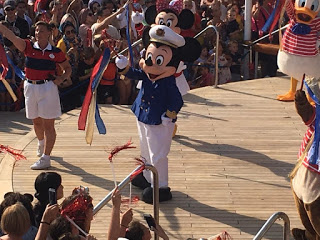 A Disney Mediterranean cruise is a great way to visit Europe with kids especially if its your first time. Visiting Europe with kids for the first time can be challenging. A cruise provides a balance of kid friendly options and opportunity to sight see.
Our Costs for a Disney Mediterranean Cruise
Flights: $3832 NYC to Barcelona direct (this was before flight prices dropped. You can now fly for much cheaper)
$317 rt Palma de Playa de Palma, Mallorca
Cruise:$4594
Disney Mediterranean Cruise Tips
Planning and Entertainment
Check out past navigators for the same cruise itinerary and ship to get an idea of the schedule. It often doesn't change much from week to week. If your kids are under 3 you can also see what activities are available for an open house as they are marked with an oh. Between the 2 cruises, we took there were far more open houses on the DCL Mediterranean Cruise than the Alaskan Cruise. 
Go to Deck 10 for the Deck Parties to get a nice view with less shoving. There is also a kid viewing area but then you are leaving your kids on their own to defend again bigger kids and sometimes adults go inside anyway. You could also decide to just stand back at the bottom let the kids enjoy running around and dancing.
Don't miss the live stage shows. Sometimes some of the magicians and comedians hold a daytime show which is nice if you want to head to bed early one evening.
Book your Free Character Breakfast and Princess meets when online registration begins they sell out. I recommend the Breakfast for the last sea day especially if you are on a cruise that is offering Mickey and Friends vs Disney Jr characters. It's a nice way to say goodbye to Mickey.
Dining
We like to request the Animators Palate for the start of our dining rotation. This is so we get seated 3 times here. It's our favorite restaurant for theming.
Have the lamb loin chops on the lunch buffet when boarding. They had a lobster tail on the lunch buffet the day after it was on the dinner menu- this didn't happen in Alaska so I am guessing they had a lot of leftovers on the DCL Mediterranean cruise.   
The cold shrimp on the lunch buffet is easy to peel and deveined we avoided it for 2 days thinking it wasn't cleaned- we hate to peel and eat shrimp, but this was great.
Savings and Extra Costs
You can save a lot by booking excursions outside of Disney. Using Viator you can often book a tour that offers a cruise guarantee like the one offered through DCl.  
Princess Tea Party and Bippity Boppity Boutique are available on the ships and you can sign up in advance. They are very expensive extras and not necessary but nice for a celebration or special occasion. Our daughter and I did the Princess Tea Party on our second cruise for her PreK Graduation Celebration. 
Why We Decided on a Disney Mediterranean Cruise
We have always intended to go back to Italy for our 10-year wedding anniversary which meant our kids would be 2 and 3.5 at the time. As time got closer we realized we weren't ready to be quite so adventurous especially with our strong willed 2-year-old daughter.
We postponed the trip one more year and I am glad we did.  We chose to do a combination of a DCL cruise and Stay in Spain prior to the cruise. You can view the trip report from our stay in Spain here. This trip was the most expensive trip we have taken with kids. It was a celebration and vacation combined. We chose Disney Cruise Lines (DCL) because we knew it would be family-friendly and we had been wanting to try them.
Cost of a DCL Mediterranean Cruise
The price of a DCL Mediterranean cruise was cheaper than a DCL Caribbean cruise but there are much cheaper options for cruising the Mediterranean and I recommend them over DCL.  This is because the itinerary is very port intensive you are in 4 port sin 6 years, so you have 2 sea days one on each end but the days in port are very long. We stayed up for the shows because they really are wonderful but if we had been on any other cruise line we would have gone to bed and gotten more rest. For half the price or less of a DCL cruise, you can cruise longer itineraries with other cruise lines.  
Challenges of our First International Trip with Kids
When I look back at our family travels I think how much fun they were and completely forget about all the challenges. This trip had some. This was our first time traveling east (we had been to Hawaii twice at this point). None of us slept very long on the flight and when we arrived at our destination the Rui Bravo in Playa de Palma, Mallorca, Spain, an island off the coast of Barcelona, we were wide awake. We all stayed up till about 11pm and finally got some sleep.
Until 1 am when my daughter woke up unable to sleep. I was up with her for a couple of hours before we finally fell back asleep and woke up very late, my daughter sleeping till 11 am!  We were thankful we were at a beach resort with nothing planned but beach and pool time and at an all-inclusive where there was food available at almost any time of day.
When we realized why my son had slept so well , the next night Our daughter and I both took melatonin and we all slept well. This realization has helped us on every trip to Europe we have taken. We give the kids melatonin on the overnight flight and then 2 nights after arriving and they adjust very well.
Please speak to your Pediatricians regarding the use of melatonin as a sleep aid when traveling. I am not a doctor and cannot provide medical advice. This is my own personal experience. You can read all about some of the challenges we have faced traveling with kids here.
Disney Mediterranean Cruise Itinerary
Saturday Disney Cruise Embarkation Day
Saturday was Cruise Embarkation Day. We were all so excited. When we arrived at the port there was a little shop and the kids purchased a souvenir from Barcelona. While waiting to board there was a backdrop where Mickey and Minnie at the separate time met in the in their Cruise outfits. We were able to get photos and signatures with not too long of a wait.
We boarded and headed right to the pool area. A table right by the slide was empty so we set up base there. My husband took the kids to the slide while I grabbed myself some lunch. The lamb loin chops were great (and they seem to always be on the first-day lunch buffet). When finished I got plates for the kids and tried to encourage them to eat something while my husband grabbed some lunch.
The kids loved the mickey slide and the bucket area, and I am glad we went early before the line started to get longer. When our rooms were ready (I believe they say 2pm) we headed to our rooms to clean up and get ready for the 3:30 lifeboat drills (this is mandatory on all cruise ships).  
Evening
Our Dinner this evening was Animators Palate which is such a treat. There are screens on all the walls. They slowly draw black and white photos which eventually color in and come to life. Sorcerer Mickey comes out at the end for children to wave and possibly high five.  The show the first evening was All Aboard! Let the Magic Being! It's a variety show where they introduce the crew and give you a glimpse of the evening entertainment throughout the cruise. It was ok but for future cruises, we will skip it as we prefer to see the actual shows.  
Sunday Sea Day on Disney Cruise
Sunday was a sea day and Frozen-themed. We had booked the character breakfast with Mickey and friends (no charge but must reserve ahead of time).  I would recommend scheduling it at the end of the trip to say goodbye since we met Mickey at boarding. We enjoyed time at the pool and mickey slide and at lunch on deck including the shawarma which is good. Sadly, for this cruise, they did not have all the options for toppings, but it was still very good. 
We had our Frozen Meet at 3:15 pm which you also need to reserve (no charge) and included Olaf which isn't always the case. We were able to attend various activities at the kid's club during the open house. It was by choice as we had never left our kids alone with anyone but family and daycare and just weren't ready yet.
I had scoped out the navigators to see what programs we wanted and what was offered during the open house and there was only one that wasn't' offered during the open house.  During an open house, we all got to participate in "Becoming Ironman" which is an activity on a computer that allows you to become an ironman and even fly (on the screen not physically).
Evening
This evening was the Frozen party on board at 10:30 pm (thankful for the time change so it wasn't hard for the kids to stay up).  We like to stand on the upper deck looking down on the state. It gives up a way to have a good view away from some of the crowds- though you will have people trying to squeeze in on your space.
For both the Bon voyage party and Frozen party on Disney Cruise is that the kids enjoy being on the bottom and running around and dancing. They like the view from above, but it was less stressful to just let them run around and have fun despite the view from down below. Of course, when we did this on the next cruise they complained they couldn't see well. So at least for the first time go to the upper deck to watch.
Monday Port of Naples Disney Cruise First Stop on DCL Mediterranean Cruise
Monday was the port of Naples which was the first stop on DCL Mediterranean Cruise. This port was important to us because we had spent a few days on Capri for our honeymoon and were excited to go back. It was a long day in port from 7:30 am-6 pm.  We did not reserve the ferry tickets ahead of time. as we weren't sure what time we would get off the ship.
Getting off DCL Cruise line at Port of Naples
After getting off the ship, hang left to get to the Ferry ticket office. By the time we got there was a bit of a line and the first ferry was sold out thankfully we were able to get one within 30minutes. We chose to book the return ticket for the second to last ferry (from when we needed to be back) just in case we missed ours- I am not even sure if they would allow us to do it but it just gave me peace of mind.  
Island of Capri Excursion
We had made a reservation with Capri Whales for a private boat to take us around the island and into some of the less famous grottos. We had been before and didn't think it was necessary for the kids to experience it and we wanted more time to see the rest of the island. The boat we rented did not have a bathroom.
We made sure the kids went before we left and hoped for the best.  They provided life jackets for the kids and we were off. The style of boat has cushions on the upper front part of the boat and you can lay down and relax there.  We went by the blue grotto with their line of boats waiting to enter and move on to other grottos and the famous arch.  We told the kids we were looking for treasure and they were very excited to try to find it.
30 min left in the ride our youngest said she had to go to the bathroom. At this point, the sea had gotten rough and we had already skipped swimming (which the tour allows a stop for if conditions are ok) we told her to try to hold it and that was that. She thankfully fell asleep for the rest of the trip and when we arrived back in Capri the tour office asked the restaurant next door if we could use their bathroom. 
Funicular to Village of Capri
We then went up the funicular into the village of Capri for lunch. Lunch was planned at our favorite restaurant from our honeymoon. Of course, things had changed. We saw our favorite wine displayed on a shelf and asked for it. The server laughed said it was just a display and they no longer carried it. 
They provided us with a similar wine and to be honest I don't really know if it was better or worse.  The menu itself has completely changed to my disappointment. No longer were the courses of a typical Italian meal but pasta being sold (and charged) as entrees. They no longer had the seafood entrée we had loved. So instead of a 3-course meal, we ordered some pasta including handmade pasta.
While waiting for our meal we met newlyweds and talked about how we had honeymooned there as well 11 years prior and are now back with our kids. It was an emotional experience for me and I am so glad we went back to Capri (despite the change in the menu). After lunch, we enjoyed some Gelato and even got a risotto ball from the same place (which I had previously loved) sadly it was served to me cold and nothing like before. 
Despite the disappointment of the meal the kids loved their gelato and we all really enjoyed the boat ride and I would recommend it and Capri Whales for families.   We took the second to last ferry back to town and boarded the ship about an hour early. This gave us enough time to get ready for Dinner and After we enjoyed the show:  Twice Charmed: An Original Twist on the Cinderella Story. This is a great product and not to be missed.  
Tuesday Port of Civitavecchia (Rome) Second Stop DCL Mediterranean Cruise
Tuesday was the port of Civitavecchia (Rome) which was our second stop on the DCL Mediterranean Cruise. We knew already we didn't want to travel the long distance to Rome. Having researched alternative options, we found a nice beach just a train ride away. However, the night before (or maybe that morning) we decided we wanted to have a break and give the kids time on the boat. We disembarked and found a table with a person who had a map of the area and some recommendations.
We headed to a local market where we purchased some olives, cured meat, and wine. The promenade was fun to walk and the kids ran around the stony beach. We then boarded the ship had lunch at the buffet and headed to the pool area.  At 3 pm we enjoyed Storytime with Bell at the Oceaneer. 
Evening on Disney Cruise
This evening's show was Tangled Live the musical which was a fantastic show. During the show, my daughter feared mother Gothel and had to briefly leave the show. While outside in the lobby area My husband saw goofy and she was able to get photos of tuxedo goofy with now wait. It also distracted her enough that she was ready to go back afterward.  
Wednesday Port of Livorno (Pisa / Florence) DCL Mediterranean Cruise Stop
Wednesday was the port of Livorno (Pisa/Florence). We had been to Pisa and Florence and didn't feel it would engage our kids enough. I had never been to Cinque Terre and always wanted to, so we chose to book a tour through Disney to Cinque Terre. The tour was very expensive at $177 per adult and $151 per child 3-9 ($142 for 0-2yrs old). But DCL had changed ports and we were much further from Cinque Terre so there was no way to do it on our own and not risk missing the boat.

Disney Describes the tour as: On this adventure, you will… 
"Start your day with a 90-minute drive from Livorno towards La Spezia.  Embark on a scenic boat ride (60min approximate) past the villages named the "Cinque Terre;" 5 small towns that seem frozen in time. Declared a UNESCO World Heritage Site, these historic villages are brimming with old stone walls, winding paths, enchanting beaches, and buildings that pepper the rocky cliffs. Each unique town also offers beautiful walking paths, churches, castles, breathtaking views and, of course, first-class food and wine. Note: This tour includes approximately 0.5 miles of walking at a steady pace, part of which will be on cobblestones and/or uphill.
The first stop will be the village of Vernazza, where you can admire the elaborate architecture, a remnant of times when the city was under Genoese rule.  After an hour of guided exploration, descend back to the port, and take a 15-minute cruise to the town of Monterosso.
This historic city lies on the summit of the hill of San Cristoforo, which separates the town into the old and new. On your 45-minute walking tour, wander the quaint winding streets as your guide shows you the points of interest.  ·       Enjoy approximately 30 minutes of free time to sample some of the local culinary specialties (not included in the price of this tour), take in the idyllic views from the beach or browse the local shops.  Reboard the motorcoach for the 90 minutes back to the pier in Livorno."
Our Experience on a Disney Cruise Excursion to Cinque Terre
We went armed with Ipads for the long bus ride with the kids. We stopped at 2 of the villages with small tours one of which we didn't follow but instead got some ice-cream and hung out by the small beach. The final stop we decided to get a nice meal. We convinced one of the servers to let us keep our strollers open and we some how managed to get the kids to fall asleep too.
My husband and I got to enjoy a nice bottle of wine along with fantastic clams and mussel dish. We made sure to save some leftover clam pasta for our son because it's his favorite. After we finished we headed back to meet the group. Our son enjoyed his clam pasta and there was also focaccia being passed around on the boat ride back.  
Thursday Port of Villefranche (Nice) France last stop on DCL Mediterranean Cruise
Thursday, we stopped in Villefranche (Nice), France. The train station is an easy walk from the pier. W purchased tickets to Monaco and we off.   Warning if you have Verizon wireless. Monaco is not one of the countries listed for the $10 a day (or wasn't at the time) and we were charged per gb of downloaded while using GPS.  We used GPS to guide us in walking to the visitor center where we had our passports stamped. We then walked through the gardens down to Casino of Monte-Carlo.  There's a fee to enter before noon and children are allowed.
After that, we headed back up to the visitor's center to grab a bus to the Oceanographic Museum of Monaco. We loved the Oceanography museum and highly recommend it. We left the Oceanography museum a little earlier than I would have liked to ride the red train trolley for a tour of Monaco. It takes you down part of the Grand Prix route.
It was an ok trip, but I wish we had stayed and enjoyed the Oceanography museum a little more. The Train was very easy to take from port and Monaco is a great place to visit. Their other towns you can easily visit independently on the train from the port.
Afternoon on Board Disney Cruise
We boarded in the afternoon and attended the Disney Jr Pirate and Princess Dance Party.  We were in the front of the stage and with 10minutes my kids had been pushed back by older kids. It was a bit chaotic though the kids still enjoyed it. I have been to a similar dance party on the Wonder almost 2 years later and it was much more organized with characters spread out on the floor and kids circling each character. The characters would then rotate around, and your kids could easily dance with the characters without kids pushing each other. Hopefully, this more organized party is common on all ships now.
Evening
This evening was Pirates Night. We arrived early I would say 45 minutes early. Got a spot on the upper deck 10 again and next to a wooden box so help prevent people from possibly pushing our kids over. We brought their strollers, so they could sit in them and we stood next to them. As the show started a man kept saying woman, woman, woman.
When I finally turned around he made a motion for me as if he wanted to put his daughter on the box with her feet dangling in my kid's faces. I said no and continued. While I have no problem with kids standing in front of me, but I draw the line when people think it's ok for their kids to make my children uncomfortable when they have been waiting a long time to have a comfortable spot. 
The parties on this cruise to be very stressful as even arriving early meant you had to fend off others trying to cram in (like the parades at Disney Parks).  As the show was going on the kids decided they wanted to stand up we removed the strollers which was a big mistake because within minutes there were 2 children crammed in with my kids.
We took the opportunity to move to the window on the outside of the ship to watch the fireworks. While the fireworks were cool to see at sea they weren't the amazing fireworks you see at Disney or on Independence Day or even in the marketing photos. It was so much so that I am not sure I would bother seeing them again, but it was cool to see once.
Friday Sea Day on Disney Mediterranean Cruise
Friday was a sea day and our last full day on the ship.  We had tickets for the Princess meet and Greet which is free, but you must reserve tickets in advance and they do sell out. The pool deck and some open houses on the ship were a lot of fun.  We headed to dinner with the kids in their PJs and dropped them off at the kid's club for Pluto's PJ Party.
Disney Pluto's PJ Party
It is the one program that we felt the kids would love and was not offered during the open house.  Our daughter (3yrs old at the time) was fine going in but Our son (4.5 yrs. old) was unsure. We told him we would wait at the entrance for him if he needed us he could come back.  We waited 5 min and left to grab something from the room. When we returned we asked, and they told us the kids had not come back so we went off to enjoy some wine on the adult-only deck. Pluto's PJ Party is a fun activity that includes getting pillowcases that the kids get to color.  
Disney Dreams-An Enchanted Classic was the evening show. It's a summary of a bunch of Disney movies. It has a lot of different characters in it and it's well put together. The show is one of my favorite DCL shows and is not to be missed.    
Saturday Disembarkation from Disney Cruise
Saturday was disembarkation day. We received many chuckles and "we feel the same way" as we pushed our Crying 3 yr. old off the boat as she screamed "I don't want to go home" over and over. Disney Mediterranean Cruise was a wonderful trip and cruise, but my husband and I agreed we would wait a couple more years before traveling internationally again. And it lasted about 8 months when we headed over to London and Disneyland Paris.
Overview of Disney Mediterranean Cruise
We loved Disney Cruise line but as a preferred budget traveling, I feel that you get more value from other cruise lines. I do not feel the Disney Cruise line is worth double and even triple the cost of other cruise lines.  We felt very comfortable with the kid's club supervision and security and the kids loved DCL. 
If you haven't already join The AffordableFamilyTravel.com Crew on
Check out these other Disney posts:
Aulani, a Disney Resort and Spa
Mickey's Not So Scary Halloween Party
7 Shareable Meals at Disneyland
How to turn your Disney World Snack Credits into a Meal
DCL Royal Princess Tea Party
Disneyland ParisDCL Alaska
Follow Affordable_Family_Travel on Instagram
Make sure to like AffordableFamilyTravel.com on Facebook to get all the latest updates. It's also where I post my Dash Deals that are time-sensitive.