This Busch Gardens Williamsburg Special Events Guide will help you plan your time at the park with Tips and menu picks. As well as our experience visiting the park for the first time during COVID at the Halloween Harvest at Bush Gardens Williamsburg.
Halloween Harvest Busch Gardens Williamsburg Ticket Cost
The tickets ranged from $49 and up depending on the day and time. With taxes we paid a little over $200 for our Monday Event tickets. There's also a $25 parking fee. There are several Season Pass Options available as well. The Downside to purchasing a Season Pass first is that the season pass event tickets are limited due to COVID and limited capacity. During this time it would be better to just buy an event ticket and you can also check to see if you can upgrade while your at the park. In the past they have allowed it and you just pay the difference.
The Party ticket is a great value. Don't let the short hours fool you. The park is at such a low capacity you can walk on to rides most of the time. Its substantially cheaper than Disney's Holiday Parties.
Busch Gardens Williamsburg Special Events Parking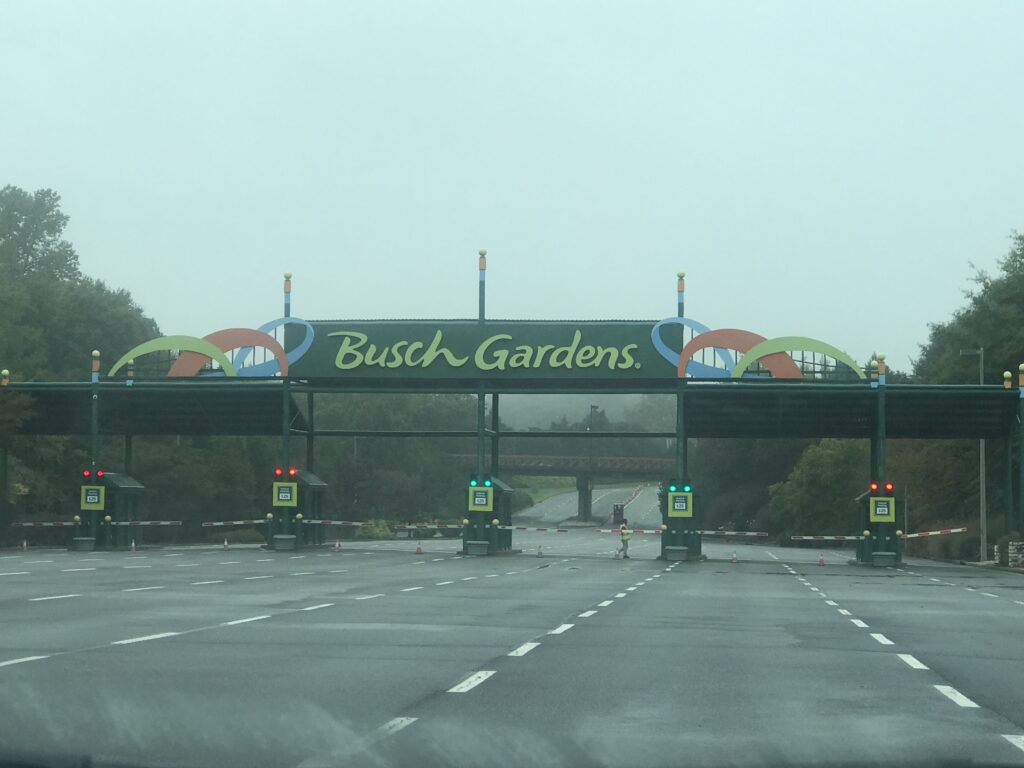 If you arrive early go to one of the middle lanes otherwise you may need to back up and get in one of the other lines when they open.
We arrived at the gates 30 minutes early with no one else there. During our wait cars started to show up but not too many. There were cones and you couldn't tell which were open. In the end 2-4 or 5 from the right hand side opened. See the picture to understand. They wouldn't let someone to the right of us pull through – they did not move the cones for the lanes that did not open. Also it honestly was not necessary because we didn't jump right on a ride once we arrived inside.
Check out the parking lot map so you know where to go. During Special Events parking may be different. If you still are unsure, enter behind someone (don't be first in line) so that you can follow them in or at least see where they are going.
Busch Gardens Williamsburg Rides
Not all Rides are open During Events
Not all the rides are open during the event but there was a good mix of kids rides and coasters. The 2 bigger coasters the kids were tall enough to ride were a bit too rough for them. The smooth one my husband enjoyed but my son didn't want to ride and my daughter wasn't tall enough. In the end the kids found 2 rides that they loved and went on a few times in a row after we had completed the open rides through out the park.
There's a Ride Gap for some Kids
To be honest I wasn't impressed with the rides overall at the park. We prefer much smoother coasters. My son and I left with sore heads from the coasters and both thinking never again. The few rides they love were great but they were the only rides open that seemed to fit that middle age where kids don't care for the little kids rides but aren't ready for the extreme coasters. We experience this similar thing with sort of an age gap at Six Flags which we usually have season passes for because they are such a great value. While on the other hand I find Legoland has some great rides for middle ages children. Disney of course does a great job as well with the gap.
Absolutely Worth Going to a Special Event
We had an absolutely great time. One reason may be that it had been 11 months since we had visited an amusement park due to COVID and we were looking for some normalcy which we complete felt while visiting the event. It was just some normal outdoor fun.
The park did an amazing job with COVID standards. sanitizer at the exits and entrances. skipping a row of cars on each ride. Masks requires and honest the biggest thing and biggest benefit- limited capacity and I mean really limited capacity. We felt safe. It felt normal. We had such a good time. I know its something our kids will remember and had a huge impact on them as we work toward some sort of sense of normalcy.
We have always wanted to go to Busch Garden's Williamsburg and I think this was the perfect opportunity to experience the park with limited capacity at a time when our family was desiring an amusement park experience.

Busch Gardens Williamsburg Halloween Harvest Scavenger Hunt
I am not sure if there is a scavenger hunt for all their events but there is for Halloween Harvest. Its a great way for the kids to look around the park while heading to the rides. Especially since in some areas only 1 ride is open. The pumpkins were pretty easy to find. At the end you go to the Emporium and get a few small prizes. All though it was fairly basic, our kids loved the activity and the small prizes and it really added to the Halloween event.
Busch Gardens Williamsburg Food
Busch Gardens Williamsburg Special Events Food include what they call samples. They are tapas sized portions. You can purchase them for an indivual price or purchase sample cards that give you a discount.
We hadn't planned to eat in the park since it was only a four hour event. There were no lines at restaurants or booths. You could easily get whatever you wanted very quickly. During the event we splurged on giant ice cream cones for the kids and a Pineapple Ice-cream Alcoholic drink for myself. They were very good though I think vanilla with the pineapple juice would have been better as it would have been less sweet. Near the end of the event the kids were getting hungry so we grabbed some popcorn and one of the event samples a fish and fries combo.
I would say the portion was rather small. the fish was decent size and you figure double portion would be $13 and 2 fish fillet would have been a meal but I would say not a great value at all. The entrees at the park seem like a much better value. There are sample passes but compared to the food samples there's a very small savings. However the samples can be used for drinks and I'm guessing that's an even better value.
Busch Gardens Special Event Tips
Here's some tips to help make the most of Busch Gardens Williamsburg Specials Events.
IF you are attending the first party of the day, You don't have to run in because many of the rides may not be running right away.
There are no real lines and there's plenty of time to experience everything during the party duration
If there's a scavenger hunt with a prize at the end make sure you get 15min before closing so you don't miss out. We were passing by and stopped about an hour before hand.
For the Halloween event you can go up and get candy as many times as you would like. Even the adults. I loved the candy they were passing out so I made sure to get some for myself so I didn't steal the kids.
Overview of Halloween Harvest
We loved attending Busch Gardens Williamsburg Special Event Halloween Harvest. Loved having no crowds. The 4 hours we were given was plenty of time to enjoy the park. I wish most parks would offer limited capacity events even during normal non COVID times.
Where to Stay when Visiting Busch Gardens Williamsburg on a Budget
Visiting Busch Garden's during their special Event was an affordable way to enjoy the park especially with the low crowds.
The make this stay extremely affordable we chose to stay at the Hyatt Place Richmond Airport because we could use Hyatt Points to cover our stay. Since we were only there for one day, the Hotel wasn't out of the way. It's about a 1-hour drive from Busch Gardens. We simply stopped an hour short of our trip down and then the next morning had an hour drive to the park.
The Hyatt Place Richmond Airport is only 5,000 Hyatt points which made it a great use of points.
Follow Affordable_Family_Travel on Instagram
Make sure to like AffordableFamilyTravel.com on Facebook to get all the latest updates. It's also where I post my Dash Deals that are time-sensitive.