Itinerary for Chuo City, Tokyo, Japan
Tokyo, Japan is massive and the best way to create an itinerary is to focus on one area of the city per day so that you cut down on your travel time between activities. Chuo city is the heart of Tokyo and has plenty to see and do to keep you busy for a full day if not more.
Morning in Chuo City, Tokyo, Japan
Arashio-beya Sumo Stable
Address: 2 Chome-47-2 Nihonbashihamacho, Chuo City, Tokyo 103-0007, Japan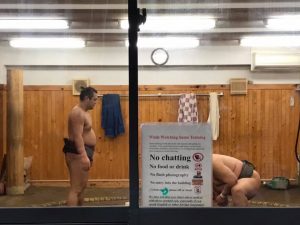 Head out early for the day arriving by 9am at Arashio-beya Sumo Stable who allows the public to view their practice from large windows. There are rules such as being quite. It's a great way to watch Sumo with the option to leave at any point if the kids are getting stir crazy. The best part is its free.
I was surprised at how entertained the kids were watching them practice. My daughter actually got so excited she cheered out loud "Yes, he won!". We of course then reminded her how while it's very exciting we have to keep quiet so we don't distract them from their practice.
Tujuki Fish Market
Address: 5 Chome-2-1 Tsukiji, Chuo City, Tokyo 104-0045, Japan
Spend the remaining part of the morning at the Tujuki Fish Market grabbing an early lunch at one of the many sushi restaurants. I had a particular one picked out and admitting couldn't figure out where it was. We ended up just going into one and the sushi was fantastic. I wouldn't stress just go inside and enjoy.
We then headed to Tsukiji market for some fresh sushi. It was packed. I was warned some places close early so we wanted to get there far before noon, so we arrived around 9:30am. Judging by how busy it was I would think not but I also noticed many restaurants were empty. After a failed attempt to find a specific one we selected another and sat down.
Kids First Experience with Sushi
We enjoyed a sushi sampler platter together as a family. Ok well my husband took one bite. Our daughter tried a few then realizing they were pretty much the same she passed until she got to the fish eggs and that she loved. Our son tried every single piece of sushi but didn't love any of it. I however loved it. It was the best sushi I had ever tasted, and I honestly was thinking how raw fish could be better it's the same thing. But it was amazing. Tasting sushi with the kids was probably the highlight of the trip for me honestly.  After we finished we walked around the market. Kids got ice-cream we tried octopus on a stick (gross) and eel on a stick -our daughter liked it so much she stole it on me. We also tried white strawberries and red pineapple.   
Spend some time checking out the interesting food stalls though I would recommend avoiding the octopus. You can try red pineapple and white strawberries.
If you have some extra time or if this is the only chance you will have you can check out the souvineer shops in this area.
Afternoon in Chuo City, Tokyo, Japan
Pokemon Cafe
Address: Japan, 〒103-0027 Tokyo, Chuo City, Nihonbashi, 2 Chome−11−2 
The Pokemon Cafe isn't just a Cafe it's an experience and housed in the same building a large Pokemon Store. So if you have Pokemon fans in your family make sure you leave some extra time (and money) for shopping at the Pokemon store.
I personally didn't find the menu to be too appealing for my family so we stuck with drinks. Each person is required to purchase an item but a drink is acceptable and the kids really enjoyed theirs and mine too.
Dinner
We ran out of time for dinner and headed back to the hotel. I recommend checking Yelp for a nice place to get Japanese Beef.
For More Japan Planning Check out these Posts
Follow Affordable_Family_Travel on Instagram
Make sure to like AffordableFamilyTravel.com on Facebook to get all the latest updates. It's also where I post my Dash Deals that are time-sensitive.