20 Things to do in Acadia National Park with Kids can give you an idea of how much fun there is at Acadia National Park. You can purchase America the Beautiful National Parks Pass for around $80 and it will cover your entrance fee to hundreds of National Park sites across the country. 4th graders can get a free pass through every kid in a park program. National Parks have a wonderful Junior Rangers Program that provides educational activities within the Park. National Parks also offer Kid-Friendly Hikes and many more activities.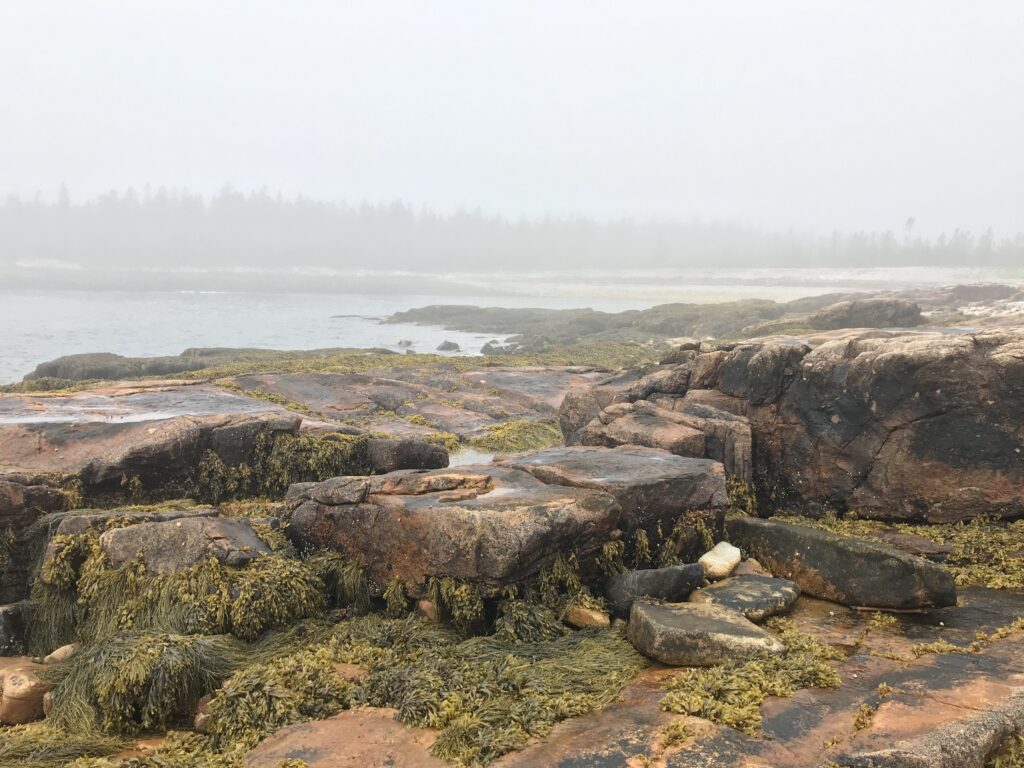 1. Check out the Visitor Center
The Visitor Center is a great resource. It usually has maps and a Ranger available to answer questions. If you arrive at Acadia National Park before the Visitor Center opens or enter the park at a different area than the Visitors Center you can always stop at the Visitors Center Later in the day. You can also get your National Parks passport stamped inside.
2. Participate in the Junior Rangers Program
The Junior Rangers Program is an educational Program for all ages. Complete select activities in a booklet and earn a Junior Rangers Badge. The Junior Rangers booklets are available at the Visitors Center.
3. Enjoy the Museum
Many National Park Sites have a small museum that houses artifacts and information about the Area. The small museums are usually within the visitors center. Some Parks have outside informational displays. Acadia National Park also has the Little Cranbery Island Museum which has free admission. The Abbe Museum, about Native Americans is another Acadia National Park Museum.
4. Go for a Hike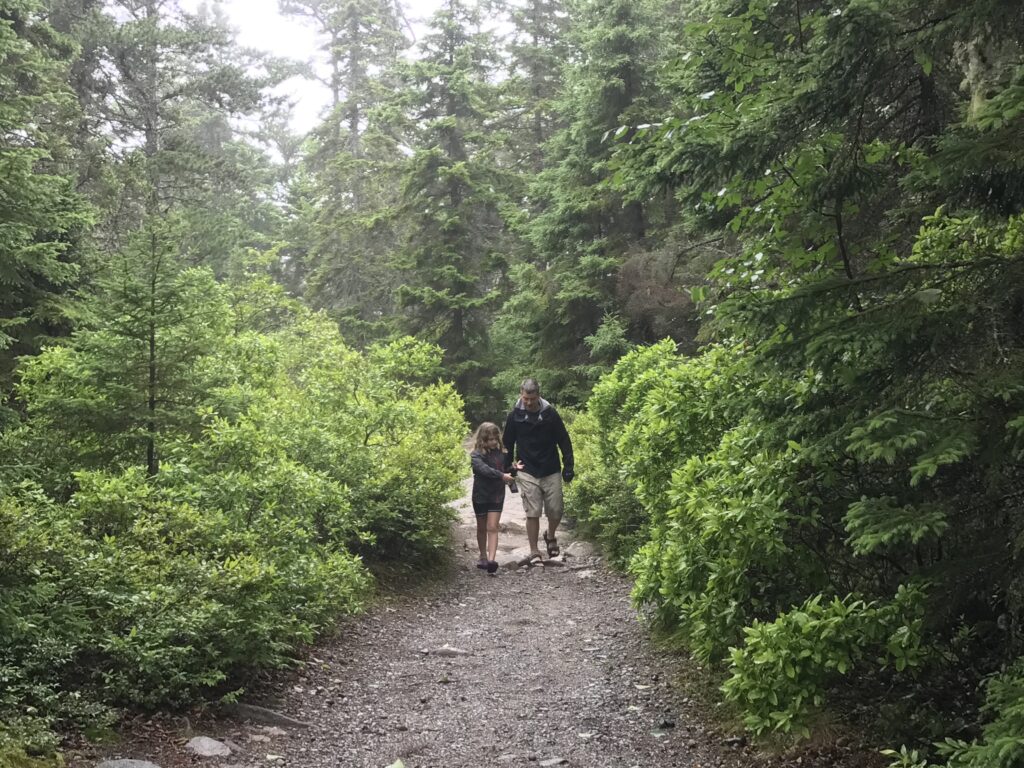 There are some reall great hikes in Acadia National Park. Some that take you up the mountains and others that take you near the shore. Make sure your Acadia National Park Itinerary includes a variety.
5. Play in the Sand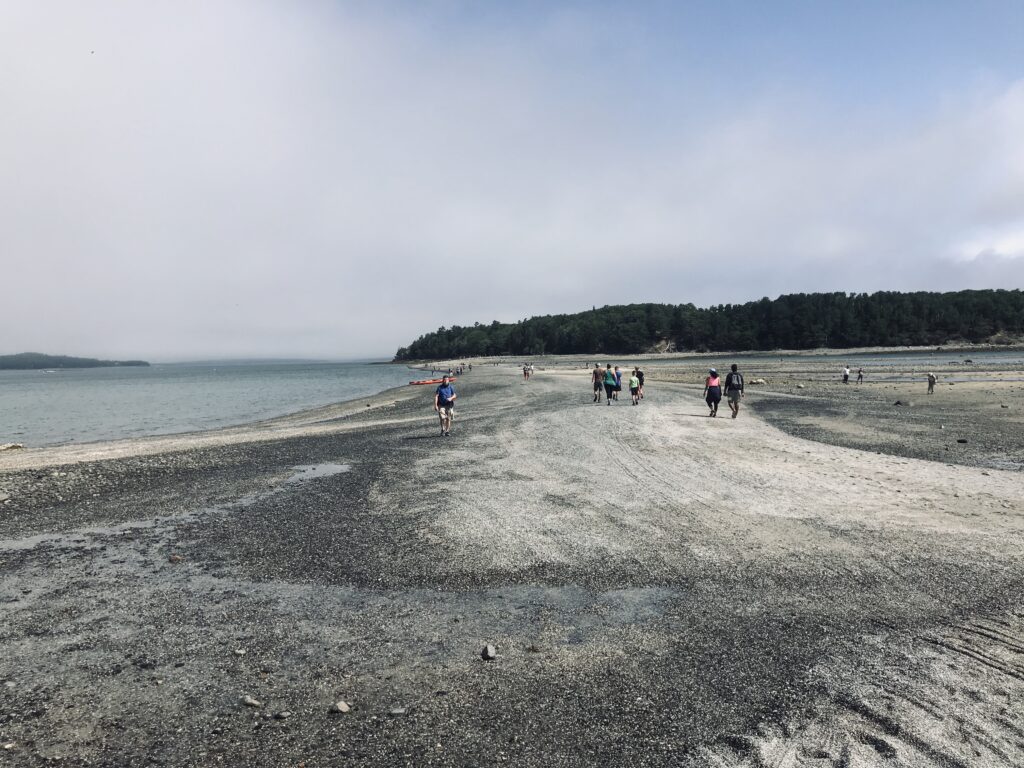 Some National Park sites have beaches and what better to do than to play in the Sand. You can comb through the internet for inspiration and types for building the best sand castles. create a theme. or even build a fort you can sit in. Playing in the sand is fun for all ages including us adults. Some of the National Parks with Sand Dunes allow you to go sand sledding while some National Parks request you stay off of the Sand Dunes due to instability.
There are 2 beaches within Acadia National Park Sand Beach is a tiny beach nestled between mountains and rocky shores on the east side of the park. Beach Parking GPS: Latitude 44.330198; Longitude -68.183998 . Echo Lake Beach is a larger beach on Echo Lake so it's a fresh water beach.
6. Listen to the Sounds
There are so many sounds in nature. From Wild life to the wind and ocean. Stop by Thunder Hole and hear why it has the name.
7. Go for a Bike Ride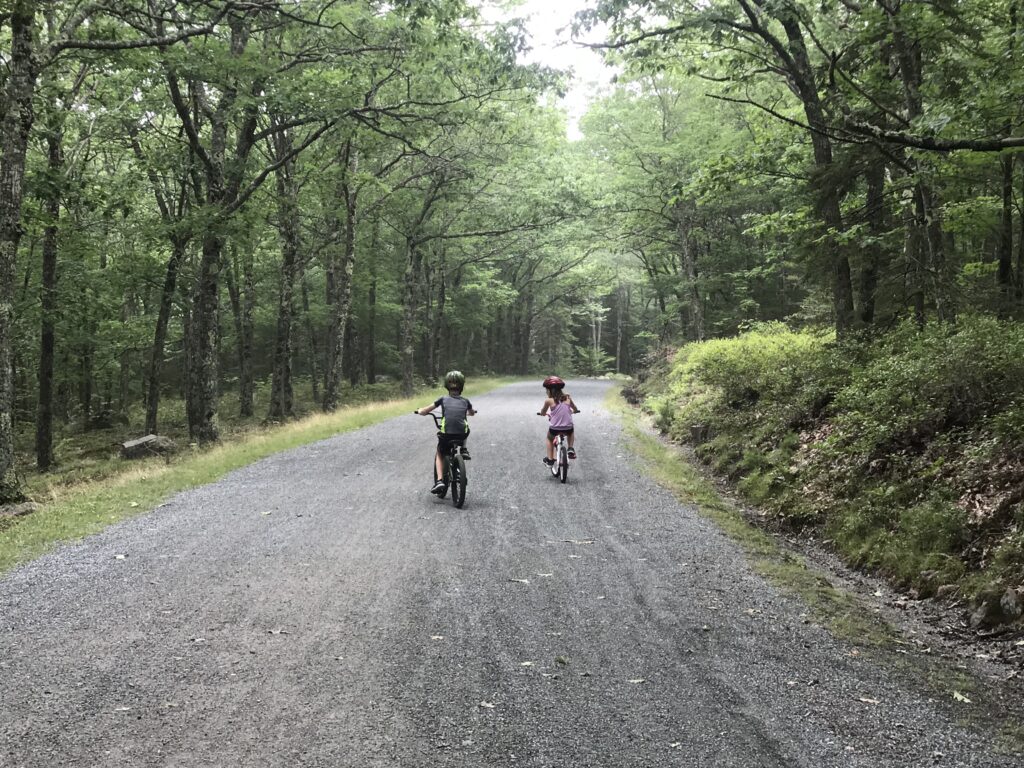 Bring your bikes and explore some of the bike trails that are within many National Park sites. Head to the Eagle Lake Bridge to park and enjoy a Bike ride around Eagle Lake. The ride was a bit more challenging than we expected especially for my daughter. Many rented motorbikes to ride through the path.
8. Have a Camp Fire
Many National Parks have campsites some of which allow camp fires. Make sure you are aware of the rules regarding fires and follow all fire saftey rules. We often bring smores kits with us when staying at hotels that often have outdoor fireplaces or pits. Fires are allowed at Acadia National Park Campsite sonly in provided bins. We stayed offsite at the Acadia Sunrise motel which we loved. They had a large fire pit with many adirondack style chairs. You start the fire any time you wish.
9. Get on the Water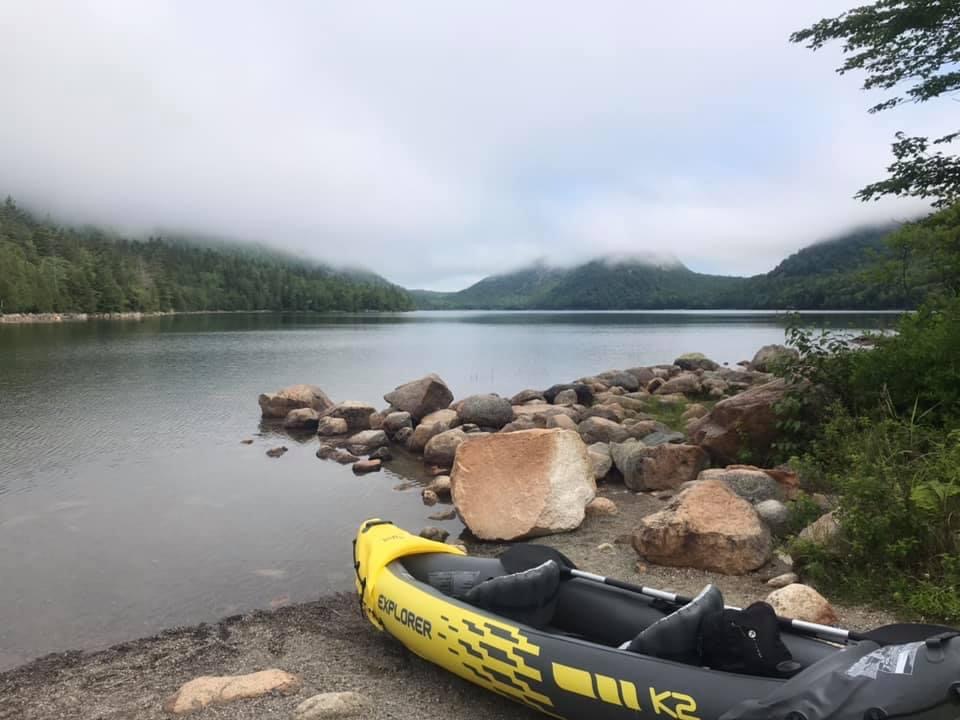 Bring your kayaks, paddleboards or rent a boat. If it's too cold to get in the water you can always get on the water for some fun. We love bringing our inflatable kayaks and paddle board when we travel. While we won't take them in the ocean there are often calmer places to kayak near the ocean. We enjoyed Kayaking Jordan pond as the water was calm and clear. You can also hike around the pond if you do not have your own water craft.
10. Go Fishing, Clamming, Scalloping or Crabbing
My kids love fishing. If you bring your own equipment it can be more affordable but make sure you follow local laws and get any permits you may need for fishing in Acadia National Park.
11. Learn About History
Nationoal Historic Sites are part of the National Park System, through a varierty of presentation material you can learn about the history of our nation.
12. Look for Wildlife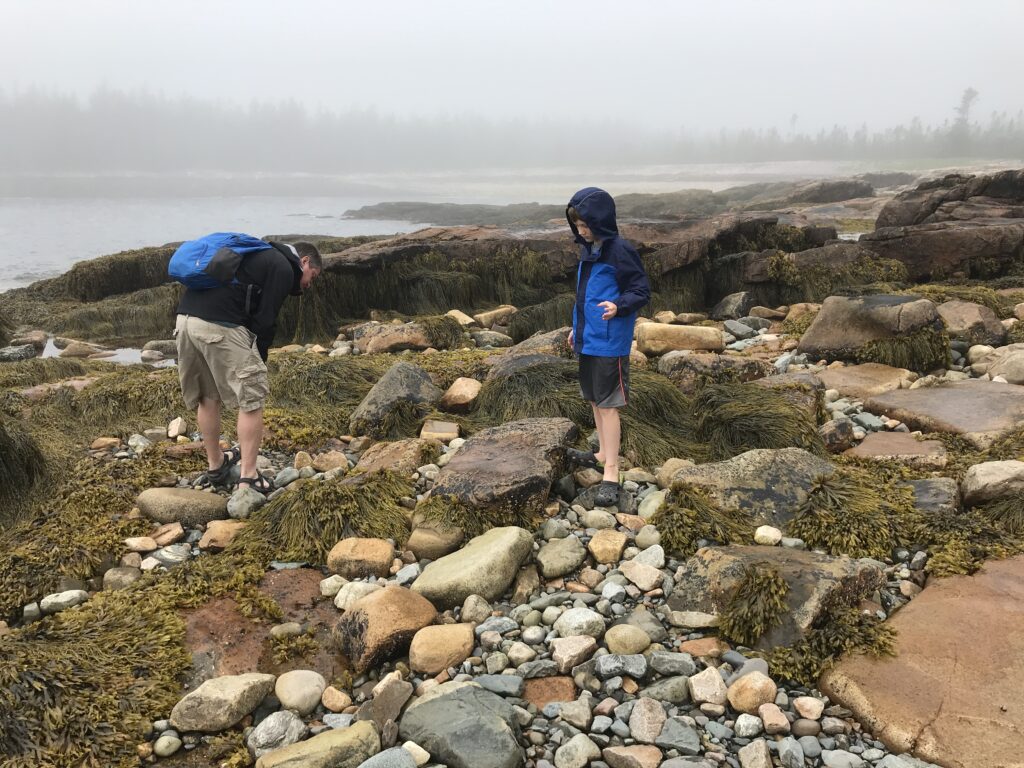 Wild life is all around us and the National Park system is a great way to preserve their homes. You can often spot wild life in many of the national park. In Acadia National Park, its fun to look for sealife in the tidal pools.
13. Go Bird Watching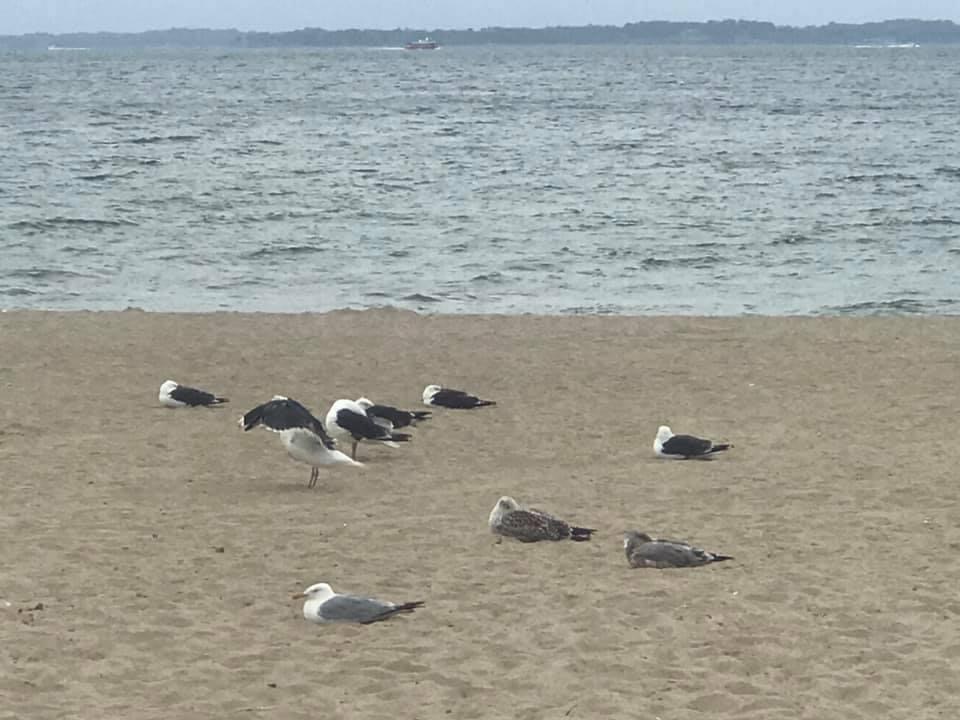 We enjoy watching seagulls and other birds. There is a large variety of birds at Acadia National Park. you can find them in the water, air, trees or on the ground so keep your eyes peeled and see how many different kinds of birds you can spot.
14. Learn About Natural History and Science
There are so much to learn at National Parks especially Natural history and Science. Its so intersting to understand how the various landscapes in our country were formed and how it ultimately lead to what the land looks like today. How was Mount Dessert Island and Acadia National Park formed? There's so much to learn about in Acadia National Park but our favorite is what you can learn by visiting the tidal pools.
15. Have a Picnic
Having a picnic can be a lot of fun. It can aso save you from having to wait in long lines at the limited dining options within a Large National Park. You can also add some games to your picnic or spend time talking about what you have done or the wonderful view you have. There are picnic areas around the park but we have also had a simply sandwhich break while on a hike.
16. Climb Rocks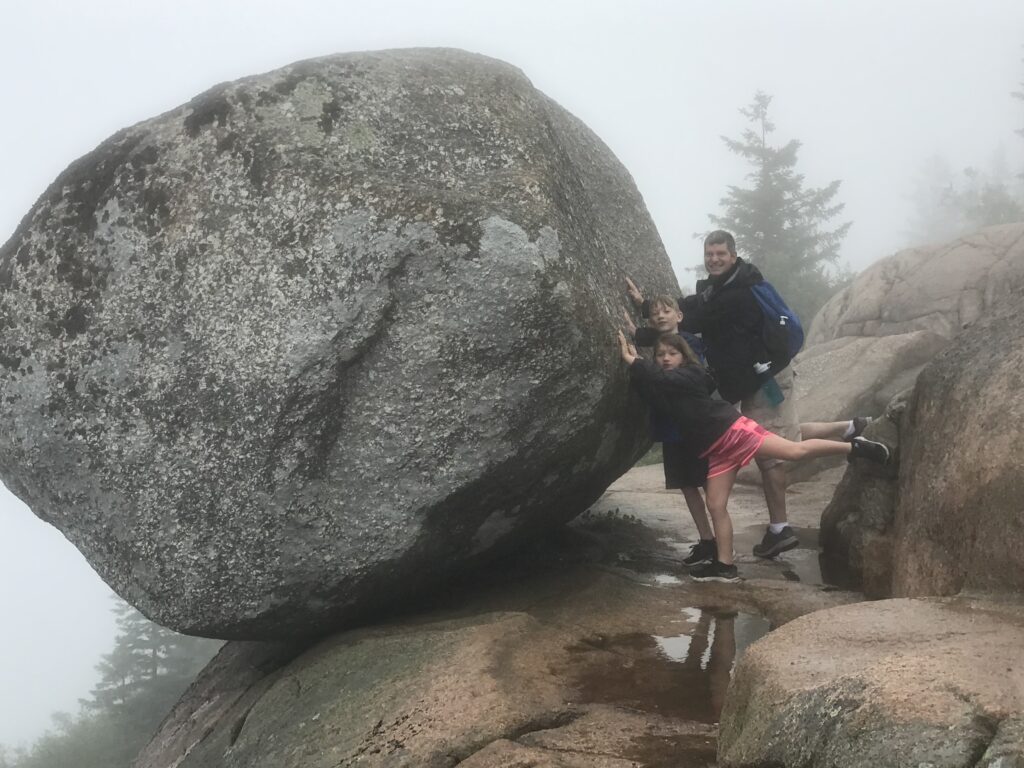 I don't mean Rock Climbing although that can be an option. But Rock Scambles are a lot of fun for families. Bubble Rock Outlook Hike is a great place to scramble across rocks.
17. Go For a Drive
One of the easiest ways to see what a National Park has to offer is to drive through it. Of course along the way you probably want to stop at some scenic points, or for a hike or even to look for animals. Acadia Naitonal Park is very large and part of the park is a one way road so you should expect to do a fair amount of driving.
18. Hop in the Water
National Parks sites usually have water although you may not always be allowe in it. There are many national seashores t hat have beaches. Some are great for swimming. Some great for snorkeling and surfing. There's also lakes and streams you can enjoy. There are 2 beaches at Acadia National Park as mentioned above. There's also areas such as the land bridge where you can wade in the water. We personally thing swimming in Maine is for the Brave as water temps are pretty cold even in the peak of summer. It's a good idea to bring wetsuits if you want to enjoy a swim in Acadia National Park.
19. Take in the Views
Some of the most amazing views in the country are in our National Parks. Make sure to snap a few selfies too. You can also have fun taking some perspective shots that make fantasy look like reality. Head up Cadillac Mountain for a birds eye view of the park.
20. Attend a Ranger Lead Program
Some National Park Sites offer Ranger lead Programs. This is a great change to get in-depth information and also ask questions. Acadia National Park offers rangers lead programs and has a calendar so you can see what is being offered ahead of time.
20 Things to do at Acadia National Park with Kids Summary
These 20 Things to do in Acadia National Park with kids are just a sample of the wonderfully fun activities in Acadia National Park. There is plenty to do in a week but if you only have a 1-3 day Acadia National Park Itinerary you can still see all the major highlights.