Traveling with carry on only is easier than it sounds. Before kids, Mike and I often traveled with only our carry on roller suitcases and a boarding bag each.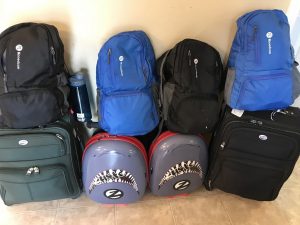 When Traveling with Kids we used to pack too much but it was easier that way
After kids we were up to 2 large suitcases often filling one with all the baby essentials and one with all our clothes. As time went on we got down to 1 suitcase which was pretty good considering we only had 1 roller carry on and often 2 other bags as carry on. Things changed when we got the kids their scooter suitcases and they could then handle their own luggage. You can find the scooter suitcases here (affiliate link) on amazon.
Traveling with carry on Luggage is Easier
Traveling with carry on luggage is much easier than having checked bags but fitting everything into 2 bags isn't easy.
This is how we packed 15 days of clothes and other things into carryon luggage.
Coats to pack when Traveling with Carry on Only
We all wear zip up fleeces and packed rain jackets. This allows us to layer if it's much colder than expected and the rain coats incase it rains.
Clothing to pack when Traveling with Carry on Only
We wear pants for 3 days. For this trip we packed 2-3 pairs of pants plus the pair of pants that is worn on the plane which means we have 9-12 days worth of pants. We also packed 1-2 pairs of shorts for each of us since Hong Kong will be warm so that is another 4-6 days worth of clothes. As well as 15 shirts, underwear and socks for everyone.
We plan to do 1-2 loads of laundry, so we can wash our flight home clothes. As well as maybe some extra back up outfits we also need a day or 2 more clothes because our trip is longer than 15 days. Thankfully our first hotel has laundry facilities and since we are there for 7 days we will be able to fit in a load or two easily.
I wear yoga pants on the plane and wont wear them any other time. I packed a black pair of jeans incase I want to dress up my outfit just a little plus they take up less space then jeans. Only 1 pair of pajamas for mike and I and 2 pairs for the kids were packed. I packed 1 dress for our daughter and me. 1 swim suit for everyone as we plan to swim one or 2 afternoons in Hong Kong. Reality is we will be on the go so much we will never be changing for the evening on this type of vacation. Since its cooler out I am happy wearing jeans and being comfortable. I chose not to use packing cubes except for the kids socks and underwear as I felt this saved some rooms and I could easily roll all our pants and shirts.  
Shoes to pack when Traveling with Carry on Only

We all wear sneakers which will be our primary pair of shoes. I packed amphibian shoes which the kids call croc sneakers for while in Hong Kong. They can be worn with out socks are breathable and will double as shoes for the pool. I packed 1 pair of croc sandals I will wear in Hong Kong since it will be hot and will go with the 1 dress I packed.
Toiletries: Traveling with Carry on Only
We are each entitled to 1-quart bag full of 3oz containers of liquid which means 4 bags total. That is plenty for all our toiletries. If you need 3oz containers check out the dollar tree which sells them 4/$1 which is the best price I've seen. We do not pack shampoo except our daughter's clarifying shampoo. We pack 2 conditioners just in case the hotel doesn't have it or doesn't have enough.
Our biggest hurdle has been sunblock. We have only ever used Zinc based sunscreen and after the kids started school they got used to Honest spray which is thinner than the badger cream we use so they refused badger. Well guess what this trip they are using badger since its available as 3oz tubes and 1 tube will be enough for both kids for the trip. I also may try out Japanese sunblock which I hear is really good and less greasy. We also have a rectangle toiletry bag we keep all our dry toiletries in.
Snacks to pack when Traveling with Carry on Only
We can't go anywhere with out snacks and this trip happens to be over Easter. While we plan to pick up somethings in Japan we had to pack some items in our suitcase. We also packed 5 boxes of granola and protein bars as it's a busy schedule and we need to have flexible meal times. The bars will hold us over till we are able to eat. I also had each kid pack a quart size bag of snacks and candy as well as 1 canister of Aldi's brand pringles in their backpacks. We also packed 2 bags of combos and Slim Jim's which are our essential travel snacks.
Electronics to pack when Traveling with Carry on Only
The kids each carry their own iPad, charging cable and head phones as well as their action cameras (generic go pros). We were able to fit a small number of chargers and cables and batteries in my roller carry on and the rest of the electronics fit in Mikes pack back
Travel booster seats and inflatable footrest
There still a couple kid specific travel items we bring along. 2 Bubble Bum inflatable booster seats which we use in taxis or Ubers and 2 inflatable footrests which are not only great for sleeping on planes but also stops the kids from using the seat in front of them to push off of when the start to slide of the airline seats. Both fit in my back pack with space to spare for my fleece or any souvenirs we purchase on our trip.
Summary
Traveling with carry on only luggage makes traveling easier. In all we packed for 15 days in 4 carry on rollers and 4 back packs. Keep in mind the kids clothes are smaller but their scooter suitcases only hold about half of what a normal carry on roller fits. We still fit all their clothes, shoes and jacket in their scooter suitcases.
Make sure to like AffordableFamilyTravel.com on Facebook to get all the latest updates. It's also where I post my Dash Deals that are time sensitive.